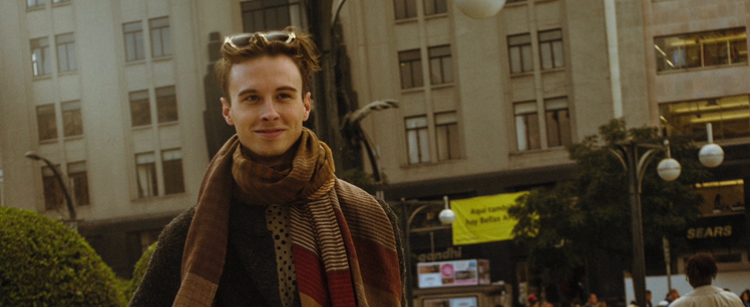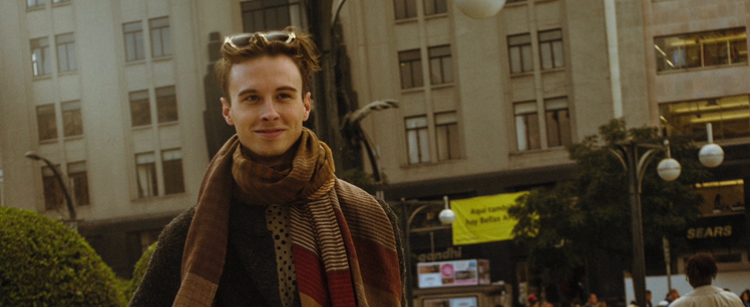 Today we'd like to introduce you to Logan Floyd.
Logan, can you briefly walk us through your story – how you started and how you got to where you are today.
I remember playing hide and seek as a kid, I would run thru my house counting down in my head and look for a place to hide. One day I jumped in my parent's wicker clothing hamper. The hamper was loosely woven. I would quickly move my head up and down to see threw the hamper and look if anyone was coming to find me yet. Much like if you run by a fence or drive by a road divider and can see past it as you zoom by. I thought this was so fascinating to me.
As I grew up, on the water in a small New England town, I kept hold of my curiosity to the world in front of me. Both my parents are Artists. My mother is a painter, and my father an architect. I would watch the way they looked at the world and would be fascinated by the way they seemed to always be amazed by simple pleasures in the world. For my mom, color was everything, and for my father, space and the relationship of a structure to its surroundings was very important.
As I moved threw school, I quickly realized with the help of my family that I am dyslexic. Words on a page were not as interesting to me as images and looking. I would spend hours glued to the TV watching movies over and over. I fell in love with the feeling movies and shows gave me. I would skip between multiple shows at a time and sometimes just watch shows on mute so that I wouldn't get in trouble. I loved the feeling of wonder movies gave me. Being able to go too far off places or relive events or be witness to fantastical stories was so interesting to me.
As I grew up, I started to think I would be an archeologist and then an explorer, and then an anthropologist. The summer before I left for college my mother was asked to direct a documentary about village that she had been working a lot within Haiti and she asked me to come along and be her cinematographer for the film. In the past, I have loved taking photos and framing moments but it was really this experience with my mother that made me think that photography and movie making could be a future for me. When the film finished, I left for college and went off to Denison University. In my first year, I enrolled in an anthropology course as well as a film course. I was fascinated with people, and by the end of my freshman year realized what I really was curious about were creating moments and being able to decide how these moments were seen.
As I continued to move through college, I started falling in love with light. I became transfixed with creating moods for people to experience. I moved from wanting to direct my own films to wanting to be responsible for the image itself. I started calling my self a cinematographer and asked my classmates if I could shoot their films for them. This excited me, I was able to go from one perspective to the next as I shot film after film.
I graduated college in 2016 and drove to NYC, found a shoebox to live in, and started to look for projects to shoot. I would reach out to contacts and assist other DP's to see how they would run their sets and try to network where I could. One day shooting on the street I ran into a guy a few years older than me. He stopped me as I was filming and asked me if I was interested in working with him. His name is John Fiorentino, and together we worked to create a show for him called, "The Good Ones" and I would then go on to shoot his Kickstarter campaign for Gravity Blanket that would be the third highest grossing Kickstarter ever raising $4.6 million. From there, I started shooting commercials for Refinery 29 and build a relationship with kickass director, Blair Waters.
During my time in NYC, I was also driving back and forth to Ohio (where I went to college) to work with my long time friends at Loose Films to shoot music videos, documentaries, and commercials. My goal through all this was to shoot as much as I could and keep calling myself a cinematographer. Eventually, I was asked by my friends at Loose Films and joined them full time in Columbus, Ohio. I went off with John Fiorentino to Hong Kong to shoot a documentary about Gravity Blanket and when I returned, I packed up my station wagon again and headed to the Mid West and a full time in house cinematographer position at Loose Films. I worked with Loose and shot commercials, shorts, and documentaries for two years. Together we shot all over the USA, traveled to Mexico and I continued to hone my lighting and photography skills molding myself from project to project.
While working with Loose Films, I was also able to continue to work on other projects. I was asked by my good friend and director, Blair Waters, to join her in Naples Florida to shoot her short film, "Princess Rita". Last winter Loose Films and I had the pleasure to shoot our first feature film, "POSER". When I wrapped on "POSER" I wanted to continue to feed the fire in me to shoot narratives and decided to make the move to LA finally. I had been coming out here for the past few years for various projects and was starting to meet people in the industry and see a place in LA for me. So once more, I packed up my station wagon and headed west. Right before leaving, I decided to apply to the American Film Institute for an MFA in Cinematography and got on the road without knowing if I had been accepted yet. I arrived in LA still not sure if I was going to admitted into the program and started shooting with friends from college that were based out here. Then, I learned I had been accepted with classes to start in September. I have been on a path of learning, growth, and appreciation. What I crave is to work with others that love what they do and aren't afraid to see the world or imagine new worlds in a unique way. Ultimately I want to shoot period drama's and the road I am on is getting me closer to that dream, one story at a time.
We're always bombarded by how great it is to pursue your passion, etc – but we've spoken with enough people to know that it's not always easy. Overall, would you say things have been easy for you?
As a kid, I kinda always saw myself as different. Going through school and learning, I was dyslexic there seemed to be always something different about me. I went through years of testing and being told that I was going to have to take more time than my peers to understand things. I had these ideas swimming around my head. Reading was a slow process for me and the normative way children are taught things never really seemed to stick for me. It was because of these difficulties that I learned to find alternative was to teach my self things. YouTube became a major resource for me as I was able to have concepts and ideas broken down without having to read.
When I went off to college, I saw that the road of filmmaking was going to be unconventional and not a straightforward process. In my senior year at Denison, I applied to AFI not having worked in the real world yet and without having much experience and didn't get accepted into the program. This made me push myself into living and working in NYC and trying to gain experience. Ultimately not getting into that program right out of college was the best thing for me. I was able to enter into the world and really understand why it was I wanted so badly to be a cinematographer and realize how special it is to work with others that want to be good storytellers and share with the world how beautiful and important telling stories is.
While I have been living and experiencing life, I have also fallen in and out of love, gotten lost in the world, and wondered what I am doing. All these experiences have allowed me to grow and continue to be amazed by the endless stories around me and feed the fire in me to create.
We'd love to hear more about your work and what you are currently focused on. What else should we know?
For me, my business is storytelling, specifically cinematography. I work to mold my self from project to project. Over the years, I have learned to let each project be its own creative process and to bring good energy to those I work with. For me, my specialty is motivated lighting and motivated camera work. I find that it is my responsibility to ask, why, in any project and make sure I am not taking away from the overall project. This realization has not been learned overnight but with patience. With what I do, I am most proud of being able to be thrown into any situation, look at what is in front of me and be able to decide in what light to depict what is happening. Ultimately the film is the director's brainchild, and it is my responsibility to help them make their concept a reality in a collaborative and motivated manor.
So, what's next? Any big plans?
In regards to the near future, I am excited to start my MFA program at the American Film Institute. Then, to see what stories I find and get the chance to photograph and shape with other storytellers. The beautiful thing about cinematography is that you get to constantly be in a state of wonder and exploration. I hope to never stop growing and learning.
Contact Info:
Suggest a story: VoyageLA is built on recommendations from the community; it's how we uncover hidden gems, so if you or someone you know deserves recognition please let us know here.