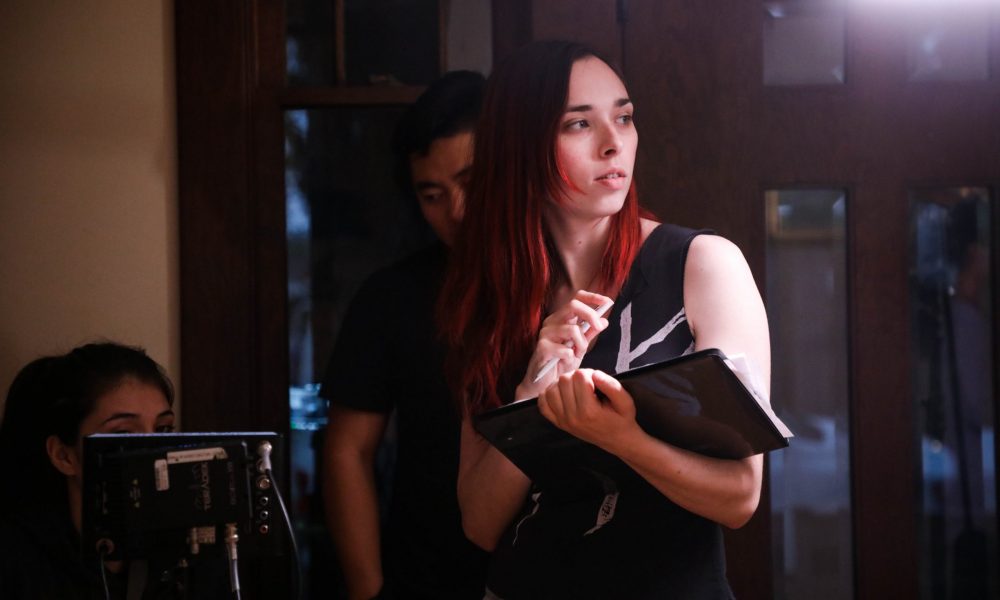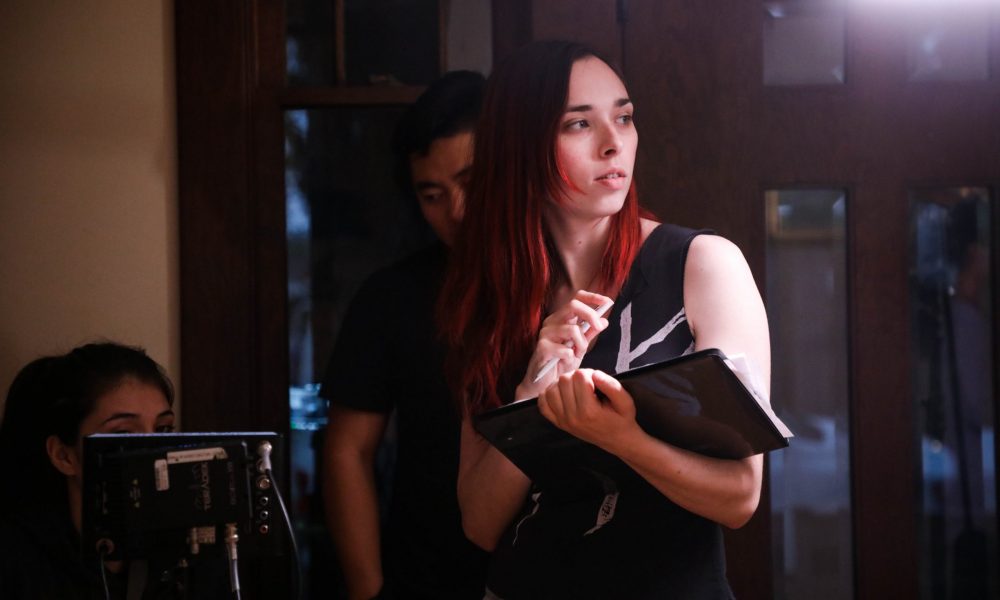 Today we'd like to introduce you to Lizz Marshall.
Lizz, please share your story with us. How did you get to where you are today?
I've always known that I wanted to be a storyteller. Initially, I thought that it would be through music. I studied music growing up, as I went to Arizona School for the Arts through middle and high school specifically to play guitar. I ended up making music videos and comedy sketches on YouTube during that time and very naturally shifted my focus to telling stories through film. I was determined to get into my dream school: USC's School of Cinematic Arts.
I went to Scottsdale Community College in Arizona for my first two years of school, since they had an awesome film program, and did everything I could to put myself on the path to where I wanted to be. I was in the honors program, trying to maintain my scholarship. I was on other student's sets every weekend and was also working for the Arizona Cardinals scoreboard team as a production assistant and field utility in broadcast TV production. Between all that, I was also shooting my own projects. While I was still in Arizona, I thought I wanted to tell stories as a cinematographer and even won an award in the Scottsdale Short Film Festival for my cinematography work. But I was also putting myself on a path towards writing and directing at the same time without being totally aware of it, as I was both directing and acting as cinematographer on the projects I wrote; This is where I found that my skills and my voice really shined.
Shortly after I started at Scottsdale Community College, I won a web-filmmaker discovery contest for branded content through an online film-learning platform called CreatorUp! and the San Diego Film Festival. I got to go to San Diego to shoot and produce my Batman-themed branded content video for a local BMW dealership that was one of the festival's sponsors. The video then premiered during the filmmaker awards ceremony. I was 18-years-old and this was my first festival experience. This experience was a catalyst in my journey, as I got to make my first professional video and connect with folks out in LA at CreatorUp! that ended up hiring me as an intern the following Summer.
I transferred to USC in 2016 and was one of roughly 50 students to be accepted into the film and TV production program. I became much more serious about writing and directing, and during this time, I wrote a short that has since changed my life.
I should mention that what I write and direct is incredibly dark, mostly airing on the side of macabre. I make content primarily within the scope of horror, psychological thriller, and sci-fi genres. I believe these genres allow us to effectively examine issues within our own world. I started making horror shorts at Scottsdale Community College and then continued to develop my voice in the scope of genre at USC. During a difficult time, when I was feeling very voiceless and powerless with events in my own life, I wrote a little sci-fi horror short called "What Daphne Saw."
"What Daphne Saw" is set in a dystopian future in which criminals are reprogrammed into a voiceless servant, stripped of their free will. One such servant, a woman named Daphne, is placed in the home of a seemingly normal man, where she discovers the darkest of secrets.
I initially pitched the project as a thesis film at USC, but it was not meant to be a student film. I was determined to make the film no matter what. I spent my last semester at USC crowdfunding and putting together a crew. During the crowdfunding campaign, producer/composer Alex Winkler helped make the connection to a non-profit called NotInOurCity that works to educate on the issue of human trafficking. The film deals heavily with the topic of human trafficking, among other social topics, including issues within the criminal justice system. We were able to form a partnership with NotInOurCity and bring them on as executive producers.
I was also the recipient of the inaugural Stephanie Rothman Fellowship for female student genre filmmakers, which was awarded based on my script for "What Daphne Saw." The fellowship, created by Rebekah McKendry and supported by Blumhouse's Shock Waves podcast, was presented at Etheria Film Night, an annual showcase of short films by women genre filmmakers. The funds from the fellowship went towards completing the film.
The film kicked off its festival run this September of 2019 at Horrible Imaginings Film Festival, where we won two awards and were nominated for another four. We were part of a very unique program called "Horror for Humanity" that includes horror films with a social message; we did a panel discussion during this with members of NotInOurCity to talk about the real-world implications of the film. We also recently headlined NotInOurCity's fundraiser out in Houston, Texas. We are continuing a strong festival run right now, with our next stop being NFFTY. I am currently shopping the feature script of "What Daphne Saw" around and hope that I will get to tell Daphne's full story someday.
We're always bombarded by how great it is to pursue your passion, etc – but we've spoken with enough people to know that it's not always easy. Overall, would you say things have been easy for you?
It was a difficult to walk away from the path I was on in Arizona, where I was already working in broadcast TV with the Arizona Cardinals. It was a really great place to be and a safe path, but it wasn't my dream. I moved out to LA when I transferred to USC and had to start all over. It's always a challenge to leave everything and everyone you know to pursue a dream.
There were also a lot of challenges with bringing "What Daphne Saw" to life, as it was my first professional short. My crew and I had just graduated from USC, so it was a jump doing a project of this scale on a very tight budget without the guidance/assistance that came from being in school. Funding was the first hurdle. I seriously underestimated how difficult crowdfunding would be.
But, the biggest challenge came just days before we were about to shoot. We lost two actors for the male lead back to back due to conflicts with the schedule. It was a very crucial role in the film, as his character was the only one speaking most of the time, so if the casting wasn't right, the whole thing would've fallen apart. It was a nightmare situation to be in, not having a lead actor days away from production…but a miracle happened! Through a stroke of sheer luck, my producer/composer's mom's childhood friend was an agent and actually found the perfect fit for the part: George Griffith, who I had known as Ray Monroe of "Twin Peaks: The Return." He delivered the most incredible performance and it worked out fantastically. It was definitely a lemons-into-lemonade outcome. Sometimes things happen for a reason!
We'd love to hear more about your work.
I am an independent filmmaker. I write and direct genre-based content, primarily through a social angle. I'm most proud of a short film I wrote and directed shortly after I graduated called "What Daphne Saw." I was able to express a lot of my fears and frustrations about the world through this film, exploring issues within the criminal justice system, human trafficking, as well and female-centric issues. I haven't really seen this tackled in a horror film before and I don't think people expect to be hit with a statistic about human trafficking while watching. It's been really interesting to hear how different audiences react and surprising to hear what resonates with folks.
Has luck played a meaningful role in your life and business?
It's all been luck and a lot of hard work. I'm lucky that very talented people believed in me as a filmmaker and were kind enough to donate their time and skills to work on "What Daphne Saw." I'm lucky that my producer Alex Winkler made the connection with NotInOurCity and that they understood and believed in what we were trying to do with the film. And I'm very lucky to have received the Stephanie Rothman fellowship since there are no shortage of extremely talented female genre filmmakers. There are a lot of talented people in LA and therefore, a lot of rejection, but finding the people that believe in you and support you is key.
Contact Info:
Image Credit:
Stills from What Daphne Saw by Sevag Chahinian
Suggest a story: VoyageLA is built on recommendations from the community; it's how we uncover hidden gems, so if you or someone you know deserves recognition please let us know here.