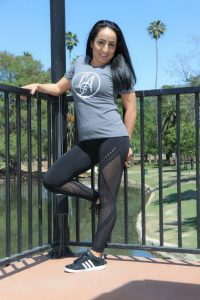 Today we'd like to introduce you to Liz Alvarado.
Liz, please share your story with us. How did you get to where you are today?
I was born in Mexico but raised in the San Francisco Bay Area. In 2004, I decided to take up a job offer in Los Angeles pursuing my passion for radio and broadcasting. This meant being away from my family for the first time in my life. My family knew what this meant to me and supported my decision.
A few years after I had moved to LA, my mom was diagnosed with Parkinson's and Dementia. For the first few years, we didn't see much of a change in my mom's health, but of course, that changes with time.
In October of 2014, I was supposed to go on a family vacation, unfortunately, my family had to cancel last minute, so I decided to take my first solo vacation. Never in my life, would I have thought this would be the trip that would change my life forever. This vacation gave me time to reflect on my past, my present and my future.
During this time, I was able to come to terms with myself, I realized that I was living a life where I felt unhappy, incomplete and with very low self-esteem. I knew that if I wanted a positive change, I needed to make some changes. But I didn't know exactly what that meant.
What I did know, was that my whole life up until that moment of "waking up" was due to a series of bad choices. I never cared about eating healthy, I would drink three cans of soda a day. I drank zero water but I partied every weekend, and I did not exercise.
Upon returning from vacation, I decided to join the gym. My plan was to get fit and achieve the best body I ever had. My eating habits and lifestyle changed overnight, it was cold turkey. I fell in love with working out, in the first three months I lost 20 lbs. and I loved it!!
I began to see a change in me, not only physically but also emotionally and mentally. I had more energy, I began to recuperate my self-esteem, I smiled more, I was actually happy! I then bought an online workout program, I had no idea what I was doing. All I knew was that I was determined to achieve my fitness goal, and nothing was going to stop me.
YouTube became my best friend. I would look up the exercises, write my notes down and go to the gym. I of course eventually invested in a personal trainer… learned the basics and continued on my own. It became a trial and error type of game until I learned how to do it properly.
One day, I was having a conversation with a colleague, and she suggested to take my passion for fitness to the next level. I said I would think about it and left it at that.
A few weeks passed, and again I was approached once more, this time I was pitched the idea to start my own podcast. That Idea I liked, I knew exactly the concept I wanted and how I would make it happen.
With my new lifestyle change, I knew I had it in me, so I went for it and started my Fitness and Lifestyle podcast…." Liz Alvarado the Fitness Podcast" on iTunes and SoundCloud.
I love fitness, and as it became part of my lifestyle, fitness clothing slowly began to take over my closet. I have always had a creative side, and I always knew that one day I would want to start a clothing line.
I needed to start small, yet it had to be something meaningful that all women could relate to. So I was inspired by my mom, who became a single mom at 40. She has always been a strong and very hard worker. But despite her current situation with dementia, she has still shown us how strong she continues to be.
She has always been that one person I've admired. She is a true warrior, so I came up with a line of hats and t-shirts that says "Guerrera it's in my DNA" – (Warrior it's in my DNA).
I've met so many women from all walks of life, single moms working two jobs, the oldest daughter's going to school and working to help her parents, others battling a chronic disease, some have been sexually assaulted, many working a 9 to 5 job while starting a small business to make their dreams come true.
To me all of these women are Guerrera's, they are all warriors, strong, hardworking and incredibly smart women. They all have a story, and they all have one thing in common, they face daily struggles with many setbacks, but they never give up!
Overall, has it been relatively smooth? If not, what were some of the struggles along the way?
It has definitely been one very bumpy roller coaster ride… with lots of ups and downs. I've faced many obstacles and setbacks, but it has all been learning experience.
Please tell us about FitRadioGirl.com.
I have a Spanish language fitness/wellness podcast "Liz Alvarado The Fitness Podcast," and I also own my fitness clothing online store www.FitRadioGirl.com. What I'm most known for is my fitness transformation and podcast where I share my fitness journey and help others achieve theirs.
Although I'm proud of many of my accomplishments, I'm also very proud that thru my social media and podcast I'm creating awareness on a variety of topics, but most importantly the importance of being physically and mentally healthy.
What sets me apart is being authentic, being Latina, multicultural. I share not only my fitness journey, but I also share my weekly struggles, some personal stories and day to day life experiences to help them find the motivation and guidance they need to start their fitness journey.
If you had to go back in time and start over, would you have done anything differently?
It will sound very cliche, but I would not be the person I have become or would be in the place that I am currently in, had I not gone thru each experience. Each person, each moment in life, they all taught me something different, they all taught me a lesson with that said, I wouldn't have it any other way.
Contact Info:
Image Credit:
@gonzalophotagraphy
Getting in touch: VoyageLA is built on recommendations from the community; it's how we uncover hidden gems, so if you know someone who deserves recognition please let us know here.