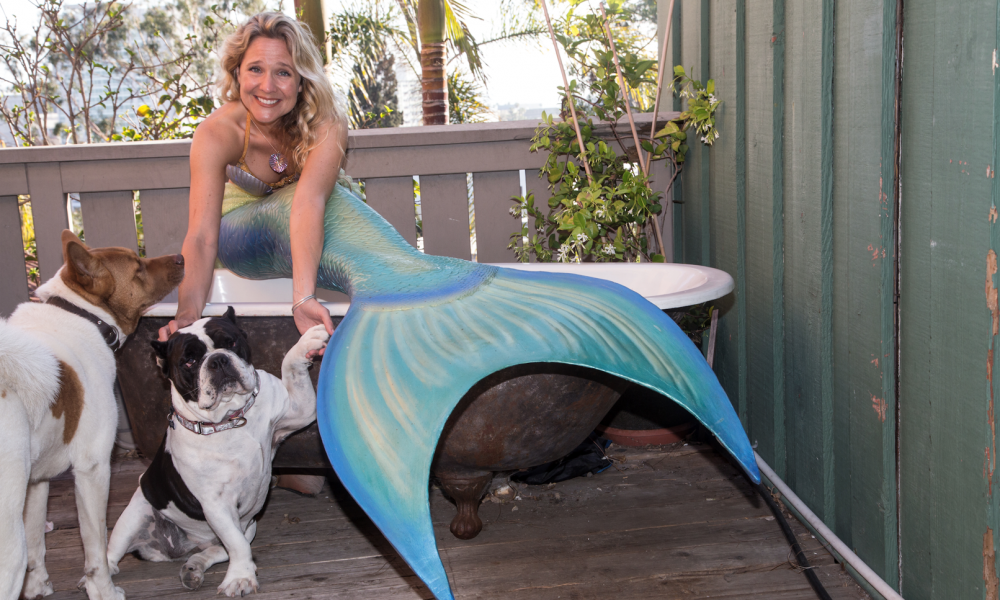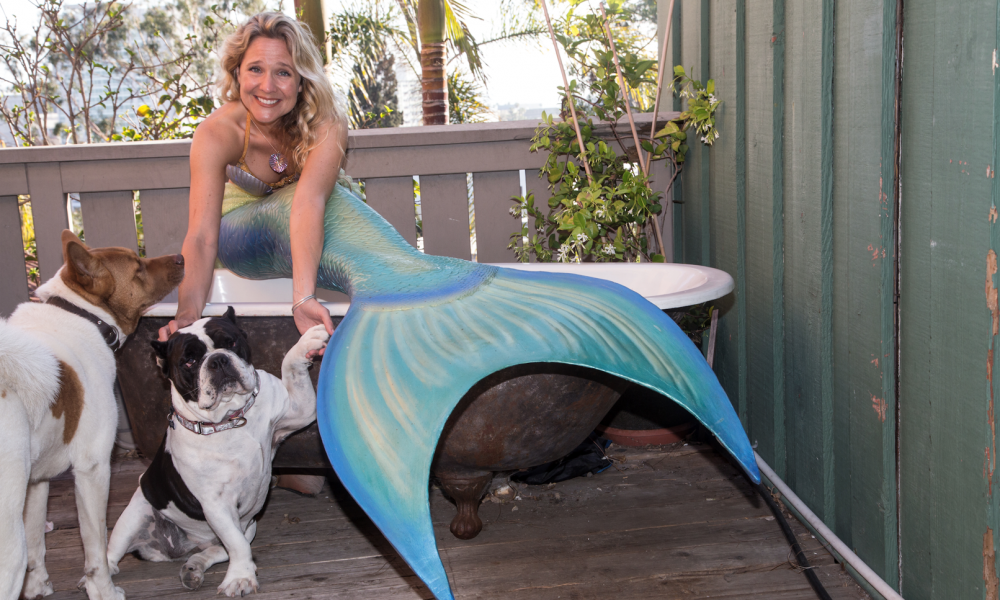 Today we'd like to introduce you to Linden Wolbert.
Linden, can you briefly walk us through your story – how you started and how you got to where you are today.
As a child, I grew up in landlocked Pennsylvania Amish Country. My parents tossed my sister and I in the pool when we were tots, and we learned to swim and love the water. I was on the local swim team in the summers, and loved reading about and playing with bugs and animals. I've always been a total science geek! We didn't have cable television, so I primarily watched PBS. I LOVED watching underwater documentaries like Jacques Cousteau's programs, NOVA and Marty Stauffer's Wild America. I knew from a young age that I wanted to be involved in making wildlife documentaries, and dreamed of being an underwater cinematographer.
I went to Emerson College in Boston and studied Film and Environmental Science. I shot my first underwater film with a 16mm Bolex film camera inside of a fish aquarium I bought in Chinatown and filmed it at the local YMCA pool. I ventured out to sea with the Marine Biology class aboard the historical vessel "Schooner Ernestina" thanks to our amazing Science department head, Dr. Alan Lee Hankin. He inspired me in so many ways to get the message of ocean conservation to the masses through film and media.
At the end of my collegiate career, I had the opportunity to finish my last semester in Los Angeles. I moved west, and was excited to finally be able to get certified as a PADI Scuba diver! This would allow me to do all of the underwater filmings I'd dreamed of for years!
Around the same time, I got introduced to the sport of Freediving, which is holding one's breath for depth or distance underwater in a pool or the ocean. I was instantly obsessed! Shortly thereafter, I was invited to be an underwater videographer for a documentary being filmed about freediving in Grand Cayman. I got my first passport for the occasion, and that trip changed my life.
I tried a monofin on for the first time, which is the primary type of fin used in competitive freediving. It is a single large fluke or blade with two-foot pockets attached side by side… like a mermaid tail. It is an extremely efficient way to move through the water, as you are using your core strength rather than just the legs and hips like with bi-fins (two separate fins) to move through the water. After Canadian and World Champion Freediver Mandy-Rae Cruickshank completed her world record attempt for the day, I asked if I might try her monofin out. Coincidentally, we had the same shoe size. I was over the moon when she said yes!
I sat on the back of the boat, pulled the fin on, and slipped into the warm, clear Caribbean water. I took a deep breath and swam just below the surface, with a butterfly kick, aided by this amazing monofin of hers. I FLEW! I felt the "wind" in my hair as I cut effortlessly through the water. I eventually popped up, and the boat was so far away. I could hardly believe the power and efficiency of this monofin! I was hooked…. and I felt just like…. a mermaid ☺ This is truly where the light bulb moment happened. I thought, "If I were a mermaid, teaching kids about the ocean would be fun and memorable to them!" And that was that. Shortly thereafter, my journey into creating a career as a Professional Mermaid began.
The "sea stars" aligned, one after another, to get me from one step to the next. First, I had to make a tail. Serendipitously, a Hollywood Special Effects Artist by the name of Allan Holt came into my sphere of existence. We began making what I now refer to as "Tail 1.0," which was, after 7 months and many thousands of dollars, my 35-pound, realistic, resilient and super powerful silicone mermaid tail that would travel around the world with me for the next 9 years.
We're always bombarded by how great it is to pursue your passion, etc – but we've spoken with enough people to know that it's not always easy. Overall, would you say things have been easy for you?
Nope, it has NEVER been a smooth road! As they say, "If it was easy, everyone would do it!" And I can tell you, it has been anything but easy! To start my business, I moved into the room above the garage at my parent's house… no kitchen, no plumbing… just a room in a separate structure from the main house. That being said, I have the most supportive parents on the planet. Imagine your adult child who has been put through a four-year private communications college moving home, and saying, "I'm going to be a Mermaid for a living!" HA!!!! Well, they never batted an eye. Lucky me. 🙂
Making the tail was a terribly stressful experience. It was an extremely lengthy process, very challenging, expensive, and all-consuming. For 7 months, day and night, nearly non-stop, Allan and I worked on creating this tail. At the time, there were NO tutorials to make tails. It was really starting from scratch, experimenting, and tons of trial and error.
We discovered that to make a tail of the quality and resilience I was required, was no easy feat. Allan was so patient with me. My Dad documented much of the process in photographs. My friends and boyfriend at the time would come over and help us sculpt scales. My Mom cooked meals for us after we'd spend hours toiling over the sculpture.
Then we had to fiberglass the design and create a negative mold, to later be injected with silicone. If I could count the number of times we hit challenges, unexpected roadblocks and sheer horror when something didn't go as planned, I'd run out of fingers and toes several times over. So I am very proud of what we created. In the end, that amazing tail traveled with me to all corners of the earth, into blue holes in the Caribbean, Scottish Lochs, pools, rivers and puddles around the world.
Then there was learning the art of self-employment. The ups, the downs, the uncertainties of freelancing, and starting a business for which there was no existing business model. Sometimes bookings flow in, sometimes there are long dry spells. I had to learn to market something that nobody had really ever heard of, and somehow sell performances. I had to learn to build and design my own website.
I had to perfect my "mermaiding skills" through freedive training, constant self-evaluation, and staying in optimum shape to move "effortlessly" through the water with a 35-pound tail on and still smile. A crash-course in waterproof makeup, and mastering the art of swimming with 50 children in a pool and entertaining them for 2 hours, all took much time and effort. The learning curve of being an entrepreneur was not easy for a creative person like me.
Becoming comfortable in front of the camera, and teaching myself how to edit videos on Final Cut Pro and start a YouTube channel in the early 2000's was not without its frustrations and obstacles. The challenges were endless, and I am still learning and am challenged every day in my business! But is it all worth it? ABSOLUTELY!
So, as you know, we're impressed with Mermaids in Motion and Mermaid Linden – tell our readers more, for example what you're most proud of as a company and what sets you apart from others.
My company, Mermaids in Motion, and my brand, Mermaid Linden, specialize in "Ocean Edutainment" for kids and adults alike. The ethos behind my work is to inspire people to get into the water, become safe and comfortable in it, and to enjoy and protect our oceans and the creatures in it as a result. I do this through live performances in schools, pools and conventions, creating educational videos on YouTube, developing and designing swim products with Body Glove and various immersive instructional experiences.
I am known as a "Pioneer of the Mermaid Industry," "Mermaid to the Stars" and have been called an "Entrepremermaid" by several large news outlets over the years since I began in 2005. I am known for being the "Geeky Science Mermaid" with my Mermaid Minute series on YouTube, which I am more proud of than anything else I've produced.
In 2013 I co-branded with Body Glove and created my own signature line of Mermaid Linden swim products for kids, and now adults! This summer we are introducing my Teen/Adult Unisex Monofin, which is an amazing fitness tool! It easily serves as the monofin base of a mermaid tail you wish to create yourself. I am so proud of the design, power, comfort, and so on.
It is the same shape as my signature crescent mermaid fluke; which is also mirrored in my kid's monofin. I have worked for a very long time to "merfect" these products, and right now my kid's monofin is "Amazon's Choice" for monofins and has been in some of the biggest retailers in the world. I'm tickled! I'm beyond excited to see where the adult line goes.
I believe what sets me apart is possibly my longevity and ingenuity in the industry, the level of diversification I have managed through this small niche of being a "mermaid," and being extremely multi-faceted and passionate in my work. I do a lot of events with children's charities who deal with wishes for ill children, or kids with life-threatening conditions; like Make-A-Wish, Rays of Sunshine Children's Charity, and Miracles for Kids.
My own niece was diagnosed with B-type Acute Lymphoblastic Leukemia in 2016 at age 7, so granting wishes became even more personal for me. It's one of the most rewarding and joyful things I have ever experienced. One of my wishes, for a little girl in Scotland, has been viewed over 24 million times on YouTube. If we're basing it on worldwide viewership, children's wishes are what I am best known for, followed closely by Ocean Educational videos.
So, what's next? Any big plans?
I am always dreaming up new ideas and scheming to broaden the mermaid magic! I would love to share some of my future plans, but they are locked up in a deep-sea treasure chest somewhere in a shipwreck… so when they are revealed, they are unique and spectacular!
I like to surprise my "sea fans" as much as I love to be surprised myself… and that's a LOT! 😉 I can tell you that I have a lot of exciting things in store that I cannot wait to share with the world over the next couple of years! Stay tuned!
Contact Info:
Website: www.MermaidLinden.com
Email: info@mermaidsinmotion.com
Instagram: @mermaidlinden
Twitter: @mermaidsnmotion
Image Credit:
Lorenzo Hodges / Nathan Lucas / Jonathan Harvey / Cameron Anctil / Stephan Whelan / Matthew Addison / Jewels Russell
Getting in touch: VoyageLA is built on recommendations from the community; it's how we uncover hidden gems, so if you know someone who deserves recognition please let us know here.