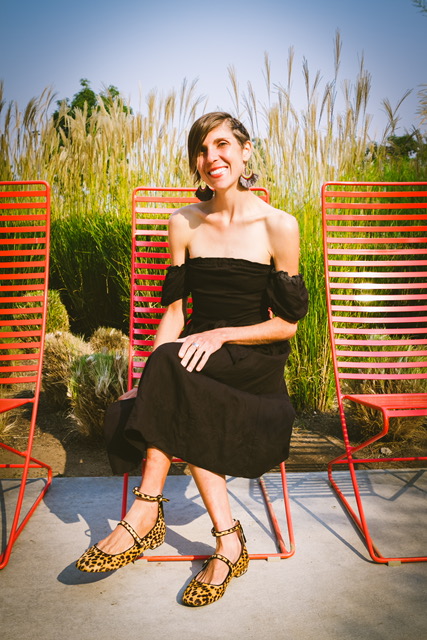 Today we'd like to introduce you to Leyna Lightman.
Thanks for sharing your story with us Leyna. So, let's start at the beginning, and we can move on from there.
Most of my career was in museum education. I started out at the San Francisco Museum of Modern Art and several years later some of my SFMOMA colleagues and I moved to Michigan to open The Broad Art Museum at Michigan State University. Launching The Broad seemed like an offer I couldn't decline, but I had no idea what a wild ride it would be.
My plane landed in Michigan 4-weeks before The Broad's grand opening and there was plenty of work to keep me busy. My phone was ringing off the hook with various requests from the public but everything was so fast-paced that I was just making things up as I went along. "Oh, you'd like a tour? For a private group? Uh, sure, sure we do that. (Furiously rifling through papers to remind myself which works would be on view).
"We can offer you a tour of our video gallery! Those tours last for… ummm… uhhhhhh… we cap those tours at 45-minutes. And they cost $100. Oh! You heard, I just quoted the Mid-Michigan Junior League $75? Yes! That's exactly what I meant. Those tours cost $75."
My office itself was one of the most exciting parts of the job. Zaha Hadid designed The Broad shortly before she died and it's a daring, evocative space. Visionary structures often come with unique growing pains however and that was certainly the case here.
The Michigan locals had never seen anything like the reflective metal cladding covering the museum nor its wild, soaring angles and many people called it a spaceship. The staff was constantly encountering surprise issues like 6-foot long, lethally-sharp icicles hanging from the building's entrance and threatening to impale our visitors.
In a way, the icicles were the thing that eventually ended my run at The Broad. I am a sun-loving California native, and Mid-Michigan is a frigid tundra for most of the year. I'm not talking about the kind of festive cold Angelenos enjoy when they go skiing in Mammoth, but polar vortex cold. Michigan is cold like, people get stuck in the snow trying to back out of their own driveways, cold. I went directly to Los Angeles from Michigan for the weather, but I didn't expect the way the culture of this city would change my life and my career and my creative process. I just wanted a little heat and I got a lot more because L.A. felt so creatively abundant. The art worlds in San Francisco and Michigan always felt defined by a culture of scarcity because there weren't enough art spaces or artistic outlets or jobs and people often had their fists up in the protection of what little slice of the pie they had secured.
In contrast, everyone in L.A. was doing something artistic or expressive, and I kept launching new ideas and projects with my growing circle of partners. This city felt charmed and generous I was high on the collaborative alchemy all around me. This synergy fundamentally shifted my whole perspective on the nature of my career and I liberated myself from the idea that my work life had to be a series of jobs ascending a ladder. I opened myself to the unknown outcomes of teaming with Los Angeles leaders and culture-makers and I gravitated towards opportunities that felt experimental, stimulating and rewarding. I looked for ways to use my skills to improve life in my community- even if those projects seemed disparate from one another or didn't fit into a tidy career narrative. Staying open to all kinds of projects has enabled me to work across sectors with a variety of partners, organizations, spaces, and individuals.
I still work with museums, but I also do extensive work around food and agricultural justice. Other themes I engage are street safety and transit. I work in all different neighborhoods, and I feel rewarded, stimulated and connected. In a lot of my past jobs I felt I had to separate my, "work self" from my more, "human" self because office culture demands a certain, often stifling daily performance, but now I feel perpetually in sync with my purpose  and my values. It's really common for people to silo their work life from who they really are because that is what we are socialized to do and it's also what corporate life requires. My way has rarely been the safe choice, but I have a desire to lead an extraordinary life- not just an existence that follows the expected script. Why not take a risk? I'd rather step outside my comfort zone and trying something new or grand or uncertain. I think that by pursuing my dreams I am are more likely to serve society and the planet.
Overall, has it been relatively smooth? If not, what were some of the struggles along the way?
No! My career actually started in public radio. I was (and still am!) really in love with storytelling. I landed an internship with KQED Public Radio in San Francisco and I loveeeed working in the newsroom. I took time off of school to extend my internship and worked on a number of side audio documentary projects for one of the station's producers. I thought radio news was my career trajectory. I saw myself rising through the ranks and someday delivering the evening news over the airwaves to car commuters slogging home in gridlock. The economy tossed me a curve ball, however! The year I graduated from college Lehman Brothers collapsed, the housing market crashed, and the stock market plummeted. In tandem with the economic crisis and a changing media landscape, traditional forms of media like radio and newspapers were in total crisis. Public radio was in big trouble, and even veteran reporters were being laid-off. It was almost impossible to break into the field as a newbie fresh out of school, so I managed to land a side gig with the San Francisco Museum of Modern Art producing an audio tour project and then I stayed in the museum world for years. It's incredibly magical how the universe works sometimes- I was devastated to be shut out from the radio world but in hindsight, my art career is a much better fit for my personality, and I'm not convinced a newsroom life would have made me happy. That twist taught me to let my experiences shape my direction and affect who I am and what I do. I think this lesson I learned from my initial career shift is part of how I found the courage to let my work morph again when I, "met" Los Angeles.
We'd love to hear more about what you do.
The constant flux of my projects is part of what invigorates me. Currently I co-lead a course at Otis School of Art and Design in the Creative Action Department that deals with socially-engaged art in the community. I also have an ongoing relationship with Palm Springs Art Museum where I train teen and adult docents.
Many of my museum projects are more event-based. I recently designed an evening experience for the Craft and Folk Art Museum that taught the public about beer brewing and bread baking using grains from a single local farm. I do a lot of programming in that vein that straddles the art, food and food-justice worlds. I even co-founded an organization called the California Grain Campaign that supports small-scale heirloom grain farmers across the state.
Looking forward to 2019, I've got a lot on the horizon! I'm especially thrilled to be a City Impact Lab 2019 Impact Maker to Watch. This designation means I'll be convening monthly with other city leaders regularly to buoy and amplify each others' good work. Also, throughout 2019 the Los Angeles Public Library, "Made in LA" series is hosting me for programs opening people's minds and palates to the biodiversity and importance of heritage grains.
What is "success" or "successful" for you?
I've been a bike commuter for years and always cared about safe streets. But 2-years ago, I witnessed a fatal motorcycle crash on Sunset Boulevard, and that experience changed my life. I pursued a grant from the Los Angeles Department of Transportation to manifest an artistic, "intervention" in support of their Vision Zero initiative that aims to eliminate traffic death. As part of my intervention, I hired a mosaic artist to help honor a 15-year old boy named Saul Lopez who was killed riding his bike to school. Saul's art teacher and school counselor, as well as his family and friends worked with me and the artist to design a mosaic that honored Saul's life. We installed the work over Saul's favorite lunch table at school and the teachers and students admire it every day while they wait in the lunch line. After the project was completed, the school and the local city council representative presented me with a city council commendation for helping the community heal from their profound loss. I can't imagine feeling more grateful or honored or successful than I did when I played a small part in seeking justice for a community affected by a traffic fatality.
Contact Info:

Image Credit:
Head shots: Gina Valona
Getting in touch: VoyageLA is built on recommendations from the community; it's how we uncover hidden gems, so if you know someone who deserves recognition please let us know here.