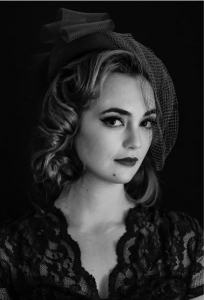 Today we'd like to introduce you to Lexy McAvinchey.
Lexy, let's start with your story. We'd love to hear how you got started and how the journey has been so far.
I act, write, direct and produce in LA.
I grew up in Santa Fe, New Mexico so I don't know if I'll ever stop feeling like a hippie, desert rat.
My shining moment in the theater was when I played the Artful Dodger in Oliver! the musical at age 13. That's 'to date,' just to be clear.
I went on to attend the prestigious New Mexico School for the Arts, where I studied Stanislavski, Meisner, Stella Adler, and Le'Coq with a bunch of other theater freaks (way weirder than me), who I now call family.
After that, I funneled all my hopes and dreams into the University of Southern California. It was the drama and cinema departments for me, although I constantly regret not doing an entrepreneurship double major (not only because I want to be that big shot who orders the extra avocado, but because running a creative business is super, duper hard. Who knew? Also, I wish I could spell entrepreneurship without using autocorrect).
However, I figured out the best thing about big universities: abroad programs. I finished up my theater credits in London at the British American Drama Academy and am still afflicted with the belief that I'm meant to live out my days in The Big Smoke. In an ensemble cast, I got to play the high functioning, autistic boy 'Christopher' in The Curious Incident of the Dog in the Nighttime. I've played lots of boys. Anyway, graduated Magna Cum Laude.
Most recently, I produced a proof of concept as my literary and directorial debut. It's called 'Pacifica,' and it's about the West Coast seceding from the Union in a dystopian future. That's entering the festival circuit shortly.
You can catch my voice in the English dubbing of Immortals on Netflix.
I just won Best Actress at IndieX Film Festival for my lead role in the film Outside the Angel City, playing opposite Jewell Bridges.
I've written a feature, Fugitive, that is currently trying to find a home. It's meant to be shot in ol' Santa Fe, the most beautiful little Spanish town you've ever seen outside of Europe.
So that's me. Not too big, not too small, not all perfect but never quitting on myself.
Has it been a smooth road?
I want to answer this two ways. Firstly, I want to say that I cry daily. Secondly, I want to say that I've had a really easy time because stuff is just easy for people who are the best at what they do.
Neither are true.
I keep day jobs and keep afloat with that money. I used to not be able to afford coffee. At one point, I was kicked out of my apartment after a breakup and had to move back in with my mom for a few months, four hours drive north of where I was working. It was an upward battle to stay on my feet.
I'm still figuring out how to respect this industry and the broader community that comes along with it. A huge group of dreamers are we.
What I've learned is that I have to invest in myself, and also, succeeding in this industry is like being an Olympian.
All I can say is get an account on You Need a Budget, and start listening to Audrey Helps Actors if you've noticed you're not having much luck flying by the seat of your pants.
What this whole blasted thing has given me is myself. Nice to meet me. I show up. I work hard. I set boundaries. I believe in what I produce. I cry. I have to fight my way out of fear and doubt every single day.
I keep my people close. Occasionally that doesn't work out.
And I love to laugh.
We'd love to hear more about your work and what you are currently focused on. What else should we know?
My way in as an actor are period pieces and characters with lot of contradictions, both comedy and drama; although for comedy, I fit the Straight Man more than the Wise Guy.
I handle text with acute attention to detail and understanding for the overall shape of the scene. I love building symbiotic relationships with the whole creative team, from directors and actors to sounds engineers.
As a feature scriptwriter, I specialize in original scripts, usually dramedies, with a focus on group dynamics.
With episodic writing, I prefer political drama with a nod toward science fiction.
I aim to be true to people's bass nature within the given circumstances. I love stories about how flawed and incongruous we are, so I write what I would want to see, and what I think my friends would like to see.
As a director, I listen, get things done on a budget, plan my vision ahead of time, and work with people I truly respect. And I love keeping time.
Is our city a good place to do what you do?
I think everybody is different. It depends on what you want, and whatever that is, you should follow it. This place is massive and there's a ton of competition, I intend on going to smaller markets for blocks of time to build up more credits and continue to enjoy my life.
The only thing wrong with this town is that we're not transparent with each other. We have to keep connecting and communicating so we can all keep working. I think that's really it. My door, for one, is always open.
Pricing:
Acting day rate: min. $125 a day. SAG-E
Contact Info:
Image Credit:
Michelle Felix, Jackson Mach, Riannah Pouncy, Dana Patrick, Nell Nakkan
Suggest a story: VoyageLA is built on recommendations from the community; it's how we uncover hidden gems, so if you or someone you know deserves recognition please let us know here.