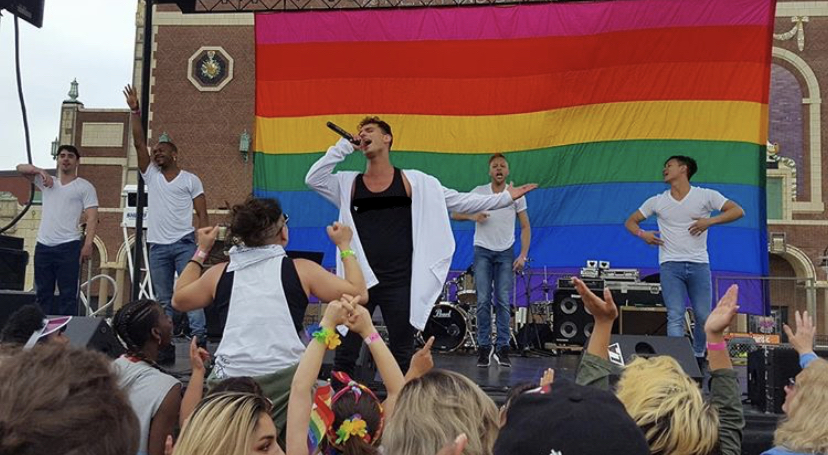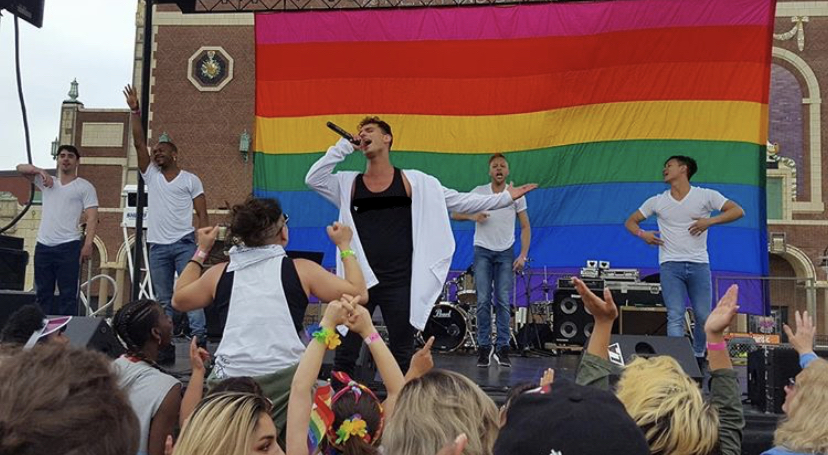 Today we'd like to introduce you to Leonardo Martinez.
Leonardo, can you briefly walk us through your story – how you started and how you got to where you are today.
My interest in the arts began at a very young age. In fact, in 1996, field day at my elementary school was a defining moment for that because we were given timeline T-Shirts that day to write on them where we wanted to be in 20 years. I wrote, "I will be an actor". I went through the steps one would go through in New Jersey growing up; musical theater in High School, attend a university that offers a Musical Theater degree, and go on to do broadway. Well, I did two out of the three. I realized that Broadway wasn't my interest. So for a while, I was a bit lost, not only artistically but as a person. I felt like I had no direction, and it didn't help that I immersed myself in a career of partying and binge drinking which then leads to other stuff.
For years, I cycled down the rabbit hole of addiction and didn't even know it. But the rock bottom moment truly was the moment that flipped the switch. As they say, there's nowhere to go but up. Well, after feeling like life was not fair to me, I finally stopped and asked God to show me where He wanted me to be and I would be there. At this point, I've already done my damage to myself so what more could I lose? Well, God didn't fail me. he showed up immediately. Comfort became an immediate friend, and then for two years, I began to grow in my relationship with him. That's when the story started to pour out of me. I began writing lyrics to songs that were singing so loudly in my heart and spirit.
As a member of the LGBT community, I was definitely confused because some of that music was Christian music. Not a very common thing. In fact, name one artist. I can't think of any LGBT and Christian artists either. So here I am trying to understand it all, but the question was burning inside me. "God, I know that you love me, but I know that I'm also gay. Do I need to give that over to you and reconcile that in order to have heaven in the afterlife?" God said " The last thing I want is your sexuality. I just want your heart." That was more than enough for me to know that everything I thought I knew, and what every other bible beating "Christian" knew was wrong. So I let my artistry be influenced by the story of my life and I just let God lead. God then provided a way for two prayers of mine to be answered: I wanted to go back to school and I wanted to move to a new city. While I was still navigating my way through my struggles, back and forth from addiction while still trying to grow in what God's saying to me, a lot of my own motives to make these two desires happen failed. Trust me, there were a few cities that fell through and I felt disappointed. But the music was still being made.
I met producers and collaborated with them to build four solid tracks. "Body Language" my first single I ever wrote which had been reproduced 3 times before, "iH8U" written by a friend and producer Jay Essex from NYC which was reproduced once before, then my two brand new Christian songs; "I Saw The Light" and "Feel The Love". These two songs were the captains of my journey. God guided me to a showcasing that was Christian based, and I was able to perform in front of everything from Record Labels, Dance Agencies, Model agencies, casting directors, film schools, and much more. It was this showcasing that blessed me with the answer to my prayers. I received a full scholarship to attend the New York Film Academy, and I was able to choose my campus. Low and behold, the only campuses that offer academia credentials both bachelors and masters are the Los Angeles Campus and Miami campus. So I chose Los Angeles to obtain my Masters of Fine Arts for Acting In Film(2015)! This was the beginning of the new me, or so I thought.
While I had the ivory tower protecting me from falling off course completely for two years, I found myself slipping back into my addiction, but not realizing how much it was happening all underneath my nose. I blamed New Jersey/NYC alike. I blamed the people in my life. I blamed everything other than the one in the mirror. Before I knew it, I had the same type of friendships here in LA that I did on the east coast. After a year, I snapped out of it and remembered how I got to LA in the first place. So I found a church, started serving, and those four tracks started to breathe life again. I collaborated with filmmaking students to create music videos for my songs. First "Feel The Love". Then I decided to do a music video short film for my thesis for my acting grad program. "Body Language" and "I Saw The Light," told my testimony I'm sharing with you now in eight minutes. That left "iH8U" which was done in one day, 16 hours, and from a lot of grace and love and hungry filmmakers like me who wanted to make a name in the industry.
We were all creating our templates and our resumes. Now all these projects were created, and I graduated in 2016 with an MFA in Acting In Film. So I guess I was right 20 years earlier. in 2016, I will be an actor, and in 2016 I received my MFA for Acting in Film. Now having graduated, I did what I knew to be the next step; Film Festivals. Music video categories in film festivals is really tough to find! But they are there. So I researched and as it would turn out "Feel The Love" began winning award after award after award. Multiple awards later, I then began getting offers to do some live performances for gay pride events. During this time, I could never forget the moment God said to me "I want you to remain sober because I want your full undivided attention."
After everything God has blessed me with, how could I not honor this "simple" request? So I began putting together my live performances with backup dancers, and I remained sober. Five months of blessings to perform live and share my journey through my music and also be super vulnerable. Remember, this was some Christian music too. Christian music being performed at a gay pride event; a few gay pride events. Again, name another time this has happened. I had no references to look at to inspire me. I just had to be myself, and tell the truth. I had to shed my skin and allow myself to feel afraid and excited to get up for the first time ever and share everything I had been through. Of course, God was there, and God protected me. It couldn't have been more beautiful. Nobody knew my name. Nobody had ever heard of me.
Despite those odds working against me, I'll never forget the bodies running from one side of the park closer to the stage to be part of the experience I was providing. Both Asbury Park NJ gay pride and NYC gay pride right on the street overlooking thousands of people stretched across into the park, the parade even stopped going and the floats were even present. The parade stopped to be part of this moment. God really just showed up shamelessly at these gay pride events to let the community know "you are loved" which is exactly what He told me. For 2 years now, I've been performing my music, and the music has been growing as I've been growing. I don't have a manager still, nor do I have an agent. I don't have a fully employed team, however in two years, I've been able to perform from coast to coast in the U.S. at multiple gay pride events(from NYC to DC, the Midwest, to Vegas and O.C.), and just this year in 2019, I've been able to venture into neutral spaces where both straight and gay people are present, and I've also had more LA-based performances that have grown exponentially.
I was able to be listed as a headliner with IconaPop and Laith Ashely at Tulsa Oklahoma Gay Pride, followed by The Viper Room, followed by "Carnival"(a dream come true), followed by a Labor Day weekend tour in the east coast where I was able to provide flights and places to stay and the majority of the food to my dancers, followed by a show at Molly Malone's in Miracle Mile intertwined with multiple film festivals showcasing my new music video "Blink"(which did get nominated in all three festivals for best music video, and took home one award!) leading into Fashion Week in LA for an event called Sanctuary, and finally, concluding 2019 with another performance at Carnival at Academy LA on November 26th, where my family will fly in because it's right before Thanksgiving, and being with family and showing thanks is a definite after all this to have taken place. If there's one thing I've learned in all of this, it's that when you listen to what God has in store for you and you submit, you will see how much God has for you. God willing, on November 26th, that performance will mark 475 days sober. 475 days of submitting to what God wants from me and my heart.
It hasn't been an easy thing because I want to have control and my will in all of it, but I know that this is where I'm supposed to be and I wouldn't trade it for the world. Also, having dancers in my life that are willing to collaborate forces with me so we can encourage each other and showcase our talents together is a real blessing. Unsigned dancers paving their way and proving their talent with an unsigned artist doing the exact same thing basically getting an all-expense paid trip across the country, and all they have to pay for is a little food here and there for eight days? Not bad considering there's no financial backing from a record label that would have a full team of people providing the means. That's how I know God is real. God provides a path for what everyone can call "impossible".
I just had to listen to God, and I also know that when the time does come that I do have a label that is part of my journey, I know who will be the first people I call to receive the pay they deserve to have consistent work. People have put themselves out on the line for me, and I know the day is coming that I will be able to do what is right to honor them in return, no questions asked. The saying goes "always stick with the winners" and I know who the winners are in my life. But none of this could be possible if it wasn't for what God is doing in my life.
Has it been a smooth road?
The obstacles always are the fun part of becoming better. They just aren't fun in the moment. At all. I would say in the beginning it was about connecting with people I didn't know at the time. When I was looking for dancers for my music video Feel The Love, I knew nobody. So I began taking dance classes so I could be introduced to a scene I hadn't been part of. Luckily, one thing leads to another, and I was able to find an amazing choreographer and he willingly helped me find what I needed! From there, performing live that first summer two years ago was crazy because I had jobs both on the east and west coast. So I needed to cast two teams of dancers and teach the show twice over because I couldn't afford paying for flights at the time.
It was crazy to book studios and plan everything so intricately, on top of still needing to find what I needed because the relationships I had at this point weren't completely built in the dance community. So trusting the one person I knew to help find what I needed was scary, but in the end, it was successful, and the job got done! After becoming more involved in the dance community, I now had some stronger relationships with people and some I could call friends. This was where I learned you can't always mix friendship with business. Unfortunately, some people do take you for granted and might even cross the line of respect because they have a more personal relationship with you.
Now I'm an easy-going person, but let me paint a picture here. When one of your dancers never listens to notes and cleaning a dance as we are just days away from the show, or falls asleep during team discussions, or is told to bring specific things for costume and (a)doesn't bring them or (b)brings something that is completely the opposite of that(i.e. wear black shoes and brings white ones), or thinks they have the dance completely memorized so they at the last minute decide they won't come to rehearsal because another opportunity came up, when we are going to the airport and said dancer doesn't want to honor the plan, creates their own plan which creates bigger conflicts, and then when you leave someone in charge of your rehearsal and this leader runs the performance and cleans it for the upcoming show, and said problem dancer decides to take it upon themselves to say to the leader disrespectful things and not listen to the direction, and then even instructs said leader to not come to the next rehearsal…at this point, I was done by the shoes. But the jobs were coming so back to back, I wasn't able to replace this dancer fast enough.
So it got much worse. I told this dancer what was said to the leader was extremely disrespectful and unacceptable, so really this dancer did me a favor and quit. I felt the freedom immediately. Then this dancer decided to share on their IG story about how I never pay my dancers(completely untrue: receipts available upon request) and am a wannabe artist. But it doesn't mean that it didn't conflict the other relationships on my team. The learning experience I had here was that this was my responsibility to make this a safe environment for everyone, and unfortunately, that was not the case here. I had a lot of apologizing to do on behalf of the stuff done by this dancer. If I were backed by a label, I would be able to have a full team of people that can keep things organized so that these difficulties don't happen. I could even host a true audition for people to work for the opportunity versus asking people personally to join in with no stakes involved.
But because I don't have some social media following with fame and fortune underneath my belt, it proves problematic. I don't have the tools that signed artists have to create the consistency of work and the convenience of firing someone for a poor work ethic. I have to figure everything out myself and I am not a perfect human being by any stretch of the means. Thank God, there are still some dancers in my life that do stay loyal and faithful and believe in my work and success and see that I have grown from when they met me until now. As we are all climbing up this mountain called success, we are all lifting each other towards the day of consistent work. That is the part I am grateful for.
Other than that, trying to maintain a balance between all my part-time/time-to-time work to make enough to pay bills, while still finding the time to pursue this craft and future I desire to have in the music industry is all something each person can relate to. How many times does the part-time job over-schedule you, or not give you the time off request, or sometimes even under schedule you? Week to week I'm at the mercy of God's grace. Let's also not forget that somewhere in there, I write my lyrics, and I'm a human being. Somewhere in all this, I have to find myself, which the back to back jobs I had this year really distracted me from doing. Knowing how to take a beat and say "but how am I doing?" is a conflict for me. Keeping my health up with all the flights and traveling and time change and adjusting to sleep patterns and making sure I'm eating well can get lost in the midst of go-go-go; Even making sure my body is okay! I dance while I sing and my body is just as much of an instrument as my voice. Both of which, I tend to fall flat on keeping up with when the blessings get busy. Recently I had a pain in my knee for nearly two weeks and I believe it was due to overworking my body.
I rested, and now I feel better. My voice lessons I can only afford so often, but at least I have the memos we recorded for my warm-ups. But to grow to the next level, that I'll have to wait for the next really nice check. The one that really is the pinched nerve in my spirit is not having a label or a manager. Doing every single thing myself from booking jobs to negotiating pay and creating contracts to hiring dancers, teaching dancers, styling dancers, planning schedules, and being 100% efficient in all these areas……….IMPOSSIBLE. Of course I fall flat from time to time. Some things are even neglected to be thought of until the moment presents. A label and manager taking me on could help alleviate these pressures. Now I think I've proven I'm bookable and entertaining, so now I just need to solve the problem of what label or agency agrees with that. But everything is in God's timing and it's always perfect.
Please tell us more about your work. What do you do? What do you specialize in? What sets you apart from competition?
As an artist, I really am multiple things. I am an actor, a singer, a songwriter, a dancer, a choreographer, a model, a director, and I truly do all these actively. My specialties are really in the music and dancing I would say since that's what books most often. I have choreographed for Ookay's music video "Thief" and Laith Ashley's LA Pride performance. I have done multiple showcases for my choreography. I have backup danced for Todrick Hall a few times. I have backup danced for many choreographers. I think my four years in LA(two in grad school, two on my own) I've really begun to layout an amazing foundation for myself to navigate always towards the next step.
What sets me apart is that other artists like me in my status, or even have accolades or social media influence above me aren't even doing what I'm doing. They aren't booking or performing, and they don't know how to do it. I hear constantly that I am inspiring others and that's a huge blessing because I also don't really think I'm doing anything groundbreaking. I'm just making phone calls and submitting. But others see it as something way more, and I do feel a lot of gratitude for that because I would love to share how I've done it with anyone. Everyone deserves an opportunity to be successful. You just need to find your light.
I think another thing that separates me from others is that I shamelessly perform and express myself as a God-loving gay man. I do this in places that are really unconventional like gay clubs and prides. I do it because it's not even really a thought. It's my music and my story. it's my truth. So I tell it. But not all my music is Christian music. I do have my human side too dealing with heartbreak and sex and love and self-love/empowerment. I'm a human with many sides to me. But God is always there.
Let's touch on your thoughts about our city – what do you like the most and least?
I love LA. LA is the place that allowed me to find my truest self to date. I have all the things that people say they hate about LA; a struggle to find work in their desired career, no opportunities to work on their craft or grow, a close group of friends they can trust and have intimacy with, etc. That's not my story. I love LA because I've really flourished. My dislikes beside the common theme of traffic, I would have to say the flakey tendencies of people who claim they're hungry for a career in the arts.
It's surprising to me how often people will say yes and then end up not following through. I think people here are just so about being yes people they don't know how to manage their time and then it gets too difficult. I think loyalty is also hard to find in people here. People are so about self. When I began serving in church and asking for nothing in return, I found my tribe and found myself all in one. I think people should have that experience; doing something for someone else with nothing expected in return. People may become humbled and become more loyal people that way. Perhaps even find what they want in their career and in life.
Contact Info:
Website:  Www.JustCallMeLeo.com
Phone: 7324923190
Email: ELMEntertain@gmail.com
Instagram: @_JustCallMeLeo

Image Credit:
Hazuki Nabana, Allie Peterson, Patrick Joseph Diaz, Steven Lopez, Jeffrey Gomes, Vive Kham, Jonte Culpepper, Omar Christian, Jessica Sanchez, Viviva Fox, Amber Ford, Golden Door International film Festival, Indiewise Film And Music Convention, Widescreen Film And Music Festival, William Patterson University Radio Station, UCLA Radio Station, Tulsa Gay Pride, Josh New Photography, Asbury Park Gay Pride, Carlo Anthony
Suggest a story: VoyageLA is built on recommendations from the community; it's how we uncover hidden gems, so if you or someone you know deserves recognition please let us know here.