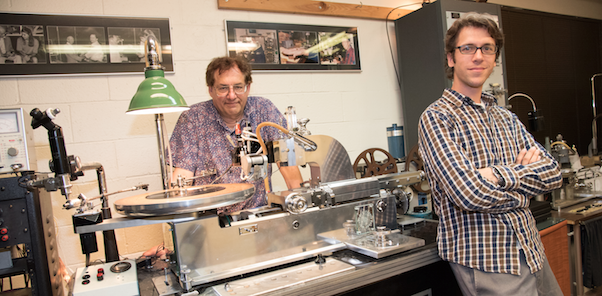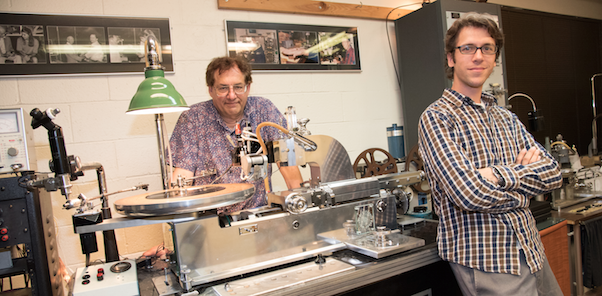 Today we'd like to introduce you to Len Horowitz.
Thanks for sharing your story with us Len. So, let's start at the beginning and we can move on from there.
I have always loved music and the analog technologies that have preserved them.
Particularly, the disc recording machines that engraved sound onto lacquer discs, known as disc recording lathes. Beverly Hills High School had one in the auditorium, and I used to make recordings of the school talent and take a record home. One day, walking home along little Santa Monica Blvd, I noticed the Western Electric sign on a building in the Industrial section of Beverly Hills — next to the Wonder Bread factory. Western Electric was the engineering pool of the telephone company, one of the largest companies of its day.
Once inside, I met all the engineers that were part of the phonograph record engineering team: Frank Pontius (President of Westrex), Bill Prudhomme (Chief engineer), and Otto Hepp (Electro-mechanical jeweler), who was about to retire. I didn't know it at the time, but that meeting would change my life and the future of the vinyl disc in the 21st century. I was blessed to work there amongst the finest analog engineers and technicians.
After College, I was invited to work for Westrex as my relationship from "day one" kept getting more entangled. Although Otto had been retired for over seven years, Westrex sold him the record division and delivered everything they had to his home. He was the only person in the world who could continue building and servicing the Westrex Disc recording heads. Every week Frank would send me to Otto's house in Watts so Otto could repair the recording heads, then I would bring them back to Westrex. Otto was very secretive, and it took quite a while for him to let me observe the process.
Otto and I became very close. I became his one and only apprentice. When he passed away in 1995, I was not sure what was going to happen to the disc division. Many clients still loved records – even though the Compact Disc was mainstream by then. I bought the Disc division of Westrex from Otto's beneficiaries to preserve the phonograph legacy.
My record label, History of Recorded Sound, became the disc-cutting branch of Western Electric overnight. I started in a one-room building on Motor Avenue in Los Angeles, servicing analog recording equipment, tape, disc, and film ever since. It is also a big part of an important education process about music and technology. It is also a museum of the most wonderful things. I moved the business to Culver City in 1999, and we'll have been at this location for 20 years in just a few months.
Has it been a smooth road?
The technical side of the analog record business is one of the roughest roads you can ride. Records almost disappeared… three times: The first time was during the invention of the radio in the 1920s. People could hear the music for free and with bass, not like on a Victrola horn.
The second time was during the introduction of stereophonic tape in the 50s. Records could not have stereo — not yet. The third time almost finished it: the Compact Disc of the 80s: "Perfect Sound Forever." Records remain as a true art form and reflect on humanity quite well, for almost 130 years now. The biggest problem now is not technology. It is Real Estate.
This year I've seen many businesses on my own street move out, like my chiropractor, my auto shop, and several art galleries because of rising rent prices. I too am being displaced.
Although there are benefits of city development, it poses a challenge for small businesses like mine that provide a unique service. After more than twenty years, this is currently the biggest threat to the viability of my business and the survival of this technology. Suggestions are welcome.
So let's switch gears a bit and go into the History of Recorded Sound story. Tell us more about the business.
We provide an abundance of services from audio transfers, servicing of analog sound equipment to building new audio technologies. We are one of the few businesses that restore the recording equipment that makes vinyl records possible. We might be one of only three people around the world who restore record cutting lathes for vinyl records and the only business restoring Westrex cutter heads. Special equipment is needed for these cutter heads, which I got directly from Westrex.
We still use the same equipment from the 1940s. We also restore Neumann cutter heads, the sole competitor of Westrex. We really value our clients and try to go above and beyond what is needed. We pride ourselves in taking on projects that everyone else has found too challenging or impossible and also enrich our customers with in-depth knowledge of the technology.
We've also been a bolster for those trying to get into the business. There are hundreds of unknown variables in record cutting, and we've found that those getting into the business feel confident making the final leap knowing that we are around to support them however we can. I like to help people, and I like to teach people about recorded music and the equipment used.
For example, there was a local artist who wanted to cut 200 records using warped cardboard discs from the 40s. He was rejected from all the mastering studios he called, but those initial rejections eventually led him to us. It's a challenge to cut into dried out cardboard discs, let alone warped. And he couldn't invest much money. So we taught him how to run the Scully lathe, and he cut all those records himself. If he had a problem, we were there to facilitate and coach him through it. He spent 6 hours each day cutting record after record and finished just in time for his gallery opening.
Then there was a woman from Orange County who wanted to transfer the ¼" audio tapes of her late brother. She had about a hundred tapes, which would have cost thousands for us to transfer. We taught her how to run our Ampex reel to reel tape machine, and she transferred tapes for 10 hours a day. She was so dedicated and really learned how to run the machine and calibrate the meters accurately.
Something I'm most proud of is our participation with the Hollywood Bowl's exhibit: "Recordings and Broadcasts from the Hollywood Bowl 1928-2012." My business provided vintage televisions, radios, and Hi-Fi systems programmed via timers to play original Hollywood Bowl performances. The equipment spanned every generation in different home settings from the 1920s to the present.
Our equipment had to run reliably every day for two years. Only one time did I have to do a service call on the 1949 RCA TV. I arrived with my period-correct tube caddy and visitors thought I was part of the exhibit.
How do you think the industry will change over the next decade?
This record industry is only going to grow if we can stay in the business. However, we are currently on thin ice, which means the cutting systems of the world are also in a state of uncertainty. I try to educate engineers how to do some of the maintenance and calibration on their own.
However, there's really no one learning to do the work I do, and it is quickly becoming a lost art. It's unfortunate that the service and restoration part of the industry demands quite a lot of skill and knowledge, but it is difficult to make lucrative despite the growth of the market of vinyl records.
I'm afraid people will realize too late how important this technology is in creating the records they hear. I have to wear many hats, working on other A/V related equipment in order to subsidize the cutter head and cutting amplifier side of the business. I hope there will be a growth and interest in this work in the near future to keep the tradition of record making alive.
Contact Info:

Image Credit:
Joyne Coyne, Baha Danesh
Getting in touch: VoyageLA is built on recommendations from the community; it's how we uncover hidden gems, so if you know someone who deserves recognition please let us know here.