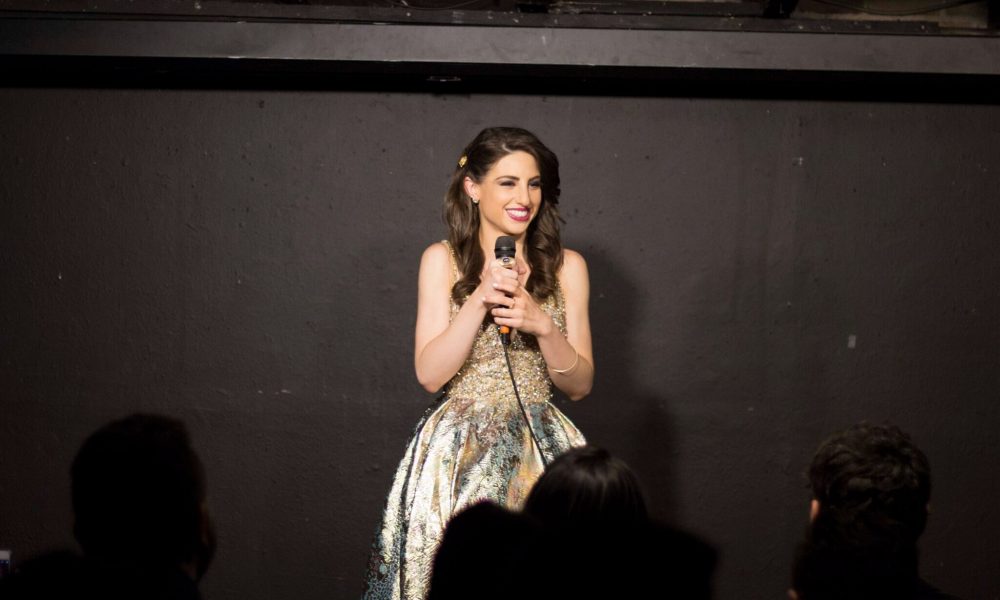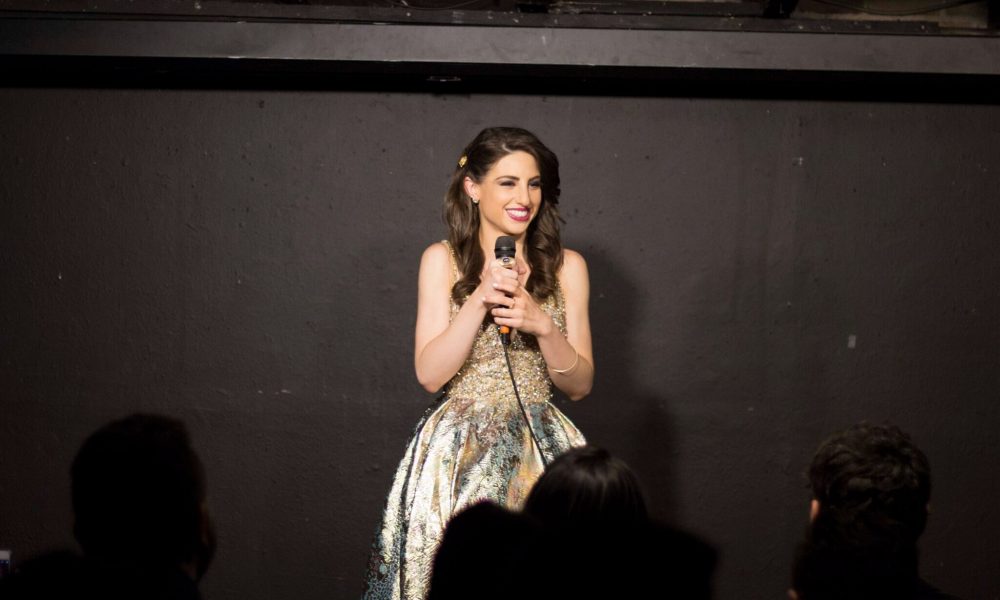 Today we'd like to introduce you to Leah Lamarr.
Leah, please share your story with us. How did you get to where you are today?
My story is long and I wouldn't want to bore anyone with the details of how I grew up in a Jewish bubble just outside New York City and have avoided the sun at every possible moment of my adult life (I recently bought a foundation from Maybelline labeled "translucent" if you thought I was joking), so I'll keep this brief (now, I'm joking — cue Gone with the Wind opening song music).
From an early age, I had a variety of interests and pursued them all in ways that most teenagers shouldn't, so that they can actually experience their childhood. I played multiple sports and participated in many extracurricular clubs, serving as figureheads for many; to mention a few: soccer, basketball, lacrosse, the elective chorus, Model UN, Distributive Economics Club of America (I was a Top 10 International placeholder in Marketing) and kickline (yes, my high school had a kickline for some reason?), honestly there are too many other things and this is becoming embarrassing, but you get the picture. I had a zest for LIFE (and bronzer… so much bronzer! And just on my face – why didn't anyone tell me?!).
I loved creating large-scale art projects and locking myself away for hours at a time like a mad scientist, working in solitude. My parents would beg me to go to bed at 2:00 am or to watch television and relax, but I found joy in creating and couldn't stop. In the 6th grade, I created an entire language for a fake ancient civilization, replete with images of the society's historical past, which I had depicted onto a 20 ft. x 2 ft. scroll by a team of classmates who helped bring my vision to fruition. I was singing, dancing and acting my way through middle school in musical productions and competing in Shakespeare Soliloquy competitions (you don't get to be this pale your whole life without a reason). Despite my obvious proclivity for the arts, I have always pushed away from them as it wasn't a "practical [professional] endeavor" and my parents wanted a more stable life for me. I've never known a more understandable viewpoint – to want the best for your child, which generally-speaking, means financial, professional and emotional stability (a few things that the entertainment industry doesn't flaunt). To be fair, I was never the best in any of these forms of art and, honestly, I was still quite shy. Everyone else might have seen me as confident, but the truth is that I felt super timid and afraid. There was a deep disconnect. I had a fear of being seen, even though all I wanted to do was to perform.
I was also highly skilled in mathematics and science, so naturally my family and "external sources" pushed me toward being one of the few young women (at the time) thriving in the science world. Having a deep fondness and aptitude for the research component of science, I applied for and won, a scholarship to research breast cancer at Tufts University Medical School the summer before my senior year of high school (I would say that's when I peaked). Learning about Bisphenol A (BPA) and its obvious link to cancer was both interesting and difficult work.
During one of my last days, I met with the head of the laboratory, Ana Soto, a woman who, to this day, I believe to be one of the most mysterious and intriguing individuals I've ever encountered. We had a long chat about what it means to lead a life in research; and that a large portion of research is about writing grant proposals to attain financing for continued research. Her sister was an artist and she was so proud of her sister. This powerful woman of science admired a powerful woman of the arts and it was at that moment I realized that the two held equal importance and would always be interconnected. Though, if I'm honest with myself, while I enjoyed my time in the sciences, what I loved more was the element of creativity behind it. Also, I'm fortunate enough to be related to one of my idols, Hedy Lamarr, a woman who personifies the union of art and science. Hedy was a famous film star of the 40s, as well as the inventor of radar technology (what we refer to as wi-fi!). She is a woman who transcends the idea that a person can excel in only one field. I should be so lucky to share an ounce of her talent, grace, intellect, success and to also have six husbands (just kidding… kind of). Currently, I'm writing a web series that encompasses genetics research and comedy.
Obviously scattered in my interests and wanting to follow what society thought was best for me, I put my desire to follow the arts aside and majored in biochemistry at The University of Virginia. Virginia. Did I close my eyes and randomly toss my finger somewhere on the map of the United States? Maybe. Or maybe I decided to go somewhere as far away as my parents would let me so I could feel terminally unique in a new state. Either way, Charlottesville, Virginia is most certainly the South, or at the very least, a clear juxtaposition from New York City. I had multiple encounters with anti-Semitism at UVA. Getting threatened, being dumped (due to my religion), having slanders shouted at me and being asked where I hid my horns, were all surefire indicators that I wouldn't stay in Virginia after school. I learned that the only thing that divides us as humans is a lack of compassion and understanding, coupled with abundant resentment and fear. When you get to the root of adversity, you see that it's humanity's challenge to effectively communicate; and that is exactly where art stems from, the desire to communicate (whether it be a story, a joke, a feeling or a fear). UVA became one of my greatest life teachers.
As an aside, I find it funny how Hollywood doesn't address Jews as a minority. Just because we have a perceived majority in Los Angeles and New York, it does NOT mean that we embody a large amount of the population… quite the contrary.
I held a multitude of jobs after college in my attempt to fulfill what I thought society deemed as an approved success. I was miserable. I was constantly at odds with myself as well as everyone around me. One day, I finally fought the fear and quit my job at the corporate headquarters of a bank in Manhattan. A few months later, I moved to Los Angeles, finally giving myself permission to have a chance at happiness and aligning with the vision that I held for myself all along. The rest, we say is… written below.
Has it been a smooth road?
Has anyone ever said, "YES!" to this question?! If so, I'd like to meet them, punch them in the face and then ask them if they had rich parents. Sorry, not sorry.
I may have answered this question in question 1, but let's be honest, there are no smooth roads unless they were *just* paved and no one stays fresh out of the womb for longer than a day.
Learning how to be the CEO of your own "brand" and producer of your own work requires endless patience and stick-to-itiveness. It entails trusting others as well as humbling yourself to learn from others around you. Personally, I know that when I have a vision, I want every detail executed the exact way I envision them. I've always been that way. I think big picture and then expect and demand perfection; but "perfection" is a trick! It's a little lie we tell ourselves that we deem attainable. I'm now in the business of shedding perfection and attempting to find the beauty in all of the imperfections (am I turning into an Instagram #inspo post? Hopefully!). It is an opportunity to grow and, trust me, I've experienced many growing pains.
Another note I'll briefly touch on is the inherent role that male domination plays in the entertainment industry. I have worked with men who big league me, belittle me, condescend to me, neg me, emotionally manipulate me, hit on me, try to make me look bad because they want my job and/or cannot believe that I'm a female who knows how to do anything. It's frustrating, it's hurtful and it's damaging to an artist's ability to create. I could write an entire article about how many male work relationships have ended in a dumpster fire, but I'll leave it at thank goodness for the strong women in this industry and the current climate we live in. While we aren't quite at a place of true equality for women in the workplace, the amount of progress that is being made is extraordinarily uplifting.
I would equate my journey to that of hiking Huayna Picchu. Huayna Picchu is a mountain that you can hike AFTER you get to the ruins at Machu Picchu. So after you thought you already finished the treacherous Inca trail and made it to the final destination to win your cash and prizes, you're ultimately slammed with more roads to take and more treacherous journeys ahead. Huayna Picchu is truly wild — you can die at pretty much any point by plunging to your death from 1,000-foot drop-offs and if you look back, you will probably freak out, but once you get to the top your life is changed forever! AND THEN WHAT?! You can't stay at the top forever! You'll have to climb back down for supplies, the quality air you can breathe to avoid passing out from the elevation and your family, but you'll never forget what it's like to be at the top. This is my very on-the-nose analogy for my life in the arts. The Inca trail hike to Machu Picchu, I equate to my journey of self-discovery — experiencing a few different lives (working in science, behind the scenes of a production company and at the corporate headquarters of a bank) on the route to a different calling, before finally embracing a life in the performing arts (my Machu Picchu). Giving myself the permission to relinquish my 401K, incredible health benefits and security blanket of a paycheck every two weeks, were some of the most difficult challenges I faced in moving forward with a creative lifestyle. However, it ultimately afforded me the freedom to fully actualize a self-starting, independent life as an artist.
After pushing myself out of my comfort zone and moving across the country to Los Angeles, I realized there were many more challenges ahead of me in my pursuit to be a career artist. There were many more mountains to climb. I try to see each victory, no matter what size, (from getting an audition, to hosting a sold-out show, to booking a role on a TV show) as climbing to the top of Huayna Picchu. It's difficult, tumultuous, terrifying and yet absolutely glorious. There's nothing like the view from the top. It's rewarding, refreshing and exciting, but it's lonely there. So, you come back down, regroup, start over and climb it again and again and again… but the best part about it is that when I come back down I'm back at Machu Picchu! One of the most beautiful places in the entire world! I look forward to climbing the mountain over and over, achieving new heights, making new realizations and enjoying the journey along the way (am I an ad for REI? Maybe. Well, I don't know. I mean, are they willing to sponsor me?).
So let's switch gears a bit and go into the Leah Lamarr story. Tell us more about the business.
Not much has changed from childhood Leah – I am still overly ambitious and at times, spread myself too thin; however, at least all of my endeavors are now categorized under the singular umbrella of entertainment. I am first and foremost an actress. I am a stand-up comedian, host, producer, creator, writer and director. I am proud to say that I am all of those things.
I've had the opportunity to act on incredible shows, such as "Code Black" (CBS), "How to Get Away with Murder" (ABC) and "Jean-Claude Van Johnson" (Amazon). I've been in commercials for: Skype, MasterCard, Apple Pay, BelVita Breakfast Biscuits and many more. You can see me on TruTv's "Laff Tracks" as well as Comedy Central's "Not Safe with Nikki Glaser". I'll be in two Hollywood Fringe Festival plays in June of 2018. I perform stand-up all around Los Angeles, San Diego, and New York. I recently wrote and directed 5 commercials for a boutique French fry franchise, called Potato Corner. I've written and directed many sketches (some sillier than others – see my new sketch "The Wokebook", a Millennial version of "The Notebook"). I've competed in Roast Battle (I'm 3-0) and have had Dave Chappelle drop in on a show and compliment my jokes (still blushing/dying inside). I'm also a guest host on a national TV talk show called "Get It, Girl" on LATV, which addresses a multitude of topics encompassing female empowerment. I have my own web series on the LATV Network as well, called "Losing It with Leah", which incorporates stand-up and sketch. Smile Sciences recently reached out to me to work on a sponsored ad for Instagram, so am I now an INSTAGRAM MODEL?! One can only hope.
I would be nowhere without other strong women to look up to and from which to learn. Female actresses, writers, directors and creators, such as: Tina Fey, Amy Poehler, Meryl Streep, Elizabeth Banks, Whitney Cummings, Frances McDormand, Gal Gadot (you're absolutely right if you thought that I went through every minute of Wonder Woman), Ilana Glazer, Sofia Coppola, Oprah, Natalie Portman and Lena Dunham, have all paved the way for me as an artist. To watch strong, intelligent and beautiful women create a platform for themselves using their talent and thereby creating an opportunity to help others share their voice and their vision, is the most empowering feeling and is the ultimate goal.
To that end, I created, host and produce, Nominees, a monthly acting and improvisation competition show which showcases talented performers in the community. 6 actors compete for Best Actor or Actress of the evening all while wearing Oscar attire. Our panel of celebrity judges (we've had Kel Mitchell, Sarah Ramos, Steelo Brim, Milana Vayntrub and many more) aka "The Academy" eliminates Nominees until the final round, when the audience gets to decide who goes home with the trophy. The idea of the show stems from my desire to be seen as both a dramatic and comedic actress; to not be pigeonholed as one or the other. It's always a wild time and I hope to see some of you at a future show. The show got its roots at NerdMelt, Chris Hardwick's venue, however, space was recently purchased and the show is now looking for a new home. Nominees are sponsored by MacDuggal, a gown company that I used to model for in New York — I'm eternally grateful to Mac and his daughter, Ieena, who are generous, talented and aesthetic geniuses. I started the show from the ground up about a year ago and I'm so honored Nominees has built a name for itself and sells out every month. It's truly a joy to watch your baby grow up before your very eyes.
I'm proud of myself for taking the leap and I'm beyond grateful to be working in my desired field. Additionally, I'm excited about eliminating fear-based decisions, harnessed to failure and perfectionism, which has allowed me to grow as an artist. Choosing faith over fear has made all the difference in my life and I hope that if you're living in fear, that you choose faith, too.
How do you think the industry will change over the next decade?
I believe Virtual Reality will play a larger role in the entertainment industry. Immersive experiences of your favorite television shows and films, as well as "choose-your-own-adventure" type games truly feel like the newest frontier for the arts. I strongly believe there is some reality to the surreality of the "Ready Player One" world.
Contact Info:
Image Credit:
Matt Misisco, Getty Images, Miles Schuster
Getting in touch: VoyageLA is built on recommendations from the community; it's how we uncover hidden gems, so if you know someone who deserves recognition please let us know here.