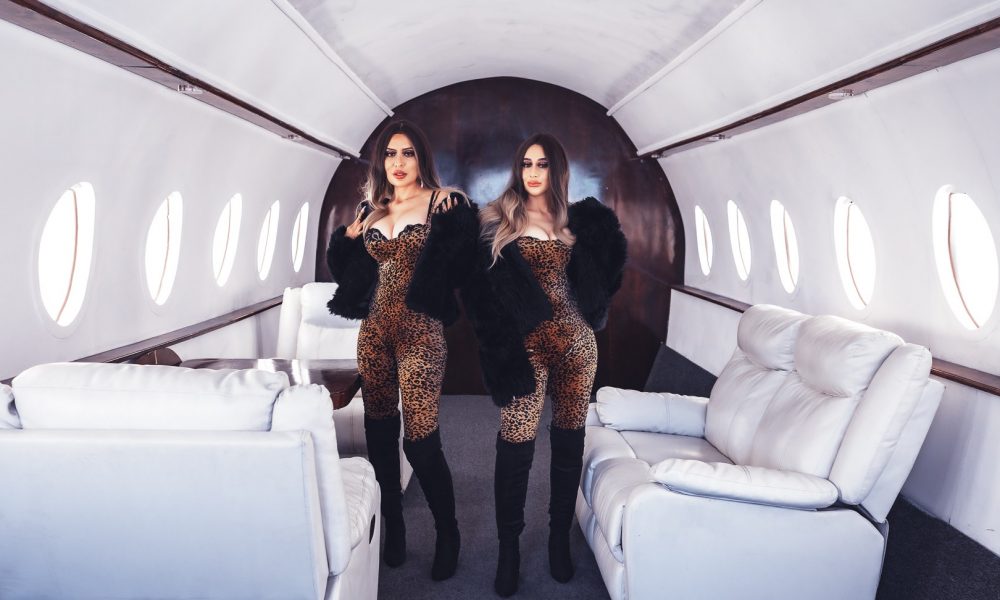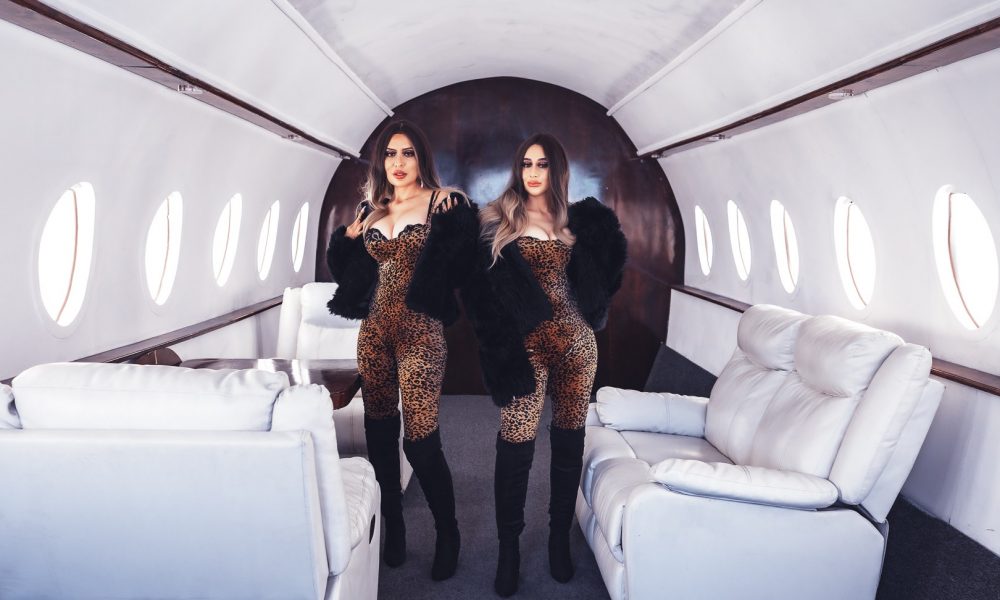 Today we'd like to introduce you to Las Mil Amores Elsa and Maggie Guzman. Elsa, Maggie and their team share their story with us below.
Please kick things off for us with some background on the story?
Elsa Y Margarita Guzman form the musical duo "Las Mil Amores" born to Mexican parents who migrated from Michoacán Mexico. These sisters were born and raised in East Los Ángeles, Ca. They were raised by two hardworking parents who raised them to believe in themselves and follow their dreams. Although they were raised under the same household they experienced different life experiences. Elsa got sexually molested by a close family member as a child, she got bullied by family members and classmates at school. She often got called "ugly" and "fat" this caused Elsa to have a low self-esteem and suffer from an eating disorder in her early teens. Elsa's only escape was music and fashion magazines. She dreamed of one day becoming a famous singer and to be featured in magazines like Vogue. She loved playing dress up as a child, making music videos, practiced singing and making up dance routines with her sister. In school, she was bullied and taunted by her peers. She had thoughts of suicide due to not getting support from her family when she came out in the open about her child abuse. She changed her image drastically by bleaching her hair, dressing very short and started wearing very heavy makeup. She then started hanging out with taggers and gang members and got involved in party crews. She tried out for the cheer squad in her freshman year in high school but was bullied out of school and was homeschooled. She adopted the name "Blondie" and started throwing parties and soon started making profit off of the parties charging $5.00 per person. She loved getting noticed and enjoyed the fame and liked the idea of kids knowing of her. When Elsa was 16 years old she got involved in a physically, mentally and verbally abusive relationship. This made Elsa ask herself why she existed. Until she masterminded a plan and liberated herself from this toxic relationship. Maggie was liked by family and friends she was called "pretty" and "funny" she had a lot of friends. In elementary she loved dressing up and liked the idea of kids at school knowing who she was. Maggie's goal growing up was to be popular. In elementary, she was part of drill team and the cheer squad. She loved hanging out with her sister and little cousin after school and enjoyed practicing dance routines. In middle school she stood out. She would wear a lot of makeup to get noticed. She did become very popular and enjoyed hanging out with older students. She was nominated and won for "Most Attractive" in her 8th grade year. She joined a party crew and this gave her an advantage to become more popular than she expected.
Maggie couldn't wait to get to High School she loved school not so much because of her education but because she was able to socialize. Maggie's main purpose for attending James A Garfield High School was to be part of drill team and to win for homecoming Queen. Maggie was always very happy but encountered sadness for the first time the summer before becoming a 9th grader she got backstabbed by her best friend and was bullied out of the party scene. Although she was going through this she had school to look forward to until girls in her PE class began to bully her because of her dyed red hair, makeup and her attire. Maggie didn't know how to deal with this because she never encountered this type of situation. Maggie's high school career came to an end at the end of her 9th grade year when one day a group of girls ganged up on her in the girl's locker room and one of those girls beat her up. Maggie was humiliated because pictures were taken of the fight and there were rumors that a flyer for a party was made up using one of those images. Later on that day, another girl from that same crowd threw a slushee at her face in front of other classmates. Maggie felt humiliated and ran home and told her parents to transfer her to another school. Maggie's family was very confused and did not understand how their daughter wanted to transfer if she was very happy at school. Maggie decided not to tell and keep this situation a secret. When she was transferring, she encountered her bullies one more time and although her mother was there with her the bullies had no compassion for her and started name calling her and threatening her in front of her mom. Maggie was scared and heartbroken and wanted nothing to do with this school or anyone in it. Maggie's dean knew of the situation and did nothing. Maggie transferred to Roosevelt high school and Was miserable. Although she was sad on the inside she never showed it and was able to survive at the new school. She made lots of friends but she still felt as if something was missing. Maggie got homeschooled in her 11th year of high school. She dreamed of going back to her homeschool for 12th grade being that her bullies were one year older she wanted to go back until the coast was clear.
One day one of Maggie's friends invited her to a nightclub called "Potrero" at first Maggie made fun of the idea but decided to give this scene a shot. She told her sister of the club she went to and they both decided to go and fell in love with the scene. Maggie was smiling again and decided to go back to her homeschool Garfield High School and although she tried out for drill team Ms. Velazquez the cheer coach asked if she wanted to be part of the cheer squad and Maggie said yes. To avoid any conflict with kids from 9th grade she decided to change tracks. Soon Maggie met new friends and enjoyed her senior year. Maggie's Picture as a cheerleader was selected by Anthony Loya Photography to be the centerfold model and her picture was sent out as a sample to addresses around East Los Ángeles and passed around the Montebello Town Center. Maggie felt excited and loved the attention each time people would recognize her from the picture. Since Elsa and Maggie had a new social life, they enjoyed going out every weekend to the nightclubs that had live singing artists like Jenni Rivera and Banda El Recodo. One day Elsa presented the idea to Maggie to form a singing duo. At first, Maggie joked about it but then Elsa asked Maggie to please join her on this journey so they can record music and complete this dream Elsa had ever since she was a little girl. It took Maggie back to when they would recite songs of rappers Snoop Dogg and Dr. Dre when they were kids. Both girls got determined and started doing open mic night at nightclubs like El Parral de SouthGate and El Potrero de Cudahy. They were determined to make this dream come true and although they were attending Rio Hondo College, they felt college was just a backup plan. Their parents supported them financially but these sisters knew that they needed to invest time and money into music so they knew a 9-5 would prevent them from putting time into college and music but they needed income so that they could pursue their dreams.
Elsa came up with the idea to teach waltz and surprise dance for girls turning 15 and 16 for their Quinceañeras and Sweet 16 since this was a self-employed job. They were making money and at the same time going to school full time and taking vocal classes. This self-employed job soon became a successful family business. They soon expanded to limousine rentals, tuxedo rentals, party decorations, and of course teaching choreography. Las Mil Amores recorded their first album which consisted of banda, Norteno and hip hop. Time after, they received their AA in liberal arts and they began to perform at the local nightclubs. Soon after, they released their song "noche de party" song written by Elsa which was a MySpace Music success. This got them many followers and views soon after they recorded "Damas de Pura Calidad" this song had many views on YouTube. Elsa was inspired to write more songs like "Mi Secreto" and they appeared in TV shows like Univision Los Angeles, San Diego and Fresno, Telemundo Los Angeles, Canal 22 and walked red carpets like Premios de la radio, premios de la Calle and premios billboard. In September of 2012, they recorded "si yo fuera un chico" Spanish version of Beyoncé's if I were a boy, in February of 2013 Radio programmer Pepe Garza invited them to his office after one of the girls reached out to him on Twitter telling him hello he replied see you tomorrow in my office. These girls jumped with joy! Everything seemed great but someone that these girls admired in the music industry blindsided them in May of 2013. The girls felt devastated and felt heartbroken. Maggie took this hard being that she does not know how to deal with neglect or rejection she took it upon herself to remove herself from the music industry. Maggie decided to put her focus onto something else to forget about the tragic situation. Elsa wanted to continue with this dream but decided to support Maggie and let it go.
Both sisters went back to school they promised that they would go back to music once they graduated from college but deep down inside Maggie was scared of going back so she distracted herself with education after they received their bachelor's from CSULA Maggie pushed music away and this broke Elsa. Everyday Elsa felt her dream was getting farther and farther away every day. Maggie joined Elsa in her journey with music and that made Elsa happy but this time, it was Elsa's turn to join Maggie on her journey. Maggie began to open up and speak up through social media on how she got bullied in 9th grade for the first time. She felt as if something was lifted from her. That she was able to speak freely without getting shamed. Elsa felt depressed and started getting thoughts of suicide again. She felt as if she had left her dream of music abandoned. But speaking out about her abusive relationship made her feel as if she was helping out other people with her experience. Both sisters bought their first house and took their parents with them because they are a big key in their life. They also received their master's degree from CSUDH. But felt empty and decided to go back to music. Journalist Julio Cesar Ortiz from Univision 34 Los Angeles did a biography on them called "Banda Con Pizarron" which reports on how they juggle running a business, getting their master's degree and coming back to music. They released their single "tequilita" after three years of putting music on pause this music video was recorded in East La in the barrio that seen these girls grow up. They allowed teenagers that were their students when they taught Quinceañeras to participate in the video. They received their Master's Degree in Sociology from CSUDH in May of 2016. These sister purchased their second home and even got their real estate license music was always on their mind but it was not their priority. They knew music and being part of the entertainment world was their life but these sisters had became comfortable and they were in fear of getting blindsided again. In June of 2018, they released their single "Billetes Y Oro" this song which Elsa wrote got a lot of feedback and even got on the YouTube channel of Que Buena Radio Programmer Pepe Garza in this reaction comments like "they haven't done much in all this time" came about and around the same time Elsa and Maggie would motivate kids to speak up when they were getting bullied or mistreated the girls did a "I confronted my bullies from high school story time" at that moment Maggie tells Elsa… "wait a minute, I am doing the same thing I did in 9th grade!
Elsa also did a storytime called "My abusive Relationship" she got a lot of feedback and realized that her message was important and felt strong again. She felt that she was strong enough to once again be able to go back to the music industry and take on anything. They felt they had ran all their life and wanted to stop running from situations and confront music. They felt when we started new and started going to a new scene we forgot about all the negativity and we became "Las Mil Amores" and started this beautiful chapter in music…. why did We run again!?? That night both sisters feeling accomplished with other goals they had but not feeling accomplished with a dream that was put on hold held hands and said "let's do this" "practice what you preach" if we are here telling kids not to let people get in the way of their dreams and don't let anyone push them around her we are again running from a bullies as an adults! The sisters were determined to come back and not let anyone bring them down! From there, they recorded "bad perras" "amigas falsas" and "somos empresarias" "somos empresarias" went viral on TikTok in 2021 these girls did something they have never done and that is do collabs with Mexican rappers like "dices" ft el Mara and "Somos el grito" ft Pinky Rozey a song that speaks on Feminicide from there they plan to expand in different genres of music and collaboration as much as possible "we have accomplished everything we said we would" we had a little pink notebook when we were in college and we checked everything out! The last thing we have is to conquer music something we left pendent… the struggle is real but at the end of a rainbow, there is a pot of gold and the sky is the limit!
I'm sure you wouldn't say it's been obstacle free, but so far would you say the journey have been a fairly smooth road?
Some of the struggles were childhood traumas, problems with the music industry and being scared to make our dreams come true. It has not been easy. The road has had many bumps but making it through has been a journey we would not trade for nothing.
Can you tell our readers more about what you do and what you think sets you apart from others?
We are singers, business owners, writers, college graduates and survivors.
We specialize in being singers that write their own music for women empowerment. We stand out from the rest because we make nothing into something no matter how hard the road is. We are most proud of saying we have failed but got back up and started all over again. We are also proud of inventing a business that has made profit for us. Teaching choreography for Quinceañeras has made our journey in music worth wild because thanks to music, we were able to overcome our fears and makeup a successful business.
What does success mean to you?
Success is defined with how you feel. It is not defined by the material things you acquire but by the things you are able to overcome. Success is the happiness within a person.
Contact Info:
Suggest a Story:
 VoyageLA is built on recommendations from the community; it's how we uncover hidden gems, so if you or someone you know deserves recognition please let us know 
here.