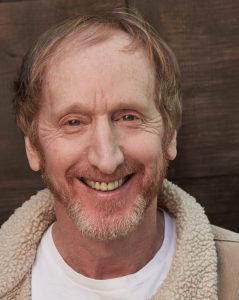 Today we'd like to introduce you to Larry Cedar.
Larry, let's start with your story. We'd love to hear how you got started and how the journey has been so far.
I am an actor. Always have been, always will be. I specialize in portraying altered states of personal reality. This state can take many forms, be it a drug addict, a sinister creature on the wing of a plane, a loving father, or strict courtroom judge.
But whatever the role I am naturally adept at and will always do my best to inhabit the specific character as called for by the writer and director of the piece. I am passionate about what I do and can't imagine pursuing any other profession, yet came to the craft circuitously. Upon graduating high school, I was informed by my parents that I could choose any college major EXCEPT acting. I chose biology/pre-med which morphed into communications/pre-law, which ultimately led to my acceptance into Hastings Law School. But when I was also accepted into the UCLA MFA acting program (to which I'd surreptitiously applied), the choice was clear and I followed my heart. On completing the program, an industry showcase helped me acquire my first talent agent, a one-year artist development contract with Universal Studios, and my first professional job. Now, some forty years later, I have performed in several hundred television programs, feature films, stage productions, commercials, and voiceovers.
A self-professed chameleon, I will never ceased to be fascinated by the challenge the craft presents and hope to continue plying my trade for years to come. Career highlights include starring in the PBS children's series SQUARE ONE TV, playing the creature-on-the-wing in Steven Spielberg's TWILIGHT ZONE: THE MOVIE, and the psychotic husband Chester Sinclair in the Adrien Brody feature film, HOLLYWOODLAND. And while every project presents its unique challenges, I am perhaps most proud of my work on the HBO series DEADWOOD where for three seasons I portrayed opium-addicted card dealer Leon Stalsworth. Onstage work ranges from the classical to the musical, but I have most recently created and performed two award-winning one-man stage adaptations based on the works of George Orwell (ORWELLIAN) and Fyodor Dostoevsky (NOTES FROM THE UNDERGROUND) and am developing a third piece based on the work of Franz Kafka (LETTER TO MY FATHER). Currently, I am at the Laguna Playhouse performing opposite French Stewart in the Pulitzer winning play, HARVEY.
Has it been a smooth road?
The greatest challenge I ever faced as an actor was telling my father I wasn't going to attend law school as planned but would instead pursue an acting career. Everything after that was just exploration, study, discipline, and hard work. But in truth, every profession has its challenges, especially the arts. Acting is a particularly elusive craft, but that's also part of its appeal. The most difficult part of my profession has and will always be landing the job. With about 160,000 members in the Screen Actors Guild and some 50,000 members in Actors Equity, the competition is intense and the odds are long. But I've never been one to shy away from a challenge, and the satisfaction that comes with each victory makes the struggle pale in comparison. I feel extremely fortunate to be able to do what I do, and there's much I still hope to accomplish in my career so I plan on acting for a long while, odds be damned.
We'd love to hear more about your work and what you are currently focused on. What else should we know?
I am just one of the many thousands of talented actors actively and earnestly pursuing a career in film, television, and stage. But if I were to guess what sets me apart from the others, it would have to be my versatility. I was blessed with a wide range of performance skills, including song and dance. But I am particularly known for my character work, with an innate ability to disappear into the role. On stage, I've played dozens, ranging from Fred Astaire to King Lear, and screen credits include a clown, zombie, detective, judge, junkie, father, surgeon, magician, parole office, accountant, and priest. I also excel in the field of voiceovers, especially speed talking, having been hired to read hundreds of radio advertisement disclaimers for such companies as Volkswagen (learn more at www.disclaimerman.com). For the working actor, a diversified skill set is key, and I consider myself quite fortunate in that regard.
How do you think the industry will change over the next decade?
The unpredictability of the entertainment industry is both frightening and thrilling. It's constantly evolving, especially as new media (internet, streaming, motion capture) continues to come to the fore. So venturing an opinion as to its future would be a risky venture. The main job of the working actor has and always will be to not only hone and execute his craft but to stay creatively viable. That said, regardless of the direction of the business, I plan on continuing to do what I've always done; adapt, learn, and thrive.
Contact Info:
Address: TV/Film/Stage Agent
AKA Talent Agency
325 N Larchmont Blvd., #612
Los Angeles, CA 90004
323-965-5600
Chip Hooley: chip@akatalent.com
Gregg Klein: gregg@akatalent.com
Talent Manager
Vanguard Management Group
8060 Melrose Ave 4th Fl
Los Angeles, CA 90046
(323) 655-0400
Tom Harrison: tom@vanguard-management.com
Voiceover Agent
SBV Talent Agency
5900 Wilshire Blvd. Suite 700
Los Angeles, CA 90036
(323) 938-6000
Ferenc Laczko: flaczko@sbvtalent.com
Website: www.larrycedar.com
Email: larrycedar@gmail.com
Instagram: @larrycedaractor
Facebook: www.facebook.com/larrycedaractor
Twitter: @larrycedar
Getting in touch: VoyageLA is built on recommendations from the community; it's how we uncover hidden gems, so if you know someone who deserves recognition please let us know here.