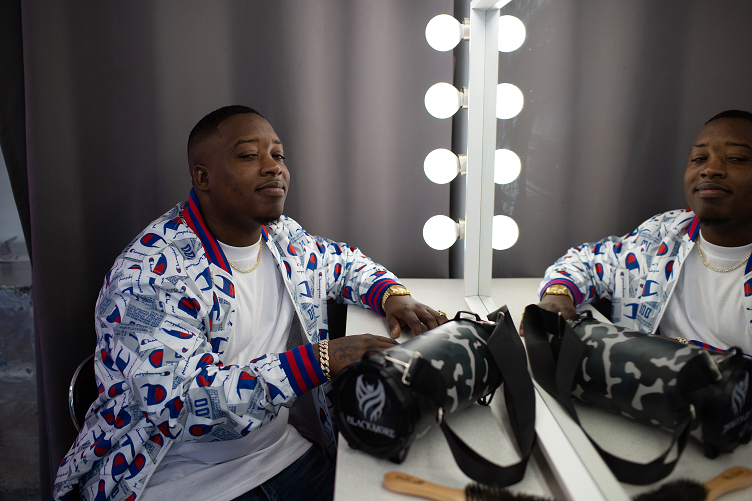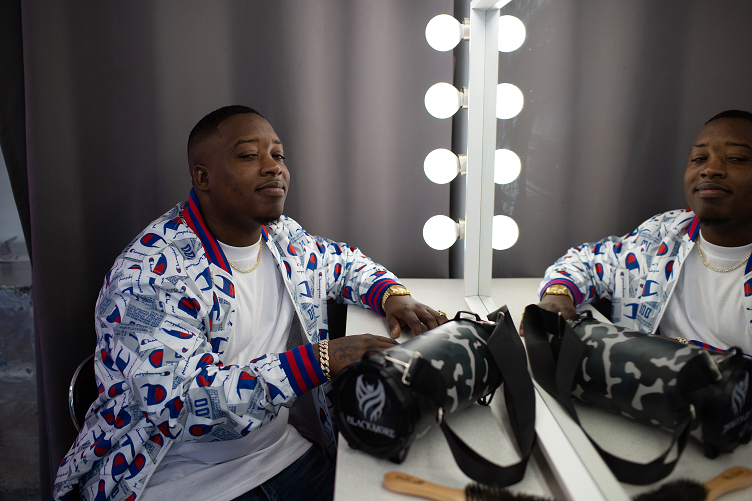 Today we'd like to introduce you to La'Ree Hamilton.
La'Ree, please share your story with us. How did you get to where you are today?
People call me Goddi which is also my stage name. I am African American, and I was born in the projects of Watts, California. My father is a well known old gangster from the hood and my mother who was from the opposite sides as him. You can see that I was already born into the lifestyle of gangsters and poverty.
People don't understand that life is really different out here. Since I was born, adults have smoked cigarettes and weed in the house on a 24-hour clock. Summer, winter, didn't matter, there was no AC or heater but we were hotboxed in it. The choice of music and video were always R-rated. Around the house, only fellow gang members would drop by. Their choice of hobbies was full of evil and hate, they found joy in other's miseries, any other person altercation was entertainment, they were the living demons on earth. Choice of survival was still the street way. Every house was used as a trap house, everyone was dealing drugs, everyone was dealing guns, everyone was always fighting. This is the normal that I grew up in.
In my neighborhood, schools and streets look like they did back in the 1960s. I joined the streets at age 13. It was normal for kids at my age to join gangs. Some of the big kids joined as early as ten years old growing up. At age 13, your mentors are of older gangsters who had no education. Instead, they were born into a similar family as me and had the life experience of surviving the streets until now. That survival information is passed down to us. That survival information from my neighborhood was violence.
Gangs work like the military. There is a chain in command and there is training that is needed for all new soldiers. At age 13, I started as a soldier. Just like when you first join the military, a foot soldier in the gang is first trained. We are on the frontline doing the dirty work. If the lieutenants or the captains gave you an order, without question you had to do it, or you would get hurt. I was taught to shoot first or be dead myself. I moved fast in my rank even at a young age, because I was a built and born into this. My father was the meanest and baddest one, and "I have the blood of a savage" (lyrics from my song "Mainline").
Through all the trials and tribulations of the hood life, there was a point in my life where I almost lost my life. So at the early age of 18 years old, I quit the street ways. Through a good acquaintance of mine, I was able to start a real job as a security guard at that time making under the minimum wage. But it didn't matter because it was my first sign of hope.
Over the years, I learned a lot. New life, new things, new ways, new everything. At work, as a security guard, there's not much to do, so I found myself talking to a lot of different people. I paid attention. No one taught me life. Everyone told me about the streets but never life. This was my first time. I started learning a lot and educating myself. In the midst of wanting to better myself, I started listening to music a lot. As a guard, after you get to know your tenants, landlords, secure locations, there's not much to do. Either watching it or listening to it. Music always had a way with me. As soon as I hear good music, the music captivates my whole body and I become one and high with it. I listen to music differently. I hear it differently. I can break down the different sounds of the music in my head. Like a watchmen can hear the tiny gears click in a watch, I break it down just like that in my head.
Over the years, while learning and educating myself, I started to see two sides to everything. How the life I lived was so f*cked up. The life I was brought into was really unfair. But I didn't fret. I put all that emotions into writing. I started making my own rap and wrote them down on my notepads. I was doing this back and forth on a daily basis.
Then in 2018, I met my new building manager. He's a Korean dude. After a good nine months of getting to know him, I opened up to him and told him I rapped. He told me that he actually had his music experience in South Korea when he was in the Korean entertainment companies to be a Kpop Star. Kpop Music was booming at that time with this new boy group BTS which I had learnt about so we clicked really well. I started sharing with him slowly, but I eventually began to trust him. I started telling him things that I only secretly wrote in my notepads. My true emotions and feelings. Although I put on a smile and learned the new ways, I still had a lot of hate and violence in me. I was angry with the world. I was making less than what I could have been making if I had the opportunity like others. While others went to school or joined militaries, I was forced or destined to join a gang at an early age. Talking to Andy, I learned a lottttt from him. We were talking about what we would do if we had some money. Lotto money, record deal money. I told him I would buy a car, house, some jewelry, clothes and some other stuff. He told me not to do that but to invest in a small property where it would generate revenue. He explained to me that the investment property would be my bank and my source of income and how it could all lead to help me into retirement. I knew as if God told me, I asked him to be my manager.
It's funny because he told me he needed time. He didn't listen to American Hip hop music, let alone gangster rap. But after several days of his research, he said it was lucrative for me to make an actual living doing the music I know how to do. Through our many hours of talking and working together, we built the best relationship that is envious to anyone in the world. He is now my older brother, my brother, my FAMILY, my best friend, he's closer to me than anyone, and it goes both ways. When we're out people trip out because it's a funny look. A clean looking Korean dude and a hood black guy but we don't care. He's helped me in so many ways that no one has ever done for me. I never asked for it, but he was always there for me like an angel that God sent to me. He told me he got a vision. He said his vision was "God had given him his past and his experience to meet me. That we are to work together in the music business. That he would get me out of the hood and that we would make the projects into a better community." In order to do this, he said it was to help me with my music career. Through my music, I'm able to have others like me relate to me. Then I get the chance and opportunity to let them know that change is necessary. That what we grew up with is not right. Then what we want to do is buy the low-income housings and turn them around. We want to build schools or academy for kids to go to to learn their future education. The schools in the projects actually barely have any extra programs or computers. While other schools are fortune with elective classes, schools in the hood are scarce with funds. Andy told me when he saw my hood, that it wasn't fair. He said schools in other towns have solar panels installed in their parking lots and their school foods come out great and they have pools, and fields, and teams, and uniforms. Our schools in the projects do not have anything like that.
Long story short, he and I have worked from nothing and we built a small record label company, FAM Entertainment along with another artist StaJe. With StaJe, we decided to create a duo called GVNG GREEN. Pronounced Gang Green. Gang Green's purpose and motive is to spread our message. Our message is to form a new group, Gang Green. We're different from the Red or the Blue. Instead of gang violence, territory wars, and drugs, Gang Green is all about chasing the only thing that matters; money, checks, the Green bands. We want the Red's and the Blue's and everyone else out there to come together with us and to chase and work to get that Green band. We did a whole album together. We were fortunate to land a distribution deal with one of our songs. Our R&B track "Redlight" features an actress Elle Lorraine, notable for her role in Bad Hair, Boomerang, and Insecure.
To me, I feel incredibly blessed to be where I am today. I was homeless but now I am living in Koreatown. I get to make music, I have worked with some cool people. I am in a different jungle, but I got my team, I got my FAM next to me. I'm going to continue to do my music. I know there's lots of violence and hatred, but that's the life I knew. I am using it, so have others relate to me. So they know where I'm from so others like me can relate to me. I want to later then tell them of the new ways and the better life I was eventually very fortunate to see, encounter and live.
I need to spread the blessings back to others in my community who have been unfortunate as I.
I pray that God just keeps watching my back as I walk the path he layed out for me to finish my mission.
We're always bombarded by how great it is to pursue your passion, etc – but we've spoken with enough people to know that it's not always easy. Overall, would you say things have been easy for you?
It has not been a smooth road. Building trust with someone takes a lot of emotion and a lot of letting down your security walls. It was hard. Admitting to reality was hard. Andy let me always know what it is clearly. He never hid anything nor did he beat around the bush. He's the most honest person cuz he only knows how to be honest. He always laid it out for me to see. If I didn't he would repeat it differently again and again until I understood it. But trusting him took a long time. We had our trials and tribulation, but our goal and mission, and love always brought us back. Now, we know each other and now we don't even have a disagreement any more.
Also, I was homeless at one point. I have two small little boys and all I wanted was a place for my kids. Andy and some family members helped house the kids. Their generosity and love mean so much to me. Those acts of kindness make me want to repay it back and makes me push that much harder to repay it back to these people who did it from the goodness of their hearts.
Andy was able to help me make side money using my gift as a musician. With it, I was able to save enough to pay a deposit and get a place. Now I am living at home under a roof with a AC and an Icebox (refrigerator) with my kids.
Life can't be better. But my mission is not done yet. I have to succeed to repay this back to the community to reach to others who were like me.
So let's switch gears a bit and go into the FAM Entertainment story. Tell us more about the business.
FAM Entertainment is me and Andy and StaJe's record label company. Here, we do artist development, music production, video production, and distribution. While others doubted us, we three believed in us. Through our constant persistence in wanting to succeed, we learned everything of a record label company and built our own. Like the Fortune 500's CEO's all say, we try everything. We do as much as we can while moving smart. I guess we're doing something right because we were able to land a distribution deal with Universal Music Group with two of our songs!!!! It's merely a small milestone to a lot of artists, but to us, it's a sign that we're on the right path and on the right direction.
We're different because when we work with others, we building a family-like relationship. We teach each other about familyhood. How family doesn't necessarily have to be blood-related and it can be made up of people who believe in the same things.
Our logo is a diamond. Like Andy said, we're all diamonds in the rough, and he's the diamond polisher. We only want growth for each other. There is no jealousy with us. We support each other. At FAM Entertainment, we deal with our insecurities and fears and overcome them. We're then able to really support each other and create and feed off of each other.
Has luck played a meaningful role in your life and business?
I'm not sure if it's luck, but I believe it's God who played a big role in my life. Throughout my life, I would have very very vivid dreams of Angels. In my dream, these Angels would appear. They are these hugeeeeee big Angels. Each time it was something different. But when I spoke to my grandmother about them, being the religious person she is, she would break it down for me and transcribed them to me. I think he has allowed me to be born into the lives of these people. I think he wanted me to experience it and live through it. So that I could meet Andy, make our company, and then help change the community that way.
Contact Info:

Image Credit:
David Young Choi, Imseanny
Suggest a story: VoyageLA is built on recommendations from the community; it's how we uncover hidden gems, so if you or someone you know deserves recognition please let us know here.