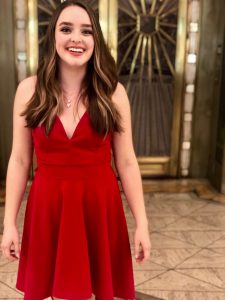 Today we'd like to introduce you to Lara Lafferty.
Lara, before we jump into specific questions about the business, why don't you give us some details about you and your story.
I've always had a LOT of creativity, since I was a little girl. From winning my elementary school's "What If" art competition by hanging my drawing from the ceiling, (What if paintings had both a front and a back?) to recording myself singing SpongeBob songs at six years old in my mom's car, to creating movies from scratch with my Digital Blue movie camera at nine years old. I also had been taking piano lessons and was teaching myself how to play guitar. When my #1 role model, my sister, was in her first musical, Oliver, I knew I had to follow in her footsteps. Funnily enough, I ended up being the one who got totally obsessed with singing and creating. Since my first time singing on stage and making my entire family cry, I knew this was the life for me.
I basically became a resident at my local children's theater, and in high school I performed in competitive show choir. That was my first truly life changing experience, as we got to perform all over the U.S. in some seriously awesome places. By this time, I probably had written around 30 or 40 original songs as well. Then I went to Cal State Long Beach for theatre and was able to amp up my acting skills and learn how to perform without singing for the first time in my life. I also discovered one of my other passions being a part of the theatre program there, directing.
Right before my last semester in college, I applied for a music teaching internship at the House of Blues Music Forward Foundation, the House of Blues' nonprofit organization. It was the opportunity to teach Hollywood High School students the ins and outs of the music industry in one of the most iconic buildings in Hollywood, where Ticketmaster, House of Blues, Live Nation, and other huge music companies work together to make the music scene happen all over the US and beyond. There was only one internship available in LA, the others being in Las Vegas, Dallas, and Cleveland. I applied with my experience teaching musical theatre summer camps in Long Beach, and was lucky enough to be given the Los Angeles position. I spent my last semester in college commuting from Long Beach to Hollywood in a seriously life-changing environment. This was where I learned I really had knack for teaching, and was also the first of a series of seriously surprising music opportunities for me.
After I graduated, I jumped into teaching music and musical theatre in Long Beach. I directed and musically directed several shows and taught private voice, piano, and guitar lessons all around the OC area. It was a few years later that I came to the realization that I had been focusing all of my energy on helping others pursue their dreams and had been pushing my own to the side. Now, this wasn't a bad thing at all! I'm so grateful for my time teaching, and even have a feeling I may return to it later in life. But this was my time to be brave, so I packed up my things and moved to Los Angeles to pursue my own career ambitions for the first time.
My first year and a half in Los Angeles wasn't bad at all. I wholeheartedly pursued acting and was lucky enough to have a flexible day job to help support me in this. I attended audition after audition, made at least 100 self-tapes, attended lots of callbacks, landed some gigs, and was cast in a show. I was making decent progress, especially with the industry being what it is today. But something, again, was a little off. It took me a while to realize it, but I had totally pushed music to the side.
I had created a music Instagram page, and had been posting cover videos for fun. But I had a moment of reflection, as my priorities had been off. What was the thing that got me started in the first place? Singing. What is the thing throughout my life that has always made me happy? Music. It was always about music. Even when it was musical theatre, it was music. So, this is when my second big "life revelation" happened. I haven't stopped or given up on acting in any way, as I still really enjoy it, but I shifted my priorities around and started focusing on my music again. And things started happening.
Completely unrelated to my revelation in any way, we moved to the Burbank area shortly after I made this new decision. I had been researching The Songwriting School of Los Angeles in hopes to possibly take some music business classes, but I had no idea where it was. When I restarted my music journey, I looked up its location to see if it would be possible for me to make the drive there for classes. It was five minutes away from our new apartment. Needless to say, I enrolled in a music industry intensive weekend right away.
I had been doing some research on how some of my favorite artists with a similar brand to mine got started as well, one of them being Maggie Rogers. Maggie Rogers' talents were discovered by Pharrell Williams in a YouTube video that went viral basically overnight after he visited her class at the Clive Davis Institute of Recorded Music at NYU. I was sitting there thinking about how lucky that was, and started doing some more research. I found that Yellowbrick, an online company that partners with universities to offer education, recently partnered with the Clive Davis Institute at NYU and Billboard to offer certification in Music Industry Essentials. Now, I knew everything about the creative side of music, and nothing about the music industry, so this was perfect for me. But the price was not. I hesitantly applied for one of the scholarships they offer, "just to see", but I was 100% certain I wouldn't be chosen. I was offered close to a full scholarship. I was in shock.
Things kept adding up and working out- it truly seemed like I was finally doing what I was meant to be doing. The weekend after I received the Yellowbrick scholarship, I went to The Songwriting School of Los Angeles for their Music Business weekend intensive course. After talking with some classmates, I met a hugely talented teenager, Rhea, and her mother, Katia. We started talking after we had shared a bit about ourselves in the class, and I had let them know I was previously a musical theatre teacher. Katia was super excited at the thought of me helping Rhea feel more comfortable performing, as she was previously focusing on songwriting only. I was so excited at the chance to help out. She then shared with me that Rhea was working with a pretty awesome producer, and that she'd be happy to introduce us. That producer ended up being Grammy award winner Brent Paschke, who just casually happens to be… get ready for the irony… Pharrell Williams' guitarist.
My mind was absolutely blown at how everything had fallen into place. If I hadn't moved to Burbank, I wouldn't have gone to The Songwriting School. If I hadn't loved Maggie Rogers, I wouldn't have found the Yellowbrick/NYU/Billboard program. And if I hadn't been a teacher, I probably never would have met Katia and Rhea, and definitely never would have met my now producer, Brent. If these aren't signs from the universe that I'm exactly where I need to be now, I don't know what are.
So that being my backstory, I'm now working with Brent Paschke on my first ever EP with my own original songs. We don't have a release date set quite yet, but it will likely be early next year, possibly the end of this year. I'm extremely, extremely excited-we're now currently two songs in.
I've also just finished working on an innovative musical theatre project, Les Miserables in Quaran-Stream. We had 20+ actors from all over the country join us in filming ourselves singing the musical Les Miserables in its entirety, and my boyfriend and I have worked tirelessly to edit it all together- two and a half hours of music and video- and we've just finished. We can't wait to share that project with the world very soon! After I graduated, I immediately started teaching music and musical theatre.
We're always bombarded by how great it is to pursue your passion, etc – but we've spoken with enough people to know that it's not always easy. Overall, would you say things have been easy for you?
I've definitely run into obstacles and struggles along the way. My path wasn't totally smooth. I hit a lot of bumps and turns, and didn't exactly know what I was doing, but I think it all worked out as it was supposed to. I'm very lucky to have an extremely supportive family. My mother, father, sister, and grandma have always been behind me in pursuing my crazy dreams. My boyfriend, Benji, has been an incredible support system. An actor himself, we've definitely been able to look out for each other in this tricky business.
I've also had some struggles of my own along the way – I was diagnosed with OCD a few years ago. Now, there are many different kinds of OCD, but for me, my compulsions are centered in my own thoughts. I fear uncertainty. That can definitely be a huge struggle. It's essentially extreme, extreme anxiety. I've grown so much since, and thankfully have learned a lot of ways to cope. I'm now very lucky to be able to get help whenever I need as well, but it's been an unbelievable struggle many times throughout my life in a career that is drowned in uncertainty.
It's also extremely difficult to find a job that will allow you to make money to support yourself while simultaneously starting a career as an artist. I'm one of the lucky ones that found a flexible job that allowed me to do both, but it took me years to fall upon something like that. I very much understand how some artists may not be that lucky, and may not have any time or flexibility at all to pursue what they really want to pursue. I feel so strongly for them, and just want to remind you all to keep going. Stay strong. Don't give up. It's worth it.
Tell us about your work – what should we know? What do you do best? What sets you apart from the competition?
I've had a lot of titles throughout my career. Actor, singer, songwriter, theatre director, teacher, music director, musician, music producer, editor… but I want to introduce myself today as Lara Lafferty, singer-songwriter.
My first ever EP will be completed and released in the near future, which I can best describe as indie pop soul folk, based in lots of piano. I might call myself an interesting combination of Sara Bareilles, Haley Reinhart, Lana Del Rey, Christina Perri, Maggie Rogers, and The Head and the Heart. A lot of Jack Antonoff's work is also a huge influence.
My music is unique, hopeful, and at the moment, very personal. I have a deep appreciation for the beauty in the world, and I hope for my EP to paint a picture of not only the truth I've discovered in things like love, pain, and growing up, but also the hope in the many places that inspire me: vast mountains, moonlit forests, forgotten libraries, and cobblestone alleyways. Fictional settings/situations I fall in love with and wish I could explore in real life are on my writing radar as well. It's a dream of mine to combine my love for film/TV with my music, so I hope to find that a very welcoming home awaits me in the sync world.
After my EP, it's a goal of mine to find a team to help me create an album that will keep me following this path, and will help me to create something very cinematic. A very smart music manager once told me to think about my music this way: "Norah Jones, but with a cinematic approach."
So, what's next? Any big plans?
Here are my future hopes and dreams in a nutshell: After my EP, I hope to find a home in the sync world, and to do music full time. I would love to build a team that will help me to create an album that is beautiful, cinematic, hopeful, and powerful. I would love to inspire and gain a following of people who truly love and relate to my songs, and to be able to record and perform in some of my favorite places in the world. It would be a dream to combine my love for music with my love for acting, so maybe I'll be able to help create and perform in an original musical one day. Can you see why Sara Bareilles is one of my biggest idols.
Contact Info:
Website: www.laralafferty.com
Email: laralafferty@gmail.com
Instagram: @lara_lafferty and @laralaffertymusic (Follow the music one to not miss a single update about my EP- it's being totally revamped)

Image Credit:
Tracy Roman Photography
Suggest a story: VoyageLA is built on recommendations from the community; it's how we uncover hidden gems, so if you or someone you know deserves recognition please let us know here.