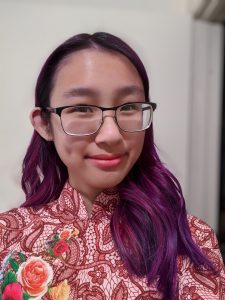 Today we'd like to introduce you to Kristy Doan.
So, before we jump into specific questions, why don't you give us some details about you and your story.
I grew up in a less fortunate household and raised by Asian immigrants who escaped from war. It was difficult when it isn't only your parents but many others that all came to the United States to get away, so job opportunities were scarce. Leaving behind family and friends was challenging, and they left with nothing in their pockets except for hopes and dreams for a better life.
For me, I grew up as the youngest of four with an age gap of six yrs from my sister. I was extremely shy, on top of that I spoke Vietnamese and hardly any English. I always had English learning development classes through my younger years which made it extremely difficult to make friends. So I did art from a young age as an escape from reality. I could draw my imaginary friends or my favorite cartoons to make my wildest imaginations on paper. Eventually technology got better and I saw my older siblings play video games on the computers. I'd sit on the floor near them and watch the screen for hours. Eventually, I would come to play a bunch of games myself and just knew I wanted to do art or something creative. At the time, I thought the only option for me was animation or film and video production.
In my senior year of high school, I took a film and video production course at Silicon Valley Polytechnic Institute which was a blessing in disguise. Originally, I had signed up for the animation course but it was full and was placed in the film and video production class. My first week I told my professor I wanted to be in the animation class and he said "You'll honestly learn more in my class than animation" and he was right. My professor Jon Furtado gave me a lot of valuable life lessons that I still use today like "do what you're passionate about before it is too late, and don't regret it".
When it came time to choose a college the film class helped me realize animation is not what I wanted to do. So, I was thinking about just going into film production until my older brother Steven Doan helped me. He knows my love of games and art, and so I followed his footsteps into game development and now we are a sibling duo. He helped me steer my path towards Laguna College of Art and Design where I am today. He is there at my best and worst times, and we are always there to help each other get back up with every setback that comes our way. I wouldn't be where I am without him, and I am grateful for everyone who has helped me on my journey. Neal Wojahn, a LCAD professor has guided me through a lot. He is a  VFX artist at Riot Games and was the one who sparked my interest in visual effects. VFX is kind of like the "final boss" in game art because you kind of need to be a generalist knowing animation, modeling, texturing, etc. to make an effect. Through him just talking about VFX, I went out of my way and did my own research. I spent hours on YouTube, and lots of trial and error to learn what I know today. I think that is what made me so passionate because it is a never ending library of knowledge. There is no right or wrong way to do and effect, and just going out through trial and error to learn from my mistakes and grow into the artist I am today.
Has it been a smooth road?
It has definitely not been a smooth road to get to where I am today, there are always setbacks in your road towards success. Last year September of 2019, I was nearly homeless, I had moved three times in one week jumping from place to place until I found a stable temporary home for a while before I moved to where I am now. When I started college, I didn't know what I wanted to do exactly. I just knew I wanted to do everything. However, when going to art college where they tell you you have to specialize in something and not be a generalist it gets hard.
When you tell the average person you do art they say that's cool can I see! However, when you tell another artist you do art questions like? Environment? Character? 3d? Would pop up and I was never sure how I should answer. On top of that, I spend a majority of the money I had saved up to buy a good new laptop at the time that keeps getting issues. I've factory reset it four times since I've gotten it, and each time I would have to adapt to the resources I have to create art and not let it set me back on deadlines. Time is money, and nobody is going to wait for you to fix your laptop.
I had this love for VFX but had no one to teach me at the time. So, I spent my entire summer in 2019 learning by myself through: videos, but mostly just trial and error. I would be so proud of the small progress I was making and push myself more to experiment or learn new things. Every six months, I look back at how far I've come and think about how the present me has overcome so many hurdles and learned so much. The art I did six months ago that might've taken me a long time, but I can now confidently do what I had previously done 2x faster. It is not about looking at those "better than you" and comparing yourself to them. I kept comparing myself to me and saw my improvements and hurdles I've come by. I used that as fuel to keep my motivation and passion going, and now I'm currently the 2019-2020 Blizzard Student art Contest winner category: FX.
We'd Love to hear more about your work and what you are currently focused on? What else should we know?
Each piece of work I do helps me grow as an artist because of the mistakes I did or didn't do. There are a lot of setbacks in VFX because you have to do a lot of problem solving. There isn't a set pipeline in VFX for games yet, so every artist has their certain style or way they'll make an explosion or fire. My work because I'm more the visual side of VFX, I like to start more concepting and figuring out what the effect is. From there I'd then make the effect to a block out stage and lastly spending time to refine the effect and fix the overall look of it. VFX is a never ending journey of knowledge that I want to keep exploring. So, currently I'm just trying out new programs like houdini, and slowly learning scripting. Just having more skills and being up to date with technology I feel is important for VFX artist. For anyone trying to get into visual effects, I think I'd tell them it is not as easy as it seems, but if you are willing to take the challenge and push yourself to learn it might be what you never knew you were passionate about.
How do you think the industry will change over the next decade?
I think there is a big shift toward VR, as technology keeps getting developed the VR industry is growing rapidly with lots of possibilities to become. Every Yr the game industry gets new players, so the standard keeps rising. Making games high quality, but with a fast turnout time is difficult. As well as making companies pushing for more revolutions in technological to make quality better what to say the game industry cannot do in ten years. There are definitely going to be more regulations in the future about loot boxes and micro transactions in my opinion.
Contact Info:
Suggest a story: VoyageLA is built on recommendations from the community; it's how we uncover hidden gems, so if you or someone you know deserves recognition please let us know here.
Check out the VoyageLA Podcast:
Episode 1 with Content Partner Lisa Taitelman, Founder of Hiking & Wellness company Find Your Trail.