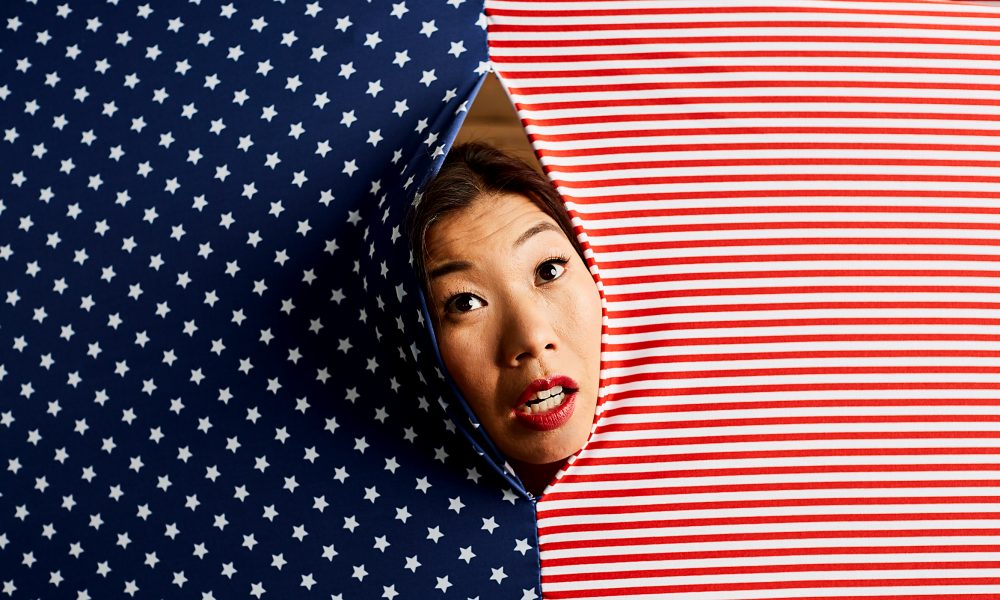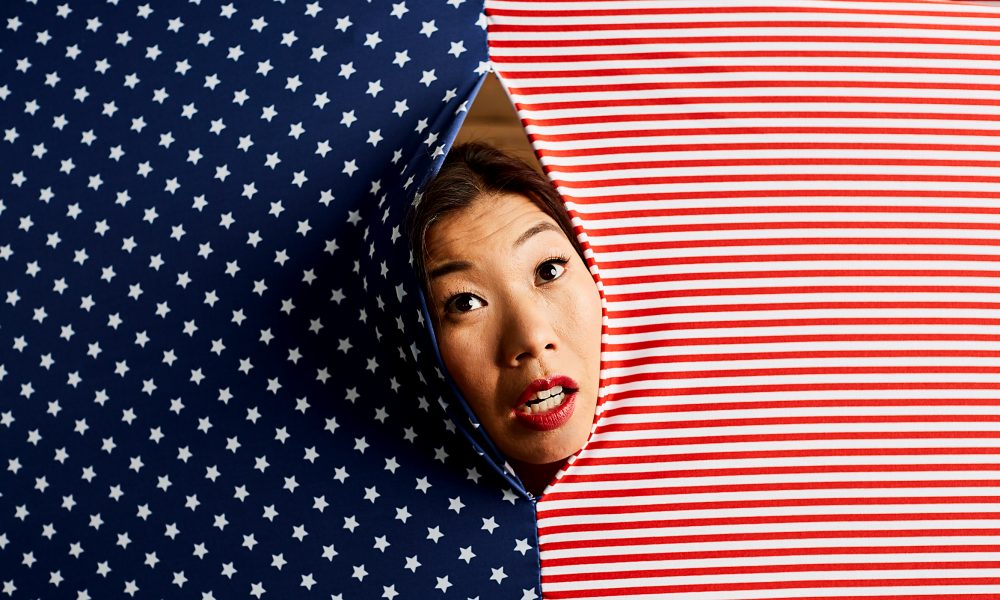 Today we'd like to introduce you to Kristina Wong.
So, before we jump into specific questions about the business, why don't you give us some details about you and your story.
Before "trolling" was rewarded with the US Presidency, I manipulated shock and annoyance into an art career. My philosophy? "If people aren't going to pay to see me in a theater, how do I trick them into experiencing my ideas?"
This tactic found me doing everything from creating a fake pornography website to doing reality television to now, actually running for political office. The notoriety from these brazen public projects has brought attention to my theater work. Before becoming a full-time artist, I had very scrappy beginnings.
I paid my rent by hawking yard sale finds on eBay. I solicited professors teaching my www.bigbadchinesemama.com site, invited myself to perform for their students. I couldn't afford graduate school or performance workshops out of college (UCLA), so I ushered events at Highways Performance Space and absorbed as much as I could from watching other artists.
I took free performance workshops sponsored by the Department of Cultural Affairs. Now I teach those free workshops. I was born and raised in San Francisco and am the only performance artist in my family. I was never encouraged to go into this field, but it was like therapy for me, so that's how I ended up doing it for a living.
I'd like to think that everyone has a performance artist inside them– whether we think so or not, we're all performing ourselves, especially in the era of social media. We all have weird ways of acting out or picking up obsessive behaviors. I just chose to make it my livelihood.
I have mostly been touring solo shows around the world in the last few years. It's fucking hard work. I've been touring on and off for about 15 years, and I'm finally balancing it with more Film and TV and making work for the camera.
Sometimes being "internet notorious" isn't helpful for attracting a theater audience because they assume that my work is as shallow as the clickbait they found me through. Or worse, they're disappointed that my shows aren't as laugh-a-minute funny as my "internet persona."
While researching "The Wong Street Journal," I posted photos and anecdotes of Uganda on Facebook while there. The posts were not meant to be comedy nor a substitute for the show I would make, but me being vulnerable (and self-deprecating) about negotiating my sudden white privilege.
However, some people read my posts out of context (or in the assumed "comedy" context) and critiqued me as being "problematic." But had they seen the 85-minute show and not been turned off by a singular post, the deeper cultural criticism they were looking is there.
Has it been a smooth road?
I've had so many moments in my professional career when I wanted to give up or wondered if I should do something else. But I wasn't sure what job that would be which made me even more panicked. I toured a show called "Wong Flew Over the Cuckoo's Nest" for eight years.  That show looked at the high rates of depression and suicide among Asian American women. I really freaked out that I had hit my career peak with that show because I assumed that once you make a hit show, someone shows up and offers you your entire amazing career. Nope. Turns out, this truly is a marathon, and you can't rest too much on your laurels. But a few breaks helped me keep going.  One break was a viral essay about white dudes with Yellow Fever for the now-defunct xoJane which got me on late night TV and revived my live art career.
I also learned that mining my mania for material was making me more depressed when it used to be very therapeutic. Now when I make new work, I try to challenge myself to make it my "mini grad school" and use it as a chance to learn about something I didn't know about before.
We'd love to hear more about what you do.
A friend once summed up my metatheatrical sensibilities: "You work a fine line between joking and not. You project tough. You project as a performer, not a private person. You present the private as a performance. You self-advertise so relentlessly it is its own performance and thing of beauty. And under that is a great message of how to thrive in your art. You also do self-mockery scathingly well. In other words, you are public and "on" all the time."
My work rides the tension between reality and performance in an effort to highlight the absurdities of everyday life. I'm inspired by artists Guillermo Gomez- Pena and James Luna who recognized that their bodies already carried other people's narratives and placed their bodies in living tableaus to subvert them. I'm obsessed with Michael Moore's "TV Nation" and "The Awful Truth" where he isn't a neutral documentary filmmaker, but the humorous action that he documents as its own act of resistance.
But of late, artists and politicians have switched jobs. They now create the shock and spectacle that have us questioning reality, and we are the ones reclaiming the quiet space for social change and truth. I'm hard-pressed how to "out-crazy" the crazy and increasingly motivated to make my "plays" have more real-world impact. Hence, running for office.
I designed and sewed my podium, cape and Presidential seal for my current campaign. I also sewed a replica of the New York Stock Exchange for "The Wong Street Journal." I'm not formally trained in set design or sewing, and it shows in the childlike quality of my work. Sewing my own props and set pieces came up out of economic necessity. Now I make my sets and costumes because it adds to the "playful" and silly aesthetic of my work.
Is our city a good place to do what you do?
This is a rough town for creatives who work alone. It's way too big way and way too spread out.
I've seriously had cabin fever for at least four years straight living here. I definitely had times when I was the living embodiment of stir crazy because I had not left my house in days.
What saved me and what I recommend for anyone else trying to make it out on your own is to join a group exercise class, let go of projects that aren't working, and work on so many things at once that you have no time to be depressed.
I think it got a lot better for me when I made an effort to get out of my house and just occupied myself with more projects in Los Angeles.
Contact Info:
Image Credit:
Tom Fowler
Getting in touch: VoyageLA is built on recommendations from the community; it's how we uncover hidden gems, so if you know someone who deserves recognition please let us know here.