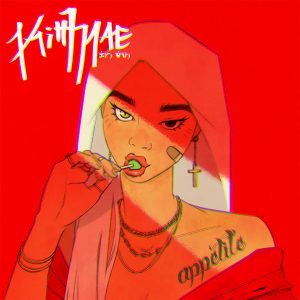 Today we'd like to introduce you to Kitt Mae.
Alright, so thank you so much for sharing your story and insight with our readers. To kick things off, can you tell us a bit about how you got started?
I'm not sure where to start to be honest, where my "origin point" as an artist is because so much of who I am as an artist isn't just musical checkpoints. Growing up with social media, you get drilled with certain rules and ideas of how to be as an artist or person – present yourself clear, clean, concise, that kind of thing – and after a while of living in that, we end up diluting so much of what makes us artists. It took a while for me to break out of that kind of thinking. Fact is: music, art, individuals aren't always clear, clean, and concise. That said, I do know that if there's anything anyone needs to know about me, it's that I love music, art, and anything remotely fantastical – anime, sci-fi, high fantasy – and that I grew up playing music in the church, and that's been consistent since I could formulate any memory as a toddler. I played music and performed – a lot. I drew and painted – a lot. I played video games and watched anime – a LOT. All of that is why I am who I am as an artist today and why my work is what it is. That all started in the Philippines where I was born and grew up. My parents love really good music – like my childhood soundtrack was filled with Earth, Wind, & Fire, Eric Benét, Journey, the Jacksons…a lot of disco, neo-soul, R&B, and pop – just really fun music that made you dance and sing. Also, I have no idea what the deal was with this and how my parents got away with it because I was so young, but they used to take my older brother & I out with them to jazz clubs, live music clubs until it was late. I just remember eating whatever I wanted, drawing on paper table-tops with crayons, and having a really good time. My mom would dance and I distinctly remember it made me really happy to see her having fun.
My dad, at the time, managed an animation studio that worked on popular cartoons from U.S. studios in the 90's, like X-Men, and I remember he played Starcraft and Warcraft – so it was either because of him or just me loving media as a kid then that got me into art and fantasy – which directly inspires my work today. I was surrounded by two huge, lively families on both my parents' sides. Family parties were always loud and crazy, full of genuine love and chaos and – again – really good music. We're Filipino so obviously, we did a lot of karaoke and dancing. The kids would learn choreographed dances, and our titas and titos would pay us to perform at the parties – not that they needed to. Honestly, they didn't even have to ask us or pay us to perform, we'd take any chance and just do it – even if they weren't watching – because our generation – we were hams. We were loud, rowdy, competitive, not shy at all, and everything was fun – and I feel like that might have been where my love of performance came from. So…I had a really bright and colorful childhood in the Philippines, then when I was six going on seven, we moved into another wild, unique, vibrant world: the SF Bay Area. Immigrating to the States is its own story, but at some point then my parents bought me my own CD player and I started my own CD collection – a lot of pop and rock. I started writing my own lyrics over existing songs and imagining how the music might sound if I could write my own music.
In school, any time we had free time – when the teacher would read to us or if we finished in-class assignments or tests early – I would write lyrics or draw characters and scenes from existing stories or stories that I had in my head. I would even curate my own CDs to soundtrack those stories. I could never separate music and art as a kid. During that time, all throughout elementary and middle school, I was in the school choir and I loved it. I was also learning different dance styles – even trained to figure skate until it started looking like it was getting too serious – was in art classes, learned piano and violin, took any chance I could to perform and even went to compete for some of those things. But I think the most significant out of all that was learning guitar. So here's a really momentous origin-memory-point: When I was 10, I remember this band came to play at our school in our amphitheater. As I was watching them, and particularly the lead singer, something clicked. I can't really explain it, but I felt a click. I turned to my best friend then, who was watching next to me all starry-eyed – and I looked her in the eyes and said, "That. I'm gonna do that." – with the kind of conviction and finality that I hella admire and aspire to in my kid self.
So that summer, my parents signed me up for a few guitar lessons and as soon as I could play through progressions well-enough, the songs just bled out of me. They weren't great, but they were my songs, my lyrics. I think I actually still have that first notebook of songs from that summer somewhere in storage. From then on, I was totally committed to music. Middle school and high school saw a lot of starts and continuation – I started playing and leading music in church up to twice a week and even running sound, formed little bands and projects with friends, started actively and frequently going out to see live music with homies rather than just with my family, and continuing to take any chance I could get to perform whether it was for school projects or open mics or recording YouTube videos when YouTube first got huge. All through high school, I knew I really wanted to go to college for music, but as I was researching, I let different voices scare me out of it – mostly saying that it wasn't a tangible career choice.
At that time, I really loved art, too; art and music were the two things most people associated with me. You ask anyone that knew me then – and even if they didn't know me, they could at least for sure say that's what I was about, easy. Anyway, I thought I could make a more tangible career out of art instead. My parents were surprisingly supportive of me doing art, but I shouldn't have been shocked because of my dad's old job. A lot of things happened after that, and college is a much longer story, but I graduated with a Bachelor of Fine Arts in Animation/Illustration with an Illustration Emphasis. After that, I started pursuing a music and audio-engineering degree – didn't finish but I did start interning at a production house/music studio in the Bay. It took a while to figure out how to reconcile all the things I loved and put them together, but I feel like I'm on the right path and that's what I'm doing now, just trying to put out good, honest work.
I'm sure you wouldn't say it's been obstacle free, but so far would you say the journey have been a fairly smooth road?
No, definitely not. I don't think there's any artist out there that would say they've walked a smooth road. Like I mentioned earlier, college was a complicated situation and there was a lot of turmoil going on between art and music – was doing a lot of art in school and a lot of music outside of it, and I loved both. And in general, there was just a lot of really challenging things happened. Now that I'm looking back, I don't know that I look at them as struggles, even though things got really rough or confusing at the time. It's more like guideposts telling me where to go. Just gotta have faith and keep walking, even if you feel lost or unsure, just trust that God got you and he'll get you where you need to go, and in all my life it hasn't let me down yet. Like a quick example, one part within the college situation: I had auditioned and got accepted to a music school in L.A. in their vocal program and was so pumped. They gave me a scholarship and were working with me on getting my situation figured out, but even with that, I couldn't afford it and I ended up not going.
A lot of work and heart went into all of it, and it really sucked at first – felt like someone had punched me in the gut. But I kept going, started self-educating online using every credible resource I could find, went for a music and audio-engineering degree at a local college, and got my internship. The situation was the best happy accident that could have happened. I'm really glad my initial school plans fell through because I think it would have taken me away from what I actually wanted to do as an artist. It's hard not to see that as a guidepost. Because of that disappointment, it led to some really great opportunities and I got to make great friends and work with really dope artists and creatives. So that's kinda what I mean with the struggles – just keep walking forward, keep working, and it'll work itself out.
Thanks for sharing that. So, maybe next you can tell us a bit more about your work?
I make music and art. I sing, write songs, produce music, and I make the visuals for my work – album covers, music videos, performance graphics. I play guitar, bass, drums – I played instruments more frequently for church and shows before, but lately I've been more focused on beats and writing. I love it all. There are some things you just know you're made to do, and I'm doing that now. As far as what I'm most proud of, I think it's moreso in regards to the process of putting out music. Being self-sufficient is something that was a dream for me as a little girl working on music, so having taken the steps to honor that – which was and is so important to my core – is huge for me. I'm really proud of end products, of course, but I love that I now have the ability to do a lot of the stuff that goes into my music (not that I do all of it because I love and prefer to collaborate with dope artists and producers and engineers rather than by myself, and they're all amazing and I get to learn a lot from them and better myself). I love that I have full creative control to honor my visions. Like I get to decide exactly how things are going to sound and look and bring exactly what's in my head to life. There's no uncertainty as to if the vision can be brought to life or room for miscommunication to happen to compromise that vision, I know I've put in the work and have full capability to make it happen, and that's so cool for me as an artist. As someone whose work is so inspired by fantasy and sci-fi and anime, being an artist that has the ability to show people exactly and make tangible the worlds and ideas I see and hear in my head is relieving.
What matters most to you?
As an individual or artistically? I guess for both it would be "staying true" – just staying true. To God, to myself, to my loved ones. As long as I honor that, as long as I stay true, I don't have a doubt my music and art and everything else will be exactly what it needs to be and go where it needs to go.
Contact Info:

Image Credits:
Taryn Dudley, JL Visuals, Tamara Chang, Andrew Godfrey, Kitt Mae
Suggest a Story:
 VoyageLA is built on recommendations from the community; it's how we uncover hidden gems, so if you or someone you know deserves recognition please let us know 
here.