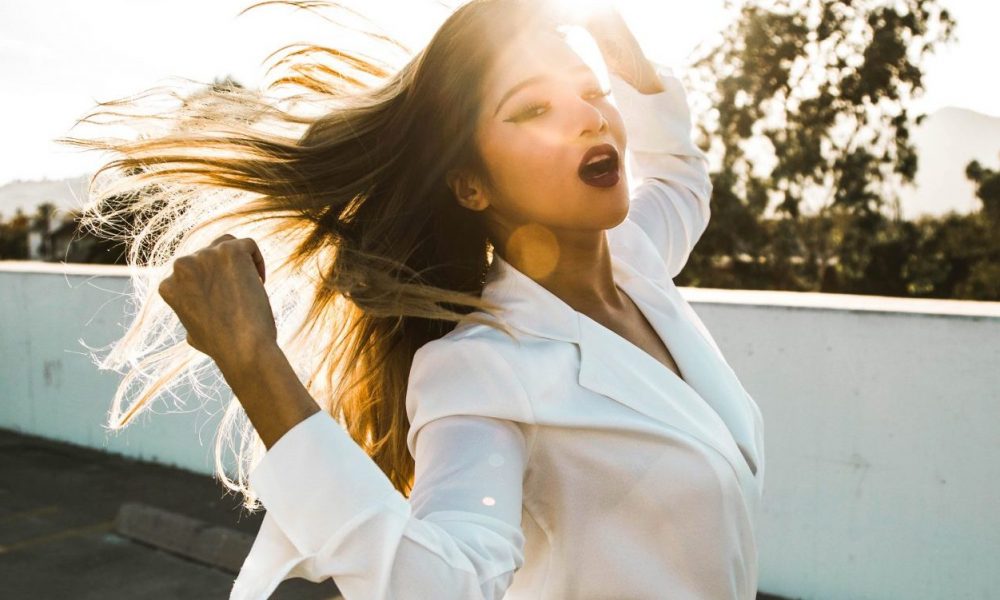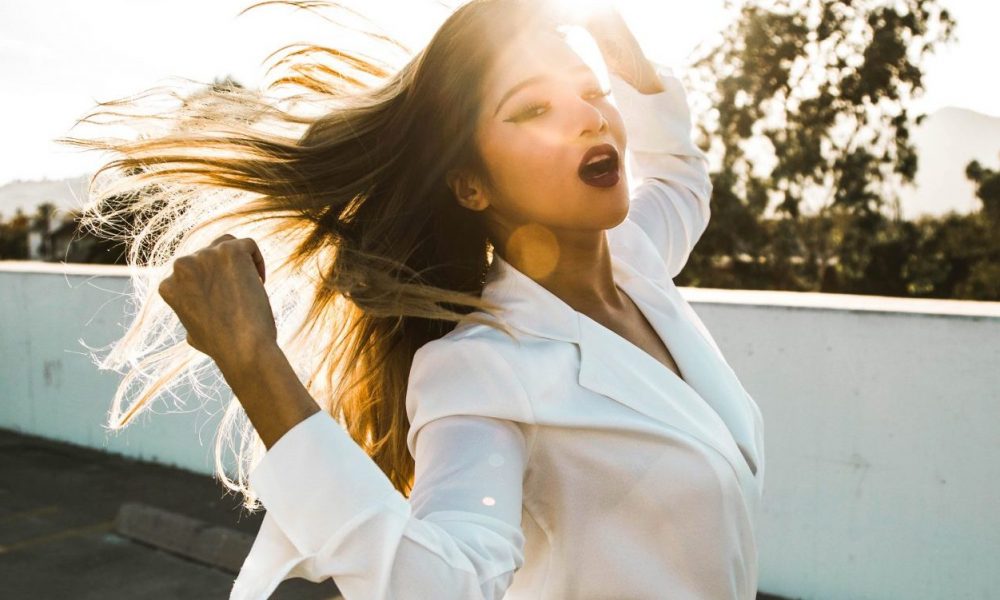 Today we'd like to introduce you to Kimiko Chong.
Kimiko, can you briefly walk us through your story – how you started and how you got to where you are today.
I'm a Motivational Beauty Influencer, professional dancer, and international retail/wholesale cosmetics seller.
I was born in Thailand and originally moved to America in order to pursue my lifelong dream of becoming a professional dancer.
I needed a job while trying to make ends meet in-between auditions and dance classes, but there was always something about me that made me want to be my own boss. I knew I was not cut out for working in a restaurant or in an office like most of my friends. I was too impulsive and headstrong, but there was a strong passion and desire burning inside to create something and express myself. Since I was always involved in the beauty and entertainment business as a performer on stage, I began working and studying as a make-up artist, which eventually led me to the cosmetics industry where I am today.
Has it been a smooth road?
Looking back on my journey, the biggest struggle has been my lifelong fight against eating disorders. While painful at times, I am comfortable talking about this topic because this struggle has also been a blessing in disguise as it serves as my underlying motivation to leave a positive impact on the beauty/cosmetics industry.
Growing up as a young woman in Thailand training to be a dancer, I always felt under the spotlight being judged and criticized based on how I look. During my most vulnerable years as a teenager, I began my battle with eating disorders including the symptoms of anorexia and bulimia. I was obsessed with losing weight in order to have the body I thought I needed to be a dancer. I was filled with intense feelings of guilt and fear, and turned to excessive exercise, starving myself, taking diet pills, and even purging in order to maintain my weight.
Nowadays, I have come to terms with my eating disorder and I have learned to take much better care of my body and my sense of self. Moving to America played a large role in changing my perspective on beauty and integrating different points of view.
While every country has its own beauty standards, it was only after I stepped away from my Thai community that I was able to see it from an outsider's perspective and analyze it carefully.
I listened to how people criticized each other (or themselves), I paid attention to my own negative thoughts about myself, and I began to see the role of the media differently. I saw there was so much pressure to be beautiful, skinny, have a high-bridge nose, a smooth V-shaped face, and no cellulites – then, and ONLY then, would people love and accept us. Many commercials, TV programs, or advertisements try to feed on our fear and insecurities to push their products. Their messages can make us feel like we are not pretty enough, skinny enough, that our skin is too light or too dark – and that we need what they are selling to feel better. I remember even seeing products to lighten the skin of your armpits to prevent dark spots!
We are molded from a young age to believe that what the media said is right. It is easy for vulnerable people like myself with fear or doubt in their heart to get infected by this view of the world. Looking back, I believe there are many young girls in Thailand feeling the same way that I did. I am not the only one.
Now that I am a little older and a little wiser, I can see that this phenomenon is not unique to Thailand. My story is shaped by my experience growing up in Thailand, but I believe that if I grew up in any other country I would also be challenged by its own beauty standards and messages from the media.
That is why one of my biggest focuses is on self-love and nurturing our heart.
It does not matter where you are or where you come from – I know many people are people struggling with self-acceptance or not feeling good enough. For me my eating disorder made me only focus on my appearance and my external body, completely ignoring my feelings and my inner self.
In many ways, I felt like I was a victim of the beauty industry. Now I want to take the power back and use the same industry that I believe spreads many negative beliefs, and use it to spread positive messages of love and self-acceptance! I want to give back to my homeland of Thailand, a help redefine what being "beautiful" really means.
We'd love to hear more about your business.
My company is Close-Up Wholesale, an internationally based wholesale business with representatives in North Hollywood, California. We specialize in distributing cosmetics and beauty supplies throughout South East Asia. We have been established since 2013 and are one of the leading wholesale distributors bringing products to international markets at competitive prices. We carry a wide range of brands from high-end designer brands to affordable drugstore cosmetic lines.
As stated earlier, my ultimate goal is leaving a positive impact on redefining what being "beautiful" really means. To accomplish this, I am attempting to integrate mindfulness practices and other therapeutic concepts to help my customers focus on loving themselves both on the inside and out, as well as offering quality beauty products. I hope to challenge the negative beliefs we may have about ourselves, and use my own personal experience to promote body positivity.
For example, I recently facilitated "The Close-up Challenge: Wake Up the Beauty in You" with an online group of participants in Thailand. This program consisted of creating a daily morning routine of applying make-up while equally focusing on setting goals and intentions for the day ahead. I encouraged my participants to change their morning routine of simply putting on make-up to private time focused as a form of self-care.
I believe so many times we rush to put on makeup without thinking why. We might simply try to follow a trend, match the color of our outfit, or do the same thing we always do. I wanted to tap into our emotions and ask, "What does the way I look say about how I feel or what I want to express today?" Other activities included spending the morning routine of applying makeup focusing on listing positive attributes we find beautiful about ourselves, or making lists of things we are grateful for about ourselves.
As my brand continues to grow, I would like to begin including videos such as makeup tutorials that incorporate these mindfulness and self-love practices, as well as interviews with like-minded professionals addressing and redefining how we see "beauty" in society.
I am very excited to expand my brand through attending conventions such as COSMOPROF North America in Las Vegas and engage in new business opportunities. Attending COSMOPROF felt like my introduction to the so-called "Big Leagues" of the industry, and I look forward to attending again this coming July 29-31, 2018.
I am proud to announce that I will be releasing MAIMIR, my company's brand of luxury makeup brushes offered at competitive prices. MAIMIR will carry on the same spirit and intention set out by The Close-up Challenge. Through my brand, I want women (and men) around the world to be happy, strong, and successful. With this strong mindset, I want to present products that are made to serve that purpose and help change how people react to makeup differently.
We are starting by launching our first line of 15 unique brushes that each come with their own individual boxes and brush covers that protect the bristle head. These quality high-end brushes are easy to use and can help my customers achieve their beauty goals and create the look they want, but will remain at an affordable price. I selected each brush based on Internet reviews and research on what my customers thought would be useful and practical.
Just like an artist or a designer, I believe applying make-up requires quality tools. That is why I wanted to offer a wide variety of brushes that can serve as the foundation for applying make-up. While makeup trends, styles, and products can change every season, the tools to apply them stay the same. That is why I believe it is important to have the tools necessary to express your own beauty.
I designed my MAIMIR brushes in the shape of a Triangle wand. Because they have a peak, triangles can symbolize greatness or superiority – it is a visual representation of "the pinnacle of success." I wanted to use triangles in my design to evoke the symbol of a mountain, a metaphor for pushing yourself, overcoming challenges, and being the best, you can be.
MAIMIR will be launched both in America and South Korea at the same time.
Once launched, we are planning to design a community care website that can help educate people both on beauty techniques about how to use brush and mindfulness techniques to help express our emotions. Our goal is focusing on serving customer inside and out.
Any shoutouts? Who else deserves credit in this story – who has played a meaningful role?
A huge part of my success comes from the love and support I have received from my relationship with my fiancé. I was lucky to meet my beloved fiancé in Los Angeles who also happens to be a psychotherapist. I always have the opportunity to discuss any topic with him and he is a major source of inspiration for me to follow my dreams and not be afraid to break the mold.
Beyond supporting my career, he has helped show me that I am lovable and worthy of love just the way I am. Rather than focusing on flaws or imperfections, he helps me see the good that is already inside me. This is completely the opposite of my experience with eating disorders and the negative messages I internalized from the media growing up.
Everywhere I go and every battle I fight, he is always there holding my hand and supporting me no matter what. He has been by my side through my ups and downs and never gave up on me even when I have gone through periods of financial or personal hardships.
I have also received the love from his supportive family who always listens and accepts me just the way that I am. Even if I try and make mistakes, they always have faith in me. This shows me that it is not just my fiancé who loves me, but I have an entire support network of people that care about me. I would like to thank my family and friends near and far both in Los Angeles and in Thailand who have helped make me the person I am today.
Finally, I would like to thank my photographer Kay Kasem who has been instrumental in helping promote my beauty products for my websites as well as take my headshots for this article. His work is phenomenal and I have a strong connection to him, as he is also from Thailand working hard to make his dreams come true in this country. I look forward to future collaborations and am excited what the future holds!
Contact Info:

Image Credit:
Kay Kasemwattana
Getting in touch: VoyageLA is built on recommendations from the community; it's how we uncover hidden gems, so if you know someone who deserves recognition please let us know here.