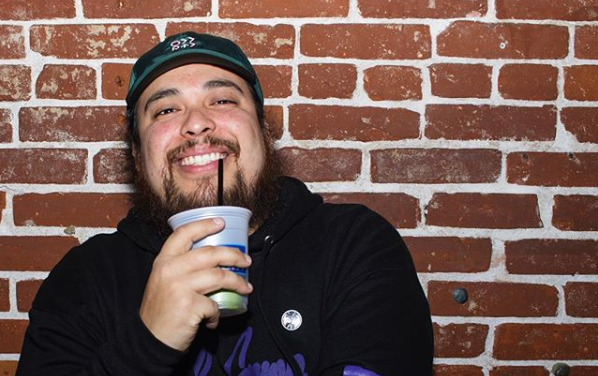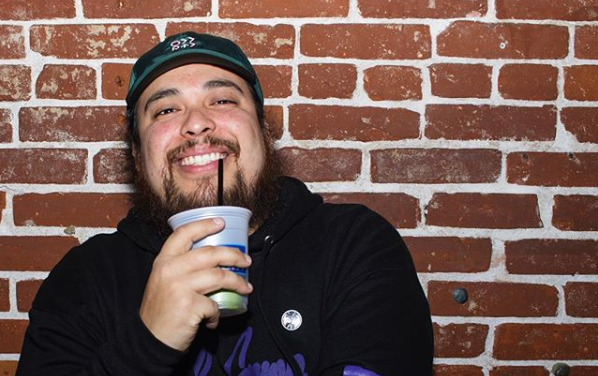 Today we'd like to introduce you to Kevin Ferrer.
Kevin, let's start with your story. We'd love to hear how you got started and how the journey has been so far.
Locally Grown Collective was founded in Orange at its roots as an idea between Dave Allen and myself as a way to bring impact to our community by highlighting independently owned restaurants in turn getting to eat some free food after we rode our bikes to the place and did the interview. We started off with that idea in mind, but we were nobodies and why would they give us any food for free for some video that nobody would see right? So we came up with this music & clothing idea. Dave would sing, and I would create clothes to "Sponsor" him giving the perception that we had been established and would bring value to our names … so that we got free food when we reached out for this interviews. As soon as Dave Allen released his first freestyle singing clip on facebook back in 2011 though… the whole mission changed. We realized we were a gold mine, and we had just scratched the surface. Quickly our focus shifted to learning about the music business, business, licensing, publishing, royalties you name it. If it made money with music we wanted to know about it. I was in school at the time learning about the fashion industry.
So we got an insight to both of the avenues we were pursuing. We spent about a year and a half just learning before any music even came out. During this time Dave Allen's freestyle clips were the buzz we were riding on and building a slight demand for actual music. Dave Allen and I were committed to creating an independent music label without knowing it. We wanted to share his vision in the highest standard of branding, visuals, performances, touring and professionalism anyone around us thought possible. Dave Allen soon met Endz and 4th both of whom created music. Along with Dave's Cousin DeeJaeeBee and long time friend Cole, we had a collective of artist that were passionate about music and life. Locally Grown Collective was these group of people putting on great shows and having excellent visiuals. Each one individually amazing and when they came together it was a show like no other. Every artist had their niche and spotlight and because of Endz we were given the opportunity to go on some early tours with Reverie. These multiple tours taught us a lot about the independent music business and helped us foster the idea to create our own music label.
At the time my role in all this was a little bit of everything. I helped create the merch we sold at shows, help organize shows and tours, driver, manager, salesman…you name if it needed to be done, I have done it. It was exciting being a part of such talented group of artist making an impact in the lives of the people that listened to their music. As time went on we had more friends want to help us and our collective grew. From 5 people to about 12 people helping build this brand through graphic design (Naxessi) Video ( Victor Hernandez) Management and PR (DGPS, Letiii, Sheila). And I oversaw operations and creative direction with the artist that we had. Locally Grown Collective is dedicated to the promotion and growth of the independent person through a creative outlet. Our success is measured by our passion to inspire. That was our mission statement and this was a vital time for the growth of the movement. Everyone on the team played a key role in establishing our story. During this time organized our own tours and events. Helped organize a fundraising festival with our friends at Konsept & Joining the road with Vel The Wonder multiple times and expanding our reach to more than just southern California.
But as time went on our collective grew apart and our goals were not aligned so the team split. LGCLTV had just become a Label and we were also focusing on the creation of LocGrwn, our lifestyle brand encompassing more than just music. From 12 members we're back down to 4 and Dave Allen was no longer part of the company. Since then Endz and I have continued managing and operating LGCLTV. We have been releasing music with some of the most talented artist within our community. Endz, 4th, Melotonics, Hippie C and Yoshi Vintage all have been a part of our journey and we only hope we can help them grow in every way. I help the artist we are partnered within marketing, design, shows/touring and merchandising for their music. Leading creative direction within LocGrwn and the branding of events put on by the Collective. Our goals are still the same, to provide a platform for artist to express themselves in every creative way possible. This journey has not been easy but I'm excited to see where we can go.
Overall, has it been relatively smooth? If not, what were some of the struggles along the way?
I don't think any successful story is a smooth road. That wouldn't make much of a story in the end. I think every day is a struggle for any business owner. You're always thinking about what's next, what can be better, what can we do without? It's always been this way for me, early on a big lesson learned was to do your research. We thought we were ready to launch a website a sell merch and get rich quick but of the older homies gave us insight into his business and what it took to run that. They were selling vintage streetwear online, we had no idea about sourcing product, samples, online retailers, trademarks things that would be key in having a successful clothing business. We had more research to do, this same night we learned another lesson though, which was closed mouths don't get fed. They told us about a video that was on their landing screen and how they guy was some famous 8bit game designer and they just reached out to him to see if he would make their landing page video… to their surprise he would do it. Never be afraid to ask questions.
I think one of the biggest struggles I've had during this has been losing most of the team we had built. I felt like I dropped the ball in leading this team of leaders. We had gone from being this powerhouse to barely even a squad. It definitely took some getting used to. I had not only lost my teammates but some of my longest friendships and I hit a slump shortly after that time. The combination of this break up and pushing through this depression slump has probably been one of the hardest things I've had to do spiritually.
Please tell us about LGCLTV | LocGrwn.
LGCLTV is a music label that focuses on artist branding and development. We help create and execute marketing and management for Artist releases, tours, shows and merchandise. I help come up with the ideas that we use in all these aspects as well as help execute them. I feel like I specialize in everything we need at the time. My favorite things to do is helping with creative direction. I enjoy finding ways to relate an artist music, visually, or in a marketing strategy. I like coming up with new ways to present music. Things that grab peoples attention and get them to think "I can't believe they did THAT" We want to help make the artist life easier so they can create fearlessly. I'm known for finding ways to make things happen no matter how crazy they sound sometimes.
Also known to fight for the artist I'm partnered with. I'm most proud of the culture we've been a part of and inspiring people around us to pursue their passions fearlessly. We are Locally Grown Collective I think what sets us apart is the same thing that makes us the same as everyone else. We're humans learning and growing, only thing we've done different has been focused and persevered. It's easy to give into the life that's handed to you, it hard to be great and pursue your passions. But it's worth it every time. We are not afraid to lose, learn our lesson and get right back at it.
If you had to go back in time and start over, would you have done anything differently?
Saved more of my weed money to travel more.
That's it. Everything else was meant to be.
Contact Info:

Image Credit:
MythVision, Kevin F.
Suggest a story: VoyageLA is built on recommendations from the community; it's how we uncover hidden gems, so if you or someone you know deserves recognition please let us know here.