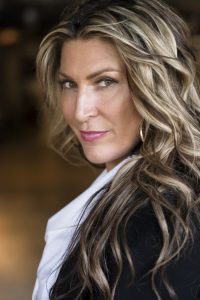 Today we'd like to introduce you to Keri Marrone.
Keri, can you briefly walk us through your story – how you started and how you got to where you are today.
I knew at a very young age I wanted to be an actress. At 20 years old I saved $800 and moved to California. I had friends that were out there that were aspiring dancers. We all lived together it was a total culture shock! I was a big-haired bling girl from the 80s and I was expecting glamour and glitz and we literally moved to the ghetto and "fuck you" was spray-painted on the building next to us. I had a meltdown wrapped myself in a blanket and walked to the nearest payphone. I called my mother and balled my eyes out and told her to get me home.
My mother then said to me if you were on vacation "would you be crying to me and telling me to come home?" No, I said. She said, "How much money do you have?" I told her I had $800 she said to go spend it all, go shopping go have fun! And when I ran out her and daddy would get me a ticket home. That was 30 years ago! I did exactly that and I called my friend Mike who's also out here to be a writer and he picked me up and showed me around and showed me the FUN parts of LA all the glamour and glitz. So now I had no money and the rent was due. I lived with six people and it was time to look for a job everybody filtered out and what were remaining in this apartment were four gay guys and me… I will say at 20 years old living with 4 gay men was the biggest education of my life better than any college.
I learned about people, compassion and I learned that there are a lot of different human beings out there other than Italian Catholics. So now it was time to get a job. I asked what was the hottest nightclubs in LA the answers back then was the Spice, the Mayan, and China club and Dublins. So my roommates and me got all dressed up and we went to Spice, partied it up and I found the owner. I started working as a cocktail waitress that same week. I was 20 years old and lied I said I was 21. Fresh off the boat from Rhode Island and I was cocktailing in the VIP service area for all the celebrities and hotshots. There's a three-hour difference in Rhode Island and I would call my family to tell them I waited on Prince, Cher and Nicholas Cage the list goes on and on it was THE celebrity hotspot. Sam Kinison performed every week it was the Red Light district every week and every single rock star passed through Spice. Tommi Lee and Heather Locklear were regulars and so was everyone from Poison and Jon Bon Jovi.
Needless to say, it was a super fun place to work. My shift didn't start until 10 pm the cocktail waitresses and me made a shitload of money while we drank a shitload of booze. One thing led to another and on a weekly basis I was doing cocaine with Sam Kinison's girlfriend and these years turned into the biggest drinking party years of my life. The nightclub I worked at Spice was the most populate hotspot of the time… In fact Vin Diesel was the bouncer there while I was a cocktail waitress. I have found the fast lane in California and I have to admit I loved every single second of it. I then settled down, met other aspiring actors and I asked what the best acting schools was and the answers that came up over and over again was Playhouse West. I got the partying out of my system and I became extremely focused on what I moved out here for. Juxtapose to this I met one of my first California girlfriends, Dana.  We didn't have any money and we would live at the bookstores Psychic Eye and Bodhi tree and read for hours and hours a day we were revelation junkies together and that is also where I got my California education, and then I started at Playhouse West.
Great, so let's dig a little deeper into the story – has it been an easy path overall and if not, what were the challenges you've had to overcome?
I believe the biggest struggles is finding balance, having a job to make rent, bills, and acting expenses and also to take care of yourself and enjoy your life. Having the time to work, having the time for recreation and having the time for acting classes and rehearsals. I mean sometimes me and my roommates would pool our money together and decide whether to do laundry or go buy soup! California is expensive to live in and my biggest struggles in my early years were money management. At one time I had an eviction notice my cable went out and my refrigerator was empty.
I have to say looking back those were the most fun times. I ended up getting such great jobs at great Italian restaurants, and my friends and I never went hungry again. I believe your vibe attracts your tribe. Angels come in different forms and every time I hit a low something good happened. I also believe a big challenge is aging!! I am so proud of being 50! I know this actress that has been 35 for 15 years! I hate the pressure people feel about their age…i love the era I grew up in! Denying your age is denying who you are. It's silly the stigma in Hollywood.ummmm there are stories to tell in your 30s 40s 50s 60s 70s 80s 90s, how boring if the entire planet was 25! I am 50 and feel the best I have ever felt spiritually mentally physically and emotionally!
Please tell us more about your work, what you are currently focused on and most proud of.
I became a highly trained actress at Playhouse West Repertoire Theater Company with Jeff Goldblum and Robert Carnegie, who became my mentor and teacher for over a decade.
It was there I studied the Meisner technique and was in a very elite senior advanced class with James Franco, Scott Caan, Mark Pelligrino Ashley Judd, and Holly Gagnier to name a few. This class was referred to as "lightning in a bottle" and most everyone in it has had much success. It was there I discovered live theater, loved it and did plays for years that received good reviews in the LA Times.
I just finished three feature films in the past two years. One was The Cleaning Lady directed by John Knautz.  This is a dark horror film where I was the comic relief. It has received very good reviews and the movie is 80% fresh on Rotten Tomatoes.
The second film in post-production, Jackson's Hole, directed by Juri Koll, starring Lin Shaye (from Something About Mary) is a murder mystery starring Larry Cedar as the patriarch and mayor and I play his very glamorous, beautiful and passionate conniving wife.
The third film being released soon, Miss Daisy, directed by Tim Cogshell.  I play a very funny character, Glowdeen, a ghetto fabulous seamstress from the hood.
Another thing I'm very passionate about is Kundalini yoga I found something that keeps me balanced and comfortable in my skin! So I got certified under the best gurus GURMUKH and TEJ. They are rockstars in the Kundalini community and I am now doing business as "Very Keri Kundalini".  
I am very proud of being 50 and all the wisdom I have acquired. I am content now and live a healthy happy lifestyle doing Yoga and shooting movies.
Do you look back particularly fondly on any memories from childhood?
Absolutely all the fun I had with my family. I grew up with my mom, dad and my sister who had two children and I grew up with two sets of grandparent's lots of cousins, Aunties and Uncles. My favorite memories are the Sunday dinners and holidays, Santa Claus and the Easter Bunny … everything was a BIG deal. The Easter Bunny left jellybean trails and the reindeers used to make a mess. My family was the best family I could grow up with… full of magic full of love!  My neighborhood was FULL of kids. I mean a ton of kids every single house and we had the best time growing up without social media played until the streetlights came on and all of our moms would scream on top of their lungs to come in. I'm so happy to be from Cranston, RI.
Contact Info:
Website:

 

Kerimarrone.com
Phone:

 +1323-421-7326

Email:

 Kerimarroneactress@gmail.com

Instagram:

 Kerimarrone

Facebook:

 Kerimarrone

Other:

 IMDB/KeriMarrone
Image Credit:
Aramisgrey.com for my headshot
Suggest a story: VoyageLA is built on recommendations from the community; it's how we uncover hidden gems, so if you or someone you know deserves recognition please let us know here.