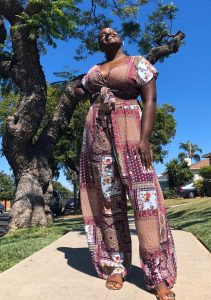 Today we'd like to introduce you to Kennedy Jordan.
Kennedy Jordan, let's start with your story. We'd love to hear how you got started and how the journey has been so far.
My name is Kennedy Jordan, and I have a blog called "Kween Kenn." I was born and raised in LA and I am a proud native of Crenshaw & Coliseum. Writing is something every student has to do throughout their academic career so I can't exactly pinpoint the moment I started writing for myself versus writing for school. I do remember I would write these letters to my aunt, and they would be about any and everything: fights with my parents, fights with friends, crushes, self-image, self-esteem, whatever.
In these letters, I would just write about how I was feeling and why I was feeling it, and I found that I was way better at expressing myself through written communication than I was at verbal communication. It wasn't until high school that I was complimented on my writing capabilities. My mom will say that she told me long before that and I can't disagree, but it's always different hearing compliments from your parents than someone who isn't related to you. It feels more real in that way for some reason. I went off to college and received additional compliments from professors but I didn't think much of them. I started a blog in my sophomore or junior year of college but I never followed through with posting or anything.
Three years later, I got my first publishing nod the day after my birthday on Blavity, and I was beyond the hype and excitement, and it wasn't until then that I believed I was actually talented or gifted at writing. In July 2018, I was sitting at an internship bored out of my mind, and I felt this overwhelming energy to start a new blog. I honestly can't even tell you where it came from or why it showed up in that moment but God was clearly at work. At the time, I was in therapy and I was spending the summer in St. Louis, where I was attending grad school.
I was all over the place emotionally and mentally, and one morning on my walk to work, I just remember telling myself "Enough is enough." And in that simple statement, I made a conscious decision to dedicate that summer to healing, self-reflection, and self-awareness. I didn't want to spend any more time feeling shitty about myself and I was tired of complaining about the same shit all the time to my friends, and my family. Within a few days of that statement, I had written and published a new piece called "Heal Yoself" to Kween Kenn and it all just kind of happened from there.
We're always bombarded by how great it is to pursue your passion, etc – but we've spoken with enough people to know that it's not always easy. Overall, would you say things have been easy for you?
It hasn't been smooth, but it also hasn't been incredibly difficult either. For me, the biggest obstacles I've faced are insecurity, fear, and doubt. I've always been terrified of rejection, and public perception plays a big part in my life. I'm very reserved in that I try to stay as in control of everything as possible, which means I rarely if ever take risks or venture to do something where I don't know the outcome. I never want to be perceived negatively, and I always want everyone to like me and accept me, which has made me the biggest people pleaser for much of my life. I'm also not a very vulnerable person, often hiding how I feel for fear of rejection or negative perception.
This blog has been a direct challenge to my fear, insecurity, doubt, and vulnerability, which has created one of the biggest and most rewarding challenges of my life. Every piece I write requires more vulnerability than the next because I'm putting these rather private and inward battles I have in my head out on the internet for people to read and interpret however they want too. I can't control how they interact with what I'm saying or how they respond to it either. And that's terrifying for me. But it's also very liberating. Like, the very thing that brings me such immense fear and angst also creates such a euphoric peace. It's a weird sensation to describe.
Consistency has also been a challenge. I write the best when I have an idea or concept already in my head. I can write an entire piece in 45 minutes when I'm feeling inspired. It's when I'm not feeling inspired that I struggle to continue writing, which produces inconsistent content because I could go months without having inspiration. I put a tremendous amount of pressure on myself that everything I write will be this groundbreaking, magnificent work of art but that's impossible. I'm not King Midas. Everything I touch will not turn to gold, and that's cool. I just have to remember to chill out and just write.
We'd love to hear more about your work.
So I am a blogger/writer, and I write about my life and my experiences on my blog "Kween Kenn." I've written about experiences as silly as falling down a flight of stairs in a lecture hall my freshman year in college to the difficulty of not being able to find a job after graduating with my Masters. The biggest surprise and accomplishment is how many people identify with what I'm saying or feel validated by my experiences. I mentioned fear before and a lot of that fear comes from believing that I'm the only one who has these thoughts or goes through these experiences, and I'll publish a piece and think no one will understand what I'm going through.
But every single time I post something new, I get comments and texts from my friends and family telling me that they too have been through an experience similar to the one I shared. So not only am I healing myself but my healing is also bringing healing and validation to other people. I'm getting to know my friends and family more intimately as they are getting to know me more so through what I'm sharing, which has been incredible for my personal growth as well as my growth in these relationships. As far as what sets me apart, I'm still trying to identify and define that. I like to say my blog is where humor, humility, and healing meet so I'm hoping I can continue to expound on that as the blog continues to grow.
So, what's next? Any big plans?
My plans are for the blog to grow and reach a wider, more diverse audience than it's reaching now. I honestly just want to make people feel validated and seen for who they are authentically, and my hope is that I can continue to do that as the blog grows. I would love to write a book one day based on writings already shared on my blog. I'm actually going to manifest that right here and say I will write a book one day. I'm honestly looking forward to continued growth and healing. I'm turning 24 in November so I'm looking forward to what God has planned in this new year and season of my life given how much has changed in my 23rd trip around the sun. I'm more confident, more self-aware, happier. I didn't think I'd ever get to this point in my life. I feel more whole now than I've ever been in my entire life, and I'm not even at my peak yet.
Contact Info:

Image Credit:
Kirsten Ellis, @faith.in.foto
Suggest a story: VoyageLA is built on recommendations from the community; it's how we uncover hidden gems, so if you or someone you know deserves recognition please let us know here.