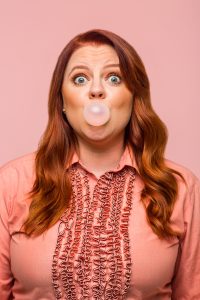 Today we'd like to introduce you to Kelly Stark.
So, before we jump into specific questions, why don't you give us some details about you and your story.
From a young age, I was always fascinated by the beauty and creativity in magazines, film and television and dreamed of becoming a part of that world. I loved to sneak into my mother's vanity table and take her makeup to play with, and still have some of them as keepsakes to this day. In High School, I was a part of the color guard team and was in charge of our hair and makeup looks for all of our shows and would sit for hours in my room practicing hair and makeup.
Being from a small town in Ohio, I wasn't close to seeing any of the professional beauty industry firsthand, so I began tearing magazines apart and buying books by Kevyn Aucoin, Iman, and later discovering the artistry of Val Garland, Pat McGrath and Sam Fine…just to name a few.
At 18 years old, I dreamed of moving to a big city like New York or Los Angeles to attend Makeup School, and I decided to skip college and go to Cosmetology School in Ohio to start honing my skills. During school, I still felt unfulfilled in the makeup aspect and had met a few students that had worked for MAC Cosmetics and tirelessly asked them for advice on how to get a position. I always saw MAC as the pioneer of artistry and products and went to several counters in my area to seek advice and to just buy every new collection, honestly. I finally met a future coworker that gave me the time to explain my passion for makeup and was invited to interview in an audition. I was terrified but extremely excited to finally be seen as an artist and follow my dreams. After three auditions, I had made it to a freelance position and cried with excitement, even though I still had to work in a salon and various retail jobs to make a living. I eventually made it to a permanent position and still had that desire to move out of state to further my artistry in a bigger market. My mother was always supportive of my dream to move and be in the beauty industry, my father on the other hand was a tough sell. He ended up talking to his hairdresser about income and even researching the top artists in Los Angeles to see how they made a living and ultimately buying kit essentials to get me started. He was impressed that this could actually be a career, and to be frank, I was too, although I didn't want to give up on achieving success like my idols.
By this time, I was in my late 20s, single with a dog and decided to apply for a position in Los Angeles with MAC. I was able to secure a few interviews and after three months, I was offered a position! Unfortunately, this news was bittersweet due to my father being in his fifth year battling cancer and had gone into Hospice two days after I received the offer. He had been battling so long and had been in remission at one point so it didn't feel necessary to tell my new manager in LA because we weren't expecting him to get that sick. He only wanted the BEST for my sister and I, so he never told us to stay in Ohio, our parents were both in full support of us moving away to follow our dreams. In my heart, I know that his body was waiting to get worse until I had an offer and knew I'd be ok. I had planned to be in LA in two weeks but clearly had to request a leave of absence to wait for my father to pass peacefully. My job was very understanding and I took the necessary time to let go of him and help my mother with his memorial services, but then had to pack up my entire life and move across country.
For the past seven years, I have made a home here between my personal and professional life and hope I am making my father proud. I worked at many different locations and was able to have some of the most amazing artistry experiences of my life. I gained experience in backstage fashion shows, fashion short films, assisting world-renowned artists, red carpet beauty, the VMAs backstage and so much more to be grateful for working with MAC. I ultimately found that I was not happy staying stationary in a store and love to challenge myself outside my comfort zone, so I decided to quit my Store Management position to be full-time freelance in 2018. I have fostered the relationships I created over the past 10+ years in makeup artistry and can now officially feel like I am closer to my dreams becoming reality. My current goal is set on becoming a member of the local 706 Makeup Artists and Hair Stylists Union since our family were avid entertainment fans and it is the most rewarding being on set with the crew making a film. Now I am excited to one day fulfill that dream!
Overall, has it been relatively smooth? If not, what were some of the struggles along the way?
I struggle with your average self-confidence and second-guessing, but by far the hardest obstacle was my father's passing. I was so conflicted with moving right after his passing, although I knew he would not want to hinder my growth and not follow my dream. He was my best friend and biggest push to stop feeling nervous or self-conscious to put myself out there to accept work. I dealt with a lot of anxiety and stress within the first year moving to LA because I didn't give myself enough time to grieve.
He passed away October 1, 2013, and my first day of work in Los Angeles was October 23, 2013. Mind you, in that space between those dates, we had his memorial, packing up my whole apartment, all the logistics of moving across country, driving from Ohio to California, finding an apartment when we got to LA, and then the stress of being alone with no friends or family in California. I couldn't have done the move and drive without my mother accompanying me and making sure I was all set up here. I persevered through many stages of past and present grief and met some of the most amazing people here, including my husband.
I also struggled with feeling like I needed to stay with a corporate job since I've always been a cautious by the book person and really had to push myself to break out into the freelance world. I have been diagnosed with OCD and that can really mess with your mind on how to process decisions due to my anxiety feeding on the obsessiveness. I believe that talking about mental illness should be normalized and can truly save lives because I had no idea how much my father's passing would affect my mental and physical health.
We'd love to hear more about your work and what you are currently focused on. What else should we know?
I have been in the makeup field now for almost 15 years and specialize in beauty, print, film and fashion. I am now transitioning more into commercial and film work more regularly. I am very proud that I have maintained a professional reputation within this industry and have flourished as a full-time freelancer, despite starting out as self-taught many years ago. I also celebrate my client's natural beauty and continuously strive to make my client feel like the best version of themselves.
A few of my biggest accomplishments were assisting the amazing artist, Kabuki, Booking a fashion ad for EveryBody World that was featured in Flaunt magazine, assisting on a shoot for Vogue Greece, and a new short film that is being submitted to the upcoming Sundance Film Festival.
What sets me apart is my thirst for always learning new artistry, challenging myself, professionalism, and my work ethic. I've never met a job I couldn't tackle in some capacity by myself or the help of my fellow artists. I love having friends to lean on in the industry and passing jobs to one another to keep us working! I am also always looking for new ways to be eco-friendly in this profession because of our climate crisis and want to contribute as little waste as possible.
My sister is also in the industry as a part of the local 705 Costumers Union and we are able to book jobs together and help one another on set. We are very lucky to be raised by inclusive, hardworking, and driven parents, who taught us to treat others the way you want to be treated and work hard no matter what position you are in.
If you had to go back in time and start over, would you have done anything differently?
We can be our own worst enemy at times, and I have a different outlook on life because of my father's passing. I do not wish this pain on anyone, although it has taught me to remember that we could all be going through something and we need to stay kind and not take one second of life for granted. I don't believe in regrets because we can learn from every situation, and obviously, I would trade any of this success to have my father here.
I am lucky to attract and manifest the jobs I enjoy working and the crew I work with. I honestly cannot recall any bad experience in a job because you have to make the most of any challenge and stick to your professionalism. If I were to give advice to my past self, it's as simple as stay true to your vision and esthetic as a makeup artist, never give up on achieving your dreams and aspirations, and cherish every moment with the people you love.

Image Credit:
Models/Actresses: Jessica Felter, Jasmine Johnston, Lolita Brown, Kristi Stark, Jessica Aguilar, Kelly Kula, Photographer: Benjamin Grenard
Suggest a story: VoyageLA is built on recommendations from the community; it's how we uncover hidden gems, so if you or someone you know deserves recognition please let us know here.