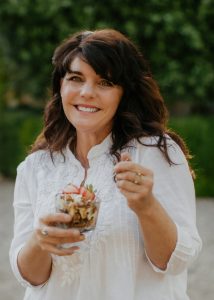 Today we'd like to introduce you to Kelley D'Angelo.
Kelley, please share your story with us. How did you get to where you are today?
It all began in late 2014 with a 30 day commitment to avoid grains. I was having some minor health issues and decided to see if what I was eating was contributing to the problem. I removed grains, and other potential inflammatory foods from my diet, turning my body into an experiment. The goal was to see if avoiding certain foods would make a difference in my health. My digestive system improved, and lifelong chronic pain had vanished, but I sure missed my morning bowl of granola.
I took to my kitchen to experiment, trying recipes and learning about nutrition like the benefits of sprouting nuts and seeds. Through much trial and error, I created recipes that were delicious and were good for my body too. I began making these same recipes for friends and family who loved them.
In early 2015 I began selling my creations at the Ojai Farmer's Market, as Ojai Granola Girl, and my recipes were well-received. Later that year, due to a trademark issue, I changed the name to Lark Ellen Farm. Over the past five years, I have grown the Lark Ellen Farm brand to distribution across the United States in stores like Whole Foods and Sprouts and built a manufacturing company to support the brand.
Lark Ellen Farm employs ten wonderful locals, who are like family to us, and who are like family to us, and who handcraft our recipes and take pride in the food we make.
Overall, has it been relatively smooth? If not, what were some of the struggles along the way?
There have been some definite challenges along the way! In fact, the whole journey has been about solving one problem after another so that I could continue to move forward and grow.
One of my biggest challenges happened fairly early on in the brand history. I hired a contract manufacturer to produce my products for me. About three months into working with him, I received an anonymous email telling me that the man I hired was not credible. Turns out this man had swindled myself, along with other brands, and was a real con-artist. I had to get the authorities involved and we barely escaped with our equipment. I brought everything back to Ojai rented a tiny 200 square food space, and began learning how to produce my products on my own.
My work experience wasn't in food or food manufacturing so actually everything I have come to know, I learned by trial and error. I had to learn how to manufacture a food product, and how to efficiently design a food facility, how to credibly source ingredients, how to market a product, how to get the necessary certifications, how to price my product, how to get into distribution, and so much more. All of this was a challenge but none more than the challenge of finding capital to grow my business. I really had no idea how much capital would be required to grow a CPG (Consumer Packaged Goods) brand and build a manufacturing company. I quickly realized that I would have to raise capital in order to grow the business. Having no experience with business financing it was a struggle to learn how to value the company and to pitch the opportunity to potential investors. Would have to raise capital in order to grow the business. Having no experience with business financing it was a struggle to learn how to value the company and to pitch the opportunity to potential investors.
Alright – so let's talk business. Tell us about Lark Ellen Farm – what should we know?
At Lark Ellen Farm, our mission is to craft healthy foods that are good for everybody no matter what type of diet or eating regime you follow.
We hand-craft our premium foods from organic, sprouted nuts and seeds and mix them with only ingredients you recognize like vanilla, unsweetened dried fruits, and coconut. Instead of using preservatives and high heat, which kills nutrients, we gently air dry our foods at a low temperature to maintain nutritional integrity.
Our flagship product is our ever popular grain-free granola bites – crunchy granola clusters made to be low carb. Instead of oats and refined sugars, our granola is made with premium sprouted nuts and seeds and real maple syrup. Our grain-free granola is available in 5 different flavors: Vanilla Cinnamon, Lemon Blueberry, Pumpkin Cacao Cherry and Berrylicious.
Our Trailblazers are our line of healthy and uniquely flavored trail mixes; Thai Coconut, Chocolate Chipotle and our customer favorite, Sweet and Salty. Also made from sprouted nuts and seeds and mixed with ingredients like dried fruits, spices, coconut and maple syrup.
Recently we launched a line of organic, sprouted nuts and seeds called Simply Sprouted. Available on Amazon and our web store these Sprouted organic nuts and seeds are delicious and so good for you too.
In August 2020, we are launching our Mediterranean Almond Pate, a vegan savory spread that pairs with everything from fruit and cheese to crackers. Available in three savory flavors: Original, Lemon Rosemary and Jalapeno. Each of our pouches come filled with organic food at its highest state.
Special care is taken to ensure every bite will provide great nutrition. We've also included an inspirational quote on the bottom of each bag in the hope that our food will feed your body and your soul.
Enjoying Lark Ellen Farm products will take you back to a time when food was real—when food nourished you.
Please visit our website to learn more about sprouting nuts and seeds and about Lark Ellen Farm products. #foodforeverybody
In LA, our products can be found at Sprouts, Whole Foods, Erewhon, Lassens, Lazy Acres, Bristol Farms and many other independent stores. Please visit our store locator at www.larkellenfarm.com/pages/stores to find a location near you.
Any shoutouts? Who else deserves credit in this story – who has played a meaningful role?
My family is my support system. I won the parent lottery as I couldn't have possibly asked for more kind, supportive and loving parents.
My parents, who are in their 80s, have been involved in the business from the very beginning. My Mom would order the nuts and seeds, sprout and dry them. Then my dad, who served as the runner between our houses, would bring them to me. I'd make the granola and my dad would pick it back up and take it home. On Saturday nights, they would pack granola for the Farmer's Market the next day, while watching their favorite TV shows. He would meet me and my kids at the Farmer's Market on Sunday morning and we would sell it. Today, my son, Ren, now a teenager runs the Farmer's Market stand.
My sister Lisa has been a huge supporter too as she would take time away from her job and family to work trade shows with me. She is a wonderful salesperson and was so instrumental in our early success.
My partner, Mike, has been absolutely instrumental in the growth of Lark Ellen Farm. When we rented our first small 200 square foot facility he brought champagne so we could toast to our new adventure. Little did he know then how the business would shape our lives over the next five years. He has been there for every milestone and every challenge and has done everything from installing new equipment to packing granola. He now is with Lark Ellen Farm full-time and is responsible for all purchasing, facility management and production.
My boys, Ren and Gray, have been such amazing supporters. When times were tough they would encourage me to follow my dreams and to not give up. Seeing them having unwavering faith in me was all the motivation I needed to keep pushing forward. I am proud that today they are both working in the business and getting the equivalent of a Master's Degree in entrepreneurship.
The community of Ojai has been wonderful! Everyone in this small town from the Farmer's Market customers to the local retailers, have supported Lark Ellen Farm. I learned about margins and pricing from the owner of a natural food store, Rainbow Bridge, here in Ojai. He asked me early on what I was going to charge for my product. I replied with the answer and he said, "Oh no, that isn't going to work. Let me explain margins to you".
I connected in 2018 with several local investors who have put their faith in me via time and investment capital. They have supported me and coached me on how to raise capital and position Lark Ellen Farm to be attractive to other investors. They have taken their personal time to coach me and provide invaluable advice.
Lastly, there are the wonderful support organizations for small businesses that I leaned on heavily. SCORE, EDC (Economic Development Center and WEV (Women's Economic Ventures) are organizations that provide free mentorship programs and have all contributed to my growth.
The making of Lark Ellen Farm has not been the journey of one, it has been a journey of many. Many people have believed in me and Lark Ellen Farm's products. Most importantly, are the customers who value what we make and appreciate our efforts to craft a healthy product that they can enjoy.
Contact Info:

Image Credit:
Burgundy Blue Photography (photo #6 with dog), @sunshineandseasalt (photo #1), @flora_and_vino (photo #5 ice cream sandwiches), @bysunandthemoon (photo #3 on the hillside)
Suggest a story: VoyageLA is built on recommendations from the community; it's how we uncover hidden gems, so if you or someone you know deserves recognition please let us know here.