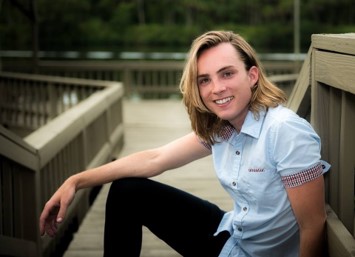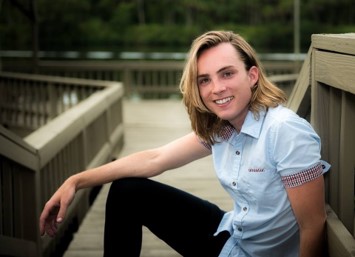 Today we'd like to introduce you to Kc Williams.
Kc, please share your story with us. How did you get to where you are today?
I don't think my way of getting started was much different than most artists. As kids, we all like to live in bold color. And, as we get older that part of us is told to settle down.
Well… I unwaveringly refused! I chose to surround myself with fantasy and play. I really didn't ever do anything I see as special. I just never stopped being 100% Kc Williams. But I suppose in today's world, refusing to confirm is the most rebellious thing we can do. I never really considered myself rebellious, but as I get older, I realize it's the very core of who I am.
One summer in 2012, for instance. Some friends and I were drinking champagne and hanging out at home. We were in my roommate's room when I started drawing on her wall with a sharpie. No reason, I just wanted to. We were gonna go to a show that night, but after sketching things out with my sharpie, I got into my paints. I didn't go to the show, and when they returned, I had completed an entire mural on the wall.
I had never done a mural, and something about not being allowed to paint the walls (not our house) made it that much more enticing. And the SPACE of a white wall! There was a freedom in that artistic exploration I've been chasing ever since. But anyway. That drunken mural leads to my first commissioned piece. And painting whilst sipping champagne just… became my thing.
Overall, has it been relatively smooth? If not, what were some of the struggles along the way?
It has indeed NOT been a smooth road. In school, I was ostracized for my weirdness. I never really had many friends until I got older, so leaning into myself became the only option. I mean… I could have calmed down a bit.
But like I said, conforming was never a possibility. I'd rather be lonely. And I'm glad I made that choice. My mom says I was a fish swimming upstream. But then as an adult, the currents changed. And suddenly all that fighting made me stronger than the rest, and I soared. Of course, being entirely left brain comes with some specific challenges.
Adult human things that most people find simple, I find entirely abstract. Bills and taxes? No idea. But I can draw a picture of Marilyn Monroe entirely from memory. It's strange how few landlords in LA will accept that as payment of rent.
We'd love to hear more about what you do.
I just tell people I'm vaguely an artist. What that means depends entirely on the day. These past few months have been all about painting. Whether it be portraits, film posters, or my personal collection I'm currently working on.
The greatest moment of my career just happened, actually. I painted a portrait of Lady Gaga winning her Oscar. A part of my icon series. But this was different. I painted it for a friend of mine, Sue Kroll. One of the head producers of "A Star is Born." She sent a picture of it to Gaga, and it's now hanging in one of the most powerful offices in Hollywood. Like… all the biggest stars… they're looking at my painting… as Sue decides their future. I still can't believe that one.
I'm obsessed with pop-culture and the idea of Hollywood! Some days I don't paint at all and focus entirely on writing. Or last year when I wrote, directed and produced my own legit film. We had a budget and investors. It was nuts! That's when I had to come up with a name for the production house. I couldn't get my head around a title, so I just used my name "A Kc Williams Production." A gift for that little boy who always had to play by himself.
Now, I'm surrounded by such a wonderful support system. But that little boy. He's who I do everything for. And that so happens to be what I'm most proud of, as well. That I've stayed true to me, and still to this day get to surround myself with fantasy and color.
If you had to go back in time and start over, would you have done anything differently?
Absolutely not. I have no regrets. That's not to say I haven't made mistakes – I've made some huge ones! And if I had taken different paths perhaps things would've come sooner. But, that's part of the journey. And usually poor choices are the most fun. 50 years from now I'm not going to be telling people the stories about "when I behaved responsibly, and paid my bills on time." I'll be talking about the mistakes. The slip-ups and skidded knees. The dark parts that shaped me as an artist, and ultimately a person.
Contact Info:
Getting in touch: VoyageLA is built on recommendations from the community; it's how we uncover hidden gems, so if you know someone who deserves recognition please let us know here.