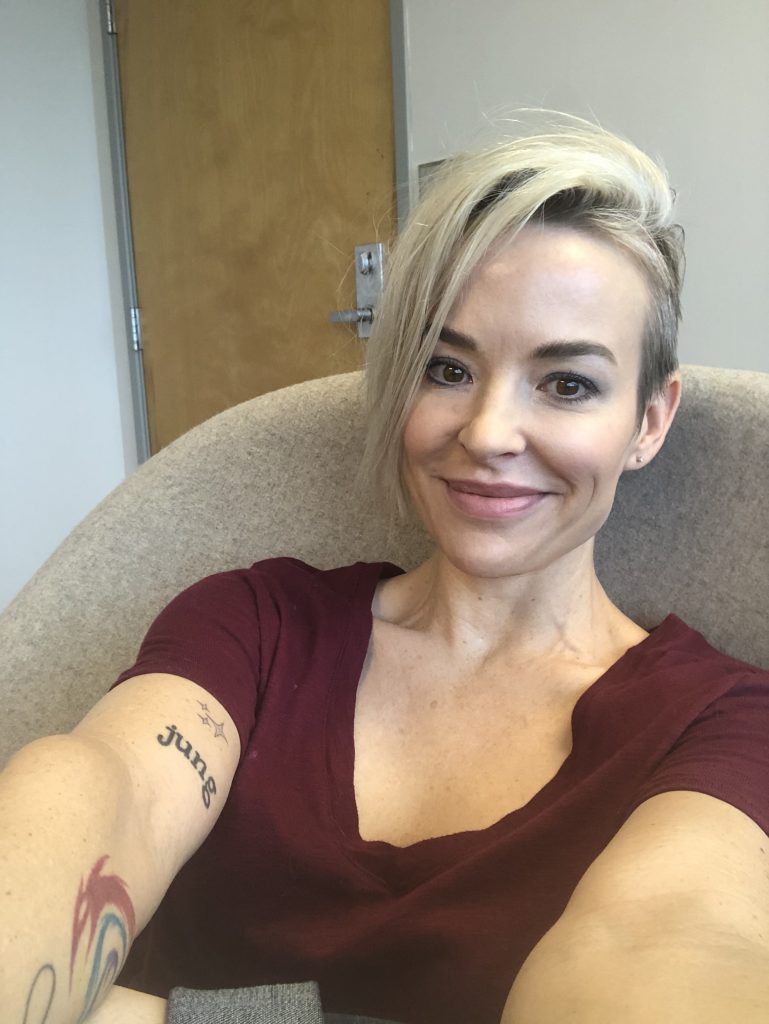 Today we'd like to introduce you to Katie Heeran.
Katie, can you briefly walk us through your story – how you started and how you got to where you are today.
I started as a coach, and from there moved on to getting my graduate degree in Clinical Psychology as well as becoming certified as a yoga teacher. I've been in the healing field over 13 years now. I've been very committed to my own ongoing work for many years, and that has helped me both as an individual and as a clinician.
One of my greatest strengths as a clinician is that I really feel like I can relate to almost anyone. I've personally been through addiction, bulimia, anxiety, depression, being bullied, being unrelated to emotionally, being gaslit, feeling like an outcast, etc. — so having gone through those things and healed them has really allowed me to connect with those still going through these things. Not that I never feel anxious or depressed, but I know how to get through it now. There is a bit more of my personal story on my website — www.katieheeran.com
Has it been a smooth road?
Hahaha! Has anyone ever said yes to this question? If so, I want to know their secrets.
I really believe that inner work is the hardest work we ever do. Carl Jung has a saying, "People will do anything, no matter how absurd, to avoid facing their own souls." So, have I struggled? Massively. I think struggle is a fundamental part of life. It is in consciously relating to my own struggles that I have learned to have more mastery. In Buddhist philosophy they have what are called "Noble Truths." And the first Noble Truth translates to something along the lines of "All life involves suffering" or "All life is unsatisfactory." What I appreciate about this concept is the deep acceptance of life as it is. Instead of wishing life weren't so hard, why not accept that it is (or at least can be)? From there, we can learn how to deal with our own suffering in more constructive, meaningful ways. In fact, I often appreciate my Dark Teachers (i.e., my struggles) the most. I've learned so much from them. For me, the symbolic gold is worth the pain. And the irony is that life actually gets easier once you build up more strength to both tolerate it and find meaning.
We'd love to hear more about your work and what you are currently focused on. What else should we know?
I help people work with their difficult thoughts, feelings, or beliefs that hold them back from leading fuller, more meaningful lives. Together, we work to heal past wounds that still show up in the present time and create problems for the person. I offer tools for people to get in touch with themselves in a deeper way and work with themselves in a more effective manner than simply "talk therapy." I think what sets me apart from others is that I really walk the walk. I do my own work. And I am known for my compassionate heart.
I also want to say that all that is going on with COVID has made The Unknown really present in a way it has not been before. At this time, there really is no security. So this is a really good time to work with yourself and change your relationship to The Unknown. And this is exactly the work I do. We all suffer from an aversion to The Unconscious. Most of us are scared to death of really digging into who and what we are. I get it! By not doing the work, people miss out on so much richness (real and symbolic!). People often use the excuse of not being able to afford therapy or coaching work, but it's important to know there are very low to no cost options out there. Feel free to reach out to me if you need those options. I can give you some referrals. That's the first thing. The second thing is to really ask yourself if it is truly financial or if there is a way in which you are sabotaging yourself? Is there a way in which you don't think you are worth it? For me personally, I really only want to work with people who are ready to face and deal with their ambivalence. I only want to work with people who are as dedicated as I am to the process of change. This is sacred work to me and I say this kindly and it is not a judgment… I just don't have the time to waste with those who are not yet ready.
How do you think the industry will change over the next decade?
I can't really say where I see the industry going, except to point out the obvious — that much work is now being done online and more and more people are interested in doing inner work, thankfully. I can, however, say what I see for myself and that is this: I see myself working even more fully and deeply with myself and enjoying all that life brings me as a result. My favorite quote of Jung's is: "Until you make the Unconscious conscious, it will direct your life and you will call it fate." Most people spend their whole lives not realizing that many of the choices they are making come from a place of complete unconsciousness. When you do the work to become conscious of those things, you begin to really own your own power. You begin to have a life that you've curated and chosen. It is no longer fate. It is instead a chosen destiny.
Contact Info:
Address: 4419 Van Nuys Blvd., Suite 400, Sherman Oaks, CA, 91403
Website: www.katieheeran.com
Phone: (818) 640-6811
Email: katie.heeran@gmail.com
Instagram: @katieheeran
Suggest a story: VoyageLA is built on recommendations from the community; it's how we uncover hidden gems, so if you or someone you know deserves recognition please let us know here.