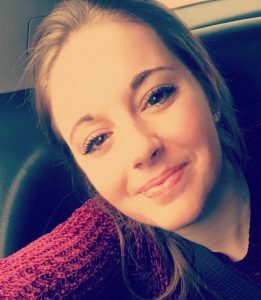 Today we'd like to introduce you to Katie Grant.
Katie, can you briefly walk us through your story – how you started and how you got to where you are today.
So backing up to when I was young – storytelling and writing have always been a huge part of my life. As a child, it was my go to – my safe haven. I think children have a tendency to gravitate to some form of outlet where they can be their full selves, explore curiosity, feel free, and for me it was always storytelling.
My favorite place as a kid was sitting on my bedroom floor scribbling pages and pages of dialogue and fiction. Even if I wasn't doing this as a career, I'm sure I'd still be writing pages and pages every night because it's just a part of my DNA, who I am. Always has been, always will.
For college, I moved to New York and went to NYU. Loved it there. Wonderful professors, mentors, it's where I first found my voice as an artist. When I was a student, the political state of the country was in a flux– and ironically, the example I'm about to give actually is more relevant now (in 2020), but back when I was still in school— one moment I'd be in class, encouraged to tell stories I care about and the next moment I'd read the news and it'd feel like there was almost this damp, musty blanket draped over the sky, suffocating the air from breathing any sense or security of inclusion. Amidst this political climate, one my professors had told us that now was the time our art and voices mattered the most, so long story short, I started a festival centered around inclusivity to serve as an extra safe space, and this ultimately became the place where I was able to really hone in on and discover my voice as an artist. It ended up gaining much more traction than I could have ever imagined— there was a lot of beautiful and innovative art flooding the room and many gracious speakers who were the minds behind some of my favorite groundbreaking films and inclusion initiatives, and they just volunteered their time. The whole process of putting this together was really therapeutic in the sense that it allowed me to give myself permission to confidently lean into the stories I so deeply care about – which are essentially female-driven underrepresented stories that push boundaries. Writing is something that I so deeply depend on and always will, and inclusivity is something that will always, always be so near and dear to my heart and at the forefront of my priorities, and realizing that my life's work can essentially be a marriage of those two aspects is when I felt like I truly found myself as an artist.
We're always bombarded by how great it is to pursue your passion, etc – but we've spoken with enough people to know that it's not always easy. Overall, would you say things have been easy for you?
Definitely not a smooth road. I don't know that it's possible to have a career in this industry and have a smooth road. It's a lot of chasing, a lot of sacrificing. I do think that one silver lining of the whole process is that you develop a self-love, a self-respect – you have to, it's a survival mechanism. A good script takes many drafts and rewrites, and when you're first starting out, people aren't going to just believe in your work for you – you have to believe in it so much that it radiates onto everyone around you.
We'd love to hear more about your work and what you are currently focused on. What else should we know?
As an artist, I'm most drawn to telling underrepresented stories, particularly female-driven. I tend to use dialogue and character as leading hands of the story. I'm fascinated with language and how it differentiates characters from one another and exploring how the audience can learn so much from what the characters don't say rather than what they do.
I've found that some of my best dialogue has come from writing in flow of consciousness. Human nature is to speak fast with little thought—it's reactionary almost—so an exercise I'll often do is time myself for ten minutes or so and write as much dialogue as fast as I can without stopping or rereading. This really helps me capture the natural flow of words and how people communicate without finishing sentences, interrupt each other, often get off topic then return to the same topic seconds later, etc.—all of our natural speech patterns that tell the audience so much more than words alone ever will.
I like to write in all different mediums (stage plays, screenplays, pilots, musicals/lyrics, narrative fiction). For me, each medium takes a different set of skills and is kind of like a new puzzle for my brain, and I really do enjoy challenging myself in that way.
Stylistically, two avenues that I often go down are subtlety and mixing comedy and emotion. Overall, my work tends to grapple with more serious topics, but I think there's something so human about finding humor in the most heartbreaking moments and vice versa, particularly when it stems from discomfort. For subtlety, I love to play with this and explore using it as a storytelling mechanism. In a stage play, I like to juxtapose having a character who can tell their most intimate, personal details to a theatre audience full of strangers, yet can barely articulate how they feel about the weather to people closest to them.
I've also recently—I'm currently working on a script that breaks the fourth wall, and I must say, I have had so much fun breaking the fourth wall. I'd never done that before, and artistically, it is truly such a joy exploring that territory and making the piece feel like a conversation with the audience.
Has luck played a meaningful role in your life and business?
I do think luck plays a huge part of it. If luck is what you want to call it. Maybe chance, circumstance, hand in a deck of cards might be a better description. I remember watching a speech Angelina Jolie gave a few years back that struck me to the core and summed up so many feelings and thoughts that I had. She said, "I have never understood why some people are lucky enough to be born with the chance that I had to have this path in life. And why across the world there's a woman just like me, with the same abilities and the same desires, same work ethic and love for her family, who would most likely make better films, and better speeches — only she sits in a refugee camp… I don't know why this is my life and that's hers." This is exactly how I feel. I don't understand why I'm "lucky enough" that I even have the option of having a career as an artist on the table for me. I think that my work and writing will always grapple with the disparities in our world, question the root of why we're not all treated equally, and examine society.
Contact Info:
Suggest a story: VoyageLA is built on recommendations from the community; it's how we uncover hidden gems, so if you or someone you know deserves recognition please let us know here.