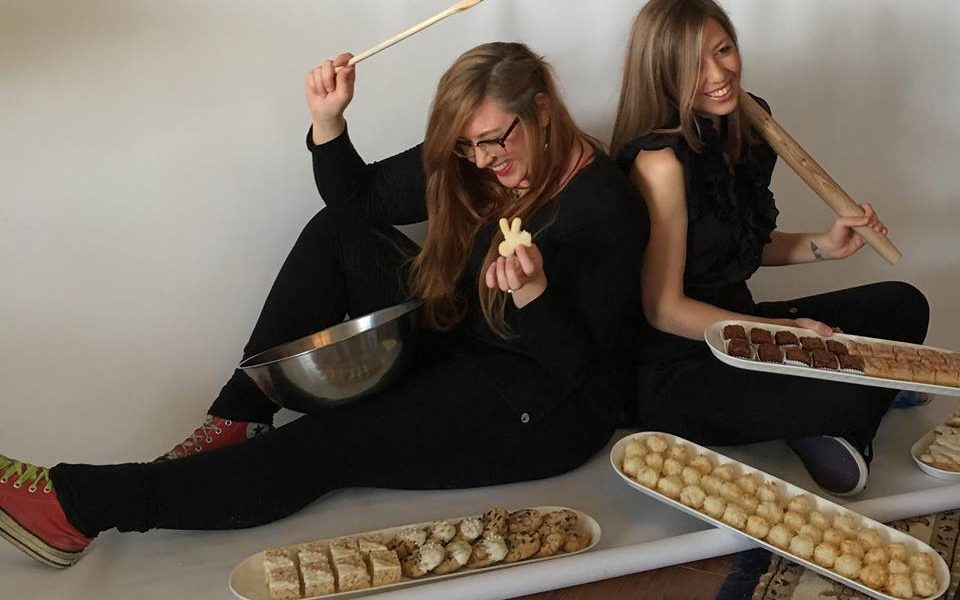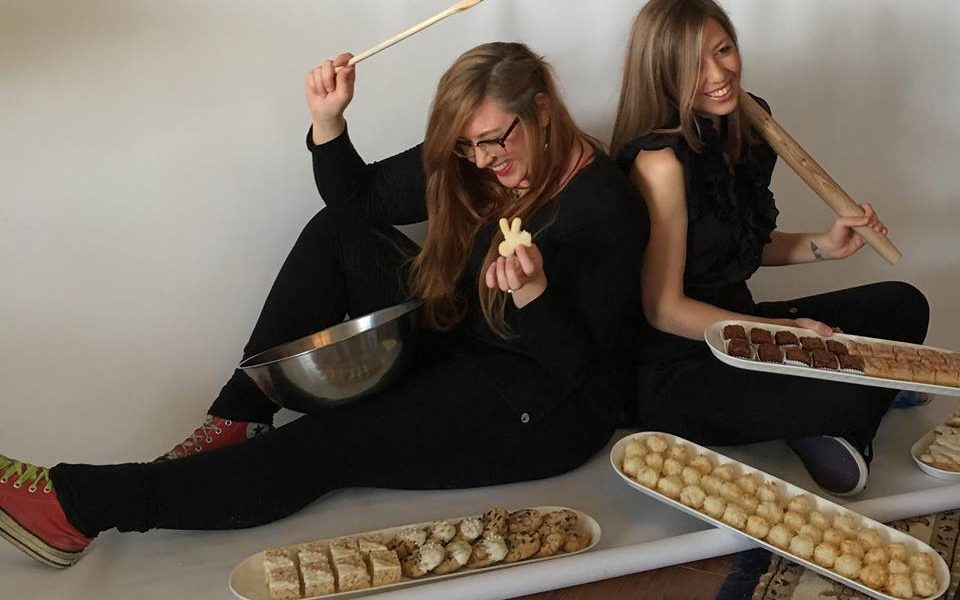 Today we'd like to introduce you to Kati Olexiewicz and Ashley Guerrero.
Kati and Ashley, can you briefly walk us through your story – how you started and how you got to where you are today.
We became best friend's freshman year of Westlake High School. All we did in those days was watch movies, go to Disneyland, or go hang out in Hollywood diners. We were obsessed with movies, and we knew we always wanted to start a business together but we didn't really discover that we were good at baking until years later in 2013, and within a few months KNEADY was born.
At first our menu was extensively long with no fun movie names, and we offered cakes and cupcakes. Upon discovering that we absolutely hated making cakes and cupcakes for other people in large quantities, as well as hating half the things on the menu, we decided we needed a re-branding. We consolidated our menu to our best items, and we completely took off cakes and cupcakes altogether. We also realized that there was nothing in our company to represent US. We were bored with our own company, and realized that our real passion – even above baking – is movies. So we first thought of "Robert Brownie Jrs" and "Rice Krispin Glovers – the Snack to the Future", and we pulled an all-nighter to think of perfect puns for the rest of our items that represented movies, actors, and characters that WE loved. Even if no one else ever understood any of the names, we didn't care. This is stuff WE liked, and we were going to stick to our guns, knowing that even if no one has seen the movie "That Thing You Do!" the "That Thing You SnickerDoodles" will still taste AMAZING, so people will order them.
A few months ago, we realized that to date, we have donated to, or sponsored, over 75 charitable fundraisers over our (at the time) 2.5 years in business, but we never felt like we were doing enough. So beginning in June 2016, we decided to start our "In KNEAD" program, where we donate $1 per dozen to the charity most closely related to each fandom we represent. For example, if someone were to order 3 dozen "Lord VoldeS'Mores", $3 would be donated to LUMOS, J.K. Rowling's foundation.
KNEADY is a pop-culture themed dessert catering company based in Los Angeles. We call ourselves the "2 Baked Girls". We confectionary fangirls cater Dessert Bars for the Stars, and provide themed gourmet dessert and brunch treats for any and all nerdy or celebrity events. (Green room, after parties, panel/talent gift boxes, studio wrap parties, nerdy cons, launch parties, etc.). We also create custom crafted themed treat toppers for catered events. Along with dessert catering, you can order by the dozen online, and delivery is available in Los Angeles county, the coastal cities, and the Conejo Valley.
We're always bombarded by how great it is to pursue your passion, etc. – but we've spoken with enough people to know that it's not always easy. Overall, would you say things have been easy for you?
Being young/women has definitely made it a little more of a struggle – when we arrive to events, sometimes the event producers do not always treat us with respect, and assume that we are not the owners, but simple employees of our own company. Only when we tell them who we are, do they change their tone. I hate that! Why should you treat anyone differently whether or not they are employees or owners? We are the ones there putting on a wonderful event, and setting up a delicious and beautiful dessert bar – who cares what our title is unless we are doing something unprofessional? That is something we are both working on – being a little more tough and standing up for ourselves so that we do not get spoken down to or trampled over.
Another struggle is – money! We did not open a business the same way MOST people open a business, which is to get a loan or a start-up capital and have enough money to get a storefront with employees right away. In fact, we didn't even have enough money starting up to have OURSELVES as employees, and we STILL can't afford to open a real brick-and-mortar yet. We started with nothing – zero. We each had day jobs while we worked toward building KNEADY, and we would pay out of our own pocket, or take very small "loans" from our family members for this event or that event if we were really strapped. We don't have a large budget for marketing, so we have to rely heavily on social media and word of mouth. All that being said, 2016 was a FANTASTIC year for us, and KNEADY has exceeded all expectations in the "need money to make money" mantra. With no money, we grew a business into one of profit, and that is something we should be proud of no matter how small of a profit that may be.
We'd love to hear more about your business.
To say that KNEADY is different from other bakeries, would be an understatement:
-We do not have a storefront – you can order online by the dozen for delivery within a 24-hour turnaround time if you order before 6pm, or you can book us to cater a delicious dessert bar for ANY event – we hardly do weddings! Most of our events are VIP celebrity or industry events or nerdy themed after parties and launch parties.
-We do NOT make cakes or cupcakes! Everyone else does that and we are over it. You want a cupcake? Go to Sprinkles… There are SO many other delicious desserts available to indulge in and celebrate with – why limit EVERY SINGLE wedding or birthday party to JUST cakes or cupcakes just because that's just what has usually been done in the past? A bit archaic, don't you think?
-All our gourmet menu items are pop-culture themed. Some of our most popular items that we are known for are: Robert Brownie Jrs,, Rice Krispin Glovers, SuPIEnaturals, Game of Scones, Shia LaTruffs, Lord VoldeS'Mores, Oceans Elemon Bars, etc etc,
-For every dozen sold online, $1 is donated to charity! Each gourmet menu item has a link to the charity that we donate to at the bottom so clients can find more information on each organization.
-We (Kati and Ashley) are the ONLY people in the company. While we have undoubtedly and luckily had help with different events here and there from our friends and family, we are the entire company. We create or adapt all our own recipes, we do all the baking, all the catering, all the crafting of treat toppers and table decor, all the accounting and marketing, all the social media pages are personally updated by us, we created our own website, we even personally do all the deliveries! This sets us apart because we do a LOT of celebrity events, and that means one thing – discretion. We make a promise to be discreet, and the only way to do that is to be the ONLY ones handling those events. This also means that when we post a photo on our Instagram with #MidnightCage, our loyal followers know that it is us, and that we are not scared of getting in trouble with our boss. In short – we can put our personalities into our company, so that people don't just know "KNEADY", but they know "The 2 Baked Girls".
-We are obsessed with movies even above baking, and we are ALWAYS adding fun items to our "Nerd-Sclusives" page which is a collection of specialty or on-sale items. Usually these are treat boxes themed for a certain event (Comic Con/Nerd HQ, the Oscars, Disneyland, etc). For instance, at the moment, we are offering a St. Patrick Swayze Day Treat Box which will include all-green and Patrick Swayze themed treats that feed 2-4 people. Literally for no reason whatsoever other than the fact that we love Pat and don't care that much about St. Patrick's Day, so we will now!
What we are most proud of is the fact that when we started out, we were JUST like every other bakery (large menu, cakes and cupcakes included, no fun pun names, aka nothing special). Our most proud moment happened when we decided not to care what other bakeries did, and be more like ourselves. And since then, that has been our driving force. We are very proud of what we have created, and we think we have found our perfect LA niche.
What were you like growing up?
Both of us grew up watching movies and TV with an intense fervor, and we had multiple family members in the movie industry, so you could say it's in our blood. We were not straight A students, in fact, we ditched class all the time do go to Hollywood diners or Disneyland or just watch movies in our PJs all day (where were our parents?). However, we both also always worked since we were 15. We've always had a great work ethic, and we saw that in each other and respected each other for that. Talking about work and soul-sucking day jobs, we realized we were the type of people who never could have a boss. We love working, but don't always trust authority figures and that leads to one thing – running your own business. So we knew that we loved movies, we loved the independence of working and the idea of working for yourself and with your best friend. With multiple family members who also started their own businesses themselves, we had the support and the courage we needed.
We were always a little older than our years, watching movies of all genres and times. We love the classics, we love action, sci-fi, horror, romance, EVERYTHING! Kati can be in one room watching "Swing Time" with Fred Astaire and Ginger Rogers and singing along to all the songs, and in the next room, Ashley will be watching "Arachnophobia" for the fifth time that week. I know what you're thinking, and we HAD friends, but I guess they never fully got us like we got each other – by having a VERY eclectic taste and intensity toward movies regardless of how critically acclaimed they are. We wanted to be regulars in a cool diner like in…."Diner", or frequent cool night clubs like in "Swingers", or have a jazz club like The Blue Spot in "That Thing You Do!" or a poker lounge where fellas from "Oceans 11" could come swindle young B-list celebrities, or have an awesome obsolete record store like "High Fidelity". Movies are everything to us, plain and simple. They teach you all the things that school doesn't.
Pricing:
Catering events begin around $7 per person and can go up to $14 per person, plus catering add-on fees if applicable
Order by the dozen/pie/loaf – prices range from $16-30
Nerd-Sclusives usually range from $15-25
Contact Info:

Image Credit: Marco Lezberg (Viola Davis photo)