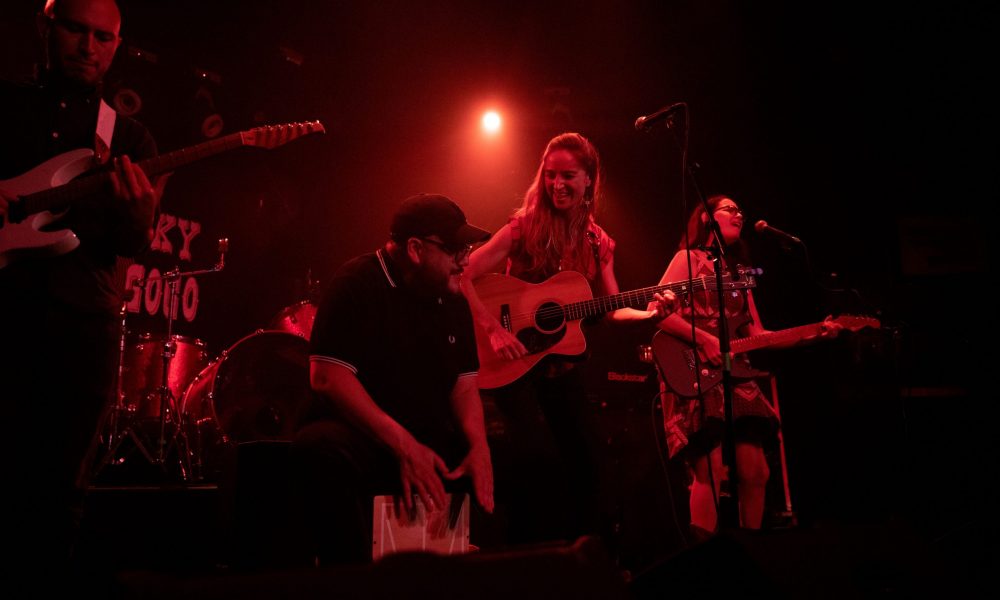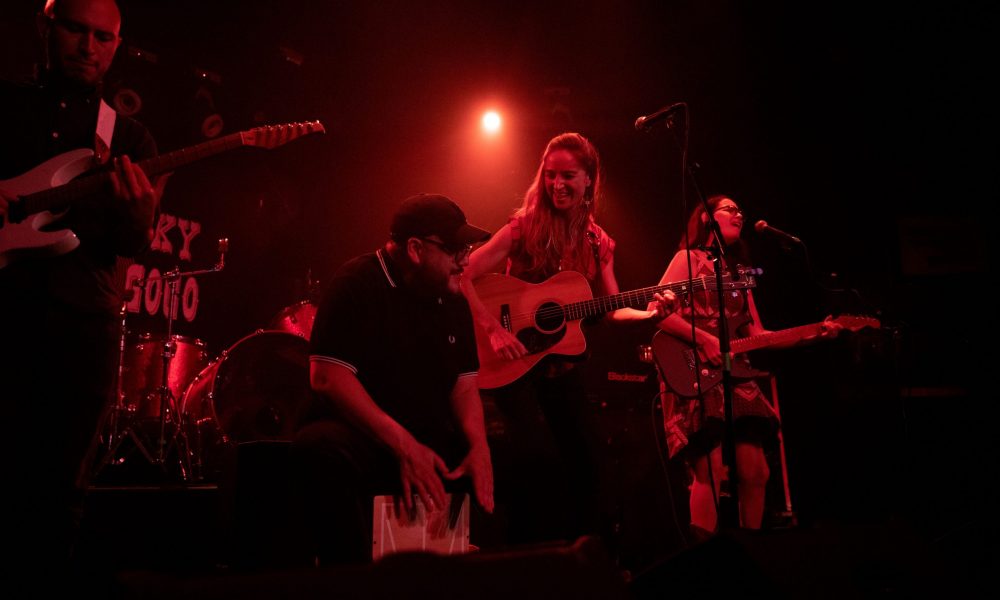 Today we'd like to introduce you to Kate Anderson.
Kate, can you briefly walk us through your story – how you started and how you got to where you are today.
There are many times in my life that felt like the "start" of my story. My life took a turn when my mom disappeared for three years in the middle of the night when I was nine. That's when I started being a poet. Life took another turn when my step-mom was fighting her alcoholism when I was 17. That's when I started being a soldier. Then I deployed to Iraq & Kuwait when I was 19, and I started to realize how ironic it was that I was from Reno "The Biggest Little City in the World" because the world quickly started to feel like the biggest little thing around the sun. That's when I started to be a songwriter. Perhaps the most important "me" started there.
When I came home, I lived with family a while to reacclimatize, but I ended up living on my own and starting college. It was strange to be going to a college where I could see my high school friends all ahead of me in classes. My coping mechanism quickly turned from written poetry to playing the Washburn guitar I was watching for a friend. It hurt to play, but with the magic of the internet, it wasn't too hard to find a way to teach myself enough to express myself. Life surprises continued to be my best motivation and teacher. I applied my talents in the Army and went to Drill Sergeant School and Air Assault School. I ended up transferring to a very difficult but very rewarding school, Hillsdale College. I served as a combat journalist out of Michigan and returned to Nevada to become a Chinook helicopter pilot. I've been a legal assistant, criminal analyst, fire fighting pilot of a UH-60 Blackhawk, a search and rescue pilot in the Lakota and now an Army MEDEVAC pilot in California. As much as it sounds like a resume, I mean it to sound like the orchestra tuning before the opera begins. Each experience was laced with music. No matter how good or bad it was at the time, it has lead me to Los Angeles to play the music I love.
Today, I'm a recorded artist with my loving wife, Secily. I'm an openly gay, singer-songwriter, Army Blackhawk pilot, and the lead singer in a folk/americana band called Winter Grain. After 18 years, I can finally say I can see were I started and see how things that strive to be true, good, and beautiful can resonate powerfully to change peoples lives.
We're always bombarded by how great it is to pursue your passion, etc – but we've spoken with enough people to know that it's not always easy. Overall, would you say things have been easy for you?
When I say them out loud, the mile-markers on the road make it sound like a pretty bumpy one, haha! All struggles aside, I'm a firm believer in a famous Whittaker Chamers quote that says "All true wisdom is touched with sadness." It's honestly hard for me to see struggle without already seeing a lesson in wait for me. There is always a "So what?" or a meaning to the pain. Even some of the hardest things I've ever done, like survive S.E.R.E. School (an Army School that stands for Survival Evasion Resistance and Escape… pretty much the final 20 minutes of the movie G.I. Jane) came with knowledge and growth at a pace that outperformed the pain at the time.
Honestly, I should note that I'm the luckiest bitch I know because there are so many times in my life that could have been an unbearable struggle that were not. Coming out to my parents for example: my dad literally thanked me and said "I'm so glad I get to have another daughter in my life!" The struggles of the music industry have all been welcomed ones too. We wouldn't be writing with the passion we do or in the place that we are if it wasn't for the fruitful struggles of moving forward to serve the story… to serve the songs. We're thriving in our writing as we simply relish being around other poets in a city with a world of culture.
So let's switch gears a bit and go into the Winter Grain story. What else should we know?
Winter Grain is my passion project and the vehicle for the songs I write with my wife, Secily. We kinda' started backwards and just shot for the moon from the get-go. We didn't have a band name or an idea of how we wanted to move the music forward in the industry, but we knew we had songs begging to be recorded and we didn't want to handle it like any other project we had been in. Rather than try to establish a band with permanent players and hustle local venues for shows, we strictly focused on the music first. We laid down some demos and we sent them to Bear Creek Studio in Washington. We didn't know if a quality studio like that would work with a no-name (literally) band like us, but we knew our hearts were in it.
We ended up somewhere over the rainbow, spending a week recording with Ryan Hadlock, then mastering with Gavin Lurssen, then releasing our first EP to a tailor-made laser light show at the Salt Lake City Planetarium. It was the best recordings of our most crafted songs at the time, and we didn't even have a fan base. All we knew was that if we served the songs and had only one goal, to make good music, the venues would be more receptive and the fans would know that we weren't in it for the hustle or a drunk crowd. We were in it for the music from the start. I think I'm most proud of how we've remained true to that sentiment. We really strive to serve music and the art behind a powerful message more than pander to what is catchy right now. It challenges us as songwriters and keeps us from being complacent in a field where it's easy to want to be a people pleaser. I think any artist who crafts from their creative self can set themselves apart from others.
Luckily, I have the joy of working well with Secily, so our combined creations are set apart even more I feel. Lyrically, we can be proud that our songs all come from a real and personal place that is very picky about how a message is delivered. Artistically, we can be proud that we could care less if you can or can't find a genre for us. We don't do perform to make an image; a new image should emerge every time we perform. Secily said something once in a late night band practice that always stuck with me. "I'm sick of being a hired gun in bands that think making music is like making a cake covered in frosting. It's not about how great the frosting looks! If the ingredients aren't right and the cake is weak, it won't even be able to hold the frosting." So we set to baking, using only the best ingredients we could find and made something with love. We hope you enjoy.
Has luck played a meaningful role in your life and business?
Funny enough, we have had full-blown band reflection time about luck and it's role in where we are today. We think Elliott Klein, our collaborator, guitar player, and Secily's teacher, said it best. "You can count yourself lucky if you want. But if you don't generally think you're lucky other times, that's probably actually the truth. That means everything you have, YOU earned through hard work and dedication." We can't help but think of Bear Creek when we think of luck. We still feel so honored to have worked there, to have Ryan Hadlock produce our first EP, to have Taylor Carroll engineer for us while also playing percussion for us.
Shortly after our release in Salt Lake City, Secily said to KRCL DJ Eugenie Jaffe, "I don't know how we got so lucky. Either the industry is desperate or they think we're actually good," to which Eugenie answered perfectly, "Their desperate for good." I guess you can say that we see luck from both sides now. We can't deny that we certainly feel lucky, but we also know that we've dedicated ourselves to the task of being worthy of great opportunities.
Contact Info:
Image Credit:
Whiskey A Go Go photos: Kat Monk Photography, S.L.U.G. Magazine for the barn band portrait, and Valor Photography for the aviatrix helmet portrait.
Suggest a story: VoyageLA is built on recommendations from the community; it's how we uncover hidden gems, so if you or someone you know deserves recognition please let us know here.