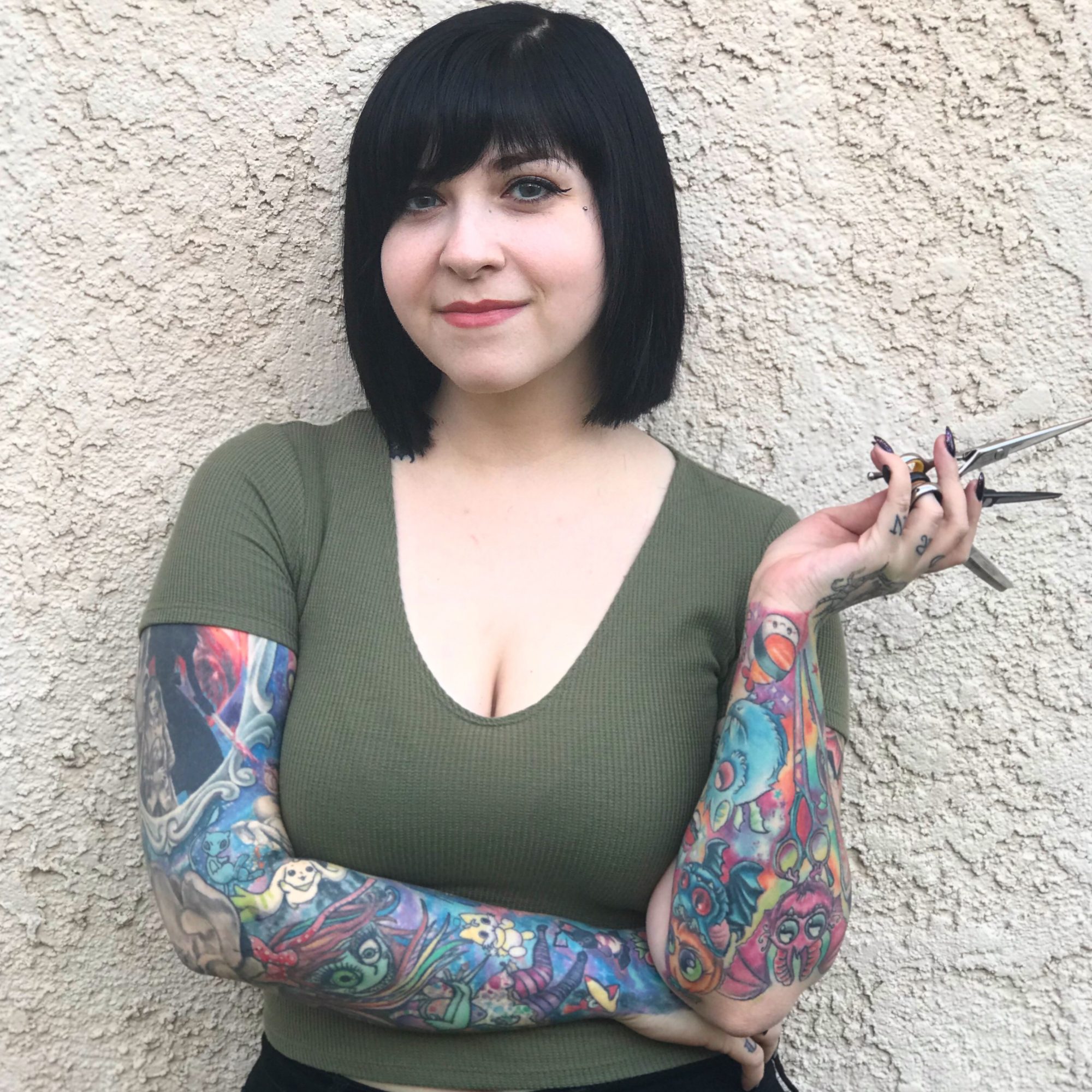 Today we'd like to introduce you to Kat Scissorhands.
Kat, please share your story with us. How did you get to where you are today?
Well, I fell into this industry by accident and chance after some unforeseen circumstances in my life; but that's exactly what lead me to the career path I was destined to eventually take. Originally, I was pursuing a degree in animation; your typical teenager getting pushed into college right after high school by a strict Armenian family.
Halfway into my major, I became friends with someone who did not understand the word "no", or "stop", and in the result, I was raped. It was something confusing and for a while, I couldn't process it, but once I understood the situation for what it was, a part of me died. I couldn't get myself through college anymore. I was a mess. He even showed up to my part-time job once just to laugh at my mascot uniform. So, I dropped out of college, cut off contact with almost everyone I knew because I felt so angry and ashamed, and changed jobs. I had no idea what the hell I was going to do with my life at that point, and the stress of it all drove me into a really dark place. I was suicidal, and that was a road I knew all too well.
One day a coworker of mine at my new job suggested I go to beauty school, as she was studying to be a nail tech. She told me I was good at coloring my own hair in all sorts of funky styles and suggested the cosmetology path for me. I went to an orientation soon after with nothing left of me to lose, and the next thing you know, I got enrolled, and the rest is history. I fell madly in love with my career. It gave me my life back. It made me feel alive once again.
Overall, has it been relatively smooth? If not, what were some of the struggles along the way?
Oh man… My road was anything but smooth, but I was determined to carve it out myself if I had to and steamroll down anyone who dared try to take away my happiness. My first salon job was quite a growing experience. I worked at a corporate salon, with some good souls, and a few malicious ones. From day one I became a fascination for the bored and unhappy; I was young, had a fiery passion for hair, and knew that I was damn good at my job. The more successful I became, the more sabotage I dealt with in the salon. I'd hear rumors about me cheating my way up. I'd hear about how I must have fooled the system with my sales; how it was impossible for me to make it this far this fast on my own. A co-worker even went through my service history on our computer to find proof!
(Surprise, there wasn't any because I never cheated, and I handed his ass back to him the next day when I found out).
In reality, I was just doing a ton of color work and people came back to me every time. I became a Master stylist in a year flat, and once I felt like I was ready to spread my little bat wings and fly away from the bullshit, I did. I simply told my salon manager that it was my last day and that I was leaving; I'd had enough of her too and watching her be a bully to everyone around her. She proceeded to yell about how I've only been doing this for a year and knew nothing about hair, and how I was never going to make it, and how I thought I was better than other people.
I kept my composure over hers and without wasting any of my energy, I thanked her for the opportunity and such and left with a smile on my face. I was free to be my happy self again without anyone trying to drag me down. I rented my own chair the very next day and took almost all of my clients with me, and I've been out here "making it" ever since. I guess I know a thing or two about hair after all!
Please tell us about Kat Scissorhands.
I am Kat Scissorhands, a color specialist who does a ton of funky colors and balayage and often a combination of both. I am my own boss currently. One day soon I will live the corporate salon life once more to keep building up my clientele so I can safely afford my mom's cancer treatment because our insurance won't cover it completely. (She's okay, it's only stage one). I specialize in making my guests laugh and feel badass. I always hear things like, "do whatever you want, I trust you," and "you're the only person I can trust with my hair." Things like that make me feel special and really make me appreciate my job.
If you had to go back in time and start over, would you have done anything differently?
I wouldn't change anything and wouldn't have done anything differently. I have no regrets in life. I learned at a pretty young age that we don't get to choose certain things that happen to us. You can either let something like that take you down to the depths of your own personal hell and obliterate you, or you can rise above it. It's not easy at all, and I make mistakes, but I will always try my very hardest to keep going no matter what life throws me.
Hell, as I sat here and answered these questions, I kept thinking, "does this sound negative? Should I mention this and that? Should I only talk about the positive? Will the people who know me and read this see me in a different light?" But you know what? I had a fucked up past and I can't rewrite it. My past is what made me ME, and it's what made me get to where I am today.
I read so many positive stories here, and no matter how badly I wanted to write something purely happy, I had to be realistic about the fact that my own story was something painful and traumatic, but what is wonderful about it is that I survived it all by being a tiny but mighty force of nature. And that, to me, is my kind of positive.
Contact Info:
Getting in touch: VoyageLA is built on recommendations from the community; it's how we uncover hidden gems, so if you know someone who deserves recognition please let us know here.