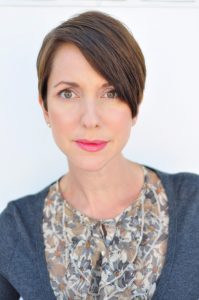 Today we'd like to introduce you to Karis Campbell.
Hi Karis, we'd love for you to start by introducing yourself.
I moved to Los Angeles as a classically trained theater actress, expecting to remain here only briefly before returning to New York to further pursue my acting career. Instead, I found myself basking in the golden glow of the city, reveling in the warmth and easy lifestyle, quickly befriending like-minded artists, and surprisingly, with little resistance, I began calling Los Angeles home.
I have now been in LA for over 18 years. I met my husband, Matt Buckler, an assistant director, on the set of my second television job, shortly after settling here. We married a couple of years later in Santa Barbara, purchased a home, and welcomed two incredible children into our Southern California nest.
I've enjoyed a number of years of success in front of the camera, with the typical ebb and flow of an acting career and making space for early motherhood. In the past couple of years, I have begun expanding my interests into writing and directing. Last year, my husband and I started our production company, KarisMattic Productions. Under our new banner, we have co-produced two short format projects. My writing/directorial debut, Tomorrow, a film exploring some tougher themes related to trust and perception, which enjoyed a successful festival run. I'm currently in discussions with a celebrated educator who focuses on child advocacy, about a possible marketing collaboration. Through our experience of sharing the film with live audiences, we were deeply moved by the meaningful conversations our project sparked. It became quite evident that the themes we explored in the film resonated deeply. I'm very proud of what our production team was able to accomplish with Tomorrow, and I am looking forward to exploring avenues for its potential long-term applications.
We also safely produced, within the creative constraints of the pandemic, a PSA, In Short…VOTE, which captured the importance of voting for the next generation. It was celebrated and shared widely online in advance of the 2020 presidential election. Our hope with our PSA was that it could inspire ambivalent citizens to lift their voices for change, and vote for a brighter future for all.
We have two more short-format projects currently in development, both circle around timely and resonant themes of connection. We also have our hearts fixed on co-producing our first feature together, Was, written by our dear friend, Brian Jude Leahy, a deeply talented writer and actor. Was is a character-driven, coming of age period drama, full of colorful characters, quirky humor, and unexpected tenderness.
We are passionate about producing surprising and intimate stories that capture elements of the human experience that don't always get explored, and we hope that by shining a more expansive light on the nuances of our collectively lived experiences, we'll get to share resonant and thought-provoking stories that reach audiences far and wide.
I'm really excited to be ushering in a new chapter as an artist. I feel like the many years of collaborating with thoughtful content creators as an actress have really prepared me to take on a leadership role when it comes to shepherding a story. I look forward to continuing to lean into this new phase of my creative journey.
Would you say it's been a smooth road, and if not what are some of the biggest challenges you've faced along the way?
With most creative endeavors the expectation is that there will be many twists and turns along the way, and my journey has certainly been consistent with that narrative. I have had lean years in this industry where I have questioned its sustainability and pondered alternative, smoother, and more linear career paths; especially after big disappointments and near misses. However, every time I seriously considered changing course, I found myself graced with unexpected opportunities which always renewed my faith that I was on the right path. Sometimes, as was true in the case of my recurring role on The West Wing, a disappointment and near miss actually turned into a far more significant opportunity. I auditioned twice for the show with two smaller roles, both of which would have played once and then been done, and though I was disappointed not to have booked them at the time, they ended up making way for something with much greater longevity. The role I ended up being cast in, proved to be a defining moment in both my personal life and for my career trajectory.
Another disappointing professional miss, one that felt like it had the potential to be a real career-changer, in another iconic series, ended up leading to the unexpected and mostly delightful addition of our son; and a rusty re-entry into the working world after his arrival, led me to Risa Bramon Garcia and Steve Braun's acting community, BGB Studio, which opened up the doors to my pursuits as a writer and director.
As I've gotten older, I've become better at trusting that I will end up telling the stories that I am meant to tell, that timing is as it should be, and that there really are NO limits when it comes to opportunities to express oneself creatively. I have also begun to really revel in the process, recognizing that one can't be sustained on the uneven rewards of this business.
As a new mother, I often wondered if I was up for the juggle of sustaining a family and a career, and I questioned whether motherhood and this crazy industry were even compatible. It's been tricky at times, to say the least, and logistically challenging: nursing babies in trailers in between set-ups; scrambling for last minute childcare; packing up little ones to take on location with me; quick and messy diaper changes in studio bathroom stalls or on the questionable, well-worn carpeting of a double-banger; little companions in tow on auditions and at fittings…the stories abound. Though complicated, I am deeply grateful that I've been able to still find fulfillment professionally while raising a family and exploring my other passions. Though perhaps there has been more ebb and flow in my career than there may have been had I chosen not to become a mother, honestly, I wouldn't have had it any other way. I hope that we see significant shifts in our industry in the coming years and more access for support for working mothers, so that it doesn't feel like an either/or proposition. Though I appreciate that changes are beginning to happen, we still have a very long way to go, and I'm committed to doing what I can on my projects to be inclusive and compassionate to the reality of what it takes to spin all the plates at once.
For me personally, it's constantly shifting and with the demands of parenthood evolving, as my children grow, it continues to be something that changes. At the end of the day, my passion is centered around telling stories and representing the human experience authentically, whether it be in front of, or behind the camera, and I feel strongly that in order to show up fully in that task, it is necessary to engage fully in my life. I strongly believe that when we do that as artists, it enables us to produce honest and soulful work. Engaging with the rich laboratory of life and exploring meaningful outlets in my art, that is something I hope I get to continue to experience in all of its various iterations.
Thanks for sharing that. So, maybe next you can tell us a bit more about your work?
When I first arrived in LA, everyone was telling me that there were certain ways to pursue a career. I ultimately found myself resistant to what felt very mypioc and limited. So, I took odd jobs and I said "yes" (one of my all-time favorite improvisational principles) to opportunities that put me behind the scenes, enabling me to glimpse the full picture and develop an invaluable perspective on how things worked on the whole in this industry. Those choices ended up opening many doors and ultimately helped me pave a less traditional professional path.
Though I began my career as a classically trained theatre actress, transitioning into film and television after relocating to LA, in the past couple of years I have expanded my interests into writing, directing, and producing. I have always really loved getting to inhabit characters and discover their humanity, whether it was on a stage, in a recording studio, or in front of the camera, and now I'm finding a desire to step behind the scenes to guide and tell stories from a different vantage point.
I am thoroughly lit up by the collaborative process, it is what most excited me about being in rehearsal in the theater. Spit-balling ideas, making resonant discoveries, finding creative solutions, and ultimately, having something take shape in real-time, is absolutely thrilling to me. So, with that said, my progression into directing and producing seems very organic.
As a television actress, the experience was more transitory and nomadic in nature, which uniquely suited me. I tend to adapt to new environments quickly and easily due to my unorthodox upbringing. I was born and raised in Asia and moved to the United States as a teenager. In the past few years I have really begun to recognize just how much my perspective of being an outsider looking in, as well as my comfort level adapting to new environments, has shaped much of how I approach stories, and my passion for seeing the universality of the human experience. I gleaned from my early training in classical theatre how many of the core stories are relatable to modern audiences because the themes and essences of them are timeless. Our fundamental nature as human beings, the core of what drives us, independent of our ethnic origins, or the time and space we occupy in history, is truly universal. I think having a more global perspective has fed my capacity for deep empathy and connection, informing how I approach my work as both an actress and as a director.
Though I still embrace opportunities to act when they arise, I am very much leaning into directing and producing these days and I'm energized by the various opportunities on the horizon to engage my new passions.
As a director, I get to decide where I place my camera and where I shine my light. I often think about how we get to be the directors in our own lives. We may not be able to control the curveballs that get thrown in our direction, big events that may attempt to derail our plans, however, we do get to decide where we place our cameras, where we shine our lights, and what stories we want to tell. I love getting to reflect on what has brought me to this point, as well as embracing whatever is next for me on my ever-evolving creative journey.
Is there anyone you'd like to thank or give credit to?
Absolutely! My life has been so enriched by the people I have met along the way.
I would be remiss not to mention some of the major champions I have had in the casting world who helped foster my early successes and have continued to support me on my journey. A dear friend of mine from college, Carrie Audino, and her partner Laura Schiff, Emmy-Award-winning casting directors, had a huge impact on my career early on. They had faith in me long before I had representation and they helped to open doors to some of the most fulfilling jobs of my television career. Carrie and her assistant Sari Knight invited me to put down the Polaroid camera (I was working as their assistant at the time, an invaluable experience) and come along into the casting room for my very first television audition. I booked that job, which quickly set into motion a series of career and life-altering opportunities. That very first role led to my second television appearance, an episode of The Practice, directed by the same director Michael Zinberg. It was on that show that I met my husband, Matt, an assistant director, the love of my life, devoted father of my two children, and now, my producing partner.
Rather than aligning myself with an agent right away, I set my sights on an aspirational home, and until that was within my grasp, I worked unrepresented for many years, including during my first season of The West Wing. The fact that I began recurring on a series without an agent was unfathomable at the time and was very much the result of the generosity of many who believed in me. The credit lies with two remarkable women in particular, Laura Schiff, the casting director of the show, who brought me in several times, and the writer, Deborah Cahn, who crafted the role of Ronna Beckman, that ended up carrying me through twenty-two episodes of the acclaimed series.
Sharon Bialy, Sherry Thomas, and their amazing team at Bialy/Thomas Casting have also been the best cheerleaders over the years. They see me in ways that continue to surprise me and have given me countless opportunities to shine. I am so grateful to be in their creative orbit.
My dear friend and collaborator, Paul Howard, who executive produced my first short film, Tomorrow, has been a source of unwavering friendship and professional support since we met 17 years ago as background actors on the David E. Kelley show, Boston Public. I am very excited to continue to explore opportunities for us to collaborate creatively.
There are countless others who have made significant marks on my journey, by either being sources of inspiration, creative champions, or just dear friends who have shared in the inevitable ups and downs of this fickle industry. I am grateful for all of them because they have helped to shape my path and my personal and professional evolution.
Contact Info:
Suggest a Story:
 VoyageLA is built on recommendations from the community; it's how we uncover hidden gems, so if you or someone you know deserves recognition please let us know 
here.