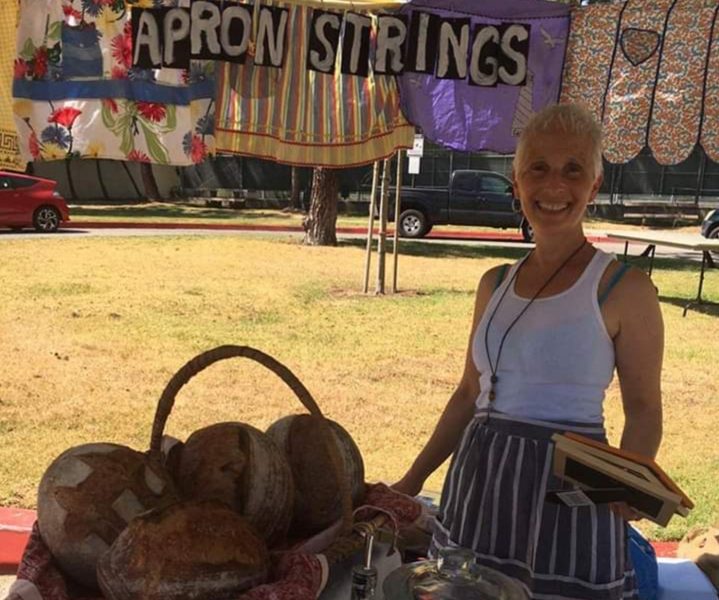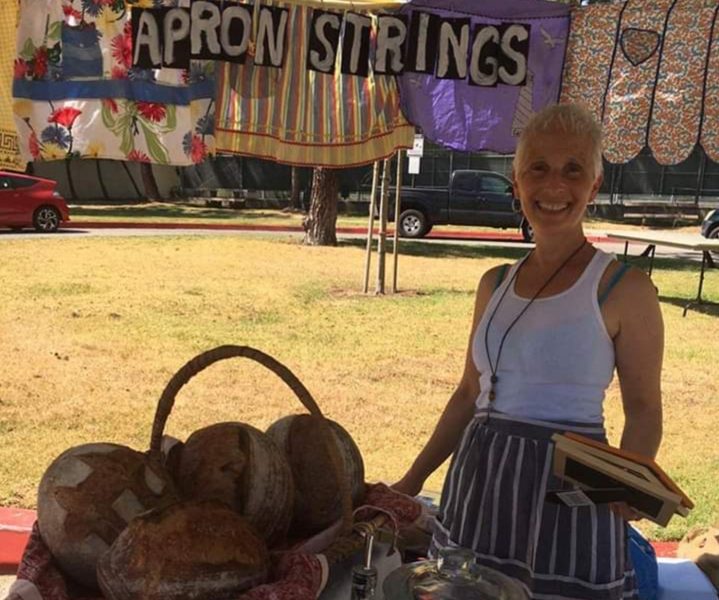 Today we'd like to introduce you to Karen Hirsch.
Thanks for sharing your story with us Karen. So, let's start at the beginning and we can move on from there.
So, I baked my first loaf of bread in 1990 and it was a brick, a real hockey puck. I was proud though despite its inedibility. At that moment however, baking sure didn't seem like a gift I should cultivate. Still, I baked great cookies for family and friends and with practice, practice, practice slowly improved my bread-baking skills bit by bit over the following years. And then came the lure of wild yeast sourdough bread…
I was born and raised in southern California and I followed my early passions into theatre, first as an actor and dancer and then as a stage manager. But life takes funny turns and in my late 20's I fell in love with teaching middle school in the Pico-Union neighborhood of L.A. As a master teacher I also loved working with new teachers as well. When I encountered a health crisis I made the difficult decision to leave classroom teaching but was able to continue my work in education with an amazing non-profit educational organization as a teacher of teachers.
Around this time, I also started seriously deepening my interests in baking. By then my bread skills had improved and I was dependably baking killer comfort-cookies. With a pretty casual attitude I decided to start my own baking business though I didn't really know much about starting a business. But I kept it simple and with a, "what have I got to lose" attitude, stopped into coffee houses and offered sample baskets of cookies. Every café said yes! And all of them placed regular weekly orders. Wowie zowie! Apron Strings was born!
Why "Apron Strings?" Because everyone occasionally longs to be tied to someone's apron strings, to be told, after a long, hard day, "Sit down. Have a glass of milk and a cookie." We all deserve to settle into someone else taking care of things for a moment and I want Apron Strings to share a little of that home-baked care and comfort with each customer.
And then sourdough and community activism both began to influence what I was baking and how I was selling. I was gifted with a sourdough starter culture and the lure of the culture began to take hold. I dove deep into learning everything I could about the ancient craft of sourdough baking. I became hooked on the entire subject of sourdough – maintaining a sourdough starter, the slow fermentation that develops flavor and nutrition and digestibility, the microbiology – all of it fascinated me and I committed myself to learning as much as I could about it. And I began to make the bread I'd always dreamed of, crusty and crisp with a holey, creamy interior. Just organic flour, water, and salt, an ancient bread baked with ancient techniques. The hockey puck bread days were over!
Around the same time our local Time Bank (an approach to exchanging goods and services without money with a goal toward building strong community connections) started a wildly popular Underground Urban Farmers Market where venders accepted a combination of money for their materials costs and also "hours" as payment which we could then use for services provided by other members of our local Time Bank. This farmers market focused on homemade foods, urban farm produce, and local artisan goods, and in addition to giving me a community of supportive people doing good work it helped me take the next steps into scaling up my production.
Slowly, word spread about my artisan sourdough bread, and with the new cottage food law creating an avenue to license my home kitchen I was able to increase the number of clients who regularly picked up fresh bread and cookies from my "front porch bake shop."
Now, I also sell bread and cookies and cakes at the Altadena Farmers Market (a fabulous little market with a serious goal of zero waste). And I've been able to return to one of my other loves, teaching. For the past five years, I've been teaching wild yeast sourdough baking and bringing this heritage craft to others. And I love that!
My dream is that everyone is able to bake great bread, I mean GREAT bread. (And when you don't feel like baking, Apron Strings will be there for you.)
Great, so let's dig a little deeper into the story – has it been an easy path overall and if not, what were the challenges you've had to overcome?
The greatest challenges have been the physical demands of baking in large quantities. Baking is demanding work and I contend with some serious physical limitations. Figuring out strategic ways to make the burden less impactful has been an enormous and ongoing challenge.
Like most business, I needed to find the most effective ways to spread the good bread word. I know how wonderful my bread and cookies are and what a unique product I'm creating. But getting the word out, though easier with social media, still doesn't always get results. And lacking a brick and mortar storefront has added a layer of invisibility to overcome.
Maintaining a good balance between time and energy devoted to Apron Strings and time and energy given to rest and restoration, family, friends, and activism was and continues to be a huge challenge.
And finally, as my product can't be returned to the shelf at the end of the day it was important to get accurate about how much to bake for events like farmers markets and pop-up shops. A great day is when every loaf I've baked goes home with someone.
Please tell us about Apron Strings Community Bake Shop.
Apron Strings Community Bake Shop is a cottage food business specializing in naturally leavened breads and home-baked cookies. My home-baked breads and treats are inspired by the generations of grandmothers who always seemed to have something delicious and wholesome baking in the oven. These grandmothers who, whether they were our own or a longing in our imagination, sat us down for that comforting, delicious moment.
Apron Strings naturally leavened sourdough breads use organic flours, with an emphasis on locally grown and locally milled grains. They are all cool-fermented for at least twenty-four hours to develop the complexity of the grains' flavors and textures.
There are two moments that fill my heart with pride. One is when someone tastes my bread and the look on their face says they had never had bread like this before, that this in fact was perhaps the first time they realized what bread should be. And the other moment is when a recent beginning bread student emails me a photo of their own beautiful loaf of sourdough bread. That is a great moment!
Is there a characteristic or quality that you feel is essential to success?
In addition to having an extraordinary product, I believe kindness and the desire to share have been essential to my success. That's how I view this business model – it is a way to share kindness with people. I believe that is why cafés initially said yes to trying my cookies, why people make the extra effort to check out my booth at the farmers market (well, the gorgeous loaves of bread help too), why clients take the extra steps to order, and (in addition to the actual learning) why students leave my baking classes ready to bake.
Also, imagining how Apron Strings can help create a connected community constantly inspires my work. Whether choosing local organizations to receive baked goods in my "Feed the Love" program or bartering bread for graphic design from a local artist, I want to have Apron Strings nourish the folks doing the good work.
Contact Info:
Email: khirsch743@gmail.com
Suggest a story: VoyageLA is built on recommendations from the community; it's how we uncover hidden gems, so if you or someone you know deserves recognition please let us know here.