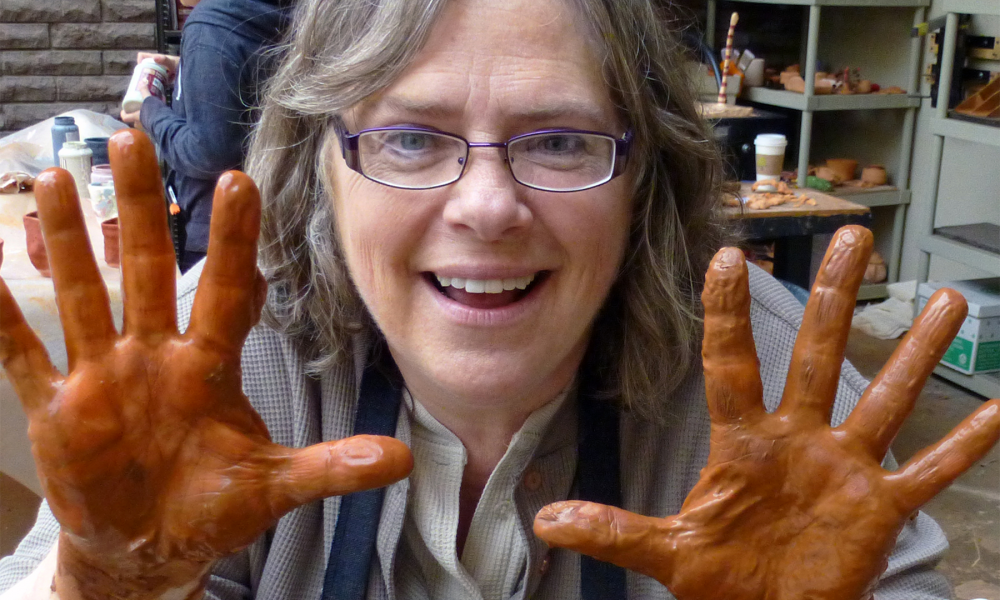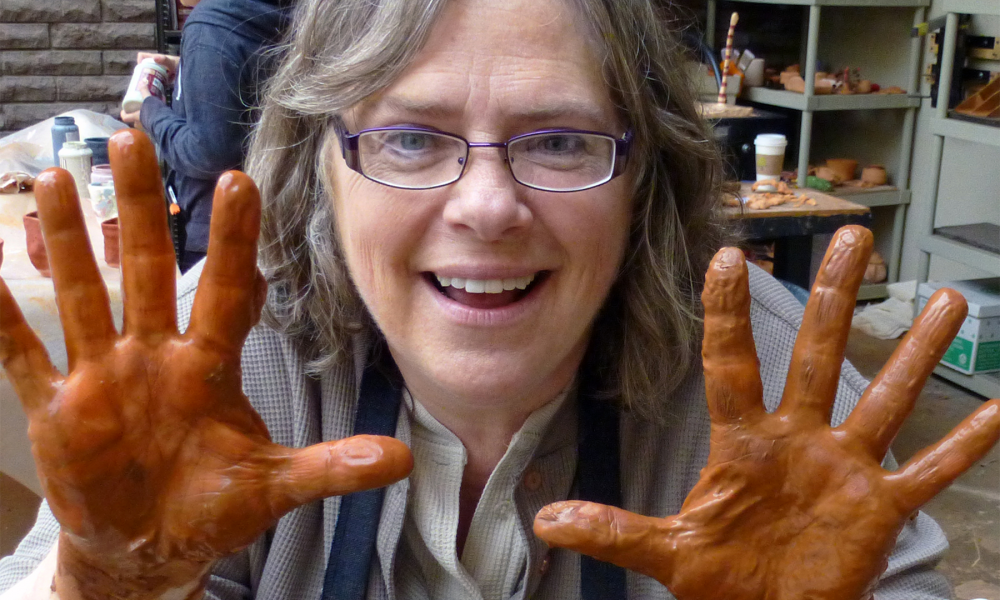 Today we'd like to introduce you to Karen Atkinson.
Karen, let's start with your story. We'd love to hear how you got started and how the journey has been so far.
I was born in California, and grew up mostly in Southern California, with a short stint in the San Joaquin Valley. I was doing art projects when I was in Junior High, but didn't really know that then. I was making projections of images and sound/text. It took about 10 years for me to put myself through school, and then ended up teaching at CalArts in 1988.
I am a hybrid artist who began her career in a semi traditional way of making work for galleries, but also took on temporary public art projects. I have always been concerned with content in the work, and strive to make work that is relevant. Rather than create works that an audience had to live with "forever" as in permanent public art, or more objects in the world to be collected by mostly while men with money that would potentially make more money off my work than I would ever see, I gradually became interested in supporting other artists as an art practice. I c0-founded an artist run organization in 1991 called Side Street Projects. So, names because we were not really a gallery so much as a project space, and we created a series of support services for artists, as well as a rental space for rehearsals, workshops and training for artists, as well as support for offsite projects, and a full on woodworking facility for artists' access. We also founded an educational program for kids ages 5 – 11, but also trained artists in teaching. This program is not integrated into the Pasadena School System as part of their school lessons.
When I gave Side Street Projects over to the next generation, I then started a new artist project called Getting Your Sh*t Together or GYST Ink. Pronounced "gist" or you get the gyst of it, I set out to create support, tools that took advantage of new technologies and services for artists. I developed software in 2000 to help artists manage and keep track of everything in their art careers, no matter whether they took on a traditional gallery based relationship, or were a DIY kind of artist. I wrote two books, one for artists and the other for teaching professional practices to artists. I have worked with artists worldwide, doing consulting, reviewing artist statements, artists' cv's, grants and proposals. I have taught numerous workshops and classes throughout the country. The goal of this endeavor was to help level the playing field between artists who already had access to the "art worlds" or had a trust fund, so that all artists who were making kick ass work could see the potential of getting it out into the world.
Because I have had a hard time with others understanding my business as an art practice, another friend of mine, Bernard Brunon and I created a presentation for the Paris Biennial on the history of artist run businesses as an art practice. We went back 40 years, and also found an organization in Paris that researches the kind of artwork that we both make. There are over 100 artists in the world who use this model as an art practice. I created a Tedx talk in 2010 that articulated these ideas, and have written and spoken about these ideas of a hybrid practice for artists. The art world(s) are changing so fast, that it is hard to keep up with how things work.
Galleries have only been around for about 200 years, but yet they control how much of the art world works. Those galleries are now dying (for many reasons including how they have treated artists), and new models are taking shape, mostly because artists themselves are creating new models of engagement with their audiences. I see my art practice as Making Life Better for Artists.
So GYST was created in 2005 officially. I began programming software for artists in 2000, having created multiple databases for my own art career as well as for running a nonprofit. I decided that I had gone to all this work to create this software and since it was so useful for me, I thought other artists might benefit from it. I also wrote a 400-page book for artists on just about everything I have used as an artist to sustain my career on my own terms. I then worked with numerous schools and organizations to start similar teaching programs and wrote a teaching manual for those artists who did not know everything or never had a particular experience where they could talk about something with experience. For instance, if you had never done a public art project, it might be something you did not feel comfortable teaching.
So, I continue to be a full-time artist, Founder and Director of GYSTInk, and I still teach full time at CalArts.
We're always bombarded by how great it is to pursue your passion, etc – but we've spoken with enough people to know that it's not always easy. Overall, would you say things have been easy for you?
OMG! Is there any such thing? Artists have a tough time no matter what they choose to do if they remain in the creative field to work as an artist. I chose to never enter the "art market" because I didn't want to support the art worlds 1% at the top. I didn't think that rich white men who were collectors should benefit from my hard work and intelligent mind. Artists only get a very small percentage of what they sell compared to the huge amounts of money collectors can make off of an artists' practice. I also did not want to dumb down my work and was more interested in challenging conventions and ideas and making temporary public art projects with content. I had one experience with a commercial gallery and decided it was not for me.
This meant that I had to come up with new ways of thinking about sustainability. Not going the commercial route meant that I did not have a dealer "taking care of my career", and no help from an outside partnership. So, I developed a way to become an independent artist. A reference would be to an independent film maker, or an independent music artist. Those two fields have made the transition before the visual art world, but the visual world is also changing. When I started GYST, I began sharing all the information, the woes and the highs of doing it yourself. Since less than 1 % of artists will actually make a living off of their art practice selling work, I found a lot of artists who just wanted to make work or contribute to culture.
I created Side Street Projects and GYSTInk as art projects too, which has been hard for some people to get their heads around. Including some really smart people.
The artworld is changing rapidly, and it freaks a lot of artists out who hold out for a traditional way of participating of the art world. And actually, there are many art worlds. I make a large distinction between the art market, and the many art worlds.
Money and validation are two things that are hard for someone who works independently as well as pushing ideas of what art is. I thrive on these discussions unless they threaten my job or someone is just too stubborn in their traditions to even have that expansive discussion. Artists are always pushing boundaries and asking questions. I do this with my own artwork as well as with GYST.
So, I have been told that I am not relevant by some, but others find my ideas exciting and expansive. There are many ways to be an artist, and the old models are less than satisfactory. Money is not the only reason why galleries are closing these days. If galleries were ranked by the way they treat artists, we would have a very different line up. My goal as an artist is to generate ideas with artists on how they can move forward and make something happen.
The other issue, is that creating and maintaining software is a pain in the ass. Upgrades and bad operating systems make my life difficult in this respect. It is also very expensive to keep on upgrading and solving problems. Sometimes software I need to create my own software has issues. Artists traditionally don't have a lot of extra income, so they have to invest in themselves even to buy cheap software. But as an activist, I can't of any better way to support the work of creatives than what I am doing now.
Now that software is going cloud based, I need to find a partner or investor to help out my next step, as it is expensive. But how can I quit now when I have supported over 7000 artists who use my software, worldwide? (If you are interested, let me know. But you have to love artists.) I have taken all the funds I have generated and created other support services which bring in no income such as GYST Radio, a podcast series, a newsletter and opportunities for artists, and much more. GYST also provides support services such as artist statement and resume reviews, grant reviews, fabrication, legal connections, arts accountant, scanning and digitizing of older technology and a website designer.
I also wanted create GYST as a business rather than a nonprofit. I did not need a board of directors telling me what to do, and I wanted to prove that artists could try new models of sustainability. So, hell yes, there have been obstacles and challenges. When you are forging a path that has no directions, it's a mine field!
So, as you know, we're impressed with Getting Your Sh*t Together and GYSTInk – tell our readers more, for example what you're most proud of as a company and what sets you apart from others.
GYST was born out of tenacity and a desire to help artists figure out new ways of working as an artist and to address sustainability issues. I have done so many self-determined projects, many because a funder or organization did not think I could pull something off, that I have learned how to get things done as an independent artist. So, sharing this information seemed like a good idea. So, I downloaded my brain and wrote lots of articles that I included in the software for the beginning. So not only did you get software to keep track of just about everything in your art life, but you also got 400 pages of vital information such as how to conduct yourself professionally, grant writing, funding options, DIY strategies such as fundraising without writing grants, legal and financial issues, and lots of how to info on everything I have used as an artist in my own art career.
We created a website where you can try the GYSTPro software for 30 days for free. But we also put every one of our articles online for free. Bad marketing strategy, fabulous activist strategy. We now have artists coming to our site for information from almost every country in the world. We have over 7000 users of the GYSTPro Software, and over 1000 users of the GYSTBasic software. We upgrade every year at minimum and have kept prices low.
I also taught 8 – 10 week workshops in LA beginning in 2005, as well as at CalArts as a class.
I gathered all the articles and self-published a book called Getting Your Sh*t Together, and then created a teaching manual for those artists who did not know everything but were interested in teaching professional practices.
The reason we call it Getting Your Sh*t Together, because one can never have their shit together for long, as things are changing so fast. We even got a grant once, but in order to use it, they wanted us to change our name. We sent out a questionnaire to all the artists we had every worked with, and 95% of them said don't change it. It actually works for us, because it attracts the kinds of artists we like to work with. It does not come across as yet another stuffy business class, but a direct and challenging take on what it takes to be an artist if you are going to interact with others.
We also created support services for artists. We have access to arts attorneys, art accountants, fabricators, we have a web site designer for artists, digitization services (we scanned a hell of a lot of slides), and other professionals. We tried to think of the things artists need, but have a hard time finding good professionals.
We also post opportunities for artists online as well as in our monthly newsletter. We continue to add to the articles online, (one included a step by step account of me being audited and we made it all public so artists would know what it is like), and interact with artists on social media. We answer loads of inc0ming questions, but also will meet with an artist and consult on a one to one basis.
We have over 200 podcasts of our GYST Radio interviews with artists who are doing DIY kinds of projects and we ask them how they pulled something off. What went into the project and how did it come to be?
We recently started a new Podcast series called "How The Art World Works" and we are interviewing every aspect of the art world from dealers to art handlers, to independent artists. Only a small part of the art world is ever talked about in detail, and there are many art worlds, so it seemed like a good idea in these changing times to look at our history as well as the changes taking place.
What we are known for is our generosity, our tenacity, our get your shit together advice and our cheerleading of artists. We are also not stuffy business folks, but full of humor and are dedicated to our jobs. We are a grand experiment that has had a huge impact of the lives of dedicated artists, and our goal is to make life better for artists. We will keep experimenting and learning, passing on advice and ideas and working with artists on a partnership basis. Every artist I talk to means something.
Every successful artist project is important. Artists who are contributing to culture are a vital part of our goal to be sane, sustainable, and to thrive.
We are most proud of when an artist pulls off a great project and the world changes just a little bit at a time.
I also run another business called Digital Mud Works (http://www.digitalmudworks.com) where I have designed and created over 1000 clay extruder dies. You can download these digital files (.99cents) and print them on your own 3D printer and use in 20 minutes or so. You can also order them from Shapeways (Digital Mud Works Store) fully printed in numerous colors so you won't lose them in the clay slurry. This is another way to create new tools for artists.
So, what's next? Any big plans?
Right now, we are a computer based software application. If we are going to remain relevant and get out from under the computer companies software upgrades, we will need to put GYSTPro and GYSTBasic on the cloud. This is a very expensive endeavor, but will be necessary. The issue is that the program need to be rewritten from scratch. A lot of things have changed since 2000, so keeping up is always a battle, especially for an individual artist such as myself. We are currently looking for a business partner or investor that is more of a social entrepreneur who share our values. This has been hard to find so far.
New technologies mean new expenses which are never cheap. We are constantly raising funds and borrowing in order to keep up. But with that many users, we make it work.
I am also getting close to retirement age, I am 62. I am thinking about what to do next or where to take GYST. It is clear there needs to be a next phase, but I am thinking hard about what that next phase may be. We are not interested in dissolving, but in moving forward, and perhaps that will require more hands-on deck so to speak. I personally will not ever stop working to be helpful and relevant, whether it is in making my own artwork, or working with artists. I started this when I was already and "older artist" and life goes by pretty fast. If anyone is interested in helping me create the next phase, please let me know. At some point, I will pass it on to the next generation, just like I did Side Street Projects which is still around after more than 25 years. So, if you have the means, and you support artists with a passion, I want to hear from you.
It has been a wild ride and I am willing to share!
Pricing:
GYSTPro Software is $129
Getting Your Sh*t Together Artist Manual is $29
Artist statement and resume reviews are $20 lousy bucks
Consulting with an artist is $50
Contact Info:

Image Credit:
Harry Gamboa
Karen Atkinson
Getting in touch: VoyageLA is built on recommendations from the community; it's how we uncover hidden gems, so if you know someone who deserves recognition please let us know here.