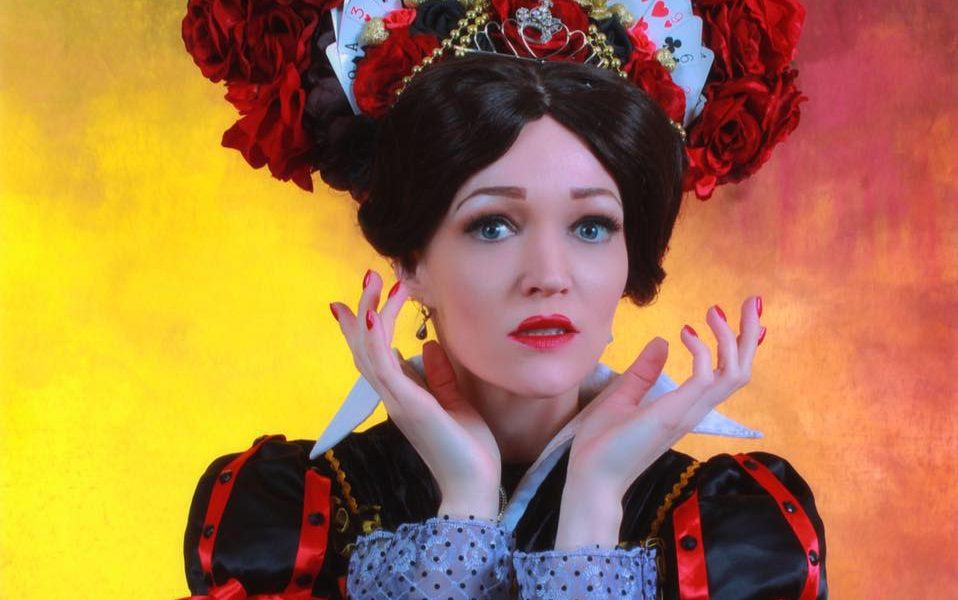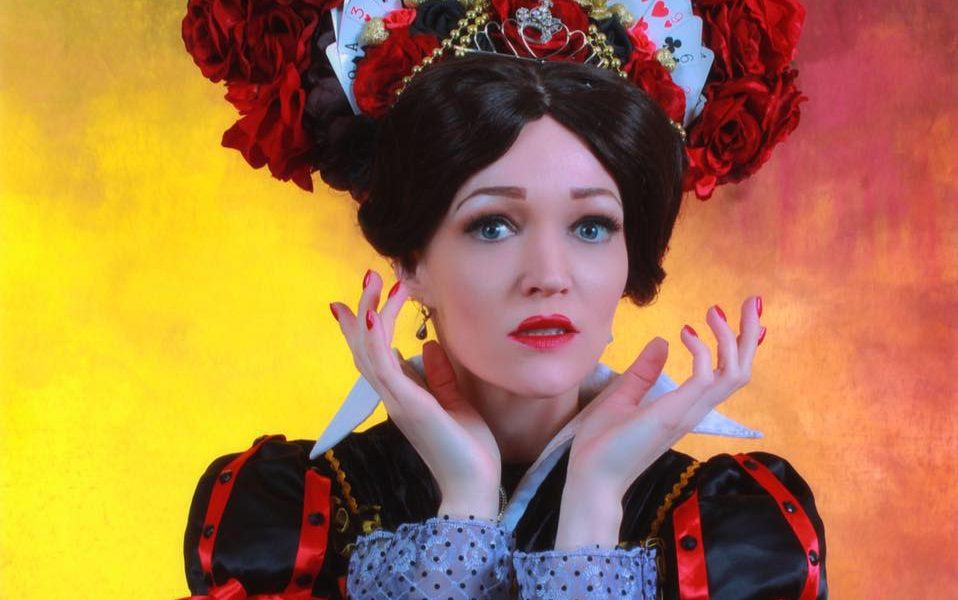 Today we'd like to introduce you to Kalinda Gray.
So, before we jump into specific questions about the business, why don't you give us some details about you and your story.
I had a very tumultuous childhood as a kid, which is another story going into a book one day! But – I was very lucky to have an amazing mom and dad who were wildly creative, fun, and taught me to believe in the importance of fairytales, and the lessons and legacies that the characters and stories within them teach us, so that we may conquer any "monsters" unlucky enough to cross our paths throughout life. As a kid, I escaped into films and books and sci-fi and fantasy stories. They greatly helped me deal with what I was going through, and to grasp onto hope and "magic" wherever I could find it. I felt they healed me in a lot of ways. I live by those models to this day and have always loved being a performer and artist and bringing the same things to all ages with my work. When asked as a kid about why I wanted to be an actor, I replied that I wanted to help people in some way. Be it making them laugh when it was most needed, or by making them think, or heal a part of themselves, that was always my main goal.
Ten years ago, I was performing in a show in Los Angeles, and after we closed, one of the actors called me up one day and said, "Hey, my girlfriend runs a character party business on the side, and she's in need of princess performers. Would you be interested?" With just about an hour of "training" for facepainting and given a suitcase of "tools" and a Cinderella costume, I was thrown into my first party a few days later. I was terrified. I had acting experience, but hosting a live event on my own for an hour with 15 young children? It sounded like a feat. I gathered some extra things up before the event, hoping to really wow them: a glittery slipper, a mouse puppet, music, and whatever else I could get my gloved hands on at the midnight hour (ha). At the end of the event, the dad met me outside to pay me, and said, "You're the best princess performer we've ever had, and we've had a lot! How long have you been doing this?" I squeaked out, "This was my very first party – EVER!" I left that event skipping back to my carriage (cough – car) with a bottle of Cabernet from the family's wine cellar, and a $100 tip. Oh, and it was also my actual birthday on that day, too. It was the BEST NEW JOB EVER. I was thrilled!
After a few years of playing everything from princesses to mermaids to villains (to even Pippi Longstocking at one time for a big party at the beach, riding in on a giant horse with a trained monkey trailing us) – I left the company I was working for, as I was living in Orange County at the time taking care of my grandmother, who was diagnosed with stage 4 pancreatic cancer. She had helped raise me and was one of my best friends in the world, and an amazing businesswoman to boot (she was the first female painting contractor company owner in OC history and a true bad-ass). While working through my grief and not knowing what was to come, I was trying to figure out what to do for work. While gigging here and there for other companies, I had started to collect and create my own costumes. I came from a Disney-trained background, and I fully believe that the quality of a performance AND the attire/look is key. It's gotta look amazing. I think kids see right through that, too. If I look as close to the character as possible and feel good with what I'm wearing and doing, that's a huge help to the performance. A few friends in the theater world had said, "Hey, you have a few of your own costumes. Why don't you just start doing parties on your own?" I knew I loved and was good with working with kids as well. So, to solely get by financially for a few months, I did a few parties for friends and friends of friends' children via word-of-mouth. No business name, no cards, no website – nothing. While I was doing parties here and there, I was still pounding the pavement looking for other work as well – waitressing, hostessing, typing jobs – but none panned out.
After a few months, a past coworker from my old company called, told me she had quit, and asked what I was up to. I told her I was doing parties on my own here and there to get by and still looking for other work. She heartily volunteered to help me and asked if I needed another performer. She was the very first "cast member" for Wishing Well, and her recommendations to other families in Los Angeles helped things really start to blow up (I owe a lot to Kelly – she now runs HER own cooking company in Texas!).
In early 2012, I started to get asked for cards and our business name. I realized that what I was doing was a bit different: I sincerely LOVED to do it. It wasn't just throwing on a store-bought costume and showing up for a few hours; I was constantly trying to come up with new characters, activities, and completely thematic things to do to create magical experiences for others. I was carrying on what my mom and dad had instilled in me. And I was even starting to get requests for adults, as well (including a home hospice visit as Cinderella for a dear elderly lady who passed away a few days later, and early on – I played Lucy Ricardo for a friend who worked at Honda, and thoroughly embarrassed the Vice President of Honda when I tried to drag him out to the dance floor).
While driving home one day, my mom and I were brainstorming on a name for this "business", and we were thinking of fairytale-like names that weren't just focused on "princesses", since I was starting to do more characters for all ages. I credit my mom for coming up with "Wishing Well Entertainment". I wanted to make wishes come true for people. I know that sounds trite, but seriously – life is messy, fleeting, and can be full of sorrow. I wanted to do my best to bring joy, peace, and light into people's lives in the present and in the future, with memories they could look back upon fondly.
In March of 2012, I created a website on my own, bought business cards, and "Wishing Well Entertainment" was born. I would walk around for miles in nearby neighborhoods dropping off postcards and business cards (and even flyers my mom had made for me – thanks, mom!) trying to promote this small little sorta-accidentally-started business. We started getting requests for things I didn't have. Little by little, I expanded our costume and character collection as well as the cast roster with actors who were multi-talented and professional and – most important to me – had great integrity, kindness, and a sincere love for the joy of the performance. I feel that putting in the hard work and really enjoying what we do has been incredibly essential, and the amazing energy and feedback we've gotten from the clients and families who've worked with us have brought us to where we are today.
In less than eight years of business, I have booked 5600 events as "Wishing Well" approaches our 8th anniversary in March 2020. My storage unit is overflowing with costumes (I have about 250 different costumes/wigs now, and it's still growing).
Great, so let's dig a little deeper into the story – has it been an easy path overall and if not, what were the challenges you've had to overcome?
When I started doing this, I overheard a family member remarking, "It's pretty ridiculous for her to still be playing dress-up." Ouch, THAT hurt. A few years ago, I came across a parent who had reposted a picture of me and another performer on social media at a past event, with the caption, "This is why you stay in school, kids!" What that person didn't know is that – I DID stay in school, and I was additionally taught by my grandmother on how to run a business. It's the same old admonishment that's given to artists throughout the ages: pick a better "career". It's taken a while, but I've realized I am getting to do what I love and it's my main job. I'm lucky.
For me, the biggest present struggle is balancing life and running a business. Because we live in bit of an "instant gratification" society, I sometimes feel like a doctor on call with my phone and laptop on me at all times, responding to inquiries throughout the day and evening. I'm happy to do it, and enjoy being on the go and still working, but it's definitely something to adjust to. I do not currently have an assistant helping me, and I manage all events, costumes, storage, bookings, paperwork, etc. on my own – you name it. There's no such thing as a vacation anymore. I was even responding to inquiries on Christmas Day this past year! It also affects my sleep; I'm constantly thinking of the emails and calls I need to return if I've been unable to get back to them right away or things I need to get, etc. I am working on that "perfectionist" gene – I am. It's gotten easier over the years. But I know that clients and families need and appreciate good and efficient communication – we are handling some of the important days of people's lives, so I feel that aspect is very important.
Also, t's a highly competitive industry, and many clients will just want the best "price", without realizing everything that goes into entertainment for a party. I want us to be as cost-efficient as possible for all clients and families, but still maintain the quality that is fiercely important to me. I only use professional wigs, attire, tools, and costumes, and have to pay for a storage space to house everything. A performer has to take at least an hour to get ready, spend another few hours in roundtrip traffic on our fabulously popular Los Angeles freeways (love you, 405!….but not really), and perform. What is essentially a 1-2 hour performance time actually entails a lot more. Ensuring that pricing is fair (and making sure the performers get paid fairly in return) has been tough to maintain, but an important component for me. I've had to learn my/our worth.
Alright – so let's talk business. Tell us about Wishing Well Entertainment and Parties – what should we know?
Wishing Well Entertainment and Parties' specialty is high-end and fully engaged character entertainment with heart. We are honored to be the highest-rated and reviewed company of our kind in Los Angeles and all of Southern California, and we are also extremely happy to offer the widest assortment of high-quality characters and themes to choose from (over 200 and counting), including original fairies and storybook characters, impersonators, famous film characters, educational and science parties, holiday icons, and much more. Whether it be Alice attending a "One-der-land" first birthday celebration, or the Queen of Hearts roasting the guests at a 50th birthday party, or a band of merry pirates taking over a wedding reception – we give utmost respect and hard-working dedication to every event that comes our way. We want to make a special day FUN and memorable for years to come.
We have been honored to perform for/with A-list celebrities, media events, private parties, business events, red carpet premieres, holiday parties, iconic LA locations like the Queen Mary or studio backlots or the Hollywood Roosevelt Hotel, fundraisers – you name it. We've been featured on news channels and publications around the world for some of our parties, which is a sincere honor. I never, ever would have expected us to be where we are now. It's been surreal.
All of our actors and artists are extensively trained, fantastic with improv and with people, and work in the entertainment industry. We all have a dedication to character integrity and not just "throwing on a costume" – even as a grizzled "adult," I'll visit Disneyland and gasp and whisper, "Omigosh, there goes the Fairy Godmother!" and I'm a kid all over again (I will also fully admit to the time at age mumble-mumble-twenty-something that I actually and sincerely asked the Fairy Godmother to please bring me a boyfriend – and he showed up out of the blue in my life two weeks later. I KNEW she was real). But that's why I love what we do. Fairytales had to come from somewhere. Believing in stories and myths and the heroes and characters within them give us hope and teach us how to be good people, too. It helps us find our own happiness, or a vision, or even just "hope". Carrying on those traditions helps us see what magic is left in our world, and I think that's important to help us triumph in a society in which it is so very easy to become disheartened and disillusioned in.
On that note, I believe that sincerity and integrity in all aspects of business – and the amazing cast of GOOD people that we have – are the aspects that really set us apart. I believe in the golden rule wholeheartedly and work with some truly amazing community members, clients, and families. I am proud to be able to do what I love – as performers and artists, we never really know how much we can impact someone of any age – or their life ahead. We never, ever know what someone is going through. I've had some amazing stories and experiences from my work that I will keep close to my soul to the end of my days. We've had families that have contacted me years down the line to send photos of their now-grown children and thank us for the memories we gave them – one story that particularly touched me deeply was a mom who sent a photo of her little girl and her beloved grandmother with Cinderella at a party. She told me that the grandmother had passed away suddenly a few days after the photo was taken. That photo at the party was the last picture they had of her, and she thanked us for the happiness we had given their family during a rough time.
Is there a characteristic or quality that you feel is essential to success?
For me? Integrity, professionalism, honesty, kindness, and sincerity are the top characteristics I find most important in all aspects of business and what I like to see in everyone I work with. In addition – respect, honor, and value your team and artists and their work. And don't be afraid to stand up for yourself and know your own worth. Don't be afraid to say "no" and stay true to yourself. Don't compromise your own heart and beliefs. I do believe that the universe notices that, and will meet you with the RIGHT circumstances, people, etc.
And for those entrepreneurs and business owners that work so hard – make sure to take care of yourself, too! Spending time by yourself and taking a breather once in a while will rejuvenate and ground you, bring more perspective, and help you pour even more creativity and newfound ideas into what you're doing. I'm an avid traveler, even if it's just a day trip to San Diego – traveling to new places makes me feel like a little kid again; always learning and exploring and being in awe of something I've never seen before. Find what inspires you, and keep that in your back pocket for when you need a refresher.
Contact Info:

Image Credit:
Enchantlens Photography, Crystal Olquin, Suzanne Gonzalez, Josh Bednarsky, Michael Bezjian, Brian Cook, Christine Jones Henry
Suggest a story: VoyageLA is built on recommendations from the community; it's how we uncover hidden gems, so if you or someone you know deserves recognition please let us know here.