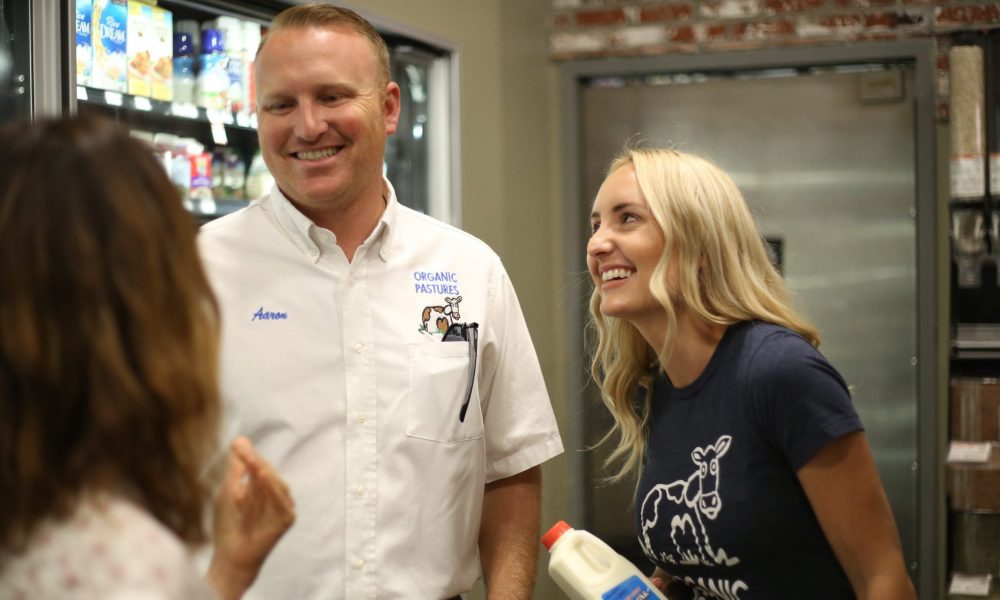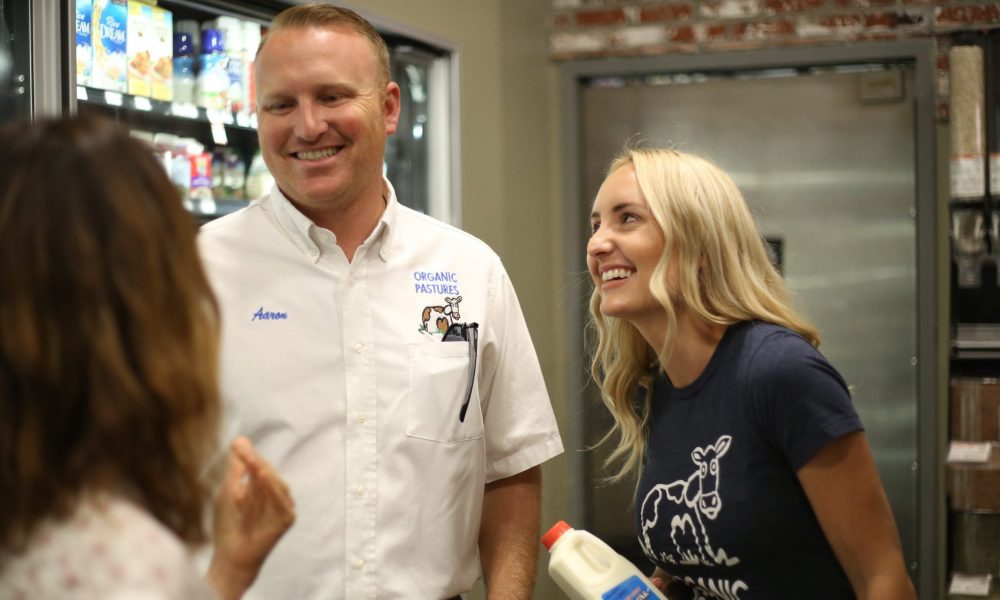 Today we'd like to introduce you to Kaleigh Lutz.
Kaleigh, please share your story with us. How did you get to where you are today?
I am a proud female business owner in the Ag industry. There are not many of us, so we are definitely an anomaly. I became an owner of ORGANIC PASTURES just a few years ago.  I grew up living a country girl life. Secretly, I had a hidden passion for fashion, design, and working in the hustle and bustle of a busy corporate world. I was not your typical country girl. Growing up, I was very fortunate that my mother and I both enjoyed traveling to Europe together. It was through these trips that I began to dreaming of far away lifestyles.
Some of my most treasured memories of Europe were watching fabulous European women whisking around on their workday in their stilettos, business purse and espresso in hand. I found that life fascinating. When I would return to my organic farm, I would pack away my stilettos, red lipstick, and fabulous outfits in exchange for more practical clothes for the farm. My senior year of high school was a breeze. I vouched for work experience over other "extra" course options. My obsession with being a powerful working woman had really started to sink into my veins. I would work 5 days a week in our Sales and Customer Service Department for our family owned organic raw milk dairy brand ORGANIC PASTURES. We had started the dairy brand my freshman year of high school, but I had not yet truly connected to the business, dabbling in working as the Cheese Maker, Calf Feeder, Office Night Cleaner, Accounting File Clerk, Cow Milker, Herd Feeder, you name it I had done my part (if you did not already realize that country-girls work hard, well we work the hardest). Once I started working in sales I thrived. I loved everything about it, everything. I loved strolling into my senior classes dressed in office attire, coffee in hand, and my hair in a tight bun. I was living my European businesswoman fantasy.
As I entered into my freshman year to hold a Bachelor's of Science in Business Administration with an emphasis in Marketing from California State University, Fresno- Craig School of Business, I quickly realized that I had a hidden skill set. I was determined, passionate, and hard headed, slightly obsessed with the idea of success, and the perfect balance of arrogant. Being a female with these attributes made me deadly. I remember my Marketing professors pulling me aside to get to know me better. They were always puzzled why I sat in the front row in each class, never late, and being the first to raise my hand (eager to participate and soak in their lectures). Apparently, I was standing out in college to my peers and professors. One night, while sitting in a night class in Logistics (a topic boring to most, but incredibly interesting to me), I was pulled out of class by a black-suited gentleman. My professor had arranged with his business colleague to have him give me a job offering for a very successful corporation. I remember this moment precisely. I stood in the hallway slightly agitated that he had taken me from my note taking and patiently waiting for him to explain himself. This man drove two hours to offer me a respectable $100,000 annual salary paying position. At the time, I was working as full-time as I possibly could at my family-owned business, applying all of my gained college knowledge, and pulling in around $30,000, annually. I was stunned. I took his card and told him that I would have to get back to him. I was upfront with him and explained to him that my heart and soul was in making my family owned brand a household name. I drove home to my fiancé that night and told him all about how flattered I was to have such a strong offer to consider. At the time, we were living on my farm in a double-wide, fabricated trailer home. It was our humble home that allowed us to work long days and have low overhead. For those of you who have never heard of a double-wide, fabricated trailer it is simply an elaborate RV meant to never move. You are always reminded that it is not a true home on a concrete pad when you walk across the floor to hear a slightly hollow sound. As you could imagine, I was overwhelmed with this idea that I was offered a lifestyle change. This change would have derailed me from my true passion in life. It would not have fulfilled my heart- just my bank account. My fiancé and I agreed to stay the course and reject this offer. I scheduled a meeting with my father, my CEO, and my mentor the very next morning. I told him that I was going to reject a job offer and I wanted him to hear our conversation on speakerphone. As I rejected this substantial raise in pay, I looked my father dead in the eyes. My father heard another business owner reiterate my value, why he wanted me on board, and to further consider the proposal. In my opinion, this was when my father started to look at me in a new light.
Before this moment, my father assumed I would settle down with my husband, raising a family on the farm, and enjoying the very fulfilling life so many women had in our small town. Country girls are best known in our region as amazing cooks, mothers, and supporters to their husbands. We have branded shirts saying "Proud Farmer's Wife" for goodness sake (I will admit that I own a few). It isn't exactly expected of wives or mothers in our area to have thriving careers. Most commonly, they help balance the books for their businesses (a very respectable job, actually). Needless to say, my father and I started the conversation that I had been waiting to have. Where would my career take me? Where did I see the brand headed? What are the dreams and hopes I have for our business?
The road to today's business success was not easy, and some moments feel more like a black eye. I learned that it was not easy changing the stereotype of women in Ag. I have been told nasty, sexist, unkind things. I have questioned myself as a loving mother to now three children as to if I should be a stay at home mother. I wonder every day if the work I give to my business is appreciated and valued. I have moments of weaknesses and sadness. I have felt self-conscious about the quality of work I produce. In light of those times of tribulation, I have so much more light, pride, and joy. I have helped build the world's leading raw milk brand. Through strategic efforts, collaborative efforts with my extremely talented team, and humbling moments while talking face to face with our loyal customers, I have come to a beautiful place in my career. I am proud of myself.
The journey ahead can only be described as driving in fog. The fog in our Central Valley of CA is known around the world as some of the hardest driving conditions. You cannot see ahead of you. I only live in the moment (only feet ahead of me). I take my career quarter by quarter. Of course, we create annual goals and strategies, but as the journey turns and bends, our Marketing Department finds ourselves expecting our next big break. We can feel it on our horizon. Our brand has been famous for staying humble and true to our customers. We have direct relationships with so many. I can tell you hundreds of their names, follow them personally on social media, and can tell you their stories with our brand. As we have grown to a multi-million-dollar family-owned success story, I feel it is moments like today that make me stop and ask the question, "What is next?" This is my first on-paper submission to a magazine about myself as a businesswoman. It is flattering, truly. I am just an entrepreneur, slightly psychotic and obsessed with the brand that I have created.
Has it been a smooth road?
First of all, smooth roads bore me. I cannot stay awake! I would much rather choose the road that leads me up a mountain to see a beautiful view. I have hit so many obstacles on my journey. I have chosen to see them as positive opportunities to reflect, look inward, and understand why I hit a roadblock. I have challenges every single day. Challenges that sometimes get buried deep inside and you try to forget. Unlike the previous question, I feel this question leads me down a path of thought that I choose not to explore. Today, I have come to a place that I am confident with. I have chosen joy and confidence. I work in the difficult and emotional world of Marketing. In Marketing, you could have done project a million ways. It is 100% subjective. Every eye is drawn differently. Projects speak to a target market deeply and to others like a fart in the wind. It is complicated. I remain focused on the task and drown out the noise of dislike. As the sales success comes as an after-reward, I pat myself on the back and go to sleep well. I used to sleep horribly. I would keep a notepad on my side table, so that in the middle of the night as an idea would wake me up like a lightning storm I would sketch or note my thoughts. I lived in horror most of the day with stirring and unsettling ideas. I felt this way because the brand was evolving and I was the visionary and designer. I felt a heavy weight of burden and responsibility to make the next brand better than the original concept. My choices were not always supported by all and my decisions often came into question. I had to follow my gut. I feared that sales would drop due to my branding choices. I feared many things. There have been many moments in my young career like this. A challenge I face every day is feeling confident that my design capability, strategic efforts, and work can compete with mega agencies and firms. At the end of the day, I realize that I have an eye for the brand that I dreamt of and I have the most wonderful and talented team. I may not have the sky scraper office lifestyle, but I have created my own version and reality here on the farm.
We'd love to hear more about your business.
ORGANIC PASTURES is an organic, grass-fed, family-owned, raw milk brand. I am the Marketing Manager and specialize in promotion, product development, branding, and sales management. I am very proud of our brand for being successful without any investment partners or agencies. I have been able to work alongside my mother (Herd Health Manager), father (CEO and founder), and brother (Operations Manager). Our family has pulled through thick and thin to come to where we are today.
We are so very different than other big organic brands because we are a single source brand. We are not a cooperative of dairies and families. These brands have marketing films create their ads, strategies, and products. Our homegrown efforts have made us fortunate. We know our customers well and could never imagine severing this connection. If a customer connects on social message and comments a question, I am the team member to respond. We do not have a call center or group of interns doing these tasks. I take this direct customer relationship to heart.
Is our city a good place to do what you do?
Southern California has truly been our bread and butter for our sales. Literally, bread and RAW butter. This region has shown to be open to new brands and health concepts. As of this summer, we do about 50% of our sales in just Southern California. It used to be more, but we just launched nationally with our Raw Cheddar Cheese line through Sprouts Farmers Market. Southern California has the most amazing weather, vibe, economy, store outlets, and people. We have thrived also through selling directly to customers at many farmers markets. We found that the warm, calm weather and peaceful shopping experience has allowed us to educate, sell, and promote with boots on the ground efforts. The only downside to this So Cal is the traffic. Oh, the traffic in So Cal makes for long driving routes and a unique buying behavior. Unlike our Central Valley region where a customer may drive 40 miles one way to their organic grocery store, shoppers in SSo Cal want to shop within a 5 to 10 mile (max) radius because the traffic makes them tortured. This means that most regions that are deprived of organic store locations either need a booming farmers market or they miss out on so many fresh options. We try to sell through a variety of locations: mom-n-pops, cafes, small shops, and boutique grocery stores. We have direct distribution and try to be flexible for our customers and their needs. We just started selling online through our website shopping page, which has been a great at-home delivery option. Over all, we are always so thankful for So Cal and its booming excitement for our brand, traffic and all.
Contact Info:

Image Credit:
Digital Media Producer, Jason Carroll
Getting in touch: VoyageLA is built on recommendations from the community; it's how we uncover hidden gems, so if you know someone who deserves recognition please let us know here.