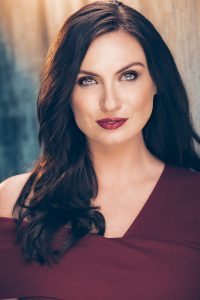 Today we'd like to introduce you to Kaitlyn Clare.
Hi Kaitlyn, we'd love for you to start by introducing yourself.
I was born in Sydney, Australia, but raised mostly on the idyllic beaches of Queensland's Gold Coast. I was fortunate enough to go to a great school with a plethora of extracurricular activities on offer, and I seized those opportunities – I was a debater, in a couple of bands (despite being a dreadful singer), in every school play and musical, the editor of the school newspaper… you name it, I was doing it.
By the time I finished school, performing was just what I did, and it made sense to me to carry on; I never questioned it too hard. I continued on my path, snagging roles in commercials, films, television series and countless short films, as well as a bunch of plays in local community theatres. By the time I was 20, I'd racked up a bunch of credits. However, never did I have much "business" sense. I was an actor because I was compelled to be one, but I didn't care at all about being "successful" and I never followed a traditional path. If anything, I was the most hungry for life experience. So, I had my wild child years, and there are stories from those years that would drop your jaw to the floor. They're better shared in private over a bottle of gin.
My pursuit of a "career" became somewhat more grounded and logical around the age of 24. I'd settled myself in Melbourne by then and I was still interested in film and television and worked a few jobs, but for the most part I'd become truly obsessed with theatre. I got my degree in theatremaking and, at the same time as studying, did play after play after play in fringe and independent theatre, working with absolute rule-defying masters of the craft. Often I'd find myself rehearsing one show by day and performing another by night. Those were great years. I was still living outside of the box and getting myself into all sorts of weird and precarious situations in my "real life," but damn was I a disciplined stage actor. I got to play almost all of the greatest roles written for women (and sometimes men) during my years on stage. I dabbled in writing then, too, but I kept those experiments mostly to myself.
At 28, I was in New York, where I lived for a year to execute a grant project. I'd received an ArtStart grant (those are now extinct, sadly) from the Australian Government and Australia Council for the Arts and had set my mission to compare New York's and Melbourne's contemporary theatre trends, styles and practices. My year in New York was pretty electric, and by the end of it I felt simultaneously totally fatigued and wired, and I was more than ready to get back to Melbourne. The path changed, though. Within days of landing back in Australia, I was selected for a green card. A move back to the USA lay ahead and I knew that this time, it would be permanent. As much as I'd learned in New York, I knew it wasn't my city, and LA seemed like the next logical choice. Maybe when you grow up in the sunshine on beaches, the sunshine and beaches will always call to you.
Knowing I'd be leaving, I stayed put near my family on the Gold Coast for a year and half. I got braces on my teeth (again), I worked with animals and hosted live shows in a theme park while I saved my money, and I generally just cherished my time with my loved ones and enjoyed my life. Then, in 2015, I sold all my earthly possessions, packed a suitcase, boarded a plane, and moved to Los Angeles. I've been living here, in the thick of it in Hollywood, ever since.
We all face challenges, but looking back would you describe it as a relatively smooth road?
My road, particularly in Los Angeles, has been far from smooth – but, honestly, that's exactly what I expected, what I was mentally prepared for when I arrived, and in keeping with how I like to live and grow anyhow. I'm no masochist and I don't love it when things are hard, but I know myself well enough to tell you that if things come too easily either in my working or personal life, I don't appreciate them as much.
I'm very okay with all those times I've "failed" – and, wow, I really have. I've messed up. I've procrastinated and missed opportunities. I've been rejected more times than I can count, and I've asked myself what giving up entirely might look like several times. I've been on the receiving end of praise in workshops or wherever and made the mistake of letting it excite me thinking I was about to be given a golden ticket – only to realize later that it never meant anything and that it really doesn't happen that way. There have been people who haven't known how to take me or quite what to do with me because I'm a paradoxical person with a happy and goofy nature but a kinda scary vibe (I play a great psycho). I've also been cast in projects that have either fallen through or absolutely failed…and it took me an eternity to find my perfect match in my manager, Matilda. But I'm still standing and I'm far more informed and thankful than I would be had anything come easily, and I'm not just saying that.
Now, at 35, I'm through the tumult and I know exactly what I want, what I'm actually capable of and what I'm not, and I'm the most happy and at peace I've ever been. The wonderful moments are becoming more and more frequent, and every little win brings tears to my eyes, I'm that grateful for it.
Thanks – so what else should our readers know about your work and what you're currently focused on?
I've always been and will always be an actor, but I'm most proud of where I'm at currently as a writer and newly minted producer. I wrote a short screenplay at the end of 2019 called 'After This' about a terminally-ill woman named Annie who retreats to the mountains with her partner and their dog to end her life on her own terms. Above all else, it's a love story and it's full of joy, but it examines the heartbreaking complexities and consequences of illness, loss, grief, and choice. It asks some difficult questions about what makes for a life worth living.
I'd just started putting a team together to make it when the pandemic struck, but in the time since it's taken on a new life. The script itself is still completing a festival circuit in screenplay categories, but so far in 2021 it has won 18 awards in Best Screenwriting, Best Drama Screenplay, Best Screenplay and Best Short Script, with additional nominations and finalist placements. I'd hoped the story would touch other people's hearts as much as it broke mine to write it (I really put myself through the emotional wringer), but the support it's received has been beyond my wildest expectations. I'm so moved and thankful. It almost feels like it's happening to someone else.
Film Independent has partnered with us as our fiscal sponsor now, and my incredible team (including director Lizzie Germann and DP Laura Jansen) and I are well underway with pre-production. We're filming it in October, finances pending, and Johnny Ferro will be playing the Liam to my Annie. This project has really set my heart on fire, and I'm so excited about it. I'm working my butt off to raise the funds – every spare moment I get is spent writing to strangers hoping they'll be willing to chip in a few bucks. You know how it goes. Readers, if you'd like to help, please click the link below! We'll thank you in the credits, of course, and you'll be among the first few people to see the film upon its completion.
I'm also excited about a series I've created and written called 'Barren'. It's about a woman diagnosed with a genetic mutation who is facing life-changing and potentially life-saving surgeries. As she's navigating her way through identity challenges with her close friends, she meets a surprising new love interest – a sizzling transgender man who can relate to her very uniquely. It's diverse, inclusive, unapologetic and confronting, as well as being bright and bold and funny. It's received some really positive coverage so far and I'm looking forward to getting it on its feet.
Women are really taking a firm hold of the reins in the industry now, and I've made a conscious decision to be a female filmmaker who predominantly collaborates with other filmmakers who are women or otherwise underrepresented, telling stories that matter to us. I'm so lucky to be working with the people I'm currently working with. It feels natural, easy, enjoyable, unproblematic, and truly rewarding.
What would you say have been one of the most important lessons you've learned?
I've learned three great lessons. The first I learned young, and it came from one of my formative and most influential mentors, Tom McSweeney. It's simple: "Don't be an asshole."
The second I learned myself, the hard way, and that's not to let anyone sexualize you, either in the industry or in your personal life, beyond a point with which you are comfortable and in control. You are not an object, and you do not exist to provide or be validated by someone else's arousal.
The third and most recent I learned from my close friend, writing mentor and, quite frankly, my absolute idol Samantha Strauss. She told me that I don't have to take every note – just the ones I like. I think that's a really important lesson for every writer to learn. Notes can be really useful and the right ones can absolutely strengthen your work, but the wrong ones will ruin it. Your magic is your magic, and your vision is your vision…and when you instinctively know that something is important and is working, stick to your vision like the whole project depends on it – because it does.
Contact Info:

Image Credits
Nogen Beck, Eric Michael Roy, Seshanka Samarajiwa, Freddy Duarte, Greg McDonald, Roberto Correa, Sarah Walker, Marianne Williams
Suggest a Story:
 VoyageLA is built on recommendations from the community; it's how we uncover hidden gems, so if you or someone you know deserves recognition please let us know 
here.