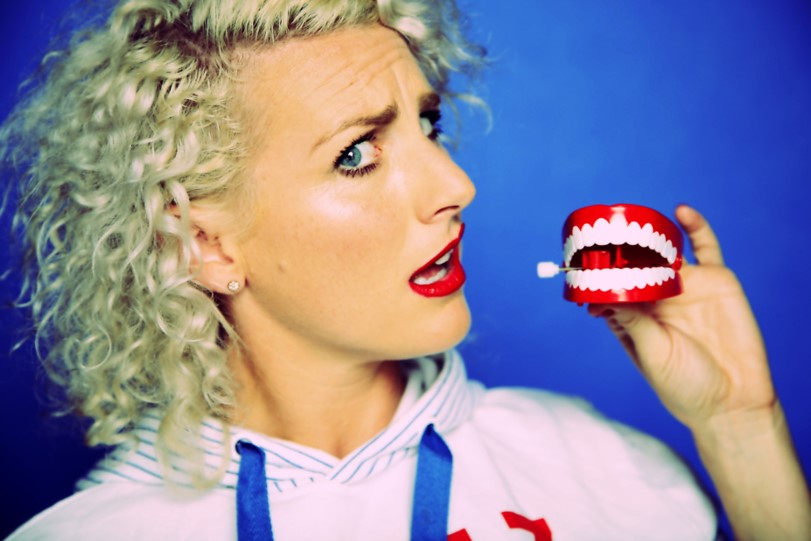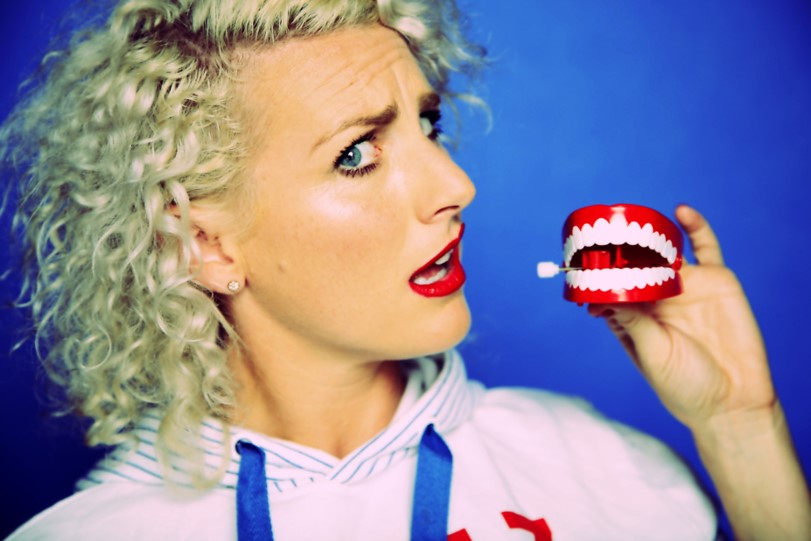 Today we'd like to introduce you to Kaitlin Mamie.
Thanks for sharing your story with us Kaitlin. So, let's start at the beginning, and we can move on from there.
My journey as a comedian started when I was about ten years old quoting entire scenes from The Lion King to my family-whether they liked it or not (usually not). I grew up in the small Canadian town of Pembroke, Ontario wanting to be in movies so badly. I wanted to be an actress. Unfortunately, the only acting in Pembroke was the local town musicals, and my singing was about as good as someone who just got punched in the throat.
So when it was time to apply for colleges I applied to all the acting schools in Canada that I could. Ironically when it came time to audition- all my audition materials were from Saturday Night Live. I did Will Ferrell's 'Get Off The Shed,' Molly Shannon's 'Don't Get Me Started' bad stand up character, and Chris Kattan's 'Mango.' Can you believe it? I didn't get in ANYWHERE. Apparently, they wanted Shakespeare or some s&*%.
So I started University for general arts and science. I knew I wanted to be in Toronto because it's the place where the film and television industry was in Canada. A few months into my program I was sitting in Drama theory class while my wacky teacher was pointing to the projector screen with a laser pointer she had made from a goat leg (no joke)…
At that moment, I realized I was not where I wanted to be in life. I started researching college programs and stumbled on a comedy program at Humber College. The board of directors included Eugene Levy, Catherine O'Hara, Joe Flaherty, Martin Short… all names that I had grown up with. At that moment a light bulb went off. I can be a goof as a career??!!!
A few months later, I auditioned for the program- this time my material was much more well received, and I got in! Two weeks in I knew I had found exactly what I wanted to do with my life. I was a comedian. Of course, life as a comedian is not an easy one. You pretty much suck for a long time. You have to get onstage and fail… a LOT. So how do you get onstage if nobody knows you and you're not very good yet? I started a comedy show.
A show that at one point ended up being one of the best rooms in the city. It was called Woopsies Laugh Lounge. It was a Monday night show- for $5 you got a shot, cheap beer, and free food at intermission. I attribute this show to how I got better at comedy. Every two weeks my sketch troupe wrote 25 minutes of brand new material no matter what.
Some shows killed, and some shows bombed. We would always headline. I think If I knew what I know now about comedy I probably wouldn't have had us headline.  The strongest act usually goes last and we were certainly not consistent yet. But I think being naive was my best asset when I was starting comedy. I didn't really care so much if I sucked- I was willing to try anything because it was all so new and fun. I spent about six years doing comedy in Toronto with my sketch troupe Cheap Smokes.
We started to become one of the best troupes in the city. Then one night we had a show at The Rivoli, and by a stroke of luck, Charlie Day (Its Always Sunny in Philadelphia) was at our show. In LA things like that happen but let me tell you in Toronto… that doesn't happen. We were doing 40 minutes of brand new material, and we were crapping our pants knowing he was in the audience.
Long story short the show went well, and Charlie was kind enough to stay and drink beers with us after. He sat down with us and told us we were really funny and that we should consider moving to LA. After that night we made a plan, and a year later we packed up my two-door Honda Civic and drove out to LA. Once again being completely naive to what awaited us.
Overall, has it been relatively smooth? If not, what were some of the struggles along the way?
Oh, man so smooth… I became famous after my second set ever! Kidding–this job has the most rejection of any job I can think of.
Moving to LA was for sure one of the biggest challenges of my life. I moved out to LA with no friends, no family, and no home! The obstacles I've had to overcome are comical. When I first moved out to LA immediately the Airbnb I was supposed to stay at ended up falling through, and I was sleeping in my car for a week. I was also on a really restrictive visa, so I couldn't work, AND I also couldn't do film and television. Perfect for surviving in LA! What the hell was I thinking? I wasn't really. Again… very naive.
I've always been very good with managing my money. I've always had a job and always had savings. All that went out the window moving to LA. I was barely surviving doing any and every gig I could find. I've had about twenty jobs living in this city trying to make money. I worked for a parasailing company for one day on Venice boardwalk next to the guys selling you CD's (they were much better salesmen than me).
I was a mascot, I handed out flyers for comedy clubs, I taught Phys-ed to preschoolers, worked in cafes and restaurants, and most of all I did a lot of babysitting. I have a series on Instagram called "33-year-old babysitter" that is both funny and slightly sad. I remember one kid, in particular, asking me "Kaitlin, did you always want to be a babysitter when you grew up?"To which I responded, "Shut up and eat your microwaved pizza I cooked you."
Oh and the apartments. Every comedian knows about living in ridiculous living situations to save on money. My best friend and I made a two bedroom apartment into a three bedroom by making a "fort" in the living room AKA. a hanging curtain from the ceiling. We also shared a one bedroom apartment for four years which made taking guys home super easy and NOT awkward at all.
About four years ago, my Dad passed away back in Canada and being away from home was definitely the hardest thing I've ever gone through. My whole life was put on pause for about a year dealing with his illness flying back and forth. After he passed away, I felt very lost in myself for a long time. I had to figure myself out in this new world without my Dad in it. That was hard. But here I am, six years after moving to LA and I'm still here! Going through all these obstacles teaches you how strong you are and how much you love doing what you're doing. Because truly, most people would have cut and run by now.
At this point, if I haven't quit after all that's happened- I never will. And a lot of this job is about who lasts the longest. Well, I'm still here, and I'm in the best place I've ever been. I feel like I'm the personification of that Kitty in the poster where it says "Hang in there Kitty."
We'd love to hear more about what you do.
I do sketch comedy and character comedy. I grew up watching Saturday Night Live, Kids in the Hall, and SCTV, so characters were always what made me laugh the most. I always played a lot of sports so working together as a team and succeeding as a group made every win that much more meaningful because you got to share it with other people. I was in a sketch comedy group called "Cheap Smokes" for about ten years.
We were known for our over the top characters, physical comedy, and sophomoric sense of humor. One of the things we did to get more stage time in LA was to do sketch comedy on stand up shows. This was a big adjustment we had to make. We had to get rid of all the frills of sketch comedy in order to make it work. No props, minimal costumes, no tech, just a bare stage with me and my comedy partner.
It ended up working really well for us because it helped break up the format of a stand-up show. It was something totally different. We found that a great ice breaker transitioning from stand up to sketch was involving the audience. So almost every show of ours there would always be one or two poor souls that we would bring onstage and torture for about six minutes.
We got a big break a few years ago getting discovered by the Canadian hit TV show The Trailer Park Boys. Their PR person found our YouTube channel. They were looking for females that had the same vibe as Trailer Park Boys, and they found it! Getting the phone call that we had been specially written into season 10 of The Trailer Park Boys was probably the best phone call I've ever gotten. We jumped up and down at a gas station for about ten minutes.
In this industry, its all about preparing yourself for when those opportunities come to you. You spend years and years training so when you get that one opportunity you are ready for it, and you can knock it out of the park. That's what happened with TPB. We did a great job on set, and because of that, we were hired on to make an online sketch comedy series for their channel Swearnet. And from THAT I started working with them on a TV series that I had written.
In the last year, I've transitioned into doing character stand up. I'm known to be extremely high energy, incredibly physical, and shameless. I've been compared to Molly Shannon a lot who is pretty much my hero. When I'm not onstage, I make a lot of online videos on Instagram and YouTube because its another outlet I can use to get my material out there. My motto throughout my career has always been "If you work hard and you're kind, good things will happen."
If you had to go back in time and start over, would you have done anything differently?
I mean, if I had done anything differently I may not be where I am today so no. I'm in such a great place in my life and my career that I wouldn't want to change that. But… MAYYYBEEEE I would have made sure I had better visa paperwork before coming out to LA. That made my life much more difficult than it needed to be for four years. But life is like that, you learn more through your mistakes than you do through your successes. Dammit.
Contact Info:
Image Credit:
Gregory Adam Wallace
Getting in touch: VoyageLA is built on recommendations from the community; it's how we uncover hidden gems, so if you know someone who deserves recognition please let us know here.