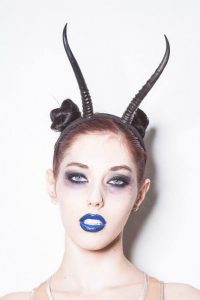 Today we'd like to introduce you to Kaitland Axelrood.
Kaitland, can you briefly walk us through your story – how you started and how you got to where you are today.
I had been making jewelry as a hobby for a long time, probably because my mom has been making jewelry my whole life. But it wasn't until my dad, Bryan, passed away that I started working with bones, human teeth and more "obscure" or "morbid" materials. I started my Etsy shop, determined to make this into more than just a hobby.
In the beginning, I focused on making jewelry and selling it quite cheap to get my name and image out there. Then I shifted focus to building a strong and dedicated social media following, which at this point in time is at over 80 thousand followers on Instagram. I spent much of my days making jewelry and "playing the social media game". It took off much faster than I expected once I built my social media following. I was worried my art would be too "weird" or "out there" for any bigger success. Orders started pouring in. I quickly realized that it was time to develop the business and make higher quality and more intricate pieces that would give my company the financial boost it needed to grow further.
As I was running my business in my bedroom, at my mom's house. After it started taking off she expressed concern with the constant smell of drilling human teeth. So as the business clearly didn't stop growing, I looked into and purchased a house with a studio. In order to run my business as efficiently as possible and spare my mother. At this date, Purgatory Playthings is sold through consignment at stores in Los Angeles, in person by Kaitland Axelrood at events like "The Oddities Flea Market" at the Globe Theatre. And with more than 6'000 sales on the Etsy store, the company became a lot more successful than I was expecting. My Rat Paw taxidermy earrings were also recently featured in two episodes of Marvel's "Runaways" tv-series which airs on Hulu.
Overall, has it been relatively smooth? If not, what were some of the struggles along the way?
In the beginning, the biggest issue was to find suppliers. It's not as easy as you may think to find suppliers of animal bones and taxidermy. And human teeth and remains are a completely different beast in terms of moral and proper supply chain. Another challenge was learning how to work with these materials. What can you drill? How can you shape it and mold it into the vision you have for your art? This took a lot of trial and error, which taught me more than I expected. The growing of social media was hard in the beginning and still is. My Following is strong, and within my scene (the Goth scene mainly) I am well known and my pieces are highly liked and respected. But to the mainstream eye, it is commonly viewed as "weird" or "too morbid". There have been several articles written describing my work just as such.
Buzzfeed, for example, did a feature of "Weirdest things you can buy on Etsy" featuring my Human Molar Rings. Which received a lot of positive praise. But recently, the Daily Mail wrote an article on their Snapchat featuring a woman's Facebook post with one of my rings, being her engagement ring. While the Facebook post and article mentioned a lot of negativity and dislike for the ring, when I looked into it myself I found a lot of comments of praise and interest. People were surprised at how delicate and beautiful it was.
Please tell us about Purgatory Playthings.
Purgatory Playthings is a, mainly, jewelry focused brand oriented around the joining of morbidity and death with real stones and precious metals, joined together using delicate and skillful techniques. My "claim to fame", so to speak, would have to be my Crystal Cavity Human Tooth Rings. These are rings made with real human molars that have been cleaned and drilled, making a cavity which holds a gemstone of the customers choosing. Second only to that would be my Rat Paw earrings, which wear a complete gold or silver "manicure" and a gemstone ring. These two items were definitely what peaked the interest of my followers as I was starting to grow the social media of Purgatory Playthings. Another thing that quickly got people's attention is that all my items are shipped in, hand made, wooden coffins. Getting a coffin shaped package in your mail is not only an experience for you but probably also for your mailman. I can only imagine how these packages are received around the world since I ship globally!
I think what sets me apart from my competitors in my field of "Gothic Jewelry" is uniqueness. All my items are handmade by me, there is no factory, and given my background with my mom as a jeweler I think my items have a certain finesse and polish that sets it apart from others. I am proud to be self-taught, not having attended any jeweler school. And I currently do all of my own wirework, casting, soldering and assembly.
What were you like growing up?
I developed my gothic style when I was around 12 years old. The first record I bought was Rob Zombie's "Hellbilly Deluxe" album. As I discovered more music, like the Finnish band "HIM" I fell in love with the goth style and imagery. I was always attracted to the bizarre and weird, something that was very different from my classmates and peers. I always felt accepted by people, but I did have a tough time finding people "like me". As I grew up in Los Angeles, around the sunny beaches and the attitude that comes with that, I gravitated more and more towards the Gothic image and culture. Growing up with my dad working as a Lawyer and my mom a jeweler I had a lot of free time on my own to experience and explore my Gothic lifestyle. Which eventually resulted in Purgatory Playthings and, to this day, my attraction to the dark but beautiful.
Contact Info:
Suggest a story: VoyageLA is built on recommendations from the community; it's how we uncover hidden gems, so if you or someone you know deserves recognition please let us know here.