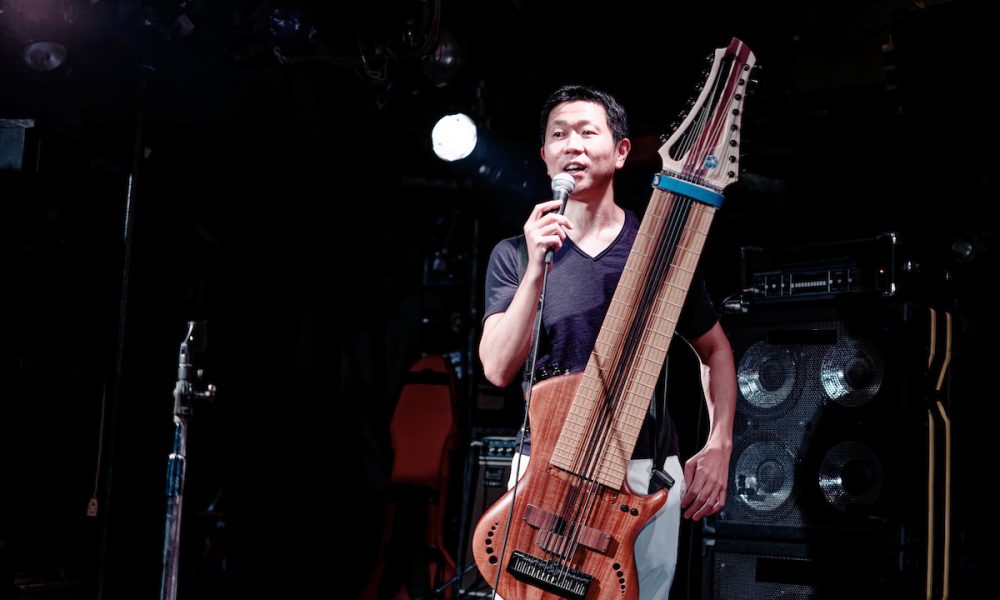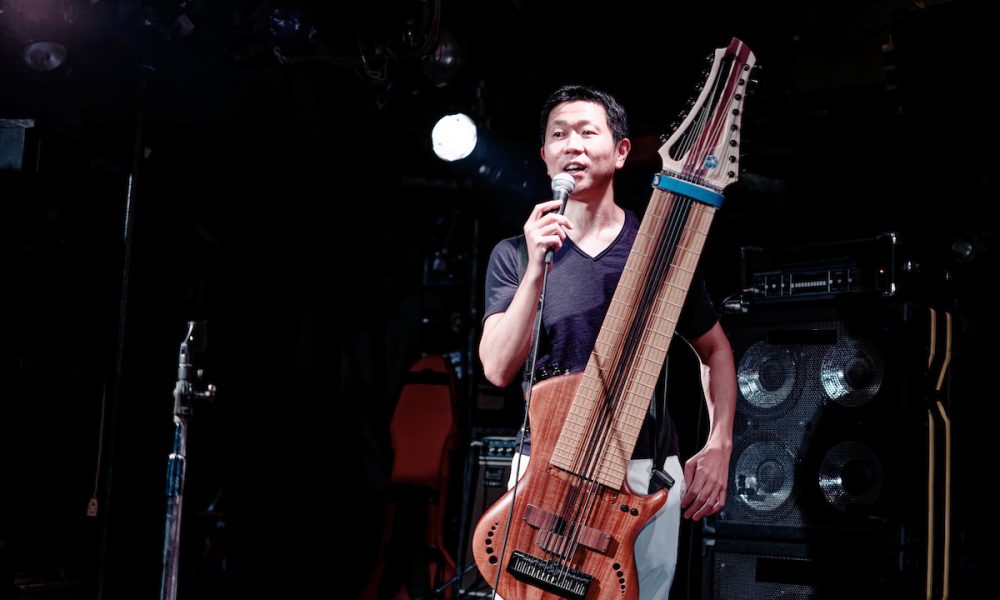 Today we'd like to introduce you to Kai Kurosawa.
Kai, let's start with your story. We'd love to hear how you got started and how the journey has been so far.
I play an unusual instrument. My current one has 15-strings and I can play up to three parts at once such as melody, chord and bass. I am a bass player that can function in a solo setting to an ensemble. (Largest group I played in with my 15string had 14 musicians.) My favorite to play is duo with my drummer and often people comment that we, two people, sound like a full ensemble. Being on stage and playing for people is my favorite thing to do and I been lucky enough to do that professionally for 20 years. I am also passionate about teaching. I've taught clinics at Universities, High Schools, Music Schools, Inner City Programs, etc. in multiple countries.
The first instrument I played was the piano, but I didn't enjoy it much and quite when I was 12. When I was 15, I picked up the electric bass. I didn't know many players then, plus my piano years left me wanting to play not just bass parts but melody and chords as well. Even early on, I develop playing solo bass. I later learned how to play in an ensemble and to this day, prefer playing with people over performing solo.
The instrument I play now was built by Michael Tobias Design, based in Kingston, NY. I worked closely with Michael and Daniel Tobias (father and son) who built it for me. We fondly call it "Kūbo " which means The Aircraft Carrier. The 15 strings are divided into 6strings (guitar-ish) 5strings (bass) 4strings (guitar-ish). They use custom strings made specially for me by La Bella Strings. It is one of a kind instrument and so far there is no plans to build another one. There are similar instruments in the world and a few companies that make 8 strings, 10 strings and 12 strings. The original, the Chapman Stick, was first built in 1969 by Emmet Chapman.
When I first started playing in the style I do now, I did a lot of busking. At the time, I was attending Berklee College of Music in Boston, and rather than practicing in a room all day, decided to play in front of people. I would play about 3 hours a day in the subways and sold CDs. Sometimes people would drop short but kind letters in my hat, which was really nice. I relocated to CA in 2003 to attend CalArts and have called LA home since. I've lived in Sylmar, Culver City, Eagle Rock, NoHo, and been out in Santa Clarita for a few years now.
I was born in Japan but have been living in U.S.A. much longer. In fact, I learned English first and had to learn Japanese later. (I was only 1 when the family moved to St. Louis MO.) I enjoy traveling, but only for work. I am much more of a stay at home guy. I enjoy cooking and would often cook and take my own food even for work. When I travel I will try to book an Airbnb more than a hotel especially if I can stay in the same location for a few days so I can cook. My music has brought me to different parts of U.S.A., Japan, England, France, Belgium, Holland, Czech Republic, Mexico, etc…. I was actually out of the country when LA started being affected by Covid-19. When I got back, I was so surprised with how things had changed over a few weeks.
During this quarantine time, I managed to stay relatively busy. One new thing that I got involved was doing online Ballet Classes. Just 2 of us, the ballet instructor and myself teach online lessons and we have done 19 episodes so far. I've never played for a ballet class until now, and so I had to learn how to play for each lesson and write a bunch of new original music. Plus, I take care of setting up equipment for video/audio and all that kind of stuff. I look forward to being able to travel and play music and teach in front of people in both ensemble and solo settings.
Overall, has it been relatively smooth? If not, what were some of the struggles along the way?
People say I have too many strings. I'm pretty much used to whatever sxxt talk and bad jokes I can get at this point. It is true that most people who own a similar instrument are not very good and the bar is set pretty low, in my opinion. I used to avoid people who played a similar instrument for this reason, until 2008 when I taught my first-week long seminar in Europe. It gave me a chance to meet people and I have many students throughout the world and have become good friends with many of them. It has really helped me grow as a person, and after learning everything I did so far, I can say I am probably the only person who is friendly with all the different groups. Yes, there are indeed groups (for a lack of a better word) depending on the manufacture or builder. Since there is not many people who enjoy and play these instruments, I just want to respect and be friends with as many of them as I can.
I do consider myself lucky to have met many musicians that like how I play and have me for their gigs, rec sessions and tours. All this has been of course from years of practice and struggles from not being accepted just by looking at my instrument.
My parents didn't use to enjoy what I do and that was really hard for me, even though I really didn't think that at the time. The past five years or so has changed that and my parents seem to really enjoy what I do now and that is really amazing feeling to have.
Finding someone to build me an amazing instrument took years. I played other instruments before my current one, but those were not built well and would have been unplayable had I not meet my repair lady Tina in LA. I am a type of guy that thinks because I had all those years of not having a good instrument, but making due with what I had given me many tools to adapt and eventually meeting Michael and Daniel, the people who built my current instrument.
Can you give our readers some background on your music?
I started on piano. I quite piano when I was 12 and tried trumpet, trombone and guitar. When I was 15 I picked up the electric bass and have been playing ever since. Growing up I listened to a lot of classical music as that was my mother's preferred choice of music to play in the house. My dad took me to a handful of classical concerts as well. I attended Berklee College of Music where I studied Jazz and played many studio session in styles of Rock, Pop, R&B etc. I also worked on very complicated rhythms at this time. I relocated to Los Angeles in 2003. I was getting my masters at California Institute of the Arts and at the same time touring with musicians such as Vinny Golia (Jazz) and Collide (Industrial Rock).
Currently I am a freelance musician. I work in regular everyday gigs to studio sessions and teach clinics as well. I am also on tour often, 5-6 months out of the year.
Any shoutouts? Who else deserves credit in this story – who has played a meaningful role?
My parents, they sent me to school and because of them, I am a trained musician that can function in a variety of setting and genres.
If I had to name one person other than my parents, it would have to be my drummer Kegoi, who lives in Japan. Although we live in different countries, we have managed to work at least twice a year for ten years or so now. We tour, teach, write music, and along the way develop trust and laughter.
Contact Info:
Suggest a story: VoyageLA is built on recommendations from the community; it's how we uncover hidden gems, so if you or someone you know deserves recognition please let us know here.