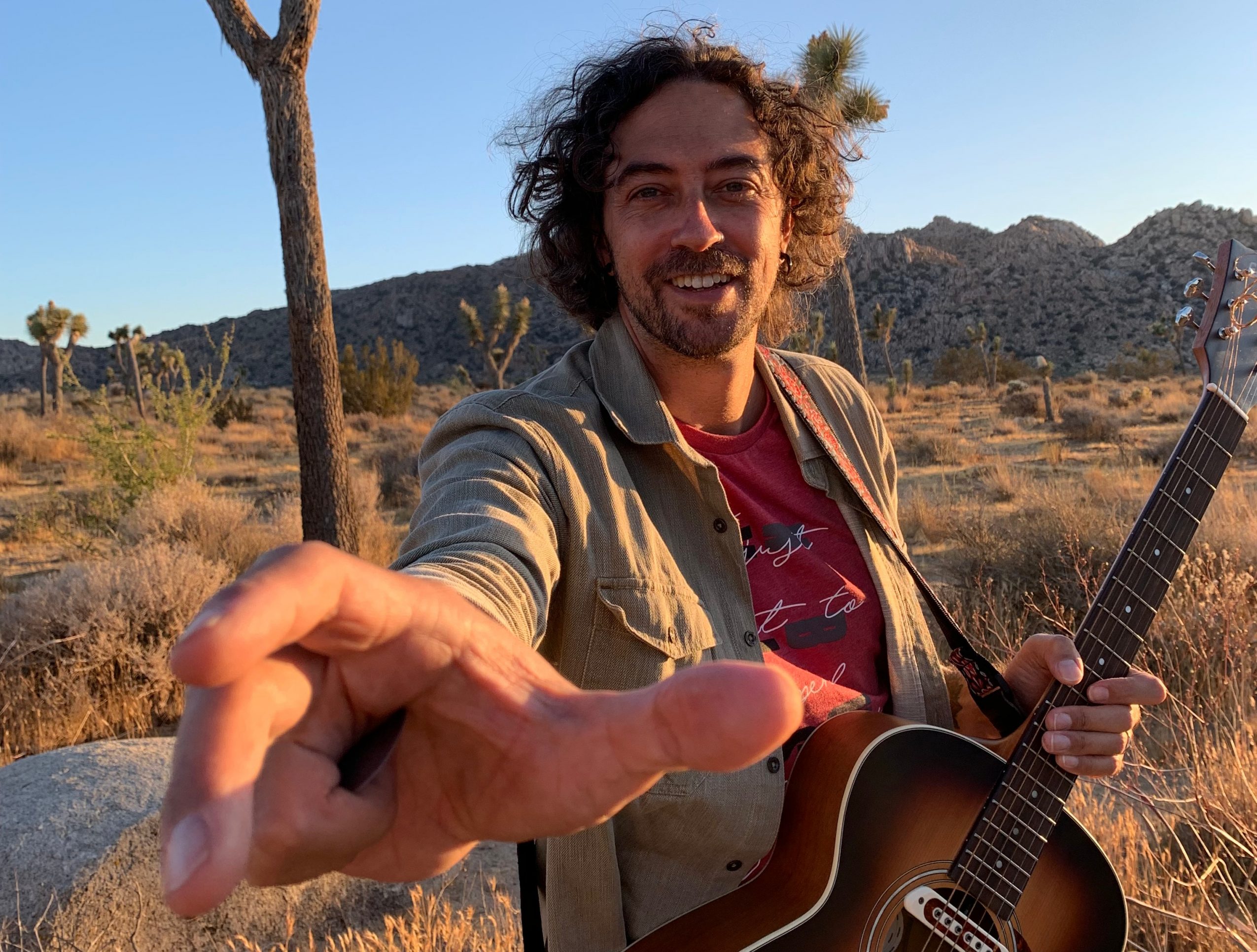 Today we'd like to introduce you to Justin Werner.
Justin, can you briefly walk us through your story – how you started and how you got to where you are today.
I started in the subways of Boston with my older brother Tommy when I was 15 years old. I was a freshman in high school, so I would visit my brother every weekend and we would get on the blue line at around 8am Saturday and Sunday morning to perform at State Street or Aquarium Stations depending on which was available. We stayed until around 8pm and never left the spot unless one of us had to use a restroom or get food. One of us would stay and the other would make the run. While other kids my age were playing sports or doing other extracurricular activities, I stayed dedicated to the subway and music.
After I graduated from high school, Tommy and I went on the road and ended up in San Diego performing on sidewalks, boardwalks and coffee shops. We called our duo Sparin' Change and released and album "Sitting Pretty with Mr Paradise". We even got a little attention from Channel 8 News, KUSI, SD Reader and AM 1000. Ken Leighton/Treadway covered our story. Two brothers living the vagabond lifestyle with hopes and dreams of one day breaking through the iron curtain of the music industry.
https://www.youtube.com/watch?v=LJO5VQKP01s&t=5s (Channel 8 Story with Pat Gaffy)
After I turned 21 years old my brother and I decided to return to MA. Before going back after two years gone, I decided to go on a three months hitchhiking expedition up the west coast. SD to Oregon. I went back to New England but quickly ended up coming back to CA to stay. I started working for the SD Unified School District as a SEA and taking a side job at an organic food co op while I networked and created a project with my good friend Pauli Kipling. We called the project 3rd Borough and eventually acquired a musical partnership with Mark Boyce of G Love & Special Sauce. Mark joined the band and we were ecstatic. 3B released its 1st album (self-titled) in 2009 which featured G Love, Chali 2na and a slew of other well-known names. Progress was being made yet momentum slowed and we put the project on hold for a few years to pursue solo endeavors.
I made a connection in the film industry and landed a few songs. The most notable film was one starring and produced by Sharon Stone titled Running Wild. It was released in 2017 and only played in select theaters. More about this on my website www.justinwernermusic.com
I've been a full-time cover musician for a little over five years now. It's a tough road as a cover artist because you can get lost in cover songs and surrender your identity as an artist, so I make sure to continue writing songs and releasing them. Last year I released my album "Dream Like You Live" and toured it through the UK. I also made number 1 and number 2 on some indie radio charts. It was my first time touring outside of the US and it felt great. Like I was starting a new chapter in my crazy story. I also recently released a single in collaboration with Tugba Kose (Turkish artist) called "Wait Until the Rain". I had the pleasure of performing in Istanbul with her this past September to a full house at a blues bar in Taksim. We filmed an iPhone music vid while I was there which I recently posted on YouTube.
Now, I'm back in the studio with 3rd Borough where we've written and recorded close to 40 songs which we'll rummage through to make an album and singles. We hope to start releasing sometime in 2020.
My perspective has changed a bit over the years and now rather than seeing the music industry as an "iron curtain" I see it as an ever-changing wheel of opportunity to express, share and hopefully inspire others to do the same. There are so many ways to be heard now, and the only way to fail is to not put the work in. All I've ever known is hard work and that's not about to stop. As far as I'm concerned, I've just begun. I love the feeling of completing a project and knowing that it is reaching people on an emotional level. It gives the work real purpose.
I love this gift of music and acknowledge how fortunate I am to be in a place where I can actually pursue my crazy dreams and aspirations. I'm also grateful for publications like yourself who help me put this message across. In the end it's not about what you've acquired. It's about what you've contributed. This does not mean we have to martyr ourselves but it definitely means we need to keep our egos in check and question our intentions.
To those reading this right now, I wish you all the success in doing something you truly love. It might be difficult and even scary at times but never doubt the power of conviction, love and hard work.
We're always bombarded by how great it is to pursue your passion, etc – but we've spoken with enough people to know that it's not always easy. Overall, would you say things have been easy for you?
It's been yin yang. I have had struggles and victories. I've gone 40 years now and still haven't reached the level of success I've always wanted to reach but the small victories along the way are what inspire me to forge onward. I've experienced homelessness but never battled addictions. My journey was a conscious decision to study life almost anthropologically for the sake of experience and being able to relate with people on all levels.
I've lost friends to accidents, drug addiction and murder.
I've been stranded in the Texas desert with my brother where we had to walk 20 miles just to reach resources.
I've been in some deceptive "romantic" relationships that shattered my heart into a million pieces only to end up with the most amazing wife I could ever ask for and am still with her. Zeynep is extremely supportive and loving. I am so fortunate to have her.
I've had musical partnerships that have gone sour as well yet some stuck around and stood the test of time. It was all a part of learning.
My songs come straight from my heart. I've walked roads that a lot of people would be mortified to step foot on. One thing I've never experienced is battling in a war but I come from a family of military and law enforcement. My Grandfather fought in WWII and my late brother Ronny died while in the Marine Corp a month before I was born. My father was a detective near Boston and my Uncle was chief of detectives. They fought enough for one family. I'm carrying on the legacy with my music.
My story is similar to so many but the difference is that I had my guitar and pen with me the whole time to document the experience in my songs.
It's impossible to get it all across in just one song or even one article but if one listens to a few and follows the story a little bit then the picture might start to come together. Music has been my refuge through it all. I love the fact that music exists and I can find relief in it.
I still have all my limbs and senses. I am lucky and grateful. I can't help but believe there was some sort of guiding force through it all. I believe that same force wanted me to write these songs. I believe it still wants me to keep writing and releasing so I do.
We'd love to hear more about your work and what you are currently focused on. What else should we know?
I am a singer-songwriter and cover artist. My style is very diverse and my approach has been very unconventional. As a cover artist, I perform as a one man band with a guitar, harmonica and tambourine under my foot. I put a lot of emphasis on my vocals and take pride in my versatility. My original music does not stay in the same genre. It changes according to how I feel. This helps my lyrics and message stay as authentic as possible. I produced my last album with very little instrumental help. I performed most of the instrumentation myself. Guitars, keys, drums, percussion, back up vocals, bass, etc. I am somewhat of a composer and producer. On top of all this, I get up on a stage and perform different interpretations as a one man band playing several instruments at the same time.
I like to connect with my audience through feelings and emotion. Less talking between songs because I want the songs to speak for themselves… I don't explain my songs so much. I want the audience to create their own meaning for my songs. I also perform cover songs from my heart as if they're mine for the sake of maintaining the same honest tone I put across in my originals.
What were you like growing up?
I spent a lot of time with music and performance. I was recording and overdubbing songs into a karaoke machine at ten years old.
I also spent a lot of time in the theater. I performed in Oliver Twist, Stop The Word I Want To Get Off, George M Cohen, Pippin and The Music Man.
My friends were always the creative type and we would either make music or find some other form of art to experiment with like photography and sketching.
I had an interest in martial arts but never stuck with it as a kid. It wasn't until later on in life that I found Kung Fu and actually made it up the ranks a few levels.
Guitar took over when I turned 11 years old and I became obsessed with music.
Contact Info:
Image Credit:
Zeynep Izmirli Werner
Suggest a story: VoyageLA is built on recommendations from the community; it's how we uncover hidden gems, so if you or someone you know deserves recognition please let us know here.