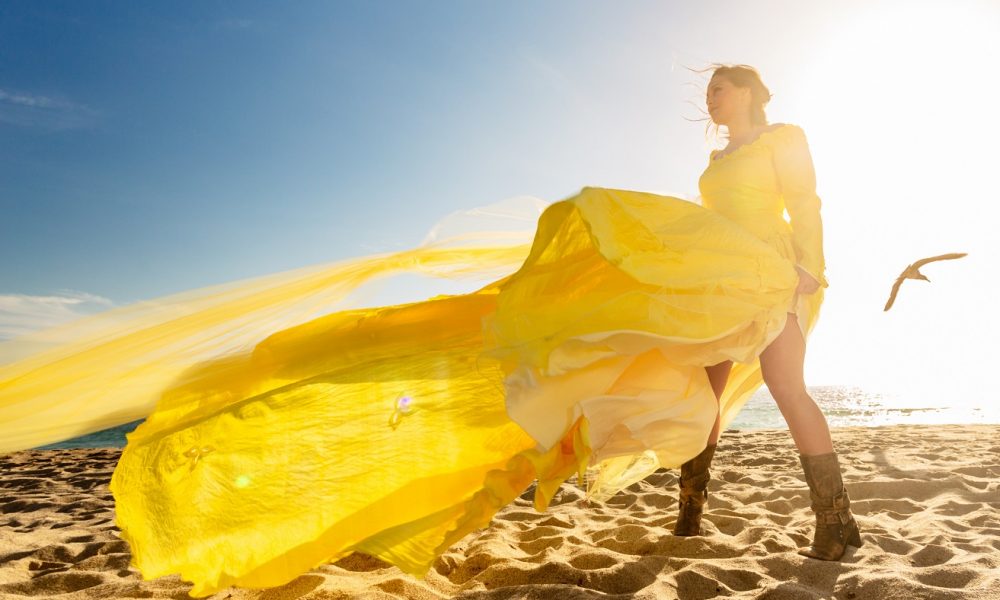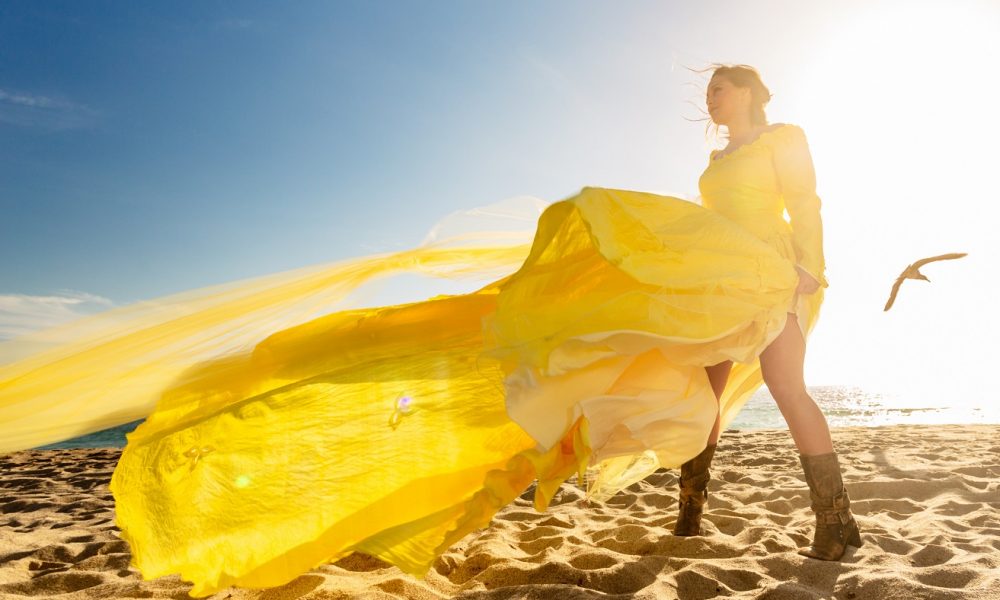 Today we'd like to introduce you to Julie Craig.
Julie, please share your story with us. How did you get to where you are today?
I grew up in a very musical and artistic family on both sides so it's been in my bones from the beginning. My maternal great grandfather was a multi-hyphenate actor/writer/composer and my grandmother taught me piano and exposed me to classical music through her love of Pavarotti. On my dad's side, everyone played instruments and we'd jam together, especially at Christmas singing holiday tunes all day with songbooks, jingle bells, and harmonies. It was an incredible tradition I'll never forget.
My hometown of Erie, Pennsylvania was also an integral part of my story. It is quite a hidden gem when it comes to the arts. Starting at age three in dance class, I never stopped performing and did over 60 musicals growing up. I feel very lucky that I had such great teachers, mentors, and opportunities to grow as an artist. I definitely don't take that for granted. Around age 12, I began studying with a voice teacher who had the foresight to start with classical music. This was the point of no return for me. She gave me an aria to learn, and it felt like I discovered a superpower. I LOVED singing classical music and that became a very important source of confidence for me as a young kid.
I decided to take the big leap of faith and go after my dream to pursue music and acting professionally. So I moved to New York City to attend NYU's Tisch School of the Arts. My professional career then took off. Highlights include operettas at New York City Center with the NY Gilbert & Sullivan Players, "The Fantasticks" Off-Broadway (also performed on ABC's Good Morning America), "Bye Bye Birdie" at City Center Encores directed by Tony Award winner Jerry Zaks, and "The Apple Tree" with Kristin Chenoweth at City Center Encores. I originated the role of Tanya in "The Black Monk", which made its world premiere Off-Broadway and released an original cast recording in 2019. Other standouts include playing Maria on the world tour of "West Side Story" as well as Cosette in "Les Miserables" (for which I received a Barrymore Award nomination).
Throughout the ups and downs of my career, I was very much connected to my family. In particular, my grandmother's faith in me was at the core of my strength when things got challenging. She was one of the fiercest and most loving people I've ever known. She taught me to take things "one day at a time." As time went by, her eyesight prevented her from being able to play piano, so she would listen to classical music instead. I began making her CDs of my voice, ripping the audio from online bootleg videos of my performances, or I'd record songs on my voice recorder. They were very amateur and not the best sound quality, but she loved them, and it brought me so much joy to give music back to her.
At a certain point, Broadway took a sharp turn in style from traditional to pop/rock. It seemed like my classically-trained voice didn't have much of an audience anymore. I had begun to do a bit of television, so I made the decision to jump coasts to LA. After booking several TV credits such as a recurring role on "Murder In The First", plus starring in independent films that went to festivals like Cannes, FrightFest, and HollyShorts, including a short I co-wrote/produced called "Chance of Showers" that went to festivals in 2019… things were going well, but I missed singing. My career didn't feel like it was mine anymore. I was tired of waiting around for someone else to give me a job while my voice remained tucked away and silent.
Then my grandmother passed away. The ability to give her the gift of music was gone. I wished that I had made a real album for her while she was still here. I felt so far away from my roots. Around this time, I was asked to perform periodically with a great concert series up in Sonoma, CA called "Broadway Under the Stars". Those audiences, plus the passing of my grandmother, and a push from my brother, ignited a spark in me to create something with my voice — an album. Once I committed to the decision to do it, it felt like a runaway train.
I made a budget, an Indiegogo video, put it out there and raised 106% of my budget in 30 days. People came out of nowhere. They were so excited and wanted to help. It was overwhelming! Through the process, I learned so much about myself and reconnected to my voice. I hired a full 46-piece orchestra in Budapest and recorded all vocals at one of the most historic studios in operation, The Village. I'll never forget the day I stepped out of the studio and saw "The Bodyguard" soundtrack record on the wall. I had grown up listening to that over and over… I knew every Whitney riff by heart… and it was recorded there!
All the great singers who had inspired me had recorded there. It felt magically full circle. My producer/orchestrator/composer Daniel Weidlein of BioSoul Music and engineer-to-the-stars Matt Dyson were a dream come true to work with. No egos, we just put in the work and the long hours together. I'm so proud of how well it turned out, and I dedicated it to my grandmother, Jane Lyons. I know she is smiling down and very proud. I felt her with me at every turn while making it.
Overall, has it been relatively smooth? If not, what were some of the struggles along the way?
Oh boy, I didn't know what I was in for when I set out to make an album! It was much much bigger than standing in front of a mic and pressing record. Since I made this independently, without a label, I had to wear a million hats. The process was a constant discovery of questions I didn't have the answers to. The unknown unknowns. How do you raise the money to hire a full orchestra in Budapest? How do you copyright an album? What are ISRC codes? How do you get an album onto Spotify? How do you legally cover a song and pay the royalties?
The first thing I had to get past was the fear. Doing something you've never done before is terrifying! What I've found to be very helpful is focusing on the next small step – basically the "one day at a time" concept (thanks Grandma). Some days the stress of not knowing got to me. For example, I felt like I needed a law degree to figure out the government website to copyright an album! I was scouring internet blogs for days. Eventually, I figured it out but didn't totally believe I did it right until the day the certificate came in the mail.
I knew I wanted to "go big or go home" with this album so I had to find a way to hire a full orchestra. I found the right one in Budapest, but then I needed to find the money. Indiegogo was my answer, but I didn't know how to do a successful Indiegogo campaign! Nor was it easy to ask friends and family for money. I had to get over that mental block. The beauty in the end was that it was motivating. Knowing that all these people showed up for me made me work even harder.
One of the thousands of things I didn't realize about making an album, is when you're listening to mixes, your ears play tricks on you! One day you'll hear one thing, and the next day the opposite. I didn't know much about sound in general and how different speakers bring out different parts of the mix. So I'd be listening to every song on about seven different types of speakers before I could figure out my thoughts on the mix. It was a huge learning curve and I definitely struggled with it since it's not something I had ever done. Up until the very end, I was wavering on decisions to tweak things. There are so many micro-decisions involved. I had to get good at making them.
I also learned that I am very self-critical because when I listen to myself, the only thing I hear is what I want to do better (it made me feel good when I learned that Pavarotti couldn't listen to recordings of himself either)! In a way, this quality has always pushed me to work hard at improving, but it made listening to mixes very difficult. I had to learn to let go and just keep showing up. I also surrounded myself with a team that I trusted completely, so I leaned on them when I got in my head. That first day in the studio was intimidating, but the more I did it, the more I couldn't wait to get back in there. I just had to keep going headfirst into the uncomfortable.
Can you give our readers some background on your music?
The sweet spot of my music is somewhere between opera and pop. People have told me I'm the "female Josh Groban" and I love that comparison because (a) he's incredible and I'm humbly flattered, and (b) because it's true that his style of music is the closest to what I do vocally. People like Sarah Brightman and Andrea Bocelli are also in the category of artists that I aspire to have a career like. My voice feels most similar to them in genre.
I've always been known for the high notes since I've been a coloratura soprano from the very beginning of my vocal training. I feel most comfortable in the higher range of my voice. Another unique quality is, because I'm a trained actor, and vulnerability is truly my favorite place to live, my performances always bring with them a lot of emotion. I am very proud of the way I have seen my performances move people.
And in the recording studio, at some point on every single song, my producer Daniel would ask me what the song meant to me. At that point, I would burst into tears, cry for a while until I could calm down and sing again. It was pretty much a joke by the end, but the tears were real. Every song has great meaning to me and hopefully, you can hear that in the performance. I gave it my entire heart and soul.
If you had to go back in time and start over, would you have done anything differently?
I would have never stopped believing in my value as an artist. It took me a long time to make this album because of that. I would've done it sooner. When I was being asked to sing only pop/rock, outside of my wheelhouse, I started to lose faith that there was value in what I did best. I didn't think I'd sing much anymore when I moved to LA. I kept practicing and kept my chops up, but I didn't think the world wanted to hear my voice. Finding the value in what felt most authentic to me, without the demand for it, was a difficult arc to complete.
When I started believing in what I had to offer, that changed everything. I stopped worrying about what other people wanted me to do, and I felt free. I was able to create the thing that I could uniquely offer the world. And there is nothing more fulfilling than that. No matter what happens with this record, I am proud of what I created, and I know it was part of my purpose. FROM HERE, my debut album, is presently from the bottom of my heart…looking back it is full circle to where I am from, Erie and my family…and looking forward it is a jumping-off point into an industry unknown to me…who knows what could happen, from here.
Pricing:
Contact Info:

Image Credit:
Gerard Sandoval, Ray Mabry, Brian Jenks, Transcendence Theatre Company, Nogen Beck, JL Lopez, Marjorie LeWitt
Suggest a story: VoyageLA is built on recommendations from the community; it's how we uncover hidden gems, so if you or someone you know deserves recognition please let us know here.