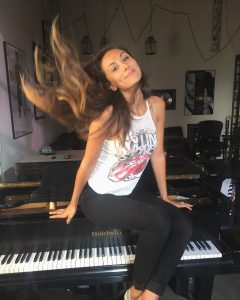 Today we'd like to introduce you to Julia Price.
Hi Julia, can you start by introducing yourself? We'd love to learn more about how you got to where you are today?
Hi, nice to meet you. I'm Julia. Ok so when it comes to some of my musical highlights, here you go: I'm a Good Morning America featured songwriter who was highlighted in the NY Times as a "booming creative." I built my musical online presence and community to over 470,000 followers across multiple platforms (with 93 million loops on Vine). I tour both nationally in the US and internationally; but my all time favorite place to play is The Hotel Cafe in Los Angeles! I'll be releasing my next record at the beginning of 2022 (YAY)!
I started connecting with music in a meaningful way before I could speak in full sentences. As a toddler, my Dad used to take me on long drives to chill me out a bit and he said that I would listen to a song with intense focus, and by the time the second chorus came around, I'd be able to sing the melody and words back in a way that I was unable to mirror others with speaking at that time. Growing up, I always made my way into some sort of musical mischief. Known as the bossy one on my street, I was constantly gathering the other neighborhood kids (and by default, my younger siblings) to join me in musical theater-esque sing-a-longs that I would write, produce, direct, and then eventually perform in front of the parents on the street. You can probably imagine that things often went way off course but I'm sure it provided some sense of comical relief for the adults.
When I was in middle school, my Mom's friend gifted us a piano that had been sitting in her house unused. I fell in love at first sight and sat in front of those keys for hours, teaching myself how to play by ear. I wrote my first pop song around the age of sixteen but unlike my earlier carefree days of singing confidently like no one was listening, I felt a new vulnerability once I started writing deeper lyrics that portrayed how I was feeling as I was figuring out who I was as a teenager. The first time I played an original song in front of someone close to me, their response was not only lack-luster, but it was a "maybe this isn't your thing" type of comment that stayed with me for a while. It wasn't until my first boyfriend was finally able to encourage me to play something in front of him a year or so later that I felt like giving the songwriting things a try again. When I finished playing a song I had written for him, I turned to face him and saw tears streaming down his face. He said that for the first time, he truly felt like he saw me and with that massive boost of encouragement, I felt the itch to see what this songwriting thing had in store for me. That being said, I also really wanted to be a journalist so I went to college for broadcast journalism in Miami. I spent my off time hanging out with other musicians and artists, bribing the musical school's practice room security guards with chocolate in order to let me not only chill there but to use the gorgeous grand pianos as well. That's where I really started to learn how to play with others, how to share my songs for feedback, and how to immerse myself in the sweet sounds of some of the best jazz musicians jamming with each other while I listened in pure joy.
As much as I loved those years, I was studying in the school's communication program so once I graduated, I started my first job in NYC as the green room coordinator at Good Morning America. I quickly fell in lust with the fast pace of live television and met so many of my musical idols who were guests on the show. Several years passed before one of my former college music friends reached out and asked me to open for him at his show in NYC at the legendary venue where Lady Gaga got her start: The Bitter End. I was hesitant and quite frankly, nervous AF, but the thought of opening for a musician on his tour was too exciting to pass up, so I started brushing up on the songs I had written years back. As soon as I sat down at the piano and felt the warm lights on my face, the world slowed down and I knew: this is what I wanted to do. After that night, I started playing around NYC as often as I could, inviting everyone I knew to my shows, including some of my colleagues from GMA. One morning following a gig the night before, one of the crew guys walked by the lead anchor's office while I was showing him some show notes and yelled, "Hey Julia, great show last night!" The anchor asked what he meant and upon hearing that I was a songwriter, he asked to hear some of my music. After listening to my songs online, he showed my music to several producers and the next things I knew, I was standing on the very same GMA stage where I had escorted so many of my musical idols on to do the same, only this time I was there as an artist. With that show appearance in the books, suddenly I had pressed for the first time so I decided that going for the whole music thing was a now or never type of moment that I should probably seize.
I Googled "how to tour" and started reaching out to venues all around the US to book my first tour, hitting the road several months later with my little sister as my road manager. I completed this circuit several times over the next few years, taking breaks in NYC to waitress and save up money, only to repeat the same cycle over and over again. Then out of nowhere, I got a call from a production company in LA. They were filming a show that was set to air on Bravo and a friend of mine had referred me to the production crew. After several meetings with producers, I found out I got the gig and I left my life in New York City to move across the country to star on a television show as an artist in Los Angeles, California. From there, I started building my social media networks and was one of the earliest content creators to make a big splash on the app formerly known as Vine. This opened the door for me to finally become a full-time artist (through working with brands on social media, song placements, licensing, and live gigs). LA became my home and was where I learned who I was as an artist and creative. I took a short break from music after a car accident in 2018 left me depressed and out of commission from a bad back injury for several years. During that time, I learned a lot about who I am at this stage in life and I'm finally ready to translate those lessons into art. I'm excited to say that I finally feel like myself again, that same kid who just wants to play with other people through the language of music, and I can't wait to share what's next.
Can you talk to us a bit about the challenges and lessons you've learned along the way. Looking back would you say it's been easy or smooth in retrospect?
I think that when you're following a path less traveled, there are always going to be struggles. For artists and entrepreneurs it's like, you could work your whole life for something and there are still no guarantees. So you have to really fall in love with what you're creating, otherwise the goals you achieve will never feel satisfying, and the inevitable lows will feel unbearable. For me, I've been through enough consecutive years of struggle followed by some of the highest highs I'd ever had that I've learned that it's all just part of the journey if you want to follow your dreams. I've had weeks where I lived on one can of Oatmeal because I was so low on money that was just what I had to do. I had to couch surf because I couldn't pay rent for a bit. I had to take a nanny job after I was on a TV show and was recognized by some of the parents each time I picked up the kid, looking at their faces with that "oh wow, she was on TV and now she's a nanny" sort of sympathy look. But then I've also had six-figure years out of nowhere from something I created just sort of…catching on. The highs come and the lows come, you can't get attached to either.
Appreciate you sharing that. What else should we know about what you do?
I'm known for my improvisational moments in live gigs and for getting people on stage to partake in those moments as well. I love asking for different word suggestions from the audience, similar to what you would see at a live improv comedy show and turning them into a song on the spot. It's even more enjoyable when I pull someone up from the crowd and see them let loose and just go with it, playing along with me in a state of pure surrender to that moment.
What matters most to you? Why?
My family and friends matter the most to me on a day to day level, but overall when I think of purpose, I care deeply about choosing a career that can impact people in some small way immediately. There's so much pain in the world. So many struggles. If I can do one small thing to help someone feel validated or seen, like they aren't alone; providing that tiny bit of relief for someone fulfills me to my core. That's why no matter how many ups and downs I experience, I will always get up again and sit in front of that piano, ready to play.
Contact Info:

Image Credits:
TJ – CloudTalk Gabriel Santiago Mindvalley The Shine
Suggest a Story:
 VoyageLA is built on recommendations from the community; it's how we uncover hidden gems, so if you or someone you know deserves recognition please let us know 
here.