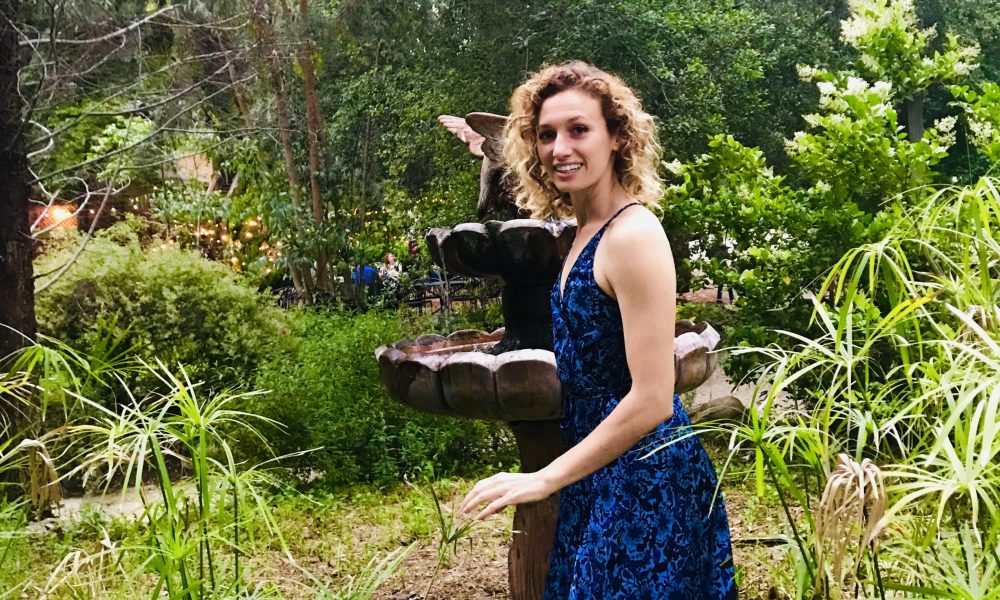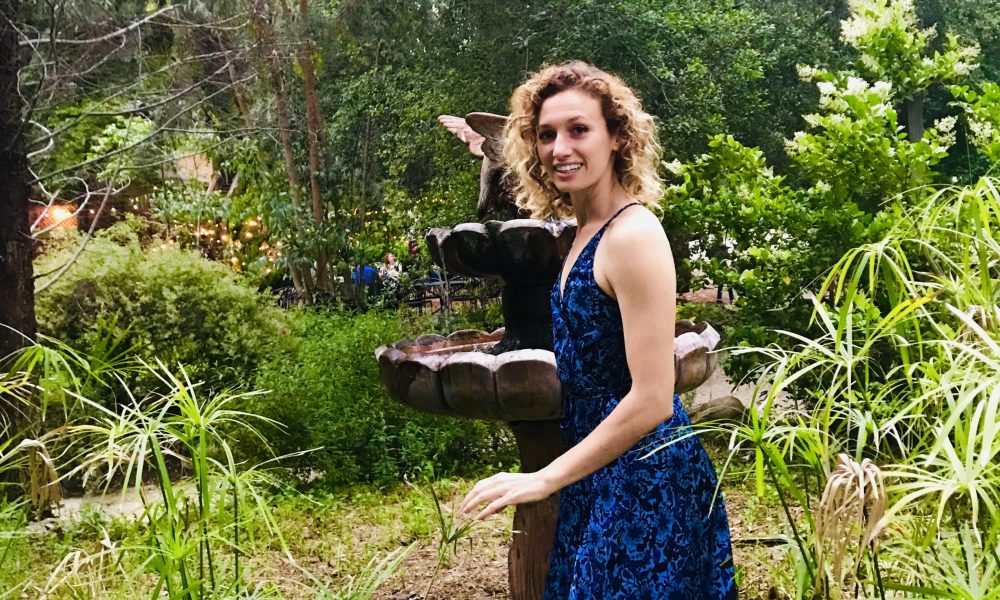 Today we'd like to introduce you to Julia Lisa.
Julia, let's start with your story. We'd love to hear how you got started and how the journey has been so far.
Did you ever play-pretend games when you were a kid? Like after you read "The Boxcar Children" did you pretend you were a homeless orphaned child (as Disney so casually taught us to fantasize about) scavenging the dump to find a mug for you and your friends/siblings? Then you imagined a modest life; living off the land, growing your own food in the garden, and making toys for the babies? Or would you make up games, like "Magical Forest" or "Monkeys" where you would live in the jungle and eat bananas while living in a happy animal society in your treehouse? … No?… Was that just me?… Well, I have always had an active imagination and a love of nature. It is no wonder I chose a life of "playing pretend" (some call it "acting"), and a life of eco-consciousness. Whether I'm playing on stage or with my dogs or creating costumes, or volunteering, my mission is to make the world a better place. What a fun challenge for creativity!
Back in 2012, I watched a documentary, "The Majestic Plastic Bag", on the state of the trash on our planet. It changed my perspective and realized there were no 'grown-ups' looking out for the health of people and the earth, or someone that was in control of the world's greatest issues. It was the first crack in my happy-bubble-of-life (the rest of that bubble popped in 2016…). The film introduced the term "Zero-Waste lifestyle"; The girl in the film held up a small mason jar filled with her trash for a whole year, and I thought, "Wow, that's impossible to achieve!" However, from that day on I started being more mindful of bringing my reusable bags, bottle and coffee cup with me wherever I went. It wasn't until about 2017 that I decided to write and produce a children's musical with sets and props made out of the trash that my world really changed. With the help of writer/composer Daniel Sugimoto and the Zoo Theatre Co, we mounted a sustainable musical about superhero kids trying to save the world with Upcycling.
As an artistic vision, I wanted to make all the sets, props, and costumes out of upcycled trash to demonstrate the deeper message of the show. I created bikes out of water bottles and cans, signs with microplastic shards, and a full mermaid costume out of plastic and wrappers found on the beaches in Los Angeles/Santa Monica. After having my studio apartment full of actual garbage for almost a year while I created and crafted I discovered how psychologically detrimental it was to be surrounded by worthless plastic trash. Even as I crafted and got to do what I love, I felt the weight on me all the time. The thought of the trash was stressful, but the reality, that the trash sits all around us forever, was suffocating.
When the show finally was over, after two separate runs, I was able to clean it out of my apartment. The clarity and joy and peace that spread as a result of getting rid of the trash was radiant. However, I felt extraordinarily guilty, that even though it was out of my house, it was still in the world Having seen enough documentaries and been inspired long enough to make a drastic change, I vowed to significantly reduce my personal waste and inspire others to do the same. I have now been working on my own zero-waste lifestyle and have reduced a huge amount of trash from my life, I take my garbage out maybe every other month. It has brought me so much happiness, peace, confidence and control over my life.
My theory is that the items we surround ourselves with unintentionally create the value of ourselves. When we always get our morning coffee in a paper/plastic to-go cup and toss it out 15 minutes later (then that piece of trash stays on the earth for 500 years) that changes how we feel vs. drinking from our favorite mug and being self-sufficient! What if everything you owned made you feel happy as if you were using your favorite mug?
Has it been a smooth road?
I am battling the natural-urge and life-long dream to have kids and start a family with the awareness of how climate change is making our planet uninhabitable. I feel waves of hopelessness from the seas of raging news stories, but I find, the only way to keep afloat is to sail on positive actions. We may never reach the Zero in 'Zero-Waste' but that is no reason to take zero action!
We'd love to hear more about your work.
Imagine feeling fulfilled and a part of something bigger than yourself. Eco-conscious practices can put you in control of your life, and can positively connect your community. As a sustainability coach, I help companies, non-profits, and individuals make small, but significant changes in their lives to raise their value. People call me their "Eco-Conscience". I help assess individuals' or companies' unique needs and help create an Easy-to-Execute Eco-Plan, and I do hands-on coaching to help make the changes.
If you are interested in a free checklist of ways to make eco-conscious steps in your everyday life and to learn more I'll share a link below. You can also see weekly tips and ideas on Instagram @jules.oftheearth.
Coming up: Dinner Parties! I miss the idea of connecting with people and having genuine conversations. I am organizing dinner parties for small groups of people to share a delicious homemade meal with local ingredients, and have important positive conversations about our community and the world around us. I am trying this idea out with friends and then I would like to open it up to the community.
Let's touch on your thoughts about our city – what do you like the most and least?
Los Angeles has incredible opportunities for a sustainable lifestyle, such as farmers' markets, bulk stores, bike paths, tons of eco-conscious dining options, and so much more! My major dislike is obviously the traffic and pollution, and the lack of useful public transportation. It would be great to get down the 405 on a train!
Contact Info:
Email: juliarlisa@gmail.com
Instagram: @jules.oftheEarth
Suggest a story: VoyageLA is built on recommendations from the community; it's how we uncover hidden gems, so if you or someone you know deserves recognition please let us know here.