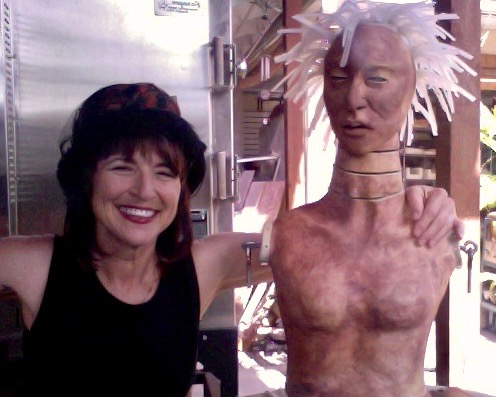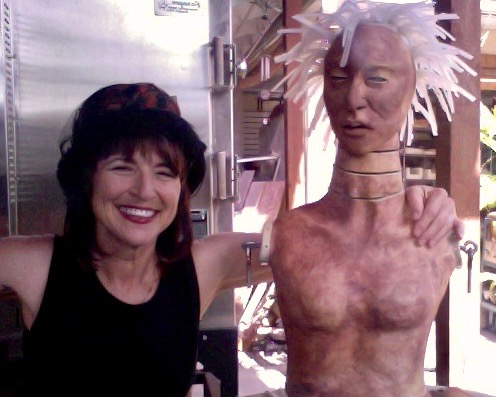 Today we'd like to introduce you to Julia C R Gray.
Every artist has a unique story. Can you briefly walk us through yours?
I was born in Los Angeles in 1960 and raised in Southern California. I discovered art and nature as a very young girl. They were both divine gifts as well as an avenue of escape during my childhood. My family camped regularly with extended family and friends, in the wilder places of Southern California. An especially profound experience happened during an escape from the chaos of cousins and siblings, while camping in the San Gabriel Mountains. I found a bright, fast-moving stream to follow away from the pandemonium into the quiet woods. In the green silence I came upon a deep, still, clear pool surrounded by granite boulders. Nestled in the white sand pool bottom were two large, brilliant red and black salamanders. Though, only 7 years old, I was awestruck by this quiet gift of visual beauty. That feeling of divine beauty has been a quest throughout my life. I pursued its mystery through art and my process of art. I worked with pencils, crayons and watercolors until I was taught by a local artist to work with oil paints at age 13. While taking art classes at Fullerton College, I attended a traveling exhibition of Renaissance artists. Viewing Titian's luminescent oil paintings was another profound experience that influenced my art process. I had the opportunity to paint murals in my teens, which became a prospect for art commissions. During a mural commission at Squaw Valley, Lake Tahoe in 1980, I met my husband (Dana Gray). While raising our three sons, I created murals and painted commissions, until 2000 when I created a series of oil paintings for my first solo show in Solana Beach, CA. Drawing on my connection with divine nature, I created a series of large oils depicting brilliant amphibians and Goddesses. Through new series of paintings my artwork imagery transformed from brilliant amphibians to human figures. These surreal figures in the Garden Goddess series were designed with rainforest frog patterns covering their bodies. The brightly patterned human figures replaced the amphibians in their natural environment. The series of Koi Goddess and Garden Goddess was my deepening in the exploration of Nature's divine mystery. I continued to exhibit and sell oil paintings in galleries and venues throughout California, and other states. When galleries that represented my work began to close due to the recession in 2008, I made the decision to return to College for a Bachelor of Fine Arts degree. San Francisco Art Institute (SFAI) awarded me a portfolio scholarship in 2012 to attend as a full time student. At age 52, it was a transformative experience, as well as an excellent education. Age was both an advantage and disadvantage. Unlike many of the young students, I knew what I wanted from the full time Art School experience. I chose to focus on sculpture, grateful for the good fortune to learn about mediums I had little experience in. SFAI afforded me the opportunity to study art abroad in Argentina, as well as, receive the Davis Projects for Peace Grant (http://www.davisprojectsforpeace.org/projects/projects/node/3631) to do environmental/art work in Bali. After graduating in 2014, I happily moved back home to my husband, in Cardiff by the Sea, California. We built a new ceramic home studio in 2015 so I could professionally embrace sculpture as my artistic medium.
Please tell us about your art.
My new body of work is a culmination of my past oil painting practice, a sunrise seaweed photography ritual, and completion of my BFA (emphasis in sculpture). I fabricate ceramic torsos, built with hand-formed coils or altered slip-casting. Each torso is formed with six separate columns, then altered by carving into and texturing the surface. The layered texture and carved holes give the viewer superficial visual access within the body structure, while a painted narrative is hidden on the inner surfaces of the six columns that make up each torso. The images are informed by historical art, contemporary issues and the ocean. Even if they seem like disparate subjects, these are themes that color my life. It is a personal struggle whether to reveal or hide the images I am compelled to create. The torso columns can be installed very closely, making it an effort for the viewer to see the imagery rendered on the column's inner surfaces or set further apart, revealing the painted images. I repaint (and modify) the figurative paintings of Women Renaissance Artists. I want to bring their artwork into our time, surprisingly I find the images often fit my contemporary narrative. Some of the figures I paint are modeled from family members and self. For the sculpture Dialogues, Body & Sea, I painted from Raymond Elstad's beautiful contemporary nude photos. I also paint from photographs I take of compositions of seaweed tossed at the surf and left like Rorschach images in the sand.
The different processes I use to build each torso satisfies distinct artistic demands I need fulfilled. These demands encompass intellectual pursuits, meditative repetitive techniques, and conscious rendering. Composing the work and the narrative is the most challenging aspect of creating for me. I choose images to initiate a dialogue on contemporary experiences, then layer the imagery with form and texture striving to also capture that allusive divine connection. Sculpting with clay allows me to experience a meditative state through the processes of coiling, carving and texturing. Sculpting in ceramic is an act of relinquishing control to the demands of the medium. There are happy (and sometimes unhappy) accidents that occur with clay that does not happen with painting. I seem to need that uncontrolled element that clay affords as well as the controllable aspect that rendering and painting provides.
Each sculpture takes approximately 3 to 6 months to complete. Building, carving and texturing the clay takes almost equal time to the glazing and painting. When the hand-built greenware torso is bone dry it is bisque-fired to cone 05. Then I use a combination of glazing techniques on each bisque-fired torso column. Three layers of a commercial glossy, red glaze is poured and brushed inside the columns. The inner bright red gloss gives contrast to the textured, matte outer surface and hidden inner surface of each column. I brush or sponge layers of oxides, and some commercial matte glazes to enhance the textured outer surface. This first glaze firing is fired at cone 5. After this firing, I render on the inner hidden surface with figurative images, ocean inspired shapes and abstract lines using glaze pencils, underglazes and oxides. These layered images are glazed and fired multiple times. For the final layer I use oil paint to refine the flesh of the Renaissance inspired figures.
My work directly responds to the surrounding environment and uses everyday experiences, personal and collective as a starting point. With a conceptual approach, I try to embrace a wide scale of subjects in a multi-layered process. We each carry a lifetime of recollection and experience within us, influencing every aspect of our lives, yet hidden away where no one can actually see. I hope the viewer will take time to see more than the outside layered fabrication, beyond the texture and holes and look deeper. Search for the hidden painted surfaces to find a narrative that incites the viewer to make new personal associations, maybe like those once discovered by a 7 year old little girl.
What do you think is the biggest challenge facing artists today?
I think the biggest challenge is for artists who want monetary success from their work. Artists who find a genre that is significant to them and collectors are more likely to be supported by the sales of their artwork. To start and maintain a successful art business an artist needs to have many other skills beyond their artistic talent. The artist not only fabricates their work and maintain their studio, they also need to market their work (navigate web media, etc.), communicate with clients or galleries, deliver their work. They need to keep track of where the work is, if it has sold, how much the work is selling for, etc. Artists also need to do book keeping, just as any small business person.
How or where can people see your work? How can people support your work?
I am in the process of re-emerging with my new body of work. My ceramic sculptures and metal photos have been exhibited in museum and civic venues in group exhibitions. I am researching opportunities for representation of my torsos. Finding those gallerists or art representatives is a valuable effort in support of my work. In the meantime, my sculptures can be viewed on my website and purchased by contacting me through email. I have published a photo book depicting images taken during my daily sunrise beach walk, which can be purchased through Blurb. Purchase photo book: http://www.blurb.com/b/7914026-beach-walk-dialogues. My Beach Walk photos are posted on Instagram and Facebook. Metal prints of these images can be purchased by contacting me.
To view my sculpture Look/Don't Look At Me, please join me at The La Jolla Athenaeum, Music and Arts Library's 27th Annual Juried Exhibition, 1008 Wall Street, La Jolla, CA 92037. The Opening Reception: Friday, August 3, 6:30-8:30 PM, Exhibit runs August 4-September 1, 2018. HTTP://WWW.LJATHENAEUM.ORG/WHATS-COMING
Contact Info:
Image Credit:
Kathleen Kane-Mural, Julia C R Gray
Getting in touch: VoyageLA is built on recommendations from the community; it's how we uncover hidden gems, so if you know someone who deserves recognition please let us know here.