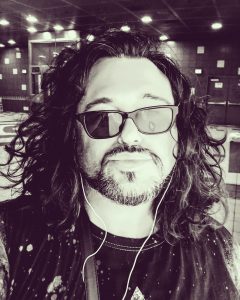 Today we'd like to introduce you to Jules Sanchez.
Jules, can you briefly walk us through your story – how you started and how you got to where you are today.
I was born in the Golden States Capitol City, Sacramento, California. I was a very sick child with a chronic ear nose and throat infections. At age three, my Mother and Father went their separate ways. My Father moved to Pismo Beach, CA.
At age four, my Mother, Sister (age five) and I were involved in a horrible car accident on a Sacramento freeway where my Mom broke 4 ribs, her nose and got the keys jammed into her knee and my sister flew through the windshield, breaking both legs at the femur. I bounced around like a pinball in a pinball machine hitting my head and causing the bones supporting my eardrum to collapse and perforate the eardrum causing hearing loss.
While my Mother and Sister healed, I was moved to live with my Father.
Growing up with my Father was a nightmare, I was always walking on eggshells, he was a brilliant musician, artist/painter but by the time I lived with him, he became a janitor, not pursuing his talents and he took that out on me. By the age of 15, I was removed from my father's home and placed into protective custody after he called the police and told them he was going to kill me, he, in fact, took me out to a strawberry field in Arroyo Grande, CA and tried to run me drown but I ran for my life.
While in protective custody for two months, my father and I began going through court-appointed therapy and we were to have our first unsupervised visit. He never showed up and that is when we found out that in the morning, he had a brain aneurism and that he went in emergency surgery and was placed into a medically induced coma. I became a ward of the court system. My father remained in a coma for six months and when he came out, he could only blink one eye. Six months later, the plug was pulled but before that, I had one last visit where I put my needs aside because I knew this was his final days on this plane of existence so I forgave him and he began to cry. I wanted to make him suffer but I knew the right thing to do at age 16 was to show mercy to the man who gave me life in his time of death.
I was moved back up to Sacramento where I remained a ward of the courts. Living in Stanford Home For children (now called "Youth Solutions") my Mother finally received custody of me six months before my 18th birthday. I owe the performing arts everything because that was my escape from all that was crazy in my life. From school choirs to school band from elementary school through college. I began performing in Sacramento's Best of Broadway and I would call up radio stations and sing happy birthday to the DJs and that's when I began performing on-air jingles for KSFM 102.5 and that was also the time I performed my first National Anthem for the NBA Sacramento KINGS.
Has it been a smooth road?
In 2001, I decided to make my dream a reality. It has been a rollercoaster, that's for sure. I showed up in LA on a greyhound bus, from the Golden States Capitol City, SACRAMENTO with $300 in my pocket and a job lined up with Disney, so I thought… the job fell through and the money ran out with the quickness. I knew not a soul, but FAITH was my best friend. I asked for guidance from G-O-D… and found peace from the pain in a homeless shelter with an organization called P.A.T.H. (People Assisting The Homeless). I was able to stay in the city of Angels and follow my PATH. THANK YOU, GOD!
I began my road to reality by making the top 25 in LA's leg of auditions for the WB's "POPSTARS 2" and also began working background in TV & Film. Working on hit shows such as "Will & Grace", "Just Shoot me", "ER."
After being in LA for mere months, I performed the National Anthem for the NBA Championship LA LAKERS while living in the Homeless Shelter PATH, I appeared on 7 episodes of MTV's "Say what?KARAOKE" and was a Storyteller on MTV's short-lived game show "Who knows the band? All while living in a homeless shelter. by the grace of GOD and hard work, I was able to save some DINERO and move into an apartment. In April of 2002, I was actually the first person in "American Idol" History to receive a GOLDEN TICKET and hear those 4 magic words… "YOUR GOING TO HOLLYWOOD". I ended up making the top 50 the first season, I knew the game and although I was cut because I didn't "LOOK" like an American Idol, I ended up being featured on the show providing one of the shows most memorable scenes, The "FIGHT WITH THE JUDGES". That scene was voted on by the American Idol fans as the best fight with the Judges and was included on the "American Idol Search for a Superstar" DVD Bonus feature, "When Judges Attack" http://www.youtube.com/watch?v=v8M6aqJHiUw. I opened the doors for so many non-traditional looking pop stars the next season Ruben Studdard and Clay Aiken made the top 2 while I was told to lose 100lbs and to work on my image the season before. During American Idol Season 3, I was a featured dancer in 2 American Idol Ford Focus Music Videos with Fantasia Barrino…
Since American Idol season 1, I have been blessed to have worked with Grammy award-winning producers and songwriters -Michael J. Mani (Carlos Santana) Carmen Grillo (Tower of Power) – Orlando Sanchez (Az Yet) – Andreas Carlsson (NSYNC, Backstreet Boys, Brittney Spears, Celine Dion), Bill Champlin (CHICAGO) and Richard J. Rudoloph (Minnie Ripperton, Teena Marie, Boys II Men), Josh Stevens (LMAFO, Rhianna, Eminem). I was then a contestant and won on the History-Making, groundbreaking game show "Street Smarts-The Musical", which was the first syndicated show to film an entire Game as a musical. Later, I would go on to be a contestant and win on UPN's "Dance 360" Hosted by Fredro Starr and this season's Dancing with the Stars Contestant Kel Mitchell…
In 2004/05, I co-starred with 80's TV Star Clifton Davis (AMEN) and Gospel recording artist Shirley Murdock in the National tour, DVD and soundtrack for the Gospel Musical… "Tell Hell I ain't Commin"… in 2006, I finished a mini-tour of the First Hip Hop Gospel Play "Uncle Willys Family" with Master P- Romeo-Silkk the Shocker, I was also featured on "So you think you can dance? season 2" "The Tonight Show with Jay Leno" and the TYRA BANKS TALK SHOW "Paparazzi, Behind the lens", worked on Suge Knights Reality Show "Unfinished Business" sang with the Della Reese Up Church Choir for Debbie Allen's new ABC Pilot called "Grace". I would go on to win 10,0000.00 on Don't Forget The Lyrics.
Between 2009-2011, I was a regular fixture singing the National Anthem for The Los Angeles Dodgers at Dodger Stadium.
I signed to Talent Agent Kurt Clements in 2017 and have booked national commercials for Alaska Airlines, TMobile, Facebook, Telemundo, Coppola Wines, Suntrust Bank to name a few.
This Summer, I opened up for Cardi B at the California Midstate Fair as well as for Mr. Lionel Richie.
Recently, I just wrapped the Broadway Bound LA workshop for "Accidental Joy" a New Musical is written and produced by Marcus Terrell Smith, Robbie McDonald and Ms. Linda Joe at the Montalban Theater in Hollywood.
Currently, I am working on "Glasscock Park" the series and "Awkrd Subjects" the series and I have 2 short films making the festival circuit "NDL" (National Date League) and "Voice".
What do you do, what do you specialize in, what are you known for, etc. What are you most proud of? What sets you apart from others?
I am a survivor of the odds. Growing up in the foster care system, having been through homelessness and not just couch surfing at friends' houses or having a car to live in, I'm always taken aback when I hear celebrities claim homelessness. For instance, George Clooney, Love the guy but Hollywood claims he was homeless …He was living with his aunt… Who was Rosemary Clooney, Living in Beverly Hills. Cmon… I was living amongst the destitute, Drug Addicts, Prostitutes people trying to save their lives better, Some did not survive.
My full circle moment was when I worked on THE SOLOIST starring Jamie Foxx and Robert Downey Jr. and I played Skid Row Homeless and the scene that Director Joe Wright put me in was sleeping in a Porta Potty… before finding PATH, I was kicked out of a youth hostel for lack of payment. I was walking down Sunset Blvd and I almost slept in a Handicap porta-potty but I kept walking and went into a bar on the strip for a glass of water and they were having a karaoke contest. I entered, sang "Bridge over troubled waters" and won a 400.00 prize which I took that money paid for the youth hostel and found PATH.
Let's touch on your thoughts about our city – what do you like the most and least?
The opportunities are endless. If you hustle to find the right network, your dreams can come true.
It's a double-edged sword because as soon as they are done with you and they have no need for you, they will discard and ignore you, that's why it is so important to choose your team wisely.
Contact Info:

Image Credit:
Sage Kirkpatrick, John SooHoo
Suggest a story: VoyageLA is built on recommendations from the community; it's how we uncover hidden gems, so if you or someone you know deserves recognition please let us know here.