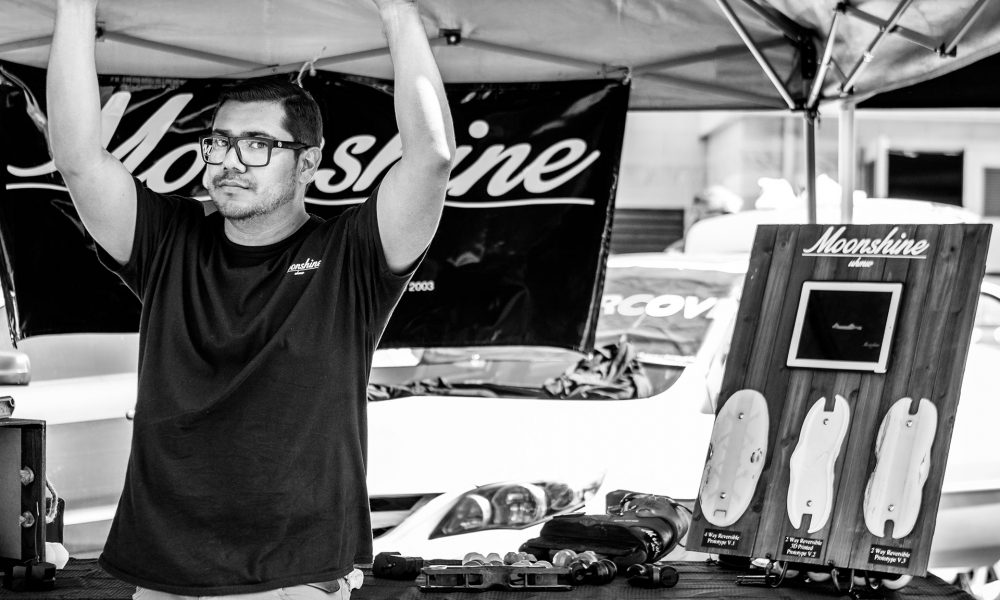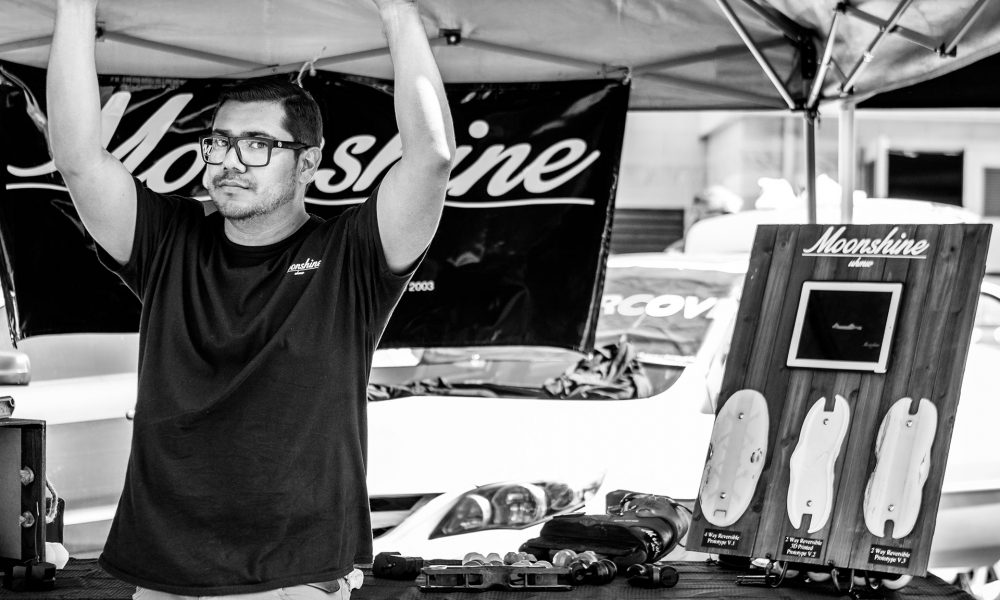 Today we'd like to introduce you to Juan Martinez.
Juan, let's start with your story. We'd love to hear how you got started and how the journey has been so far.
Growing up, I was involved in a lot of traditional competitive sports like baseball and soccer, however I never really felt like it was for me. There were too many restrictions on how and when to do things. I had always wanted to pave my own path in life even before I had known what that meant. In the late '90s when extreme sports were at their peak of popularity in mainstream culture, like any other kid, I rode my bike and my skateboard around with the neighborhood kids. One winter morning my best friend at the time was riding around on a pair of aggressive inline skates and asked if I wanted to try to grind his rail his father had built for him in their front yard. I had rode speed skates in the past and heard about people having the ability to grind on skates but had never actually seen, let alone tried it, in person. Without hesitation, I gave it a go! To my friend's and my own surprise, I pulled it off! It was at that moment I was hooked on rollerblading. It gave me the freedom I was looking for. I was able to skate how I wanted, when I wanted and with whoever I wanted.
A few years later, around 2003, a friend of mine, by the name of Derek Moon, showed up at the skatepark. He was in his 30's with kids that were my age that rode their skateboards while he rollerbladed. I noticed he had something different attached to his skates. When I asked him about it he explained to me that he made these parts out of materials he used as a machinist at work. The material, known as UHMW (Ultra High Molecular Weight Polyethylene), is a slick teflon type material that is extremely wear resistant making it a perfect candidate for grinding parts for rollerblades. The Northern California city where I grew up was filled with gritty unforgiving surfaces which took a toll on our skates. The parts that came with our skates that should last you up to a year of normal wear and tear would be completely deteriorated in months. Replacement parts at the time weren't accessible so this meant once your parts were worn down you had no other choice other than to purchase another pair of $300+ skates or stop skating. At the rate I was going that would mean between 3-4 pairs of skates every year and I would never want to put that type of financial burden on my family. Growing up where I did, you take one of two avenues, you either keep yourself occupied with something positive like rollerblading or you get into trouble like many of my neighborhood friends did including my best friend that had got me into skating. Derek didn't want to see that happen to me or my new group of friends so it was at that moment the idea of Moonshine UHMW was born. Derek took it upon himself to sponsor me and friends. He handcrafted these parts that would allow us to continue skating for years without having to ask our parents to buy us new skates.
Out of pure gratitude, I took it upon myself to do whatever I could to help promote the small company. Mind you, I was 12 or 13 at the time. Not only did I skate to show off the product, but I also learned how to operate a video camera and edit video and this was before digital so I was using a VHS tape mixer after school. From there, I learned to build websites, take professional level photos, I networked and sold products in person and what I think was the most pivotal piece to our success was gorilla online marketing before it was even a thing. I was on online chatrooms and forums spreading awareness of our brand that would later evolve into early adaptions to platforms like MySpace, Facebook, and Instagram.
Around 2010, my girlfriend and myself were given the opportunity to move from our dead-end small town to LA county to pursue our education. Meanwhile, in the back of my mind, all I'm thinking about is having the opportunity to skate more, which I definitely did. Not only did my skating skills improve over this period but a light switch went off and I started to find myself. Instead of going to school and learning because that's what people expect of you, I started to look at it as going to school to learn things that will specifically benefit your passion which for me was skating. I took business classes, video and photo classes, graphic design, literally anything that could help me make Moonshine a success. It didn't stop there though. School was still set up very similarly to those traditional sports I had grown up not enjoying how structured they were. This was around the time when youtube had just started blowing up. When I wasn't at school, working, or skating I was on youtube learning anything and everything. I would come into class already knowing how to perform the tasks being taught of us. Which meant I was able to finish projects early, leave early and either skate or go on youtube and learn more. Even though I'm out of school, I continue to do this even to this day. I've been fixated on engineering lately. I've learned how to draw and 3d model skate parts that I can now program and make myself on my 3d printer or CNC machine. Something that would have taken years to learn under a structured traditional school curriculum.
Today I run the business alongside my good friend Derek, always expanding our product offerings while maintaining our mission statement of providing a cost-efficient, durable product to keep kids on skates and off the streets.
Overall, has it been relatively smooth? If not, what were some of the struggles along the way?
There definitely was and will always be struggles along the way. Neither Derek or myself knew anything about starting and running a business in 2003. Being so young at the time, it was a challenge for me to be taken seriously by skate shop owners and suppliers. This is where networking and learning how to develop relationships really came into place. Eventually, a local skate shop took a chance on us that later became one of the most well-known retailers in the world. By getting in with them it helped legitimize our product by having it seen alongside established brands that had existed for over a decade, it also help expand our distribution outside of region. But learning how to run a business couldn't have prepared us for what happened next. In the mid 2000's rollerblading had tanked in popularity due to many factors but most notably homophobic propaganda created by a competing industry that basically said if you partake in rollerblading you are a homosexual. As if there was something wrong with that. At a time when society was less excepting of people's lifestyles, many people left our sport or never started due to verbal and quite often physical bullying. The sport was removed from X Games and other mainstream media now controlled by the competing industry and brought skating close to extinction. Rollerblading had become underground. There was still a strong group of dedicated supporters, however our numbers were just a fraction of what it once was and this had continued until just very recently when the Covid-19 pandemic started. It was during this time we learned more about how to run the business efficiently while in an industry-wide depression. Things like making products on demand instead of stocking, cutting costs by not outsourcing, and continuing to organically advertise on little to no budget kept us afloat. With people's growing open-mindedness rollerblading has been getting a lot less unwarranted hated and with many people being stuck at home under self-quarantine, they are rediscovering the joy they once had for rollerblading, leading to a resurgence in our industry. Without struggle is there is no growth, so welcome struggle. We hope our next struggle will be learning how to keep up with this newfound demand for skate parts.
Moonshine UHMW – what should we know? What do you do best? What sets you apart from the competition?
Moonshine UHMW is best known for our Anti Rocker Wheels. These are small wheels that go in in the middle of your rollerblades that give you more space to grind. They are made from a dense self-lubricating plastic that slides incredibly fast on cements and metals while showing very little wear over time. Our mission is to make parts either at an affordable price or durable enough that they last twice as long as traditional skate parts, if not longer. This keeps our sport accessible to underprivileged youth and adults while providing a product worthy of professional use. To do this, we outsource very little of our production and operations. We screen-print our own shirts, handcraft or CNC plastic products ourselves, and manage & create all of our digital assets. The only thing we outsource is our newest product which are Urethane wheels mean for rolling on and not grinding on like our Anti Rocker Wheels. We chose to do this because we were able to partner with who we consider to be the best manufacturer of urethane speed skating wheels in the world. We are applying their technology and compound formulas to bring the highest level of fast durable wheels to the aggressive inline skating industry.
What we're most proud of and what sets us apart from others would be the way we take care of our riders and our community. With the Michael Jordan's of our industry not being paid and expected to put their lives on the line skating dangerous obstacles without being provided with healthcare, only promotional products, it's no wonder why so many of them leave and get "real jobs". We've set up a program to where our professional and amateur riders have an equal opportunity to earn a commission on every product sold on our site. This is done by the use of a promo code. When a customer checks out, they are given to opportunity to enter in the name of any of our riders and a percentage of that entire order will go directly to the skater. Until the business grows to a level where we can provide these hard-working skaters with a salary, this is our fairest solution that not even most of the top level skate brands are providing. We also donate parts and new clothing to events across the country like the one that was held in Long Beach at Houghton Skatepark just this past weekend.
What is "success" or "successful" for you?
I don't define success based on metrics like sales, social media followers, or views on a video. I define it based on my own level of happiness that comes from the feedback I get from our riders and clients. If they are pleased with what we're doing, then all of the time and work we've put in was well worth it. We run this business out of pure passion for the sport and not necessarily to make money. The money is only there to increase what we can do for the skating community, neither Derek or I take a salary from the brand. Instead, we both work full-time jobs then come home to work on our second full-time job. Which if I'm being honest, hardly ever feels like work.
Pricing:
Contact Info:

Image Credit:
Black and White photo of Juan Martinez by Jonathan Labez. Photo of Stephen Babcock by Mike Jimenez.
Suggest a story: VoyageLA is built on recommendations from the community; it's how we uncover hidden gems, so if you or someone you know deserves recognition please let us know here.