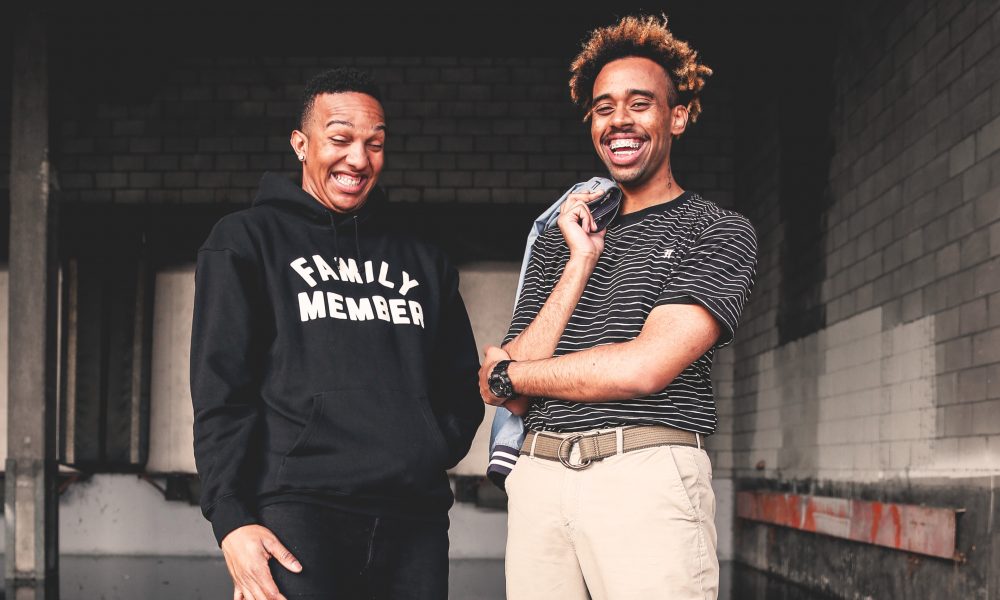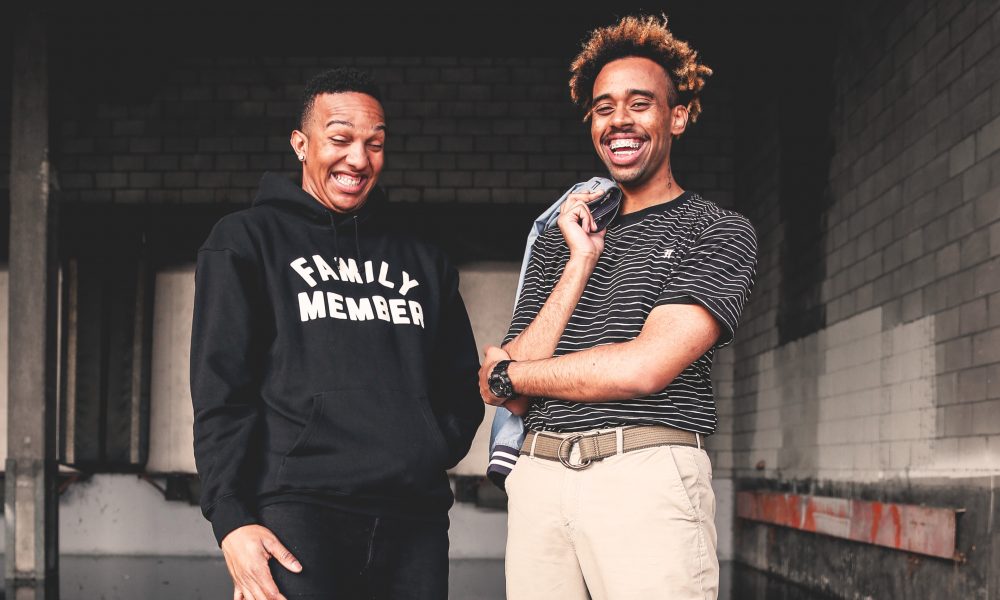 Today we'd like to introduce you to Joshua "Jimmie Bishop" Jones and Zachary "ZachTheHero" Jenkins.
Thanks for sharing your story with us Joshua and Zachary. So, let's start at the beginning and we can move on from there.
Jimmie: It all started when we met at Crossword Christian Church in Moreno Valley, CA in 2005. Our moms were good friends and figured it would be good to introduce us to each other. I went to his house with a tin of Yu-Ghi-Oh cards ready to throw down, once I pulled that Obelisk the Tormentor card out, he didn't want no smoke!
ZachTheHero: I honestly wasn't on any of that, I thought he was a nerd, but I was heavy on the video games so we connected over those and going outside, just regular kid stuff, we lived down the street from each other so I would skate to his house or we would roll to the park. We used to hop his fence and take this old dirt path by this military base full of snakes, coyotes and all kinds of stuff. Just young kid stuff growing up.
Jimmie: As far as music though, I always had a love for it. I can remember the first song I've ever heard, I remember my dad's car broke down in Moreno Valley by the old laundromat and liquor store off Alessandro. It was this old green ford Taurus, probably a 93. As my dad and uncle were trying to get the car started, I remember looking around at the trees and the dirt taking everything in, I was three at the time. I started rummaging through his glove compartment and found a Carlos Santana cassette tape. He saw me and put the cassette on for me to hear. He started to explain stuff but I was already gone. From the guitars, drums, singing; I had never experienced anything like that before. I was instantly hooked on music.
Zach: I always loved music too. I used to beat on the table with pencils at school and make the tightest patterns. I even picked up the drums for a little but really got hooked when I taught myself guitar. I just loved playing it and getting better. My family loved it too, they assumed I would become some sort of music teacher worst case, but I knew I wanted something different.
Jimmie: I grew up hearing everything. My dad played a lot of Jay-Z, T.I., Usher, Pharrell, Neptunes, Michael Jackson, Justin Timberlake, and jazz. My mom was straight gospel and my sister what was on the radio and BET/MTV at the time, a lot of R&B. When I went to visit my cousin in the Bay Area, they played a lot of Kanye, Kid Cudi, A Tribe Called Quest and Black Eyed Peas. When I got my first computer in 7th grade, I dove into music for myself; discovering and playing a lot of Lil Wayne, Eminem, Drake, Mac Miller, Wiz Khalifa, Tyga, J. Cole and Kendrick Lamar.
Zach: I got a lot from my brothers and parents also. My oldest brother played a lot of 2pac and gangsta rap. My second brother a lot of R&B like Aaliyah, Brandy and stuff. Gospel from my mom, soul from my dad and I was into a lot of alternative stuff like Billy Talent, System of a Down, Minus the Bear, and of course Kanye too.
Jimmie: I always used to freestyle in the car with my friends and cousins and they would always tell me I was really good. But coming from a strict Christian household, I figured my mom would disown me if she saw me on the tv with naked girls cursing.
Zach: Same here, I was always told it was a fantasy. That those people were born to do that and that I need to get a real job.
Jimmie: As I got older, I learned that there are a lot of jobs in entertainment and a lot of money to be made out there, also that you can do whatever it is you want in life as long as you work hard, stay dedicated and don't quit. Music always spoke different to me. From being on blog sites all day to listening to everything that dropped and wanting to talk about it to people but no one listening to it as deeply as I was. I always felt like I was destined to be great. I wanted more out of life then going to college, getting a job, having a family and working until I died living in some suburb, going on summer vacations, donating on holidays and raising my kids to do the same. I wanted to make real change and have a dramatic impact on the world. Music was always my passion, I saw a void there and decided to fill it. I began to pursue it full-time when I was in college at University of California, Irvine. I met Jordan Bentley at the Riordan business program at UCLA just before attending and became close when we met again at orientation. We would hang out all the time and even lived together one year in campus housing. Watching him grow his business into what it is today showed me you can do whatever you want in life as long as you work hard and don't quit. My story does not exist without him so I always shout him out and shop with him every chance I get, not just because he's a brother to me but because he changed my life and continues to inspire me everyday to go harder. In 2015, I switched from computer science to African American Studies, I figured it would give me more to talk about in the music. On winter break, I went to Zach's house, knocked on his door. I remember that day vivid too. I asked him if he loved music if he would love to make a career out of it, then invited him to the studio, the rest is history.
Zach: Yeah, it was really God. He kind of came at just the right time. I was supposed to join the Air Force and become a pilot or something. But I tore something in my knee playing basketball at the park and was unable to complete basic training so I missed that opportunity. I remember feeling really down after that and not having a plan really of what I was going to do. When Jimmie came to the door, I figured why not, let's see where this goes.
Has it been a smooth road?
Jimmie: It has definitely not been a smooth road. When we started, we were both really trash. We spent years honing our skills to get to the level we're at now.
Zach: Yeah, we have at least 100 songs that will never see the light of day.
Jimmie: It's the same no matter what you're doing, obstacles come up and you have to conquer them one at a time. First school was in the way, so I got better at time management. Then the studio got too expensive, so we learned how to produce and engineer so now people come to us to get their records done. We couldn't get listeners at one point, so I reevaluated our release strategy and tried something different until we found something that works. Everybody has the same type of problems: family issues, bills, no one messing with you until you blow up or whatever. What makes someone great is rising above all of that because the majority of self-employed people quit or "fail" within the first three years. Take time out of the equation. All the largest companies or richest people in the world have been in business for at least five years, so why do you expect to pick something up and be a millionaire in a week. People are always looking for shortcuts or substitutes for hard work, but there aren't any. Maybe you hit the lottery or have an investor early on who gives you a large grant; but in most cases that just doesn't happen. You have to put in your own blood, sweat and tears and create your own destiny.
Zach: Facts, nothing in life worth having comes easy. If it was easy, everybody would be successful at it. For us, we just had to define what success was. Being able to work in music full time; that was it. We finally achieved that this year and have been enjoying it ever since. Of course, with new levels there's new devils and we're spread more thin now than ever before, but this is exactly what we asked for. And when we're locked in the studio, it doesn't feel like work at all, time stands still in there.
Jimmie: The biggest obstacle I would say we faced was getting out of our own way. We were trash at rapping so we got good. We were bad songwriters, now we write for others. Zach's beats weren't the greatest at one point, now you can't buy a beat anywhere that sounds like his and he can produce in any genre and film score. Just figure out what you want, say it out loud, make a plan and work towards it, let God do the rest. Majority of people don't even know what they want nowadays.
Zach: Exactly, we started on a bluetooth speaker and garageband, now we have a 100 thousand dollar studio. We used to get 14 streams a month, now we get over a thousand everyday. We used to pray for people to let us work on their music, now we're so flooded with projects we barely have time to work on our own stuff and have had to turn some people away. But success for us was making good music. Once we were proud of the stuff we were creating and realized our identity as artists, finding our sound, we made it in our eyes. Everything else is icing on the cake.
Jimmie: You have to define your own version of success. You'll drive yourself crazy trying to please everyone.
Please tell us about Inland Epic.
Jimmie: Inland Epic is a creative house that strives to put the Inland Empire on the map. We pride ourselves on producing relatable content that illustrates real life. We aim to positively impact our communities by bringing new infrastructure and resources to the greater Inland Empire area. Our vision is to inspire the youth to pursue their passions while providing the fundamental resources to foster growth and creativity such as more performing arts schools, access to studio equipment and specialized training in music, music technology, filmmaking, graphic design and more. Our foundation is music. We are a full label including talent development, marketing strategies, music and visual production, merchandise and more. We partner with artists to take them from their bedrooms to the masses. As a company, we are most proud of what Zach and I have been able to accomplish. We were the guinea pigs of how our development looks now. Once we were able to successfully produce ourselves, we then were able to turn around and do it for others. What sets us apart from other independent labels is that we are genuinely for the betterment of the artist. We are not begging anyone to sign, we just help people execute their visions and get what's in their head out. Putting the artist first and pursuing the best course of action for them; whether thats leaving us and signing to a larger label or going fully independent armed with the knowledge, they've acquired from us. Authentically striving to assist in the success of others.
Zach: As artists, we knew we had to create our own platform as we've heard too many horror stories about creatives signing bad contracts or getting screwed over. We created our own platform to release our music and now are helping others succeed as we continue to elevate also. Lift as you climb, we like to call it. We have a lot of plans and different ventures we hope to accomplish but are all in on the music front for the time being.
Jimmie: We saw a void in the entertainment industry. A whole market of middle-class people who are not being spoken to. In entertainment, people are either dead broke or are throwing money out the window. What about the regular people who go to work everyday and might not have it all but provide for their loved ones and do the best they can? What about the kids who grew up with super rich and super impoverished friends seeing both sides of life? As black people specifically, we are not all from the hood and are not all from Beverly hills. I feel its been years since that middle class demographic has really been spoken to and portrayed.
Zach: We hope to show a different side of how to do this. You can go to school for music. There are thousands of jobs in entertainment, not just in front of the camera. You can speak properly in your interviews and promote a healthy lifestyle, not just portraying a caricature all the time. People are afraid to be themselves. They think you have to be a certain way or people won't think you're cool. They're more concerned with likes and retweets then actually being themselves. We want to show that you can be true to yourself and succeed in this game.
How do you think the industry will change over the next decade?
Jimmie: In the next 5-10 years, I see more people taking ownership over their creations. More people becoming self-sufficient and multi-faceted. Everyone is doing more than one thing now. They sing and produce, they make clothes and handle the business, they play guitar and mix in the studio, etc. With the internet and free access to information we have nowadays, these kids are starting younger and younger to delve into their career paths.
Zach: I see the sound of music changing dramatically. Everyone is an artist today. They don't want to be put into a specific box. They do a rap song one day and an alternative song the next day. Even on their records, you have people who might do hardcore boom bap full on sing a ballad.
Jimmie: I see new legends arising. The kings and queens of our generation are moving onto other ventures with new talent catching fire. I'm excited to be apart of the new class-leading the way; excited for what we're about to do and excited for what everyone else is doing also.
Zach: I just see more black millionaires. More black people creating generational wealth for their families and putting each other on. I see more love and encouragement and less gatekeeping and weird inferiority complexes. They print money everyday. There's enough of it out here for everyone. Just because your plate fills up doesn't mean I starve and vice versa. We just want to see everybody win.
Contact Info:

Image Credit:
Felisha Carrassco, Levi Holloway
Suggest a story: VoyageLA is built on recommendations from the community; it's how we uncover hidden gems, so if you or someone you know deserves recognition please let us know here.