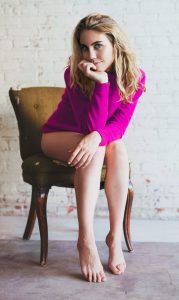 Today we'd like to introduce you to Jordana Lilly.
Jordana, let's start with your story. We'd love to hear how you got started and how the journey has been so far.
How my current status as "a poor player that struts and frets (her) hour upon the stage" and boisterous songbird extraordinaire all began? The usual. Imaginary games in the backyard, performing monologues for  cat, writing songs to manipulate my parents into buying me the newest Harry Potter game, and of course singing in the shower.
I count my blessings everyday — I know how miraculously rare and RAD it is to have grown up in an artistic haven of a home. I come from a family of entertainers. Not necessarily career entertainers, more like zany, soft-core hippie, attention-seeking Jews. In the Lilly household, creativity was not only accepted but encouraged. If the warm acoustic sounds of my dad rehearsing for Rock Shabbat weren't vibrating the wooden floors my brother and I so frequently sock skated on, my belting of the Dreamgirls soundtrack was. I was always phonating, always experimenting, always playing. I remember making a pact with a few of my friends in elementary school while pretending to be a Narwhal in a pool. We vowed to never grow up and "get boring." We would play imaginary games forever, no matter what. I've kept up my end of the bargain.
My zeal for theatre began with my favorite week of the year: that week in July we went to a neighborhood summer theatre camp. The kind of camp that bases casting decisions around a fair game of rock paper scissors. I have always KILLED at rock paper scissors. So yeah, I got some leads. I couldn't wait for high school, because high school meant I could audition for real high school theatre plays. Long story short, I was bitten by the theatre bug. The bite was serious, perhaps fatal.  I went on to receive my BFA from Chapman University and in the process fell deeper in love with the process, the craft, and Shakespeare than I ever expected to. Little did I know that my phase of pretending to be a cat (human tongues aren't designed to lap up milk the way cat tongues are, I learned the hard way) was actually preparing me for character building.
I've gotten to play some scrumptious roles including Portia in the Merchant of Venice, Helena in A Midsummer Night's Dream, Izzy in a self-produced production of Rabbit Hole, and Gilgamesh in an immersive, modern-day adaptation of the Epic of Gilgamesh. This year alone I've performed character comedy in a horror show for Fred Armisen and Will Smith, silently cried with an audience member while leading them down my designated strip of Hollywood Blvd in an another immersive, site-specific show that was part of the Fringe Festival. I love Shakespeare because I want to swim in language that cuts and caresses and dances in your mouth and makes you feel a sort of way. I love immersive theatre because of these exact same reasons. There is nothing more human than looking in someone's eyes and telling them the truth. Whatever the truth is at that moment. It's nearly impossible to indicate when you're face to face with a living, breathing person with a heartbeat.
As for music,  I've never NOT had a song in my head. I've always been a secret singer of sorts. When no one paid attention to me, sure, I could belt "And I'm Telling You" in a jiffy. Don't get me wrong, I loved attention, but as soon as music notes were expected to come out of my face, shutdown mode activated.
It was my grandmother and creative idol, Marsha Lilly, who introduced me to the concept that perhaps my fear of singing in front of people was selfish. As I was preparing for RENT callbacks senior year of college, I lamented to her, admitting that I was terrified. She suddenly grasped my hands and said to me with startling intensity and tears in her eyes, "You were given a voice. Now why in God's name wouldn't you use it?" I remember that moment viscerally. That perspective shift was a gift, and it changed everything for me. My first time singing a whole song in front of an audience was senior year of college when I played Maureen in RENT. It was invigorating. Spiritual. The stage is my sanctuary, and this thing I was so afraid of was suddenly my tool.
I released my first single in October of 2017. I wrote the song the day after my grandmother passed away. I was notified of her passing several moments before stepping on stage as Portia in the Merchant of Venice. She was the first person I called when I was cast. The Portia I brought to this production was our Portia, Grandma Marsha's and mine. The woman who taught me to value Shakespeare over tiffs with friends, to prioritize my duty of sharing my gifts over the act of catering to my ego, helped me through the show that day. The single is called "Step into the Light," it's about having the courage to be seen at the most vulnerable of times. It seemed only fitting that my musical career began because of Grandma Marsha. I haven't stopped writing music since.
This year, I met my current musical collaborator, Jason Aguja, and we began producing my songs. Jason and I both share an affinity for interesting and sometimes jarring syncopated rhythm, smooth, old school R&B, plunky violins, upright bassists, otherworldy-sounding synths, and music that makes you need scrunch up your face when you listen to it. Together we create, scrap, jam, get distracted, jump on the couch and laugh hysterically when we are loving what we're making, and most importantly, we speak the same musical language. I have been finding my true voice throughout this process, which has been a beautiful journey indeed!
I will be releasing my first full-length album within the next few months (art can take a long time, especially when two perfectionists are left to their own devices in the studio every week). In the meantime, I am releasing several selections from the album as singles, the first of which, "Push & Pull," I released on December 20, 2018. I just finished shooting my first music video and have been playing shows around LA.
Music and theatre have given me a voice and a purpose, and for this, I am eternally grateful. I get to do what I love everyday, and this is only the beginning. "If we should fail, we fail. But screw your courage to the sticking place, and you'll not fail." Failure and all, I'm excited.
We're always bombarded by how great it is to pursue your passion, etc – but we've spoken with enough people to know that it's not always easy. Overall, would you say things have been easy for you?
In any creative industry, balance is of the utmost importance. Balancing realism, the fact that life is expensive, both music and acting are two career paths that require a lot of front-loading/investing, and not neglecting the passion, the need. The stark contrast between the shark-like mentality we must possess when it comes to our career and the delicate, nurturing approach we must have when it comes to caring for our artist is one of the most difficult balancing acts to pull off. It's a dog eat dog world out there. It's brutal, the stakes are high, and the standards are even higher.
Being equally kind to oneself and cutthroat is a juxtaposition I have yet to nail. If we completely succumb to the scarcity culture we will never be enough, ever. We will lead from a place of anxiety, and as a result, our art will be muddled with issues that have nothing to do with the original intent.
We'd love to hear more about what you do.
I am a storyteller, a communicator through various art forms. 
I'm an actor specializing in character comedy with a passion for twisted and juicy theatre and a soft spot for Legally Blonde the musical. Rachel Bloom is my hero – I hope to create a comedic musical show with half the genius of My Crazy Ex-Girlfriend.
My music reflects what I listen to –  Regina Spektor, Jill Scott, Emily King, and Gabriel Garzón-Montano, all of whom possess an inclination for unique rhythm, a bit of funk, and a poetic sensibility in their songwriting.
Is our city a good place to do what you do?
For both music and film/TV, LA is the place to be. But community is hard to come by here. Flakiness is inevitable because of the sheer amount of people packed into a city bereft of parking options and overflowing with people. This city can feel very isolating. Once you find your niche however, the beauty of this city begins to unfold.
Everyone is constantly creating. Movies are being filmed, careers are being made, lives are being changed, stories are being told. This city is a lot, but if you grab it by the bullhorns, you'll find there's a lot to love.
Contact Info:

Image Credit:
Elko Photography, Kevin McKintyre, Josh Del
Getting in touch: VoyageLA is built on recommendations from the community; it's how we uncover hidden gems, so if you know someone who deserves recognition please let us know here.