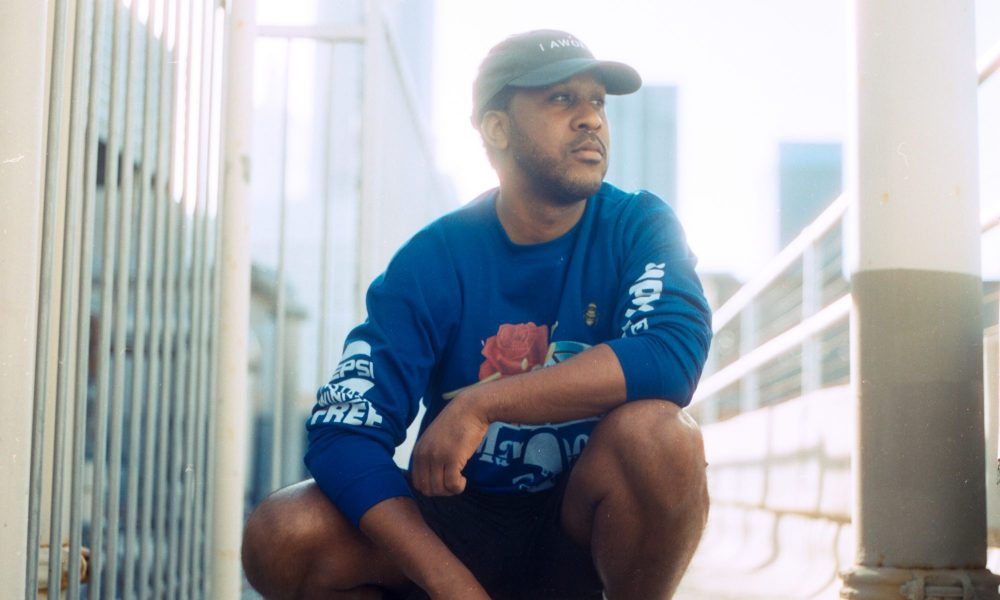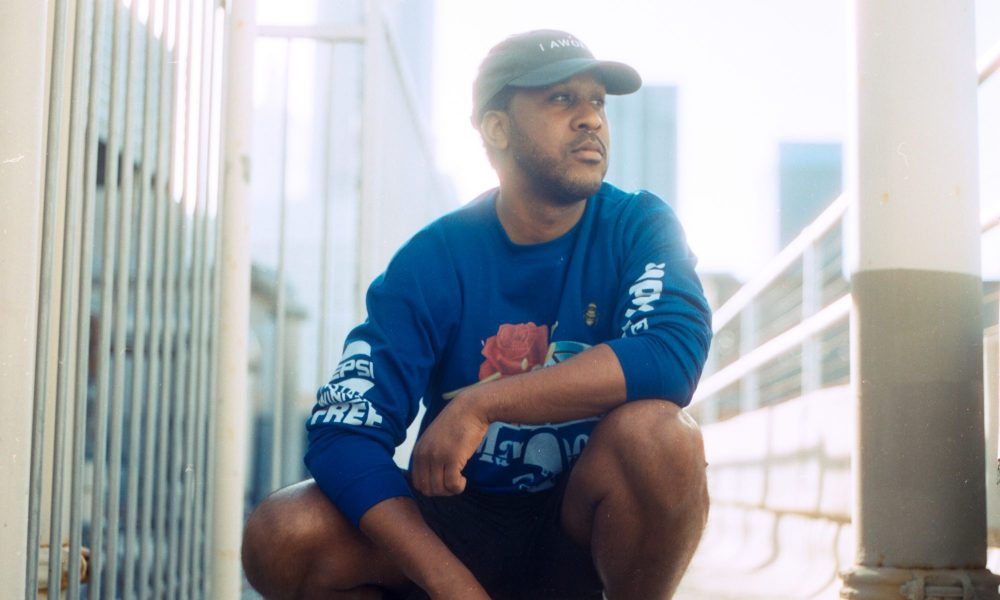 Today we'd like to introduce you to Jordan Burnett.
Hi Jordan, it's an honor to have you on the platform. Thanks for taking the time to share your story with us – to start maybe you can share some of your backstory with our readers?
Well, I've been into art and design since I was a child and that's currently the profession I work in but my other love was always music – mainly just listening. It was a drug. I kept headphones on every family vacation car ride, fell asleep with them, etc. There was also a weird era in the early 2000s, where everyone was wearing knit gloves with outfits… in Los Angeles. We used to do some strange shit. Anyways I would wear hoodies with those gloves and string my headphone wire along the inside of my sleeve and the earbud inside my glove. I would lean my head on my hand and miss all of class just to listen to Dr. Dre or Usher. Addiction wasn't the word for it. Something I didn't realize until later was how much I also love writing. My high school English classes were always my favorite because those boring essay assignments gave me a reason to spew all my thoughts and opinions about the bullshit going on with whatever reading we were discussing. I was super introverted so writing was where I thrived. I didn't start making beats until I was 19, garage band, but like every distracted teen, I ditched all my focus and partied until I dropped. I didn't literally drop, but I did get caught up with a dui around 26/27 – my second one to be exact. The only difference with this one was I still had a year to go in art college – enrolled late, courtesy of the partying I was way over the limit and they wanted to put me in jail for two years.
Needless to say that shifted my perspective on things a little bit, wasn't going out that much for a while. In the meantime, throughout court visits and dui classes, fees, etc., I had a senior project to focus on. So I thought what better way to merge my love for writing and art than with poems and record cover design. I took a deep dive into spoken word and wrote three pieces involving my background, girl problems and binge drinking. Turned out to be a hit for my class, not the world – still working on that one. But it was the first time I ever recorded my voice and added some background sounds or music behind the poems. It wasn't the exact moment that threw me back into music but it was definitely the beginning to a long road. I ended up doing album artwork for each poem and three t-shirts to go with each theme. I loaded the mp3s onto some cheap mini players and set it up for people to experience and that was my show. I always knew I wanted to do something with music and art; I just didn't know I'd be in charge of both roles. I was thinking I wanted to design stuff for Kid Cudi one day and that would be it. Anyways after the show a friend of mine told me I should try to make music and for whatever reason, I had absolutely no interest – hard to imagine that today. School ended, I didn't go to jail, I got an internship at Guess Jeans. Things were leveling back out to a good playing field. One day my younger brother was messing around with some program called Ableton which looked insane to me at the time – this was before my dui.
So the summer after I graduated, I visited him in Portland where he was living at the time and he was much deeper into the music than when he first showed me the program. He had a whole makeshift studio in his den. So fresh off my spoken work art project, I told him to play me some beats and …. honestly, I never understood love at first sight until I heard my voice on a beat singing terribly and mixed horrifically but damn, it was my first child. I didn't feel anything but love. So inevitably, I downloaded the program, learned it quick and the rest is history. I remember the first songs I made, so bad but so damn good. I played them for people, got silence, some saw the potential but it was all part of the process in my eyes. I was dedicated more than anything I'd ever been to in my life. It was the first thing ever that I had to start completely from scratch and learn on my own. Recording, writing, production, arrangement, mixing, no schooling, no connections, just me and my ideas. Since then, it's been eight years. I've been releasing seriously since 2018 and am planning to start performing by the end of this year. It's been a rollercoaster but worth every minute. Things like this interview are constant reminders for me to keep going. I got this at a later age so I've had some conflict with myself plenty of times thinking I might be washed and too old for it but in the end, none of that matters if the music is impactful so…. I think I'll keep going.
Alright, so let's dig a little deeper into the story – has it been an easy path overall and if not, what were the challenges you've had to overcome?
No. It's been bumpy as shit, but worth it.
Early Struggles
– Getting comfortable with my voice for rapping and singing.
– Learning how to mix which is still a struggle, also because so many mixing styles exist – so finding that perfect mix for your voice on top of whatever tracks you're choosing – it's crazy but still a fun process for me. I love the details and science behind it.
Midway Struggles
– Understand what I'm making and who I'm making it for. Sometimes people don't take to your music and it can be depressing and discouraging. Knowing how much therapy it is for me, I also grew up on commercial and popular music but also have a deep love for r&b, house music and some underground rap. But then I also like classical music and some country music, so I used to get lost in a lot of different directions… but that solved my early problems cause this ended up helping me find my sound.
– Not copying artist I looked up to. Seriously, Kendrick would put out a project and I'd be on some deep thought /introspective rap or Kanye would drop and I'd be trying to go as crazy with the beats as I could. Again not a bad problem to have early on – another thing to help me find my sound – but I definitely knew I'd have to give up being a copycat sooner than later
Struggles Today
– Getting ears on it. The mass amounts of music being put it out make a thick relentless fog for listeners to cut through and find me! A lot of today's climate also relies on antics and marketing and things outside of just good songs, even great songs.
– Waiting to perform – just gotta do it, no excuses really.
– Networking with people, I've just been doing this by myself for so long that it's hard to meet people to help me out – I can get stubborn wanting to do it all on my own but everyone I look up to says you need a team or you'll go nowhere. Something to think about I guess.
– Doing more. At a certain point chasing your dream, you'll hit an impasse of 'what's next?' If the universe isn't throwing answers at you, then you're not doing enough. If you're making all the moves you could possibly make to achieve your goal, like 24/7 annually, then everything else will find you. So I have to do more, simple as that.
Appreciate you sharing that. What else should we know about what you do?
Design I've been doing art my whole life, since 3 or 4, drawing, finger painting, kid stuff. My mom noticed so she put me in art classes and art school throughout my childhood. I love type design, collage and illustration. My specialty is graphic design – photoshop and Illustrator predominately. I also love making teaser videos for my music. That mainly entails shooting footage on my phone, downloading online footage and putting everything together in iMovie. I also directed a couple of videos for myself as well as created the visual outline for each scene. Design is something that's been a part of me and I'll always love and appreciate it.
Music…
On the other hand is a different kind of love. It's therapeutic, it's energetic, it's communicative, it's like life or death to me. Music, I specialize in writing and production. I feel I've gotten to a good place with my vocal tone as far as rapping and singing but there's always room for improvement. I'm just happy that I'm at a place where I can execute the ideas in my mind a lot more clearly than when I first started out. It also just feels more natural. I started freestyling all my songs and it makes for a much more fluid writing process than sitting down and scribbling on paper. Melodies come easier and I finish the songs way quicker, not that I'm in a rush but I've been doing this for a long time now and studying all the people I think are great so I also like to push myself to be better but also efficient.
Single Me Out!
My voice is the main thing I can think of. It's not a familiar tone but it's good different in my opinion. I also get the job done with the idea I want to get across and I aim to do it confidently. I'm familiar but new at the same time. I'm actually glad I can't sing that well because I might lost in the sauce. Is it me or do a lot of people sound the same these days? I don't know. I also feel like I make consistently good music and I grow every year. I'll never get stagnant. It's just something I learned not to do from people who have longevity.
Can you tell us more about what you were like growing up?
I was definitely a shy kid. Silly and goofy but still shy. My interest were sports. My neighbors played basketball so we were always playing outside with them. I also went to sports camp for a few summers during middle school so that really got me into things outside of basketball. I loved cartoons. I wanted to be an animator for a while but that's a rare passion. Tedious work to say the least. I can just enjoy it. I love cooking. I'd definitely be a chef it wasn't for art or music for sure. Love trying out recipes at home and all that. I love movies. The action one and the 'every shot could be a painting' kind of film. All genres as well. The writing the cinematography, all of it. I actually have a couple of ideas once the music pops off and runs its course! Anything creative was where my interest lied. Architecture and product design as well! A lot of why I love restaurants is for the space it's in. Getting to relax in a new atmosphere is always great. This world is run by products so I love when I see something that purely focuses on the function and reason. Form is where you kind of get to play around but it should cater to human convenience! Yea, pretty much a nerd for anything creative.
Contact Info:

Image Credits
Gilbert Ortiz
Suggest a Story:
 VoyageLA is built on recommendations from the community; it's how we uncover hidden gems, so if you or someone you know deserves recognition please let us know 
here.