Today we'd like to introduce you to Jonathan Ton.
So, before we jump into specific questions about the business, why don't you give us some details about you and your story.
I was the only son in the family. My Dad suffered a throat cancer, and passed away when I was 7; My Mom died three years after with liver cancer. The loneliness and overwhelming depth of the feelings of loss have affected through my teenage. Tears fell freely from my eyes filled with grief, almost every night. But out of the sufferings of a lonely orphan, a strongest soul has emerged, even seared with scares.
My relatives had not truly supported me with love. They gave me food, and in return, I had to do things around their house, mopping the floors, washing the dishes, ironing their clothing, running errands for them. I didn't like to be a servant. I decided to live by myself, at the age of thirteen, in a small house that my parent left. My uncle lived next door. He held a decent sum of my inheritance, so he provided food for me. Unfortunately, I only have a set of clothing that he bought for me once per year, a polyester pant and a cheap white cotton shirt, to wear from Monday through Friday when going to school. I had to do laundry in between school days by hand in the evening, so I could have a clean shirt and pant going to class the next day. That was my life after my parent passed away. I did not have a girlfriend and not getting much of the girl's attention due to poorly situation of an orphan. Life without love and caring was sorrowful.
The orphan life usually comes with obstacles, troubles, and misery. But the great things also come along and brought with me the happiness, the abundance of material comforts, when I succeeded overcoming the business life's challenges.
I had to think differently, self-taught on different urgent needed subject matters, seek efficient ways to accomplish things, and achieve tasks with my limited resources and minimal tools. These habits have built in me a competitive edge and I've learned to become great all ten of the following skills (1) Resilience; (2) Focus; (3) Patience and Perseverance; (4) Self-Reflection; (5) Self-Reliance; (6) Good Judgement; (7) Good Analytical Skills; (8) Excellent Research Skill; (9) Good Communication Skills; (10) Compassion.
I came to U.S. at time of 28 years of age, embracing a big dream to becoming a successful entrepreneur. I wished to achieve a sizeable wealth as Donald Trump, which I carried the so-called "Standard of Success" from reading "limited books and articles about Trump" at the time I was in Vietnam, not having seen the big world yet! But years went by, as we reach to a certain age in our life, and I now realize that material comforts have not helped a man to be free of sorrowfulness, sadness, anger, guilt… a multitude of negative emotions. A man needs a noble ideal, things that he truly loves and does the things to bring happiness not only to himself but his loved ones, family, friends, community, motherland, and the world. There are many things in life that will catch our eye, but only a few that will catch our heart. Pursue these. [ Michal Nolan]
I started to build my dream as a real estate agent at time of market began cooling off (1988 peak time) and heading for recession in July 1990. I turned to do mortgage to add more value to my service. I was a good realtor with extensive knowledge in the industry, writing weekly article for the Nguoi Viet Newspaper. But the up & down of the real estate market segment due to economic trends have affected me to pursuit another career as tax preparer, which began in 1989. I opened my first office on Bolsa Street, Westminster, California, on the opposite side of Phuoc Loc Tho mall. My company was named D.T. Ton & Associates.
Starting from scratch, assuming the lease from the ran-away magazine owner, and with small savings, that used for the lease deposit, first-month rent, sign-making payment, city permit, etc., the rest of the capital, I used to buy several desks and chairs from the Goodwill.
In the first year of business, I was struggling to make ends meet, especially after April 15, when the tax filing ended. Tax preparation is a new spice of my life. However, I have to do real estate and mortgage works to generate a supplemental income during the off tax season.
There was not much revenue for the first several years of my tax preparation business. However, with genuinely hard works, staying contact with customers, admit mistakes, going extra miles in tax planning; seeking more deduction to generate more refunds; add value to rental owners; real estate investors, etc. I've been responsible and helping clients at the time their tax returns selected by IRS for audit etc.
Those deeds have won them to come back years by years. The small base clients (from the startup) grow more significant as time goes by.
Continuing education has helped me tremendously in tax auditing representation, and I became enrolled agent and tax expert in the taxation market segment. I join NAEA (National Association of Enrolled Agents) and passed the highest level of training to become the tax expert with the designation NTPI Fellowship, recognized nationwide. The consumer can find us – the tax experts via the link http://taxexperts.naea.org.
Our clients hire us, not only they have their taxes prepared professionally, but other benefits they also reap, due to my background covers real estate and finance, they have us planning their financial concerns in a better position.
After acquiring my CFP® designation in 2003 (Certified Financial Planner) I expand my business in financial planning with specialty of Asset Protection for the established clients and business entities. During these times, I was continuing advanced myself in Trust creation and Estate planning by attending many advanced courses in Estate and Trust Law.
However, there was a missing link between the paper plan and the execution phase, therefore, I decided to fill in the gap by creating another entity – Lifemaxima Insurance Agency, Inc. – to provide appropriate insurance policy in most of the situation from life, personal & business assets to general liability. I have insurance broker license, since 1998 until present.
Our business model at the current time seems to be almost complete. We have a great value proposition in Tax Preparation – Tax Representation – Entities & High Network Tax Planning – and on top of these core businesses, we add Payroll service – Living Trust – Insurance – Corporation – LLC Setup – Financial Planning (with specialized on Divorce Planning and Retirement Planning). We have exceptional Customers Relationship, great keys of Resources, Partners and Cost Structure-Pricing model. The Channel that we meet clients, at our physical office and "Secured Link Online" with both Receive & Distribution ends, which enable our clients to upload and received sensitive documents securely via the top five cloud firms in the U.S. provided to our company. Our market segment is homeowners, investors, small to middle businesses and commercial entities within California and other states.
The piece that is missing in our business model is the Legal service, which I've the near completion at UCI for Paralegal. I am currently attending law school on part-time basis. At the time I pass the California State Bar, then, I will accomplish my true One-Stop Shopping for the Financial Planning – Taxation – Insurance – Legal Services.
Overall, has it been relatively smooth? If not, what were some of the struggles along the way?
My journey to success were full of challenging and obstacles. In short, it was a rough road. But that "rough road" has been leading me to the higher of greatness in business and in character.
In the early age, I was suffering stutter condition. I could not say a complete sentence with smoothness. There seemed my vocal cords were not perfect. I was very challenging for me to get an "A" grad in English when I was six, seven grade. I could not pronounce "refrigerator" without repeating "re…re…re….re…" or any word with the stress on the first syllable.
It was tragic impact on my self-esteem, but a comedy to my classmates, acquaintances and people who knew me in the early age. At school, bullies picked on me for being different. Kids of my age saw me as a developmentally disabled person, good for nothing.
You know, stuttering is painful. When I was trying to recite the English lessons in front of the teacher, and my classmates (joined with others, nearby classes) were falling on the floor with laughter! However, with relentlessness, the practice of pronouncing each syllable in a compound word or sentence, I've overcome and been able to speak and articulate English clearly, without much trouble as in the earlier life. That was the most significant lesson of perseverance. I've accomplished many challenging tasks, in school, real life due to the continuing efforts and burning desire to achieve, despite difficulties, obstacles, failure, and opposition. I've been a public speaker in Radio and Television in my community since 1997 and as to present.
Tune yourself to channel 1480 AM Little Saigon Radio every Sunday morning (at 8:40 AM) if you are interested and listening of how I speak at the time being.
Please tell us about D.T.Ton & Associates and Lifemaxima Insurance Agency.
We specialize in Tax Audit Representation, Offer in compromise (OIC), Tax Planning/Filing for individuals with high income and complicated tax situations, home office, online selling, eBay, Amazon, or driving Uber, Lyft, rental home Airbnb, etc.) or receiving employee stock options from companies and exercised/sold in 2017.
We provide clients and potential clients who have the needs of tax filing, from individuals, partnerships, corporations, LLC, estates, trusts and entities with tax-reporting requirements. We are the Enrolled Agents (EAs), and Jonathan Ton is the America's Tax Experts, as National Association of Enrolled Agents defined it (www.naea.org). He holds CFP, EA and NTPI Fellowship; the highest tax practitioner can achieve as NAEA recognized. He is also working on the USTCP designation (exam in 2018) which enables him to represent Clients in front of the U.S. Tax Court. EAs are the only federally licensed tax practitioners who specialize in taxation and also have unlimited rights to represent taxpayers before IRS.
If you are individuals with high income and complex tax situations (Schedule A, C, E, 2106, home office, online selling, eBay, Amazon, or driving Uber, Lyft, rental home Airbnb etc.) such as receiving employee stock options from your companies and exercised/sold in 2017.  If you are business owners, having entities in the form of limited liabilities (S or C corporation or LLC); If you sell rental houses, business and/or trading stock, currency etc. Then, you are in a good hand with our expertise (over 25 years of experience) tax preparation for such complicated cases.
We embrace the high work ethic standards. It is our organizational culture with alertness, openness, determination, and dedication. We respect our clients with impartiality and fairness. We respect out employees and allow a degree of freedom without constant micro-management. We are professional about our works with 100% reliability and honesty, so to deliver best outputs. We are consistent in providing excellent quality work and earn a good reputation.
We respect and comply the law of our nation (U.S). Our work is in excellent compliance with U.S. tax law. We enjoy a meager rate of less than 0.1% clients' tax returns selected for audit by IRS. For almost three decades, our clients rely on our professional works, with exceptional results in tax savings (audit, refund & compliance), personalized client services, and valuable business solutions provider.
We are proud that we built the relationship with our clients and it ever lasted for a long time with generations.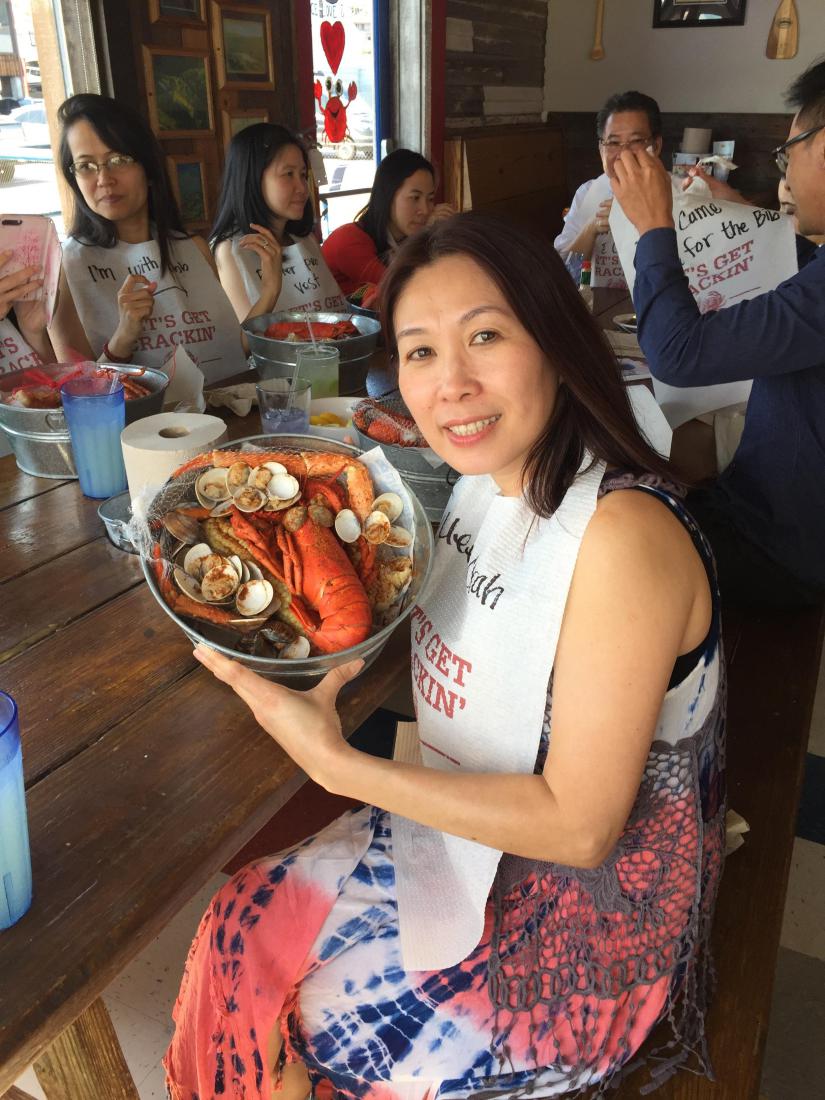 Getting in touch: VoyageLA is built on recommendations from the community; it's how we uncover hidden gems, so if you know someone who deserves recognition please let us know here.