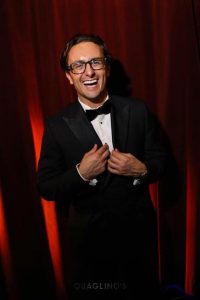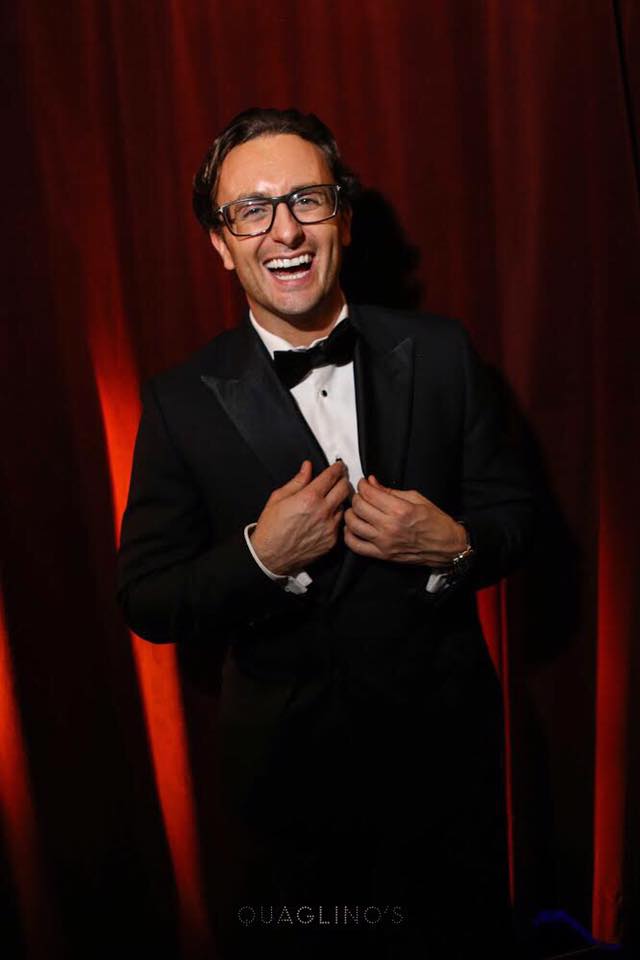 Today we'd like to introduce you to Johny Pach.
Johny, can you briefly walk us through your story – how you started and how you got to where you are today.
As a young kid, I channeled my passion for presenting with the help of my grandad. He purchased a camera (a proper old-school camera!) during my younger years, which he would use to record family moments, and every time the camera was on me, I started to perform. It was almost as if the camera brought out my true energy, my deep internal desire to entertain. It got to the point where he gave the camera to me because I loved it so damn much! From that point on, I used it to create as much content as possible. I think it is fair to say that I was well and truly addicted to that camera.
I then went on to study Journalism, Film Production and Performing Arts at The Surrey Institute of Art & Design. During these years, I had my mindset on one thing – I wanted to be on TV. So, in order to fulfill my dream, I started to appear on TV shows, such as Golden Balls and Million Pound Giveaway. I also featured on The Bill and EastEnders (albeit as an extra)! These shows gave me a behind-the-scenes look at the TV industry, so I knew exactly what it took to create a high-performance TV production.
As time went on, I started to direct my energy towards the art of TV Presenting. I taught myself how to be a TV Presenter by presenting in front of the mirror, and by interviewing random people on the streets of London. Throughout this process, I was beginning to create my own energetic and vibrant style of presenting, which gave me the platform to dive headfirst into the presenting world through smaller TV productions. These productions allowed me to tweak my craft and build up my professional showreel.
With my showreel in place and my confidence at an all-time high, I started to nail job roles as a TV Presenter. I presented on SKY TV, LIVING, World Fashion Channel and UGroove Music Channel (to name but a few places), and also began hosting live events, such as fashion shows or music festivals.
As my presenting persona grew, I started to receive more and more offers. I started to cover loads of red-carpet events in London until I nailed the big job, the Hollywood Dream – a sponsorship contract in Los Angeles. Working out in Hollywood, I became a TV Presenter on Sky's V Channel, and ended up hosting my own show! After completing my time in Hollywood, I went on to host The Marbella International Film Festival, The Raindance Film Festival and The Berlin Festival. My most recent achievements include launching my own podcast (The Johny Pach Show), creating my own radio show on ExPat Radio, and earning another Hollywood contract with EDMTV.
All of these achievements are the result of years of dedication. I have worked so hard to reach this position, and I am truly grateful to everyone who has helped me. For those looking to achieve their dreams, I have three recommendations. Firstly, use a vision board. This will enable you to focus closely on your dreams and have a constant reminder of where you want to be. Secondly, use affirmation cards. These cards will boost your confidence massively. Thirdly, do whatever you can to block out negative energy. By blocking out negativity, you are opening yourself up to all the positive things the world has to offer!
Great, so let's dig a little deeper into the story – has it been an easy path overall and if not, what were the challenges you've had to overcome?
Put simply, no. It has not been a smooth road. There is no road to great success without feeling pain and discomfort. I do not think that it is possible to have a smooth journey in the entertainment business. The industry is great, and I have loved working within it, but it always throws challenges at you.
For me personally, one of the biggest challenges I have faced is the number of false promises you receive within the industry. I have had numerous people approach me with "hit shows", which were supposed to make me super-rich and successful, but which never materialized. When this happens to you, it is obviously disappointing, because all you want to do is succeed within your beloved industry. You tell your family that you're going to be a big star, your working on BIG things, but then things just crash and never materialize. It is really hard to deal with these scenarios, attract the right individuals, but they help you to develop a thick skin, which is vital for anyone working within the industry.
This leads me on to another struggle I have faced – negativity. To the ordinary person, someone's desire to be on TV can appear weird and unrealistic. For this reason, they tend to criticize it or label it as something that won't happen. Throughout my career, I have faced much negativity from friends and family, which has affected my willingness to succeed in this industry at times. It is really hard to get up and do what you love when everyone around you is saying that you can't. I think, however, that this is where your thick skin comes into play. It allows you to block out negative, unhelpful criticism and allows you to chase your dream no matter what!.
In my case, my thick skin enabled me to continue chasing my dream after a horrific incident during my first stint in LA. The incident left me injured, jobless, and seriously downbeat. After some time had passed, everything however proved that I was on the right track, everything happens for a reason and I was back doing what I loved, in spite of the awful situation that I faced some months prior because I really wanted to succeed as a TV Presenter. I certainly wasn't going to let an unfortunate incident stop me! – its all meant to be. Life throws crazy situations in your path to wake you up, to shock you, to be grateful for everything in your life and to steer you on the right journey to success.
We'd love to hear more about your work and what you are currently focused on. What else should we know?
I'd say I'm most well-known as a TV Presenter. Many people know me as an exceptional red-carpet TV Presenter, with the ability to bring the best out of celebrities, due to my infectious personality. I am proud to say that I have interviewed many A-list celebrities, such as Angelina Jolie, Corey Feldman, David Hasselhoff, Tom Jones & Daniel Radcliffe. When interviewing celebrities, I am known for making them feel extremely comfortable. As a result, I am capable of extracting exciting news for viewers, such as behind-the-scenes gossip or previously unknown facts concerning a celebrity's life. I think this really sets me apart from others.
On top of my presenting, I am a bit of a serial entrepreneur. I am the CEO of an incredible digital marketing agency and have been for a number of years now. I also like to delve into real estate and investments during my spare time. I find these industries really fun. Above all, though, I adore being a TV Presenter. It's just the best!
Do you look back particularly fondly on any memories from childhood?
Growing up, I was a really energetic kid. I think many of the people around me would've described me as somewhat hyperactive, because I just loved running around, talking to people, and entertaining people. Being the chatterbox of the family, I was always showing off to everyone. I had so much energy that I needed to unleash, so I think it's fair to say that my energetic personality is just part of my blood!
I was always known for being a kind, positive kid too. I had many close friends growing up, and I used to love to spend time with them. A lot of the time we'd play sports together – there was nothing better than running about on the football pitch with your mates! I spent a lot of time playing football when I was younger. I really loved it. My dad and I would often go to watch Chelsea play, and we were fortunate to have a season ticket for a number of years.
On top of this, I loved art. I was a very creative kid, so I loved creating sketchbooks and drawing on massive pieces of A1 paper. I used to go crazy with charcoal, coloured pencils, and paint! Growing up as a dyslexic kid, I found school quite difficult, but I was able to escape these difficulties through my artistic side. Art provided me an outlet, a way to channel my passions. I think, in a way, that my artistic passion as a youngster enabled me to be the man I am today. Without my art, I don't know whether I could've become as driven, hardworking, and resilient as I am now.
What quality or characteristic do you feel is most important to your success?
It is quite common for people to define success in purely quantitative terms. For example, in order to be successful, many people think you need to have a lot of money, nice cars, or a huge house. I think, however, that success is not just a numerical phenomenon. For me, success requires personal growth. We each learn so many things throughout our lives, and we use these things to improve ourselves. The people who improve themselves the most, and who are the best version of themselves as a result of the lessons they have learnt are the most successful.
I personally believe that spiritual well being can enable someone to be successful. This is because spirituality is all about learning more about yourself, and the world around you, in order to live your best life. Spiritual well-being can truly enhance your levels of success because a spiritual existence promotes giving back to your community. This, in my opinion, is one of the key markers of success. When you can give back to the people around you, you are exhibiting success of the purest kind. When you give back, you are treating others as you would like to be treated. There is no greater feeling!
Take a listen to my brand new podcast THE JOHNY PACH SHOW on iTunes – stitcher and Spotify, I guarantee is will change your perspective on life and you feel about success.
Contact Info:
Suggest a story: VoyageLA is built on recommendations from the community; it's how we uncover hidden gems, so if you or someone you know deserves recognition please let us know here.