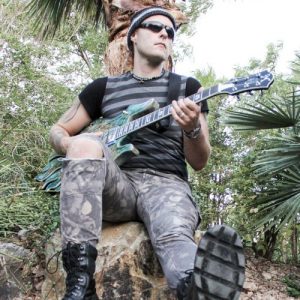 Today we'd like to introduce you to Johnnie Ferro.
Hi Johnnie, thanks for joining us today. We'd love for you to start by introducing yourself.
I am originally from Western New York and grew up in Buffalo. I started playing guitar and singing as a kid around age 11. It started off with my Aunt teaching me the music that she played at her church and, as I moved through school I got really into rock and then, eventually, jazz. It was in the high school jazz band where I really started to get serious about music as a career, so to speak. This is also where I started to really understand and apply aspects of music theory as well as develop my improvisation skills!
Fast-forward a few bands and a few years later, and in 2010 I moved out to Los Angeles to chase my dreams! The first thing I did when I arrived out here was to find some solo shows to play. Not long after that, I met Jeannie Deva, who would become my vocal coach and a dear friend, as well as one of the key players in developing myself as a professional at my craft. Along with these things, I just started networking like crazy, including doing songwriting seminars and mingling with other musicians at shows I was playing. In 2012, I released my first solo album – Cockeyed Optimism – which I also produced. At the same time, I put together my band and turned the heat up on playing shows. Later that year – again as a result of networking – I landed a gig singing lead vocals on the remake of the Nazareth classic song Hair Of The Dog, which featured Manny Charlton (Nazareth), Tim Bogart (Vanilla Fudge) and Walfredo Reyes (Chicago, Santana, Traffic). I then finished out the year by being named as one of the Hot 100 Unsigned Acts of 2012 by Music Connection Magazine!
Not long after that, I had the good fortune to work with the incredible Billy Sherwood (Yes, Asia) to co-produce a single called 121 Days. From there, I continued playing as many shows as possible with my band while also participating in a variety of projects (Highland Kites, Josephine's Alibi, Deedee O'Malley & Size 7 Hat, and a bunch of others) and also doing session gigs as a vocalist and guitarist. Maybe even more importantly, this was the period of time where I really started to hone my producer and engineering chops. In 2016, I released an album called Welcome To Hollywood with the band No Convention, which I co-wrote and produced.
Between 2016-2019, I went through a long period of searching and rebuilding. I definitely stayed active in music, but it was a bit more subdued than it had been prior. I just felt like I needed a reboot of sorts. In 2019, I joined the Todd Stanford Country Band on guitars and backing vocals. In 2020, I released my latest solo album, titled Chemical Warrior, and also began getting more and more into collaborative writing. I also released three parody song videos, including Welcome To Corona – a spoof on Welcome To The Jungle – and have generated tens of thousands of views on these.
In addition to all of this, I started a company called The Jingle Junkie at the end of 2020. Separate from my personal music as well as the music that I was producing for other artists, The Jingle Junkie is geared solely to writing jingles and custom music for use in social media marketing for other businesses.
Against all odds, 2021 has started with quite a bang! I've released three singles so far this year, including a song called Nightmare, which is the first-ever electro-pop song I've written and produced, and I have several more singles in the works as well as a couple of albums – all of which will come out this year! I also released my first-ever book, titled Getting Back In Tune: Overcoming Common Barriers To Songwriting, which I self-published on Amazon a few weeks ago to help songwriters out there who might be hitting a wall.
We all face challenges, but looking back would you describe it as a relatively smooth road?
It has not always been a smooth road by any means! First of all, as an artist – and I find this to be pretty common – there are my own self-invalidation and self-doubt which have haunted me at various points in my career. There have also been times when I've found myself working with some pretty covertly nasty people that I didn't spot right away and who not only took advantage of me in ways that I was unaware of at the time; they also very intentionally fueled my self-doubt in an attempt to stop me from doing what I do.
The main ways that I handled these things has been to produce even more and, most importantly, to constantly remind myself of my purposes as an artist and evaluate everything that I am doing and everyone that I work with against those purposes.
Thanks – so what else should our readers know about your work and what you're currently focused on?
I'm a musician and a producer specializing in vocals, guitars and bass. I also play keys, percussion and am able to program pretty much any instrument I can't play! As far as genre goes, my style is mostly a mix of hard rock, alternative and blues; however I am versed in most genres from country and jazz to pop and rap. I'm also very much a DIY musician and always have been. Aside from my aunt, who was my first guitar teacher, and a few random lessons here and there, I'm pretty much a self-taught guitarist and, until working with Jeannie Deva, the same goes for singing. Likewise, I got my producer chops from being in the studio, working with other producers that were great at what they did, and learning from them!
However, more than anything, I consider myself to be a specialist in communication. This is what really sets me apart and it's totally a function of my purpose. For me, the most incredible thing about music growing up was that hearing the bands and artists I loved, I really felt like they understood some aspect of me. I felt like on some cosmic level, the writers and performers I loved really got me to the degree that listening to them actually helped me handle something in life. It became my mission to do this for other people, as well as to help other artists do the same. When I create a song, it's always from the perspective of how the song will help someone on some level and creating such a clear communication – not only with the words but with regards to the production of the song – that the song can be completely received and utilized by the listener. In working with other artists as a producer (or as a bandmate, for that matter), I am always paying attention to what the desired communication is and helping the project get that communication across. To be able to do this for other artists is something I'm incredibly proud of!
I also have the good fortune to be endorsed by some pretty incredible companies: Minarik Guitars, GHS Strings, G7th Capos and Wathen Audiophile Speakers. I'm so humbled and honored to be working with these guys and I can truly say that, aside from making superior products in their respective areas, the people at these companies are some of the coolest, most down-to-earth folks on the planet, not to mention incredibly supportive of their artists!
Aside from that, it makes me proud that after as many years as I've been working on my craft I've never given up – and believe me, there has been no shortage of reasons conjured up why I should! No matter what adversity I've run into in life or in my career, no matter how hard things have gotten, I just keep making music!
Can you share something surprising about yourself?
I have two degrees in business – an Undergrad in Marketing and an MBA in Human Resource Management. And I'm also a trained chef with my own cooking channel on YouTube called The Musician Kitchen!
Contact Info:
Suggest a Story:
 VoyageLA is built on recommendations from the community; it's how we uncover hidden gems, so if you or someone you know deserves recognition please let us know 
here.